Image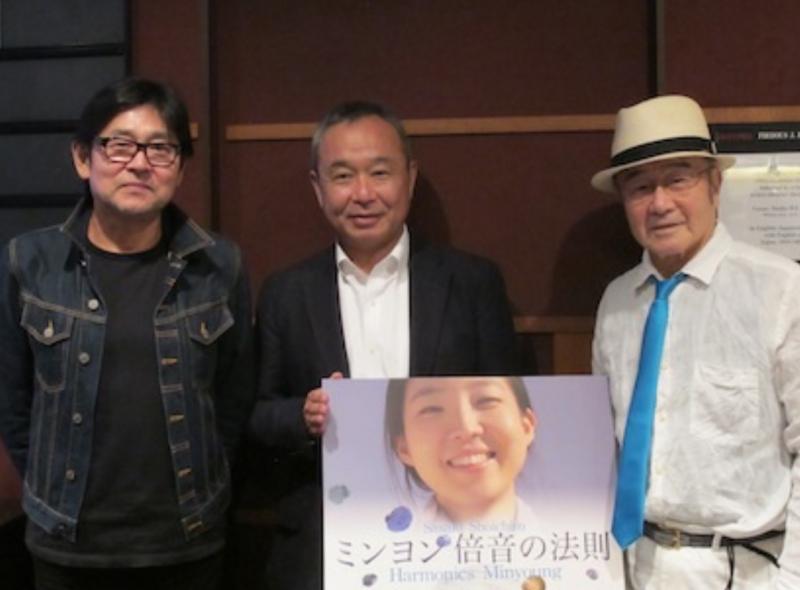 HARMONICS MINYOUNG
OCTOBER 8, 2014
minyoung1
Sasaki (r.) with his producers, Tetsujiro Yamagami and Takahide Harada.
For 20 years, legendary NHK director Shoichiro Sasaki was entirely absent from the public stage, apparently retired from a career that marked him as one of Japan's most prolific and poetic creators, with a body of internationally award-winning work that inspired such leading lights as Cannes favorites Hirokazu Kore-eda and Naomi Kawase, and Venice regular Shinya Tsukamoto.
Sasaki has now broken his silence, and fans will be thrilled that his first-ever theatrical release (the film is debuting on October 11 at the vaunted arthouse theater Iwanami Hall) is over 2 hours long. Harmonics Minyoung is an inventive, experimental quasi-documentary that moves constantly between Japanese, Korean and English as well as the language of song. The complexity of its structure obfuscates its strong antiwar message until the final act, but it gradually becomes clear that the story is near to the director's heart. As it turns out, the film's period scenes, depicting a family's life in Tokyo during World War II, are based on Sasaki's actual experiences as a youth in wartime.
minyoung2
The director waxes eloquent on Mozart.
During his Q&A session at FCCJ, Sasaki expressed fears about the film's public reception, reminding everyone that for two decades, he's been known only as a "former TV director." He recalled the recent cast and crew screening, at which he stood on the stage and apologized for putting them all through so much trouble. "I'd been thinking about what a 'film director' is," he explained. "Is he a great artist? No. A craftsman? Maybe. A shyster? I finally realized that he's a guy who causes problems for everyone involved, in order to complete his film."
As in Sasaki's previous productions, Harmonics Minyoung is cast with nonprofessionals. The ebullient heroine, Minyoung, is from Seoul, but met Sasaki in 2004 when she was attending Waseda. The director asked her parents for their permission before signing their daughter on to play the character of university student Minyoung, who is writing and illustrating a novel called "The Laws of Harmonics." She is obsessed with Mozart's music (as is Sasaki) and, for some reason, with a photograph depicting her grandmother's Japanese friend Sueko. Driven by her curiosity about Sueko, Minyoung journeys to Tokyo. Here, she meets a street child, Yu, as well as reuniting with a friend who is now a freelance journalist covering the dark side of society, and is constantly being pursued by strange men in trenchcoats. When Minyoung suddenly becomes Sueko in the film-within-a-film, she is actually portraying Sasaki's own mother, to whom Harmonics Minyoung is dedicated. The journalist is his father — in reality, as here, murdered for expressing critical views of the military — and the street child, Sasaki himself.
Sasaki originally planned to use only Mozart's Jupiter Symphony (No. 41) in the film, since it's "overflowing with hope," and chose the Czech Philharmonic because they have "the best string section in the world." But after production ended, he felt something was missing, and decided to delay editing until he finally had a breakthrough: "One day, I heard the old [Civil War] song 'Marching Through Georgia' — which was the first American song heard by the Japanese, when Admiral Perry came to Japan — and I [realized I needed a musical counterpoint]. After that, I selected 12 songs to use in the film, even though I didn't tell producer [Takahide] Harada."
Sasaki is now 78, and eager to plan his next outing as film director. Considering his enviable energy and the widespread support from a creative community that never forgot him, his second career may be just as laudable as his first.
 — Photos by Koichi Mori.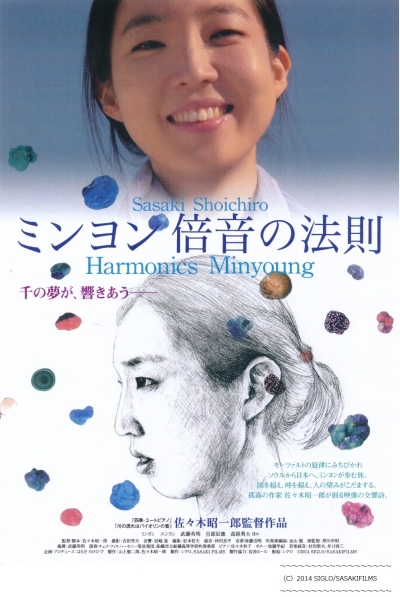 ©2014 Siglo/Sasaki Films
Posted by Karen Severns, Thursday, October 09, 2014
Media Coverage
Read more
Published in: October
Tag: Shoichiro Sasaki, awardwinning, NHK, documentary, Mozart, antiwar, family    
Comments