Image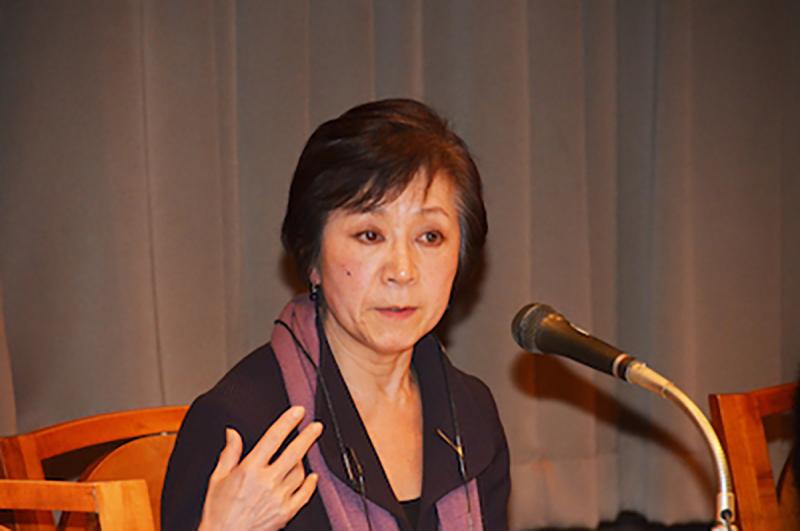 Following the death of her husband, photographer and longtime FCCJ member Greg Davis, from the affects of Agent Orange, Masako Sakata began crafting her first documentary, Agent Orange: A Personal Requiem (2007). It would win the Mainichi documentary film award, the Paris International Environmental Film Festival special prize, and the Earth Vision special jury award, among others, and be followed by Living the Silent Spring (2011), which depicted the struggles and courage of American and Vietnamese children who bear the imprint of Agent Orange and other dangerous chemical agents.
Marking her third appearance at FCCJ with her third documentary film, Journey Without End, Sakata once again impressed the audience with her commitment to exploring controversial subjects with a soft-spoken steeliness, both on screen and in person. After candidly taking aim during the Q&A session at a variety of deserving targets, including the media ("I think the media is promoting the government's side more and more"), the nuclear power industry ("One of the things that nuclear policy implies is that it is a state secret") and the LDP ("Not all Japanese are docile subjects, only 25% support them"), she was asked whether the State Secrets Law might have been one reason she shied away from focusing entirely on Fukushima in Journey Without End. "No," she responded immediately. "I'm not afraid of things like that."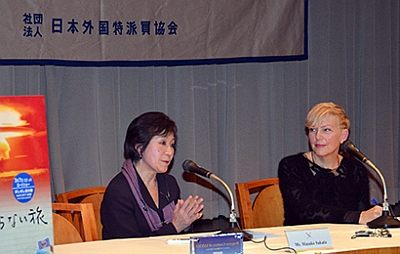 Sakata's films are remarkable for the lack of stridency in their narrations, which are gently voiced in Japanese and English by the filmmaker herself, despite their powerful condemnations of untenable situations. This is perhaps a trait she inherited from her mother, whose antinuclear activism in the 1970s led to a compilation of newsletters that were politely entitled Please Listen. It was to these newsletters that Sakata found herself drawn following the 3/11 disasters, when fear and anxiety engulfed Japan amid conflicting news reports concerning the status of the Fukushima nuclear plant, the actual radiation levels, the "safe" zones and the number of evacuees. She knew that she wanted to delve into the subject of nuclear power, but "if there are 160,000 evacuees, there are 160,000 tragedies. How could I capture it all in one film?"
Sakata was eventually prompted to set off on a quest to find some of the same answers her mother sought: Why was nuclear energy still sold as a "peaceful" use of atoms, when it is essentially the same as nuclear weapons? Why have the misguided nuclear policies of so many governments persisted, especially after Chernobyl and Fukushima? As she puts it in Journey Without End, "We claim to have harnessed the power of the atom, but perhaps it is humankind that is under its control."
Beginning with a visit to her sister on Guernsey, Channel Isles — where a spent fuel reprocessing plant in nearby Cap de la Hague, France, has been leaking into the sea, with radioactive waste detected as far away as Denmark and Norway — Sakata journeys to Bikini Atoll, the Marshall Islands, Kazakhstan and sites around Japan, where she finds the "scars" of the nuclear age still deeply engraved in both the landscapes and the displaced populations. She speaks to victims as well as experts, all of whom have eye-opening stories to share. And she shares chilling news footage from the last 70 years, including US Pres. Dwight D. Eisenhower's epochal Atoms for Peace speech.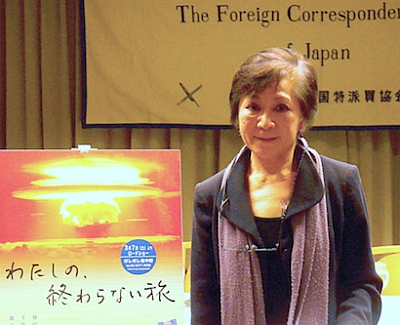 Sakata with the poster for her film.
Not surprisingly, Sakata's Journey Without End reveals what she termed during the Q&A as "the folly of the government, bureaucracy and industry, which are responsible for what happened in Fukushima, [as well as] the importance of citizen's power and persistence to speak out for a just cause." Although she does not devote a great deal of screen time to the aftereffects of Fukushima, she hopes that Japanese audiences will "read between the lines" to understand how similar the scars of Fukushima are to those of Chernobyl and elsewhere.
Sakata particularly hopes that the media will quit transmitting the government's mixed-up messages about nuclear safety: "There's a game of playing down [the dangers]: 'Keep smiling and you won't be affected by radioactivity as much.'" The audience nodded and chuckled appreciatively, but not because we think it's funny; far, far from it.
  — Photos by FCCJ.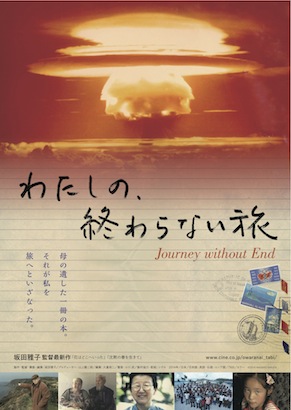 ©2014 Masako Sakata
Posted by Karen Severns, Wednesday, March 11, 2015
Media Coverage

Read more
Published in: March
Tag: Fukushima, Masako Sakata, antinuclear, documentary, awardwinning, Agent Orange    
Comments