Image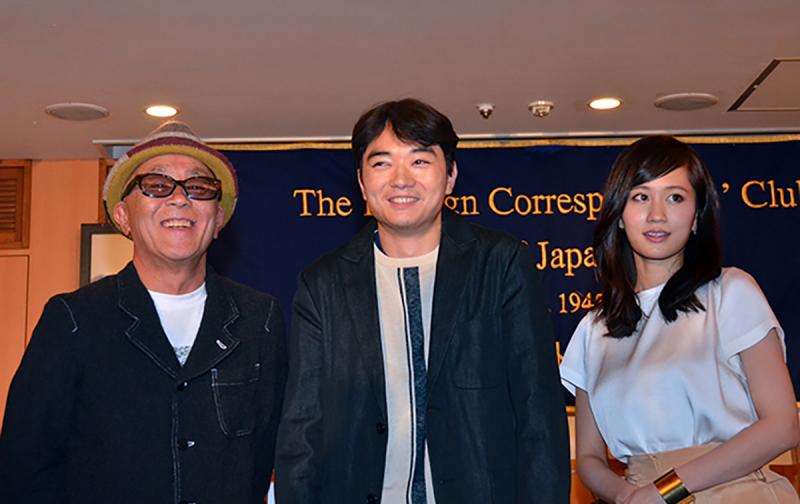 It isn't often that a sneak preview Q&A is hijacked by a celebrity news story — but that's what threatened to happen at our first screening event of the new year. Just days before, Kabukicho Love Hotel star Shota Sometani had announced his marriage to Oscar-nominated actress Rinko Kikuchi, and FCCJ was his first appearance since the news hit the headlines. The Japanese media were thus out in force, descending in huge numbers upon the club, all hoping for a few words about married life. Sometani complied (in spades, considering that the wedding announcement had been so tersely worded), and coverage of his prime sound bites was extensive. (They logged the longest airtime given to any coverage in Japan the next day: 19 minutes, 7 seconds) (!).
Director Ryuchi Hiroki began the Q&A by congratulating him, and Sometani thanked him with a grin. "I just got married, and I am relishing this happiness," he said. "We don't have any children yet, but we hope to in the future, and I'll work hard at being the patriarch." His choice of "patriarch" was pointed, since Kikuchi is 11 years his senior.

Hiroki, Sometani, Maeda
The focus on Sometani was a little distracting, considering that his costar, Atsuko Maeda, is one of Japan's most famous celebrities, and that the film itself was extremely well received by the FCCJ audience. From its world premiere at the Toronto Film Festival last September, through screenings in Korea, Hawaii, Singapore and Tokyo FILMeX, Kabukicho Love Hotel has been garnering the best buzz in recent memory. It marks a welcome return to awards level for Hiroki, whose work has continued to be overshadowed by the success of his 2003 masterpiece, Vibrator.
"Where secrets hide and dreams rest — for a short while" is the tagline of his outrageously engaging new film, set in Tokyo's seedy-but- perennially-trendy red light district in Shinjuku. By turns hilarious and heartbreaking, slapsticky and sexually charged, Kabukicho Love Hotel is a rousing crowd-pleaser, a must-see for anyone who has wanted to take a vicarious peek at all those over-decorated rooms in Japan's love hotels, as well as anyone curious about how such businesses are actually run.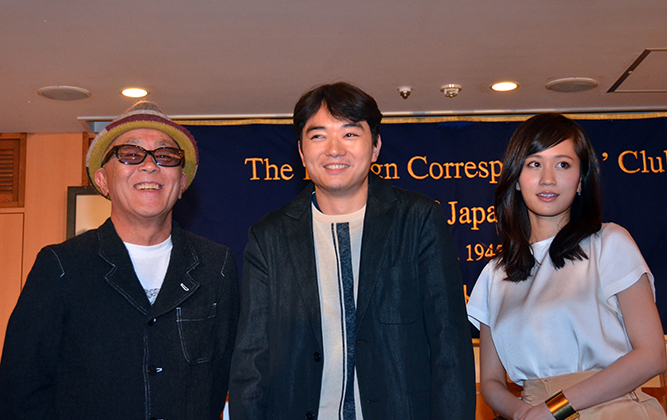 The director and stars pose for an endless photo call after the Q&A session.
Pulling back the covers on a variety of today's social and economic ills, the film is a clever — and perfectly cast — ensemble piece covering 24 hours at the Atlas Hotel, a rather pricey and popular establishment that attracts lovers, cheaters, scouts and "delivery girls," presided over by down-on-his-luck hotel manager Toru (Sometani) and a ragtag staff, including a cleaning lady (Kaho Minami, brilliant as always) who harbors a dark secret. Korean delivery girl Heya (an excellent Eun-woo Lee) meets clients several times on this, her final day of work; two cops book a room for an illicit romp but discover something more interesting than sex; a scout brings in an underage recruit but winds up falling for her; and a paunchy man walks his well-endowed "dog" through the corridors. On this business-as-usual day, Toru makes sure everyone knows he's meant for far better things, but he has a few surprises in store for him: First, he learns that his sister has become a porn star; then his singer girlfriend (Maeda) shows up with a music producer and proceeds to sign a record deal.
Although there are several softcore sex scenes, Sometani and Maeda barely exchange more than a kiss, prompting one journalist to ask whether they would "consider going all the way on film." Sometani answered that he'd done love scenes in the past and would again, if the script required it.  Maeda concurred, "I feel the same way. If there's a need and the script requires it, then I have no problem doing such a scene." Male hearts were surely lifted everywhere — the singer-actress spent seven years as the most popular member of the virginal girl band AKB48, and her film career hasn't yet dispelled that image.
To a question about doing research (nudge, nudge, wink, wink), Hiroki reminded the audience that his career began in Kabukicho, and that he was quite familiar with the love-hotel industry. (In the 1980s, the director had forged a path as "the prince of youth porn," directing many pink and AV titles before branching out into more commercial productions.) The film makes extensive use of locations in that part of Shinjuku, and includes an actual Hate Speech rally in nearby Shin Okubo. Hiroki explained, "These demonstrations have been occurring in the area, and it's embarrassing for Japan that they're happening. I felt there was no need to cover it up, and it was right to show it."
The Kabukicho Love Hotel theme song, a catchy tune that swells over the end credits, is called Believe in Love, belying many, but not all, of the film's "love" stories. The night's final question addressed that belief. After a pause and a laugh, Hiroki said,  "Love is important, yeah." Brief struggle for words. "Love is everything." Maeda also laughed, then replied, "I feel like I'm supported by many people in my work, so I'm very aware of the importance of love."  Said Sometani, whose newly minted marriage lent added oomph to his answer: "There are many kinds of love, and I like the word 'love.' Yes, I believe."
  — Photos by Koichi Mori and FCCJ.
Posted by Karen Severns, Saturday, January 10, 2015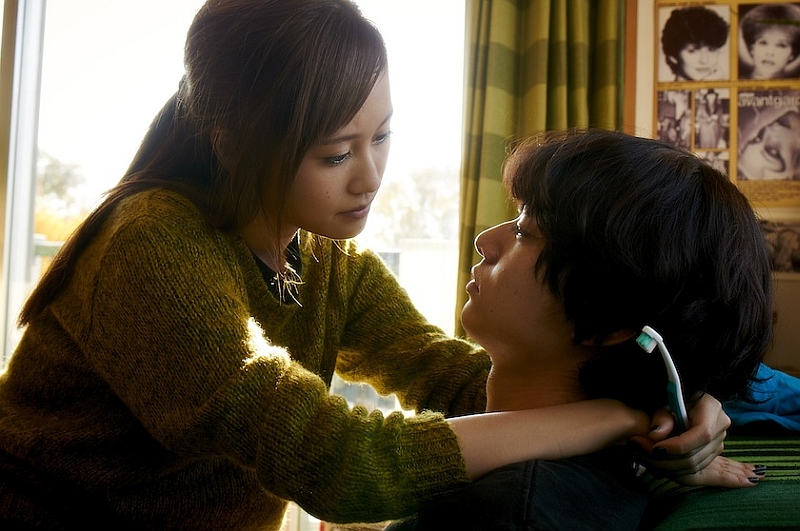 ©2014 Kabukicho Love Hotel Film Partners, Gambit/Happinet
Media Coverage
TV Exposure
    フジテレビ[めざましテレビ OH!]  染谷将太に、廣木隆一監督から祝福
    フジテレビ [スーパーニュース芸能通やく] 主演映画の記者会見なのに報道陣から祝福された染谷将太さん。
    日本テレビ [ZIP! SHOWBIZ TODAY] 染谷将太さん。結婚後初の会見に登場
    日本テレビ [news every.culture & sports] 染谷さんはこれからささいな幸せを大切に
    日本テレビ [情報ライブ ミヤネ屋] 染谷将太が、「さよなら歌舞伎町」の記者会見に出席
    テレビ朝日 [ワイド!スクランブル] 染谷将太が、公の場に登場