Image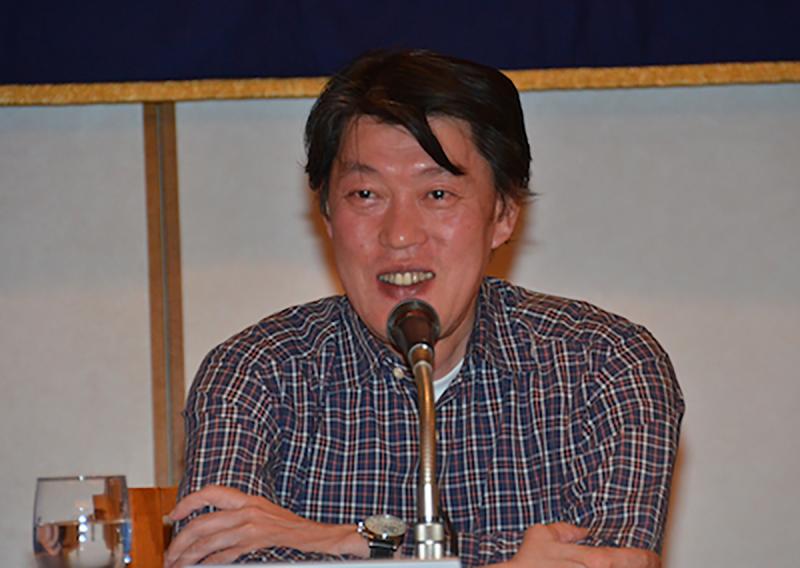 Just two days before the hotly anticipated release of his latest film, Annecy-winning director Keiichi Hara (Colorful) thrilled FCCJ's audience with a sneak peek of Miss Hokusai, which illuminates the extraordinary lives of iconic artist Katsushika Hokusai and his outspoken daughter O-Ei. Following a spate of recent discoveries, O-Ei is now recognized not only as an essential contributor to her father's later — and most famous — work, but as a groundbreaking artist in her own right.
It was only the second time in the past decade that the Film Committee had screened an animated film (the other was Eric Khoo's Tatsumi in 2013), which is admittedly inexplicable from both a creative and financial stance*, given that the anime industry accounts for 90% of all Japanese "content" sales overseas, regularly earns a bigger chunk of change at the domestic box office than all other films combined, and is propelled by some of the biggest names in the global pantheon.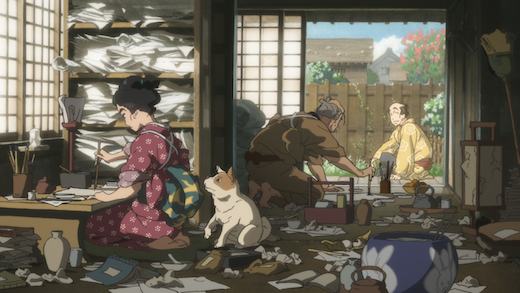 O-Ei (front) and Hokusai (middle) work amidst the detritus of leftovers and failed drawings.
© 2014-2015 Hinako Sugiura・MS.HS / Sarusuberi Film Partners
But one doesn't have to be an anime aficionado to appreciate Hara's enthralling vision of old Edo. Paying tribute to one of Japan's greatest artists — and the assistant who, given different circumstances, might have one day surpassed him — he has literally animated the process of artistic creation in ways that are by turns lyrical, lush, magical, startling and sublime. (The FCCJ audience was split, however, on whether his use of heavy metal in the opening and closing scenes was poetic-license appropriate.)
Marking his first collaboration with the acclaimed animation house Production I.G (Ghost in the Shell, A Letter to Momo, Giovanni's Island), working with the chief animator of Hayao Miyzaki's The Wind Rises, Yoshimi Itazu, and celebrated background artist Hiroshi Ohno, Hara has adapted the beloved historical manga Sarusuberi (Crape Myrtle) by Edo Period expert Hinako Sugiura for Miss Hokusai.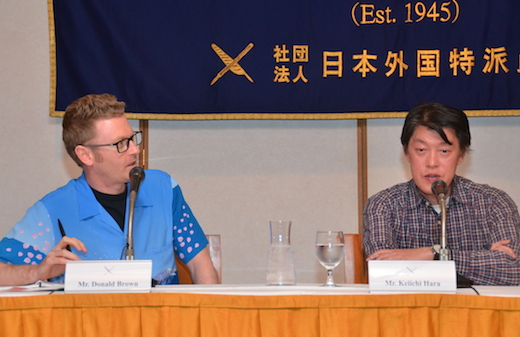 Interpreter Don Brown, looking positively animated himself
(especially the Fuji-and-sakura shirt!) did the subtitles for the film.
During the Q&A session following the screening, Hara repeatedly gave props to the original author. "I did a lot of research, but the vast majority of it was Sugiura-san's," he said in response to a question about why the film seems so "modern" compared to our typical image of Edo Japan. "I was trying to recreate the world that Sugiura-san created in her comics, rather than one that resembles a typical jidaigeki period piece. I think people in the Edo Period lived a far freer, more relaxed and congenial lifestyle than we lead today. They had much more fun."
Hara also noted that he'd chosen a "simple, realistic" style of animation to suit the story. He stressed that Sugiura's women are not "living tragic lives, being persecuted by men. In Sugiura-san's manga, they are full of life, and have the power to choose whichever man they want. Sugiura-san's manga, as well as her essays and other works, showed an image of women that was very different from what we'd seen in period films and on TV."
Indeed, Miss Hokusai often feels almost hyperrealistic in its breathtakingly colorful depiction of 1814 Asakusa-Tawaramachi, teeming with peasants, samurai, merchants, nobles, artisans, courtesans and not surprisingly, we soon find out, a slew of supernatural beings. A stone's throw from Ryogoku Bridge, the eccentric Tetsuzo (aka Hokusai) spends each day creating paintings for clients around Japan, from an enormous Dharma that fills an entire hall to a tiny pair of sparrows on a grain of rice. A master of portraits, landscapes, still lifes and erotica, Tetsuzo's skill fits any commission. O-Ei works at his side, assisting, cajoling and smoking her pipe. They neither clean nor cook, and when their discarded work and leftover food fills up their home-atelier, they simply move to another. Undeniably talented, as well as stubborn, short-tempered and uninterested in money, this father-daughter team may not always agree, but "with two brushes and four chopsticks," they can get by.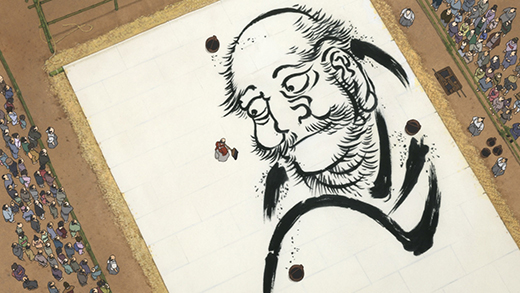 Hokusai paints a pretty (big) picture.
© 2014-2015 Hinako Sugiura・MS.HS / Sarusuberi Film Partners
Hara deployed 3D computer graphics in creating the film, but noted, "I didn't want the CG to take you out of the film. The basic process is the way it's always been done in 2D animation… In particular, there's one scene where O-Ei runs out of the inn, and the camera pans down to her feet, comes back up and swings around, facing her. Normally, that would be done by a CG and 2D animator working together. But I had one animator do the whole 40-second sequence. It took 3 months. But it's the kind of amazing sequence that Japanese animators have the technique and skills to accomplish."
Returning to Sugiura once again, the director explained, "In the manga, O-Ei is the central character [in certain scenes only], but I decided to make her the main protagonist of the film. [Like O-Ei,] Suguira had a soft side to her, but as a writer, she was also very strong and had an eccentric side."
Far from being just the first film Hara has directed that features a female protagonist, Miss Hokusai also surrounded him with a non- traditional crew. "There are more and more women working in the anime industry, especially at Production I.G, which made this film," he said. Besides Sugiura, "the screenwriter was a woman, the two producers were women, and some of the animators were women. So there wasn't any gender gap on this film."

Hara poses with the film's poster, and holds up his newly minted FCCJ Honorary Membership.
Although he directed his first live-action film, the biopic Dawn of a Filmmaker: The Keisuke Kinoshita Story, in 2013, it doesn't look likely that Hara will be leaving animation behind. Along with all his past prizes, in 2015, he was awarded the Anime d'Or at the Tokyo Anime Award Festival for his achievements. Hara will be heading to Annecy, France once again in June, where Miss Hokusai is in festival competition, as well as Montreal in July, where it is the Opening Night film at Fantasia Film Festival. It was also presold across Europe, with releases planned in France, Belgium, the UK, Germany, Austria, Spain and Portugal, among other nations. Can the USA be far behind?
*So shoot me — I didn't develop a taste for animation in my youth, and it's easier to program live-action films when you're fairly ignorant about the likes of Tezuka, Ishii, Anno, Mizushima, Nishio, Araki (but we have tried countless times to persuade the fellows at Studio Ghibli to join us at FCCJ, to no avail).
  — Photos by FCCJ.
Posted by Karen Severns, Sunday, May 10, 2015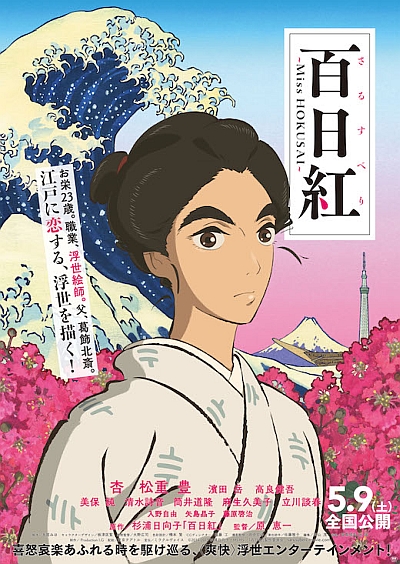 © 2014-2015 Hinako Sugiura・MS.HS / Sarusuberi Film Partners
Media Coverage
Read more
Published in: May
Tag: Hokusai, Edo, animation, Ukiyoe, anime, Annecy, Production IG, Hinako Sugiura, Sarusuberi, manga, awardwinning, Keiichi Hara,
jidaigeki, 3D    
Comments