Image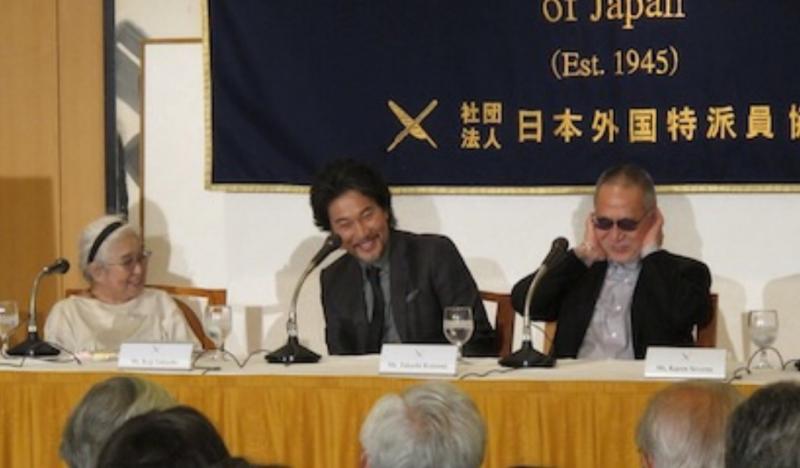 FCCJ's audience had a special treat awaiting them after the sneak preview of A Samurai Chronicle, when Akira Kurosawa's principal assistant for half a century, Teruyo Nogami, joined the film's director and star for the lively Q&A session. Although the questions focused primarily on the new film, the 87-year-old leavened the proceedings considerably whenever she joined in to reminisce about the old days. "I was very fortunate to work with Kurosawa-san for a long time, from Rashomon onward," she noted, "and whenever I see one of his films today, I realize that he was an incredible director, far better than I imagined at the time. I really regret that I didn't realize it earlier."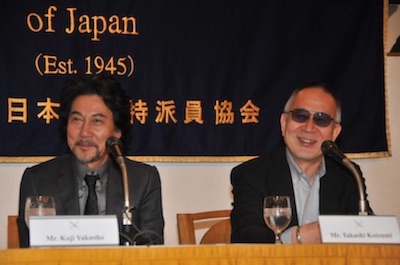 Yakusho, Koizumi
Nogami was in attendance as a special advisor, a "dai sempei," according to the director, who was also a longtime assistant to Akira Kurosawa and had made his own debut directing the master's unfilmed screenplay, After the Rain (2000). She had visited the set during production, and felt Kurosawa's spirit present, sometimes shouting "Hey, Koizumi!"
A film of autumnal magnificence, both in its stunning scenery and its sublime performances, A Samurai Chronicle was adapted by Koizumi from the Naoki Prize-winning novel by Rin Hamuro. Set at the end of the Edo period, it follows a samurai's final three years before he must keep his promise to commit harakiri, the punishment for a crime he committed seven years before the tale begins. The 10-year delay is so Shukoku Toda (Yakusho) can complete a genealogical chronicle detailing the domain's history.
Into his life as a simple country squire comes Shozaburo Danno (Junichi Okada), who has been sent by the prime minister to keep watch over the samurai. Toda's love for his family and commitment to the community, especially the area's downtrodden peasants, is unusual and Danno soon comes to suspect that this honorable man could not possibly have murdered someone in a fit of jealous rage. He sets out to investigate the truth, but finds something even more incriminating: a document that could unravel the domain's entire chain of command.
A jidaigeki (period drama) in the traditional mold, the film was well received at FCCJ and inspired discussion of its meaning for contemporary theatergoers. In light of the political climate in Japan, and the film's story of the manipulation of history through the chronicle of the title, Koizumi was asked whether he had intended audiences to draw any parallels. "There is no political message," the director answered. "These events actually happened, and I tried be as accurate as possible in their depiction. At the same time, I hope the audience gets something out of the story, and I welcome personal interpretations about what is being explored.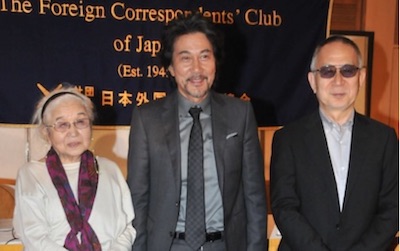 Yakusho joins Team Kurosawa.
Yakusho, generously making his third appearance at FCCJ in the last four years, was questioned several times about his plans to appear in more international films, considering his English-language successes Memoirs of a Geisha (2005) and Babel (2006) and his continued popularity in global hits like Takashi Miike's hits 13 Assassins (2010) and Hara Kiri: Death of a Samurai (2011). "If I could speak English better, it's possible that I might be working more in America," Yakusho said. "But I'm grateful to be able to keep working in Japanese film, and I'll continue to focus on doing my best possible work, and hope the films will be seen by as many people as possible. I hope the rest of the world can also see how good Japanese films can be."
Chances are we can expect Yakusho to work with Koizumi again: both the star and his director expressed an interest in another collaboration, although Yakusho did mention he was a little worried about the high average age of Koizumi's crew, which is peopled with veterans of Kurosawa's shoots. If anything, age proved to be an asset on A Samurai Chronicle — at least behind the camera. In front of it, youthful megastar Junichi Okada and Maki Horikita essay impressive turns, and their love story is sure to draw the younger generation (most of whom think "Kurosawa" refers to Kiyoshi) to the theater.
 — Photos by Koichi Mori and FCCJ.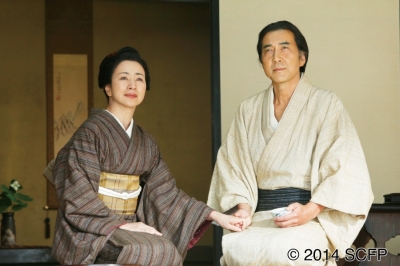 Posted by Karen Severns, Sunday, September 21, 2014
Media Coverage
Read more
Published in: September
Tag: Koji Yakusho, Takashi Koizumi, Teruyo Nogami, jidaigeki, samurai, awardwinning, Akira Kurosawa    
Comments