Image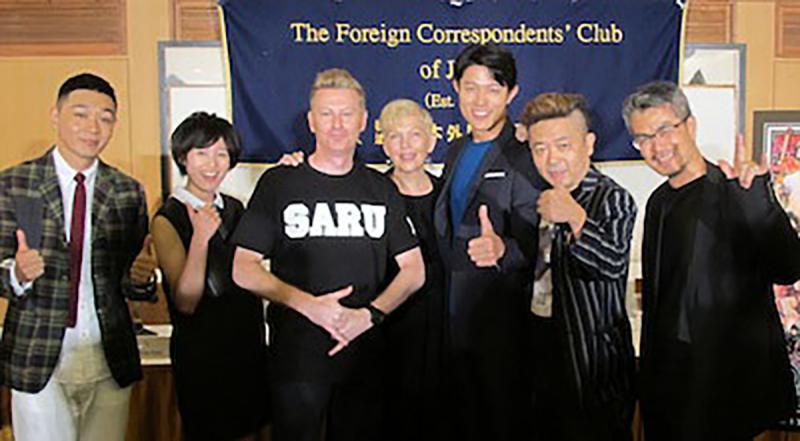 Studies have shown that only a handful of Japanese directors are known by name overseas. Right near the top of that short list is Sion Sono, the one-man cinematic cyclone whose every work, even after a prolific career spanning 25 years, still feels iconoclastic. Provocateur, impish maestro of naughtiness, winner of countless festival awards, discoverer of new talent — he guided Shota Sometani and Fumi Nikaido to the Marcello Mastroianni Prize for Acting in Himizu — reaper of box-office coin (2010's Cold Fish was a surprise international hit), Sono is the creator of both high-minded fare like the Fukushima-themed The Land of Hope (2012) and low-brow celebrations of B-movie outrageousness like Why Don't You Play in Hell? (2013).
The Movie Committee had attempted to lure the director in for a sneak preview event since his much-admired Love Exposure in 2009, but each new release found him already deep in production on the next, too busy to make an appearance. On our seventh attempt, we hit the jackpot: Tokyo Tribe proved to be our lucky number. Sono's frenetic live-action adaptation of Santa Inoue's mega-bestselling manga series "Tokyo Tribe2," the film is the world's first rap musical and marks the screen debuts of hip-hop artists from seemingly every Japanese prefecture.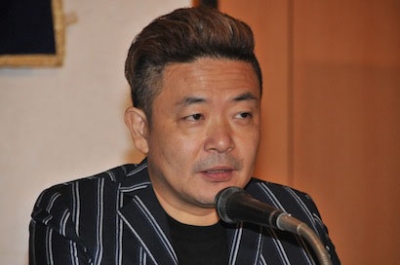 Sono speaks
Sono brought with him his three young stars, Ryohei Suzuki (Gatchaman, Hentai Kamen: Forbidden Superhero, NHK's Hanako to An), Young Dais, a popular recording artist, and Nana Seino (Wood Job!) — who obliged the director's request to demonstrate her panties-flashing backflip for the FCCJ audience. Suzuki and Young Dais impressed the audience (and their director) with verbal gymnastics: both had gone to high school in the US, so answered questions in fluent English and then translated themselves into Japanese.
During the Q&A, Sono described how he was brought into the project by his frequent producer, Yoshinori Chiba, who "plotted and schemed" to get it made. The manga adaptation process began with only a few rap songs, but eventually grew into a full-blown musical after Sono held nationwide auditions to select hip-hop artists and gave them suggestions for lyrics to be adapted. Without the rapping, he said, the film would have been "an orthodox coming-of-age story."

Seino, Young Dais and Suzuki.
Young Dais and Suzuki both lauded the director for encouraging interaction, a process that Suzuki likened to "a battle" of creativity. "I needed to bring more than he expected to the set," he said, "and we had to always be ready for changes and new scenes all the time. That was a real thrill." Young Dais added that acting was a big adjustment for him, but toward the end of shooting, he was comfortable enough to make suggestions to Sono, "and he would listen and say, 'yeah, let's try that,' and he was really encouraging to me. But he's really a crazy guy."
Seino discussed how she'd always heard that Sono was a "scary, demanding director," but found him to be very supportive on set. She leaned forward and directed her final remarks to Sono: "I love you, desu," she said, to which her director replied, "Me, too."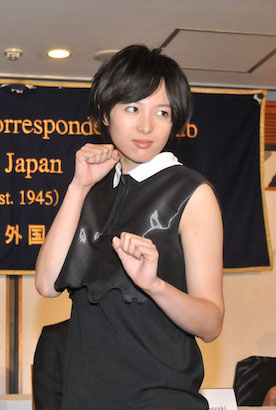 Seino strikes a pose after her backflip.
Like the manga, Tokyo Tribe opens five years after the Shibuya riots, with Tokyo divided into territories run by 23 rival tribes — the Shibuya Saru, Shinjuku Hands, Kabukicho GiraGira Girls, Bukuro Wu-Ronz and my personal favorite, Nerimuthafuckaz — each with their own colorful approach to fashion and the new lingua franca, rap. Crossing territorial lines in this Blade Runneresque Tokyo results in ballistically choreographed, action-packed rumbles — just as it did in the New York of West Side Story, another obvious influence on the director.
The FCCJ audience was clearly enthusiastic about what one attendee called "two hours of constant, ass-kicking fun:" a constant visual assault of candy-colored neon, lewd graffiti, black leather thongs, flying kickboxers, a Kano sister, a sadistic midget, severed fingers in cigar boxes, human furnishings, penis jokes and a growl-rapping Riki Takeuchi, all directed with the deliciously delirious excess that has made the madcap-genius director (almost) a global household name. The international rollout of Tokyo Tribe, which begins with the Toronto Film Festival, where the film opens the Midnight Madness section, is sure to further Sion Sono's renown.
— Photos by FCCJ.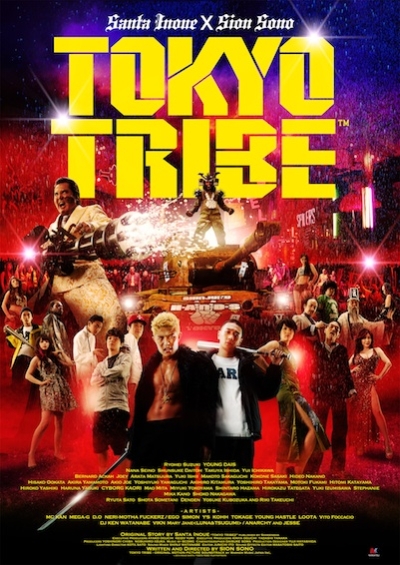 © 2014 NIKKATSU
Media Coverage
2014年8月8日
・『PON!エンタメよーいPON!』 日本テレビ
・『スッキリ!!エンタメまるごとクイズッス』 日本テレビ
・『ZIP!SHOWBIZ TODAY』 日本テレビ
2014年8月12日
・『PON! 毎日が緊急企画!ちょっとおトーク』 日本テレビ
 
Read more
Published in: August
Tag: Tokyo, manga, Ryohei Suzuki, Nana Seino, Young Dais, rap musical, awardwinning, Sion Sono    
Comments