Image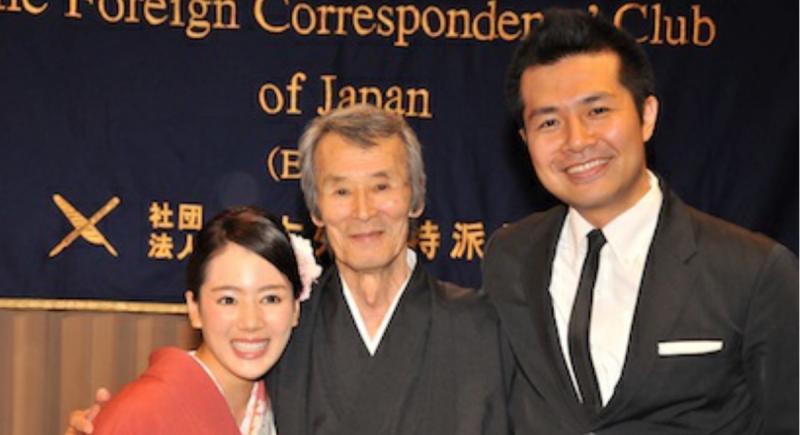 They call him the Man Who Died 50,000 Deaths, but legendary chambara actor Seizo Fukumoto revealed the truth to the FCCJ audience: "It's an exaggeration. I've probably been killed only 20,000 times." Cue an eruption of laughter. Unlike the taciturn, aging stuntman he portrays in the crowd-pleasing Uzumasa Limelight, Fukumoto proved to be a loquacious guest.
In Ken Ochiai's film, as in life, the 71-year-old veteran plays a kirare-yaku, a sword-fighting extra who has plied his artistry in Japan's once-predominant samurai film and TV industry for over 50 years. When the hero slices him with a sword, as will inevitably happen, Fukumoto's eyes and mouth fly open in a deadly grimace, his back arches in a gravity-defying arc, and finally, he thuds heavily to the ground. This death is his trademark move, and it helped make him an industry favorite at Kyoto's Uzumasa Studios, once the Hollywood of Japan.
But the rapidly dwindling production of jidaigeki samurai dramas has threatened the livelihood of everyone at the studios, and this is essentially the story of Uzumasa Limelight, which pays richly deserved homage to the stunt performers of yore and features many familiar faces from the much-loved genre. Both Ochiai and wushu junior world champion Chihiro Yamamoto — who makes an extraordinary acting debut in the film at age 17 — told the FCCJ audience they recalled their grandparents watching the long-running Mito Komon TV series when they were growing up.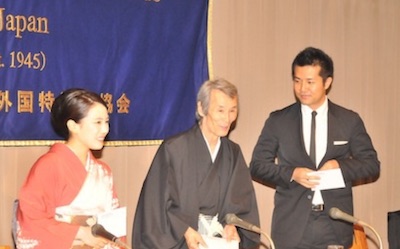 The director and stars receive their FCCJ honorary membership cards
But it wasn't until Ochiai went to the US to study film at the University of Southern California that he realized how essential jidaigeki are to the world's perception — and appreciation — of Japanese film.  Ochiai's experience in the US, along with that of his LA-based producer, Ko Mori, and his American cinematographer contribute to the film's successful combination of Japanese tradition and international sensibility.
The astonishing, real-life skills of Uzumasa Limelight's two leads is worth the price of admission alone, but there is much else to admire, from the stunning art direction to the evocative soundtrack. An elegy for Japan's once-plentiful period films and the unsung heroes of the genre, it is also a timely reminder that every generation stands on the shoulders of giants.
— Photos by FCCJ.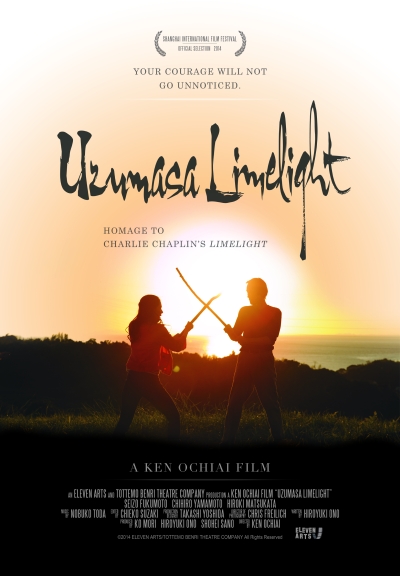 ©ELEVEN ARTS/ TOTTEMO BENRI

Media Coverage
Read more