Wednesday, November 14, 2018, 18:15 - 20:30

                                                                          ​​​​​​​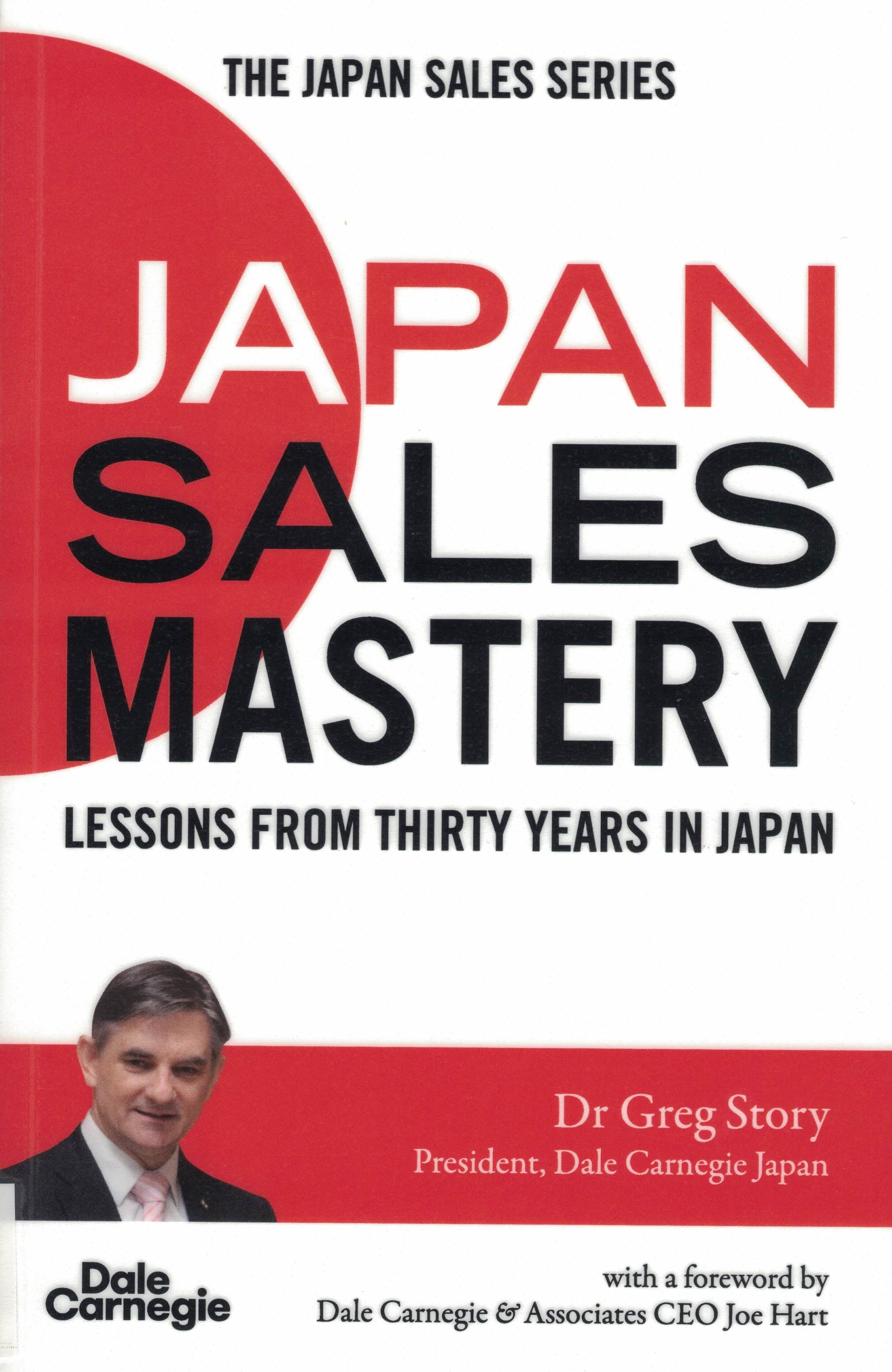 This bestselling new book Japan Sales Mastery is the first book published on this important subject in the last thirty years. It is aimed at helping foreigners sell to Japanese buyers, be they located here or overseas. "Nothing happens in business until a sale is made" is true, however Japan just makes that equation a little bit more complex. There are 7 key "moments of truth" in selling in Japan which have to be mastered in order to be successful. This book details the "how to" part of successful selling in Japan, based on Dr. Story's 30 plus years of experience selling to Japan.
A key part of being successful is to have a correct kokorogamae (心構え) or true intention in sales. Our starting point is critical but many salespeople fail to get this right. There is a distinct sale cycle, which all successful salespeople have to follow, to get the order. Surprisingly, most salespeople in Japan have no idea what they are doing and so suffer accordingly. Sales is an art and a science and Japan is way behind on both counts. We are all in sales, although many people haven't quite worked that part out yet. We all want to be more persuasive. That is exactly what selling focuses on and there are things that work in Japan and things that don't. Find out which is which at this talk by Dr. Story and improve your own persuasion capability as a result.
Dr. Story, an Australian who has lived in Japan for 31 years, holds a Ph.D. in Japanese Decision Making and is a 6th Dan (段) Black Belt in traditional Karate. He graduated with honors in Modern Asian Studies at Griffith University in Australia, coming to Japan in 1979 and completed a MA at Jochi University. Previously, he worked for the Australian Trade and Investment Commission (Austrade) and the Shinsei Retail Bank. He is the President of Dale Carnegie Training Japan K.K., a branch of Dale Carnegie Training Corp. which was founded in New York in 1912. The Japan branch was launched in 1963.
The library committee is offering a cocktail party–"Meet the Author"–starting at 6:15 pm, followed by dinner at 6:45 pm (Menu: TBD). Drinks can be ordered on a cash basis from the bar in the room. Book Break charges are 2,100yen / 3,500yen (members / non-members) per person. The member price is applicable to members' guests.
To FCCJ members: Sign up now at the reception desk (03-3211-3161) or on the FCCJ website. To help us plan proper seating and food preparation, please reserve in advance, preferably by noon of the day of the event. Those without reservations will be turned away once available seats are filled. Reservations cancelled less than 24 hours in advance will be charged in full.
To non-members: Sign up now at the reception desk by email (front@fccj.or.jp). Please reserve and pay in advance by Friday, November 9th. Those without reservations will be turned away once available seats are filled. No refund is available unless the event is cancelled for the reasons on our part.
Any attendees with food restriction should inform the frontdesk (front@fccj.or.jp) one day before the event.