| | |
| --- | --- |
| | |
|          Janine Beichman |     With Dr.Donald Keene in 2017, taken by Nobuyuki Suzuki (Tokyo Shimbun)    |
The Library committee's January Book Break will commemorate the first death anniversary of Dr. Donald Keene, the esteemed scholar who is beloved in Japan and admired internationally for his contribution to expanding the world of literature.

Dr. Keene has been a frequent guest and speaker in the Foreign Correspondents' Club of Japan since its inception in 1945. His observations and lectures remain a key aspect of the FCCJ's respected list of past speakers especially among those who represented the remarkable post World War II recovery of Japan.
 
[From the speaker]
Many people, probably hundreds, could use the title above, but each would have a different story to tell, for the many friends of Donald Keene, the great scholar and translator of Japanese literature who died in February 2019 at the venerable age of 96, belonged to many different worlds, ranging from the academic world to the creative arts, and even to the imperial family of Japan. I want to evoke the richness of Donald Keene's mind and his life by telling the story of my own friendship with him, a friendship which I think was typical of him. This will, I think, give readers a deeper sense of his work and a greater appreciation of his books.
I was first Keene's student and then, like many of his students, became a friend. How and why did our paths intersect? What was Donald Keene like as a teacher? What was he like as a friend, especially in his last years? And what can stories about these aspects of him tell us about the human being he was? Rather than a book talk, this will be a life talk.
[Introduction about the speaker]
Award-winning scholar, translator, and poet Janine Beichman wrote her doctoral thesis at Columbia University under Donald Keene. She later studied in poetry workshops at the Fine Arts Work Center, the Unterberg Poetry Center of 92Y, and The New School with the poets Maxine Kumin, Marie Ponsot, Marie Howe, Carl Phillips, and David Yezzi. Her publications include biographies of the haiku poet Masaoka Shiki and the young Yosano Akiko, translations of the modern poet Ōoka Makoto's own poems and also of his anthology of ancient and modern Japanese poetry, and an original Noh play. She is the recipient of grants from the National Endowment for the Humanities, the National Endowment for the Arts, and America PEN. This year she received the Japan-US Friendship Commission Award for the Translation of Japanese Literature for Beneath the Sleepless Tossing of the Planets: Poems by Ooka Makoto.
The library committee is offering a cocktail party - "Meet the Author - starting at 6:15 pm, followed by a set dinner with one drink at 6:40 pm (Menu: TBD with ONE DRINK (one from orange juice/ Oolong Tea/white wine/ red wine). Drinks can be ordered on a cash basis from the bar in the room. Book Break charges are 3,100 yen / 4,100 yen (members/non-members) per person. The member price is applicable to members' guests.
To FCCJ members: Sign up now at the reception desk (03-3211-3161) or on the FCCJ website. To help us plan proper seating and food preparation, please reserve in advance, preferably by noon of the day of the event. Those without reservations will be turned away once available seats are filled. Reservations cancelled less than 72 hours in advance will be charged in full.
To non-members: Sign up now at the reception desk by email (This email address is being protected from spambots. You need JavaScript enabled to view it. ). Please reserve and pay in advance by Thursday, January 16th, 2020. Those without reservations will be turned away once available seats are filled. No refund is available unless event is cancelled for the reasons on our part.
Any attendees with food restriction should inform the reception desk (This email address is being protected from spambots. You need JavaScript enabled to view it. ) three days before the event.
(The Talk will be in English)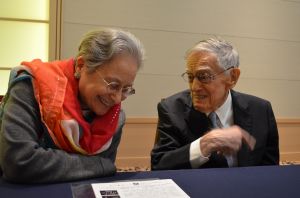 ​​​​​​​