Alan Booth

 

Timothy Harris

 
 
Alan Booth (1946-1993) was the author of two acclaimed travel books about Japan; "The Roads to Sata" (Weatherhill and Penguin) about walking the length of Japan; and "Looking for the Lost" (Kodansha), an account of three walking journeys in the tracks of Dazai Osamu (太宰治), Heike (平家) fugitives in the Genpei War (源平合戦) and Saigo Takamori (西郷隆盛) in his last retreat across Kyushu. He was also a prolific journalist, and wrote regular film reviews for the (now-defunct) Asahi Evening News, as well as essays on Japanese festivals and folk songs, and other essays and accounts of travel that were published in a variety of publications. "This Great Stage of Fools" (Bright Wave Media, Yokohama) collects the best of his journalism, including the harrowingly funny account of his struggle with cancer.
The editor of "The Great Stage of Fools," Timothy Harris who is a speaker at this Book Break event, was born, like Booth, in London. As founder and editor of the arts pages at the Asahi Evening News, he invited Booth to write for the newspaper. His poetry, translations and essays on poetry, drama and music have appeared in PN Review (Manchester), Agenda (London), Quadrant (Melbourne), Plays International (London), the Asian edition of the Financial Times, and the Chicago Review. He contributed to The Oxford Companion to Twentieth-Century Poetry in English (Oxford University Press). He has also acted and directed here in Japan, and the production he directed of Monteverdi's L'Orfeo in 2007 with some of Japan's best-known singers and musicians was described as a 'wonderful production' (subarashii jouen 素晴らしい上演) in Japan's leading music magazine Ongaku no Tomo (音楽の友). He lectures on literature, and works as a diction coach at the New National Theatre and elsewhere.
In the talk at FCCJ, he will talk about working and performing with Alan Booth; about the difficulties involved in getting 'This Great Stage of Fools' published; and about the value of Booth's writing.
The library committee is offering a cocktail party – "Meet the Author" – starting at 6:15 pm, followed by dinner at 6:45 pm (Menu: TBD). Drinks can be ordered on a cash basis from the bar in the room. Book Break charges are 2,100yen / 3,500yen (members / non-members) per person. The member price is applicable to members' guests.
To FCCJ members: Sign up now at the reception desk (03-3211-3161) or on the FCCJ website. To help us plan proper seating and food preparation, please reserve in advance, preferably by noon of the day of the event. Those without reservations will be turned away once available seats are filled. Reservations cancelled less than 72 hours in advance will be charged in full.
To non-members: Sign up now at the reception desk by email (This email address is being protected from spambots. You need JavaScript enabled to view it. ). Please reserve and pay in advance by Thursday, February 21st, 2019. Those without reservations will be turned away once available seats are filled. No refund is available unless event is cancelled for the reasons on our part.
Any attendees with food restriction should inform the frontdesk (This email address is being protected from spambots. You need JavaScript enabled to view it. ) one day before the event.
(The talk will be in English)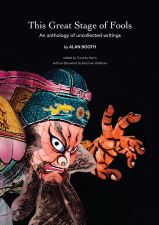 ​​​​​​​