Friday, April 10, 2020, 19:00 - 21:30
This event has been cancelled as a proactive step to avoid spread of COVID-19 through our social event.
We would deliver sincere thank you for understanding this decision, especially those who reserved for this event.
------------------------------------------------------------------------------------------------------------------------------------
There are two sides to every story - unless they become internet memes
Sneak Preview Screening: "Mrs. Noisy" followed by a Q&A with director Chihiro Amano
and stars Yukiko Shinohara and Yoko Ootaka
Friday, April 10 at 7:00 pm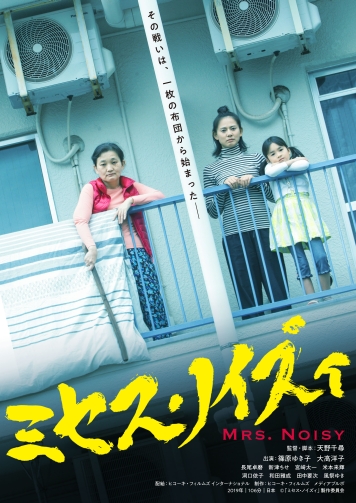 ​​​​​​​
In Japanese with English subtitles
Japan, 2019 106 minutes
Director: Chihiro Amano
Writers: Chihiro Amano, Yoshinori Matsugae
Producer: Masaya Takahashi
Starring:
Yukiko Shinohara, Yoko Ootaka, Takuma Nagao, Chise Niitsu,
Taichi Miyazaki, Raiki Yonemoto
Film courtesy of Hikoki Films International
"It all started with a single futon" runs the tagline of this breezy dramedy from female filmmaker Chihiro Amano. But it doesn't really begin that way. It begins with Maki (Shinohara) and her husband Yuichi (Nagao), as they cuddle their infant daughter Nako and discuss the future. Maki is an award-winning author, and she insists the baby is not going to slow down her pace. She can't wait to get back to her keyboard, and Yuichi, supportive and encouraging, suggests that being a mother may help her "reach new depths" as a novelist.
Then, inevitably, writer's block strikes... and it's six years later.
The family has just moved into a new apartment and Maki is struggling to make a writing deadline after working all night when a ruckus erupts outside. Her new neighbor, Miwako (Ootaka), is beating a futon as if possessed, and unfortunately, it's an early-morning ritual. The women might have maintained an impolite truce if Miwako hadn't taken Nako to the park without telling the girl's distracted mother. Maki's single-minded focus on her work gradually transforms into a dangerous obsession with her oddball neighbor.
But no character or storyline is black and white, as Maki's exasperated editor keeps reminding her. When the film begins delving into Miwako's backstory, it's not at all what it seemed. As our sympathy builds for the misunderstood neighbor, Maki's serialized column about her - titled "Mrs. Noisy," of course - is given a boost after her cousin's video of the two women battling it out on the balcony one morning goes viral. Then the Twitterverse gets hold of it. Soon, multiple lives are spinning out of control and "Mrs. Noisy" transforms into a deeply moving exploration of the gray zones.
Please join us for this sneak preview before the Japan release of "Mrs. Noisy" on May 1.
For more (in Japanese): http://mrsnoisy-movie.com/
Writer-director CHIHIRO AMANO spent five years as an office worker before she began making films. Her work, including "Confession of Figaro" (2012), "Doshitemo Furetakunai" (2014) and "Leap Year Girl" (2018), has been shown and received awards at domestic and international film festivals, including the Pia Film Festival. "Mrs. Noisy," her fifth feature, had its world premiere at the 2019 Tokyo Intl Film Festival and has so far played at the Asia Pacific Film Festival in Macao, CinemAsia Film Festival in the Netherlands and the Helsinki Cine Aasia Film Festival.
YUKIKO SHINOHARA made her film debut in 2012's "Odayaka," and along with many roles on TV, has appeared in "Backwater" (2013), the "Midnight Diner" series (2015, 2016), "Pink and Gray" (2016), "Her Love Boils Bathwater" (2016), "Double Life" (2016), "The Inerasable" (2016) and "Farewell Song" (2019). Shinohara received the Best Actress Award at the 59th Asia Pacific Film Festival in January for "Mrs. Noisy."
YOKO OOTAKA began acting as a student with the famed Theater 50 at Waseda University, but spent her career in the corporate workforce until returning to the stage with the Tsumazuki no Ishi theater company. She is now active on TV and stage as well as in films, and has appeared in "Sukimasuki" (2015) and "Summer of Lemmings" (2017), among others.
Please make your reservations at the FCCJ Reception Desk (03 3211-3161) or register below. You may attend the Q&A session without attending the screening, but you will not have seating priority. If you plan to attend the Q&A session without attending the screening, please inform the Reception Desk to assure there is seating available. All film screenings are private, noncommercial events primarily for FCCJ members and their guests.
- Karen Severns, Film Committee