FCCJ'S Year-end Wine Tasting featuring French Wine
Magnificent Top Brand Champagne and Wines From Bordeaux , Bourgogne, Alsace, Rhone, Loire and Provence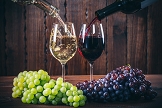 Monday Nov. 30 and Tuesday Dec. 1, 2020
1st session from 5:30 pm
2nd session from 7:10 pm
The Food and Beverage Committee is very pleased to announce an outstanding selection of top brand wines from famous French wine producing regions, with specially reduced prices for FCCJ's Members and their guests, there will be something for every taste and budget.
Featured wines include a 2017 Chateau Durfort-Vivens Margaux at 7,870 yen,
2016 Armies Rouge at the unbelievable price of just 950 yen,
a 2017 Gevery- Chambertin Clos du Meix at 7,670 yen, and
a 2016 of Chateau Nicot with at just 1,180 yen.
There are also a 2018 Condrieu Les Terrasses of Cote du Rhone, at 6,300 yen, and
a Cremant de Bourgogne Blanc Brut at 1,970 yen.
For champagne lovers, there will be a 2012 vintage Champagne Fleur Blanche Blanc de Blancs Brut Millesime for just 5,590 yen.
Please look forward to many other top brand French wines and Champagnes, available for tasting at your leisure..
As always, in addition to the fabulous wine selection, there will be a variety of outstanding cheeses to complement the wine tasting.
There will be two sessions per evening for both days. The first session starts at 5:30 and ends promptly at 6:50, followed by the second session at 7:10 which ends at 8:30.
PLEASE NOTE;
Instead of having the usual 100 persons at each session,
I have arbitrarily limited each wine tasting session to 50 persons, due to the corona virus pandemic.
The price per person is 2,100 yen, which includes tax.
Please reserve in advance at the Front Desk or by phone at 03-3211-3161, or online at http//www.fccj.or.jp.
Cancellation less than 48 hours in advance will be charged in full.
Wine will be available for purchase from the vendors as usual. Credit cards (Master & VISA) are accepted.

The Food and Beverage Committee

FCCJ 年末のワイン試飲会: フランス産ワイン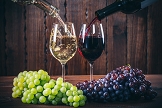 2020年11月30日 (月)、12月1日(火)
第一部午後5時30-
第二部 午後7時10分-
2020年のFCCJ年末のワイン試飲会は、株式会社モトックスの協力によりフランスからトップクラスのワインを取り揃えて皆様をお待ちしております。
シャトー・デュルフォール・ヴィヴァン2017 (7,870 円)は、正統派マルゴースタイルを尊重したシャトーで非常に柔らかくエレガントなワインです。
アラミスルージュ2016 (950 円)は、マディラン屈指の銘醸生産者シャトー・ダイディが、タナを主体に造った果実味豊かな赤ワインです。
ジュヴレ・シャンベルタン クロ・デュ・メ・デ・ズシュ2018 (7,670 円)は、ブラックチェリーやバニラを想わせる複雑な香りで柔らかくフルーティな味わいも楽しめます。
シャトー・ニコ2016 (1,180 円)は、つやのある口当たりでタンニンも滑らかなワインです。
コンドリュー レ・テラス・デュ・パラ2018 (6,300 円)は、桃やアプリコットの美しい果実味とスパイスのアロマを感じられフレッシュで心地よい飲み口のワインです。
クレマン・ド・ブルゴーニュ ブリュットNV (1,970 円)は、ふくよかな味わいで、バランスの良い一本です。
ボーモン・デ・クレイエール フルール・ブランシュ ブラン・ド・ブラン ブリュット ミレジム2012 (5,590 円)は、シャルドネのキュヴェ(第一搾汁)のみで造られる洗練されたブラン・ド・ブランです。
この他にも素晴らしいワインを特別価格にてご用意しておりますので皆様の御参加を心よりお待ちしております。
ワイン販売方法はクレジットカード (Master &VISAカード)でのお支払いのみとなります。
チーズとその他の食材に関しましては、当日の販売は現金のみの取り扱いとさせていただきます。
午後5時30分~6時50分、午後7時10分~8時30分までの2部制となりますので、ご予約の際にお時間をご指定ください。
フロントデスク(03-3211-3161)またはオンライン (http://www.fccj.or.jp) にて予約を承ります。
*どちらの回もコロナウイルス感染対策の為通常100名様までのご予約を先着順50名様までに制限させていただきます。
*空き状況によりましては予約時間のご変更は承り兼ねます。
価格
ワインテイスティング 2,100 円 (消費税込み)         
48時間以内のキャンセルは、全額御請求となりますのでご了承ください。

フード&ビバレッジ委員会