It's Saturday Nite Live
Sam Ishihara
Howdy!
I'm Sam Ishihara, a country music singer-songwriter, and have written more than 1,000 songs.
I will soon be back at The Foreign Correspondents' Club of Japan with my band called The Stonefields and pickin' an' singin' good ole American country songs and some of my own songs including "One More Beer", "Lonesome And Helpless" and "Fool".
I'd really like to hear from y'all country music fans and supporters.
Here's my email address : samstonefield0717@gmail.com
Come and celebrate Halloween at FCCJ with Sam Ishihara & The Stonefields. Sam promises some fun stuff for Halloween. Also wear a mask for the eyes, nose or mouth. We will have a mask competition and prizes for the best looking mask. Wear your unique COVID-19 mask!
And remember, it's free. No cover charge. No music charge. You just can't beat SNL for an exciting, entertaining night out in Tokyo.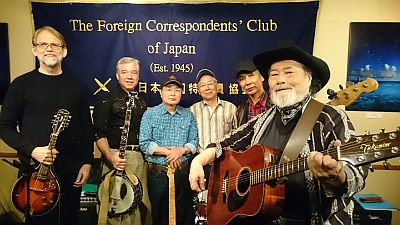 The Entertainment Committee
Coming Up!
November 7 Viorica Lozov
November 14 Comado
November 21 Mark Tourian
November 28 Kenneth Andrew