It's Saturday Nite Live!
RedSpice Band
Viorica Lozov began singing in a choir at the age of five, she has performed numerous times on television. Graduates Music College Stephan Neaga at class of academic Canto and choir conductor. Lately studies Jazz vocals at Music University G. Musicescu. She got many trophies at singing contests in Russia, Poland, Spain, Ukraine and started working as a professional from the age of 15 as the host of a music show. At the age of 18, she came to Japan to Huis Ten Bosch in Nagasaki, as their lead singer. Now she's actively singing in hotels in Tokyo, live houses and various events. Like Tokyo Hilton, Ritz Carlton, Park Hyatt Hotel. She covers a wide range of her repertory including Jazz, classic, latin, pops, chanson. She speaks 5 languages and sings in 13 languages .
She recently collaborated with Shakuhachi's leading guru, Akihito Nakamura and legendary bassist Paul Jackson and sang for Asada Mao's DVD release The Madame Butterfly.
Guitar -Mac Fukuda, Trumpet/Horn-Yuri Sasaki, Bass-Derek Short, Vocal-Viorica Lozoff
And remember, it's free. No cover charge. No music charge. You just can't beat SNL for an exciting, entertaining night out in Tokyo.
The Entertainment Committee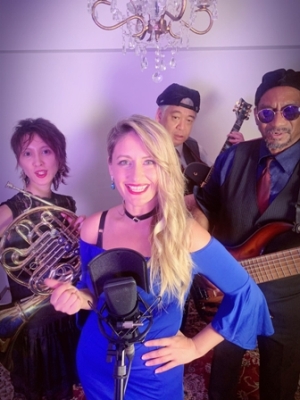 Coming up!
November 14 Comado
November 21 MT6
November 28 Kenneth Andrew Trio
December 5 John & Yuko Keyser
December 12 NO SNL