It's Saturday Nite Live! (NO RESERVATION REQUIRED)
Felix Sonnyboy & Mikie O'Shea
Felix Sonnyboy is a "songster" from Michigan U.S.A. He knows over 2000 songs and has written 500. Blues from 1906 to country songs of the 60s.
Felix has traveled and sung in all 50 states and most of Western European. Always with his banjo or guitar on his back and notebook in his pocket.
His accompaniment will be very talented Mikie O'Shea from Ireland on violin. Come down for a great night of music and enjoy some of America's classic songs.
https://felixsonnyboy.bandcamp.com/
And remember, it's free. No cover charge. No music charge. You just can't beat SNL for an exciting, entertaining night out in Tokyo.
NO RESERVATION REQUIRED
.
The Entertainment Committee
Coming up!
May 1           NO SNL
May 8           NO SNL  
May 15          Chris Grundy
May 22          Taku Yasumi
May 29          Michael Fogarty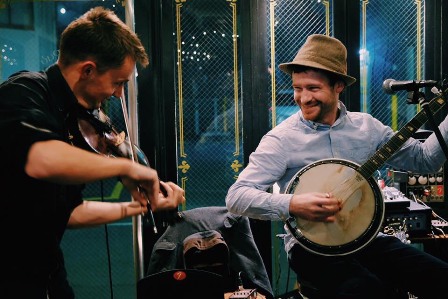 NO RESERVATION REQUIRED