Tuesday, February 25, 2020, 19:00 - 22:00
A lonely boxer finds a soulmate in violently pulpy action-comedy-thriller
Sneak Preview Screening: "First Love (Hatsukoi)"
followed by a Q&A with director Takashi Miike and star Masataka Kubota
Tuesday, February 25 at 7:00 pm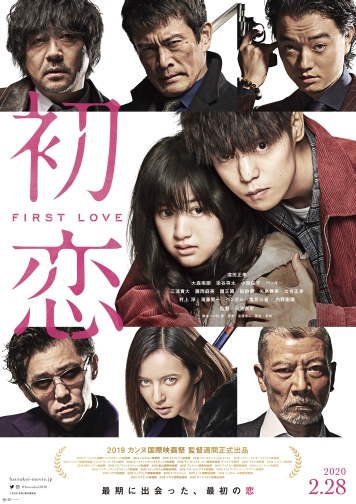 In Japanese and Mandarin with English subtitles
Japan / UK 2019 107 minutes
Proactive steps to protect audience from COVID-19 as it is an event that over 90 people sitting together in the dense seat setting:
the Film Committee decided to put following message in the upcoming 3 screening events (Feb. 25th, Mar. 4th and Mar. 17th)
"Please note that this event will be crowded. We encourage you to take personal precautions, such as wearing a mask and using the hand sanitizers that we have provided in front of the venue."
Directed by: Takashi Miike
Written by: Masaru Nakamura
Produced by: Muneyuki Kii, Jeremy Thomas, Misako Saka
Starring: Masataka Kubota, Nao Omori, Shota Sometani,
Sakurako Konishi, Becky, Jun Murakami, Sansei Shiomi, Seiyo Uchino
Film courtesy of Toei
Is Takashi Miike having some fun with the hackneyed-as-hell title of his new film? You can count on it.
While there is a love story, it's no blushing romance. Told with hurtling kinetic oomph, the noirish yakuza tale features the usual assortment of Miike lowlifes - drug smugglers and addicts, corrupt cops and cold-blooded killers, call girls and Chinese gangsters, sociopaths and screw-ups - all vying to survive anarchic gunfights, swordfights, exploding toys, flying cars and meth-induced delirium in Japan's rotten underbelly.
In other words, it's business as usual for the compulsively prolific auteur (Miike has directed 4 releases a year for over a quarter century, in every possible genre, earning him global adulation and notoriety). The godfather of Asian Extreme has provided plenty of instant ramen for fanboys over the years, but he's also proven in numerous titles, from "The Bird People in China" to "Hara-Kiri: Death Of A Samurai" that he can produce restrained, humanistic works when the mood strikes. "First Love" gives us both sides of Miike: the sober, introspective romantic and the gleefully outrageous bad boy.
Leo Katsuragi (Kubota) is an "unknown boxer with promise" who fights well in the ring, but has nothing to live for outside it. An abandoned orphan with a menial day job at a Chinese restaurant, he learns that he has a brain tumor and little time left. His doctor advises that he dedicate himself to helping someone else, and presto, he meets Monica (Konishi), a sweet young meth addict haunted by the ghost of her abusive father, whose debts she has been forced into prostitution to pay off.
The star-crossed pair are unwittingly enmeshed in a drug-smuggling double-cross hatched by minor hoodlum Kase (a hilarious Sometani) and dirty-dealing cop Otomo (Omori), and are pursued through a single chaotic night by an array of outré characters, including, mostly memorably, a rampaging gangster's girlfriend, Julie (a kickass Becky), who's out for brutal revenge after he's murdered; and a female assassin working for the Chinese Triads (Mami Fujioka), who laments that there's no honor or humanity among thieves anymore.
"First Love" premiered in the Directors' Fortnight at the 2019 Cannes Film Festival, marking Miike's fifth turn on the Croisette red carpet and his fourth film with British producer Jeremy Thomas, after "13 Assassins" (2010), "Hara-Kiri: Death Of A Samurai" (2011) and "Blade of the Immortal" (2017). His screenwriter is Masa Nakamura, who also penned "The Bird People in China," and humanizes the two young protagonists, viewed with such contempt by society but so deserving of redemption.
If you're looking for rambunctious, hyperviolent fun, join us for this sneak preview of "First Love," just before the film's Japan release on February 28.
For more (in Japanese): https://hatsukoi-movie.jp
TAKASHI MIIKE spent his youth in Osaka, graduated from the Japan Institute of the Moving Image, and began his career working with Shohei Imamura. He turned heads with "Shinjuku Triad Society" (1995) and gained global attention in 2000 when his romantic horror film "Audition" (1999), his violent yakuza epic "Dead or Alive" (1999) and his tender Triad drama "Ley Lines" (1999) all debuted at the Rotterdam Film Festival. He earned a cult following and has since directed more than 100 features in every possible genre, including several he invented. Miike's films have also been screened and won awards at every leading film festival, from Berlin to Cannes to Venice to Toronto, and been more widely distributed than any other Japanese filmmaker. He is a voting member of the US Academy of Motion Picture Arts and Sciences (AMPAS).
MASATAKA KUBOTA made his film debut in 2008, and after working with Miike on a TV series, appeared in "13 Assassins" in 2010. He has been nearly as prolific as his director, playing dozens of roles in TV series and films of every genre. Among the highlights are his roles in the "Rurouni Kenshin" series (2012, 2014, 2020), the "High & Low" series (2016, 2017) and the "Tokyo Ghoul" series (2017, 2019). He has also starred in "Prophecy" (2015), "64" (2016), "Thicker than Water" (2018), "Gintama 2" (2018), "Diner" (2019) and "Fancy" (2020).
Please make your reservations at the FCCJ Reception Desk (3211-3161) or register below. You may attend the Q&A session without attending the screening, but you will not have seating priority. All film screenings are private, noncommercial events primarily for FCCJ members and their guests.
- Karen Severns, Film Committee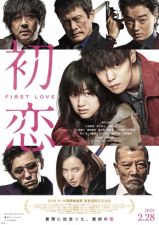 ​​​​​​​