Wednesday, March 04, 2020, 18:30 - 21:30
Five days that changed the world - and the workers who averted the ultimate disaster
Sneak Preview Screening: "FUKUSHIMA 50" followed by
a Q&A with director Setsuro Wakamatsu,
supervising producer Tsuguhiko Kadokawa,
star Koichi Sato and and Ken Watanabe
Wednesday, March 4 at 6:30 pm*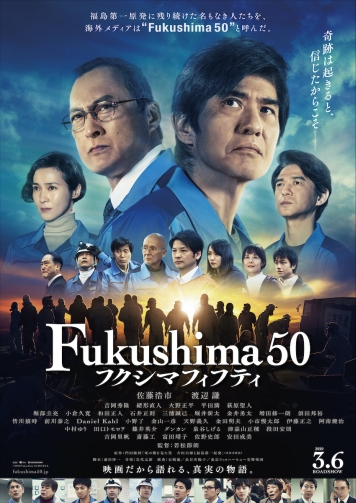 ​​​​​​​
*Please note early start time
In Japanese with English subtitles
Japan, 2020 122 minutes
Proactive steps to protect audience from COVID-19 as it is an event that over 90 people sitting together in the dense seat setting:
the Film Committee decided to put following message in the upcoming 3 screening events (Feb. 25th, Mar. 4th and Mar. 17th)
"Please note that this event will be crowded. We encourage you to take personal precautions, such as wearing a mask and using the hand sanitizers that we have provided in front of the venue."
Directed by: Setsuro Wakamatsu
Written by: Yoichi Maekawa,
based on "On the Brink: The Inside Story of Fukushima Daiichi" by Ryusho Kadota
Produced by: Tsuguhiko Kadokawa
Starring:
Koichi Sato, Ken Watanabe, Hidetaka Yoshioka, Narumi Yasuda, Naoto Ogata,
Shohei Hino, Mitsuru Hirata, Masato Hagiwara, Riho Yoshioka, Takumi Saito,
Yasuko Tomita, Shiro Sano
Film courtesy of Shochiku and Kadokawa
Many FCCJ members spent a great deal of time in Tohoku in the aftermath of the horrific triple disaster on March 11, 2011. Some of them were even able to speak directly with the heroic engineers, technicians, firefighters, soldiers and other staff who stayed at the plant, risking their lives in a desperate 5-day struggle to prevent a total meltdown of the overheating atomic reactors and to minimize the (literal) fallout from the world's worst nuclear accident since Chernobyl.
Dubbed the "Fukushima 50" by the international press (but actually numbering in the hundreds), few of these brave workers - whether for fear of ostracism or reprisal - spoke on the record. But Ryusho Kadota managed to interview close to 100 of them. Their testimony was compiled in his 2012 nonfiction book, "On the Brink: The Inside Story of Fukushima Daiichi" and it now forms the backbone of this powerful, poignant film.
Setsuro Wakamatsu's "Fukushima 50" begins precisely at 2:46 pm on March 11, as the magnitude 9 earthquake strikes off the coast of Tohoku, triggering immediate reverberations at the Fukushima Daiichi Nuclear Power Plant. As workers pore from buildings, Toshio Izaki (Sato), chief of Units 1 and 2, and his crew try to determine what damage has been done, and where. His longtime colleague, Plant Director Masao Yoshida (Watanabe), assesses the situation from his office in another part of the plant, and communicates with TEPCO headquarters. But the quake has triggered a "mega-tsunami" with waves that will soon pour over a 40 meter-high seawall, engulfing the plant.
Just 54 minutes after the quake, Fukushima Daiichi experiences a station blackout, halting cooling systems and leading the reactors and spent fuel-rod assemblies to begin to overheat. Despite valiant efforts to keep equipment running with car batteries, the plant is soon running nearly manually, and technicians must risk radiation exposure to open valves the dangerous, old-fashioned way - working in HazMats, gas masks and utter darkness.
Working frantically to solve each fresh catastrophe as it emerges, and inspiring their workers by their own examples, Izaki and Yoshida confront the unprecedented crisis with tireless ingenuity and an occasional outburst that is fully earned (especially when the Tokyo headquarters provokes Yoshida. Finally, Yoshida's defiance of orders will help avert a disaster of global magnitude.
In a film that is as tense and harrowing as it is moving, Sato and Watanabe shine. But their characters aren't the only samurai at the plant; all the workers who stayed behind know they're risking their lives, and "Fukushima 50" celebrates their selfless sacrifices by depicting them in strength and weakness, in bravado and in teary-eyed relief.
"Fukushima 50" has already been sold to over 70 international territories, demonstrating the universality of this remarkable story and the strength of its telling. Join us for this sneak preview before the film's Japan release on March 7.
For more (in Japanese): https://www.fukushima50.jp
SETSURO WAKAMATSU began his career with Kyodo Television and has continued to direct many popular series and TV movies. He made his film-directing debut with "Whiteout" (2000), starring Koichi Sato as the villain, and received the Japan Academy Award for Best Director. He also won the Best Director award for "The Unbroken" (2009), starring Ken Watanabe. Among other titles, he has directed "Before Sunrise" (2011), "Snow on the Blades" (2014) and "Aircraft Carrier Ibuki" (2019).
KOICHI SATO won the Japan Academy Award for New Actor for his first-ever film appearance, in "The Gate of Youth" (1981), and went on to claim Academy Awards for "Crest of Betrayal" (1994), "Whiteout" (2000), "When the Last Sword Is Drawn" (2003) and "64: Part 1" (2016), among many other acting honors. He has starred in over 100 films, but three recent titles that demonstrate his versatility are "Red Snow" (2019), in which he's an abusive drunk, "Hit Me Anyone One More Time" (2019), in which he's a journalist hilariously blackmailing the prime minister, and "The Promised Land" (2019), in which he's a mourning widower who has trouble with mistrustful villagers. He will soon be seen in "Damashie," "The Sun Does Not Move" and "Silent Tokyo: And So This Is Christmas."
KEN WATANABE was catapulted into the global spotlight with his Oscar-nominated role in Edward Zwick's "The Last Samurai" (2003), and he has remained there through a varied career that has also encompassed his Tony Award-nominated turn on Broadway in "The King and I" (2000), making him perhaps the most recognizable Japanese actor around the world. He has had starring roles in Hollywood hits "Memoirs of a Geisha" (2005), "Batman Begins" (2005), "Letters from Iwo Jima" (2006), "Inception" (2010), "Godzilla" (2014), "Godzilla: King of Monsters" (2019) and "Detective Pikachu" (2019). He won the Japan Academy Award for Best Actor for "Memories of Tomorrow" (2007) and "The Unbroken" (2009), among many other honors. Watanabe is starring in the forthcoming Amazon series "Tokyo Vice," based on the nonfiction book by Jake Adelstein.
Kadokawa Corporation Chairman TSUGUHIKO KADOKAWA graduated from the School of Political Science and Economics of Waseda University and joined Kadokawa Shoten in 1966, where he helped the company expand its vast portfolio of published and digital content. He served in a variety of capacities before becoming president and CEO of Kadokawa Group Holdings, Inc. in 2003, and chair of Kadokawa Corporation in 2017. He has been a project professor at the University of Tokyo Graduate School of Interdisciplinary Information Studies, a research fellow at the MIT Media Lab, and has served as president of the Japan Magazine Publishers Association (JMPA), chairman of the Japan Video Software Association (JVA), secretary-general of the Content Overseas Distribution Association (CODA) and chairman of the Tokyo International Film Festival. Kadokawa is also the author of several books, including "The Cloud Era and the 'Cool Revolution'" (Kuraudo jidai to "Kuru kakumei"). He is the recipient of such honors as the Fujimoto Award and the Elandor Prize Special Award from the Japan Film and Television Producers Association.
Please make your reservations at the FCCJ Reception Desk (3211-3161) or register below.
You may attend the Q&A session without attending the screening, but you will not have seating priority and
please inform the Reception Desk to assure there is seating available.
All film screenings are private, noncommercial events primarily for FCCJ members and their guests.
- Karen Severns, Film Committee