Tuesday, March 17, 2020, 19:00 - 21:30
Long-lost footage highlights historic verbal duel between right and left
Sneak Preview Screening:
"MISHIMA: The Last Debate (Mishima Yukio vs. Todai Zenkyoto: Gojunenme no Shinjitsu)"
followed by a Q&A session with director Keisuke Toyoshima and novelist Keiichiro Hirano
Tuesday, March 17 at 7:00 pm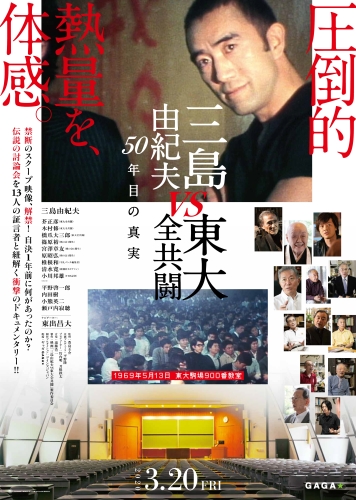 ​​​​​​​
In Japanese with English subtitles
Japan, 2020 108 minutes
Proactive steps to protect audience from COVID-19 as it is an event that over 90 people sitting together in the dense seat setting:
the Film Committee decided to put following message in the upcoming 3 screening events (Feb. 25th, Mar. 4th and Mar. 17th)
"Please note that this event will be crowded. We encourage you to take personal precautions, such as wearing a mask and using the hand sanitizers that we have provided in front of the venue."
Directed by: Keisuke Toyoshima
Produced by: Takashi Hirano
Narrated by: Masahiro Higashide
Featuring:
Yukio Mishima, Keiichiro Hirano, Masahiko Akuta, Osamu Kimura, Daisaburo Hashizume,
Yutaka Shinohara, Yukitomo Miyazawa, Akihiro Hara, Yamato Shiine, Hiroshi Shimizu,
Kunio Ogawa, Tatsuru Uchida, Eiji Oguma, Jakucho Setouchi
Film courtesy of Gaga
Rarely has a film captured the dynamic interchange of ideas and the power of language in quite so compelling a form as "Mishima: The Last Debate," which shines a spotlight on internationally acclaimed author, poet, playwright, actor and director Yukio Mishima. It is a timely reminder that words, wielded judiciously and meaningfully, will always triumph over swords; that there is always a common ground even when arguing political ideologies at opposite extremes.
And it is an exceptional look at a man who, 50 years ago, was at the very height of his rightwing potency, having founded the private Tatenokai (Shield Society) militia and trained them with the Japan Self-Defense Forces. (Unbeknownst to his soldiers, he had already begun planning a coup attempt at the SDF headquarters to restore power to the Emperor, but that was still a year away.)
"Mishima: The Last Debate" opens with heartbreaking scenes of Tokyo under siege, as students, radicalized from protesting the Vietnam War and the US-Japan Security Treaty, occupied college buildings and demanded affordable tuition and greater autonomy. Rioting quickly engulfed campuses across the city (and soon, the country), culminating in the barricading and burning of The University of Tokyo's Yasuda Auditorium, which marked the beginning of the end for the All Campus Joint Struggle Committee (Zenkyoto), which had instigated much of the violence.
These scenes provide essential context, but the breathtaking centerpiece of Keisuke Toyoshima's documentary is long-lost footage of Mishima's controversial appearance, on May 13, 1969, at Todai's Komaba campus. There, invited by the Zenkyoto, he addressed 1,000 revolution-minded students packing Lecture Hall 900, which had been declared neutral territory to accommodate the exchange.
"I came to see if words are still an effective method of communication," Mishima said in his 10-minute opening speech, and proceeded to amuse, impress and engage his audience with the mental agility of a gold-medal gymnast. Vibrantly cerebral, nearly pulsating with intellectual energy and wit, he effortlessly commanded attention, beating back each counterargument with poetic logic, never once condescending, antagonizing or treating his audience with disrespect.
And then he seemed to meet his match in a smiling young man with a Buster Brown haircut and a baby in his arms. For a good 15 minutes, the documentary circles around Mishima's increasingly theoretical interchange with Masahiko Akuta (who would go on to become an experimental theater pioneer, working with the likes of Shuji Terayama), until a student yells, "This is all philosophical nonsense! I'm here to see Mishima get beaten up!"And while this never happens, for many audience members, the earth moved that day.
The film's restored 4K footage is astounding, but Toyoshima also interviews former University of Tokyo students, former Shield Society members and others, and allows them to elucidate and expand upon the debate in ways that are extremely valuable.
Please join us for this sneak preview of the must-see documentary "Mishima: The Last Debate," prior to the film's opening on March 20 in Tokyo.
For more on the film: https://www.gaga.co.jp/intls/mishima-the-last-debate/
or https://gaga.ne.jp/mishimatodai/
KEISUKE TOYOSHIMA is a director, screenwriter and producer. He studied film at the American Film Institute after graduating from the University of Tokyo, and made his feature debut with "Softball Boys" in 2010. While working prolifically on TV series, he has also directed the films "A Courtesan with Flowered Skin" (2014), "There Is No Lid on the Sea" (2015), "Moriyamachu Driving School" (2016) and "Maniac Hero" (2016).
KEIICHIRO HIRANO is an award-winning Japanese novelist whose work has been widely translated. His debut novel, "The Eclipse," won the Akutagawa Prize in 1999, making him one of the youngest winners ever. He was the recipient of the Bunkamura Prix des Deux Magots in 2009 for "Dawn," the Watanabe Junichi Literary Prize for "At the End of the Matinee" (2017) and the Yomiuri Prize for "Literature for a Man" (2019). He has also served as an art critic for Nikkei Shimbun, and curated art exhibitions. He was made a Chevalier of the Order of French Arts and Culture in 2014. "A Man" will be published in English in June, and "At the End of the Matinee" in November.
Please make your reservations at the FCCJ Reception Desk (3211-3161) or register below.
You may attend the Q&A session without attending the screening, but you will not have seating priority and please inform the Reception Desk to assure there is seating available.
All film screenings are private, noncommercial events primarily for FCCJ members and their guests.
- Karen Severns, Film Committee