Special Screening and Press Conference
with director Naomi Kawase,
athlete Guem Abraham and Okinawa official Satoru Miyazato
10:00-14:00, Tuesday, June 21, 2022
(The speech and Q & A will be in Japanese with English interpretation)
Film screening of "Tokyo Olympics: Side B": 10:00* – 12:00
*Note morning start time
Press conference: 13:00 – 14:00
Official film of The Olympic Games Tokyo 2020 SIDE B
In Multilanguage with English subtitles only
International Olympic Committee, 2022 124 minutes  
Film courtesy of Toho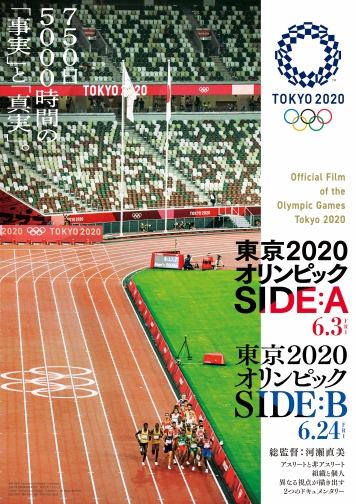 Official films of the Olympic Games have been produced since the Stockholm Summer Games in 1912. Internationally acclaimed filmmaker Naomi Kawase was selected to document the 2020 Tokyo Games, and after the pandemic forced a yearlong postponement, she eventually amassed 5,000 hours of footage over 750 days, including coverage of 33 sports and 339 events.
The enormity of the undertaking, and Kawase's stated intention to focus not only on the athletics but on the behind-the-scenes politics, resulted in the creation of a two-part work: "Official Film of the Olympic Games Tokyo 2020 Side A," which is currently in Japanese theaters, and "Official Film of the Olympic Games Tokyo 2020 Side B," to be released on June 24.
With "Side A," Kawase explores the emotional toll of the Games for a range of participants and their families, focusing primarily on several athletes who are also new mothers, political refugees or living in challenging circumstances, as well as on groundbreakers in their respective sports, which dovetails with themes the filmmaker is known for.
"Side B" is expected to explore the behind-the-scenes controversies of the Tokyo Olympics, including demonstrations during the run-up to the Games, the resignation of organizing committee head Yoshiro Mori, and the unprecedented postponement of the Games to avert a public health crisis.
For more (in Japanese): https://tokyo2020-officialfilm.jp
Director NAOMI KAWASE is acclaimed for a range of award-winning films, beginning with her Camera d'Or from the Cannes Film Festival for her feature debut, "Suzaku" (1997). A decade later, she won the Cannes Grand Prix for "The Mourning Forest," and in 2009, received the festival's Golden Coach lifetime achievement award. Her films have been selected for Cannes a record nine times. Kawase is also active as a documentary and commercials director, and mentors young filmmakers through the Nara International Film Festival, which she cofounded in her hometown.
Athlete GUEM ABRAHAM is a middle-distance runner from South Sudan who was stranded in Maebashi, Japan for 21 months during the pandemic, after participating in a training camp. He was selected for the 2020 Tokyo Olympics and was the flag bearer for his nation in the opening ceremony.
Okinawa official SATORU MIYAZATO is president of the Okinawa Prefecture Association of Towns and Villages. He began his career with the Zamami Village Office and is currently serving his fourth term as Zamami mayor. He has also held positions in a range of Okinawa organizations and councils. He carried the 2020 Tokyo Olympics torch in Okinawa.
How to attend:
Please register at front@fccj.or.jp with your name, the name of your media outlet, and FCCJ membership number.
Due to space restrictions, attendance for both the screening and press conference will be limited.
Priority will be given to working journalists. Members may not bring guests, unless the guest has press credentials.
Doors open 15 minutes before the start of each event. Please sign in, giving your name and contact details at the reception, and have your temperature taken before proceeding. Masks are mandatory. All film screenings are private, noncommercial events primarily for FCCJ members and their guests.
How to watch online: https://www.youtube.com/c/FCCJchannel/live
The film will not be screened online. Livestreaming of the press events will be available and video of this event will be uploaded to our FCCJ YouTube channel.
How to ask questions: https://forms.gle/ydSY2qGX9SUdkpi57
It is recommended that press conference attendees first attend the film screening.
Members watching the press conference online can submit questions for the speakers in advance using this submission form.
TV crew (shooting is limited to the press conference), please make a reservation at front@fccj.or.jp.
Doors open for TV crews only at 12:30.
特別上映会「東京2020オリンピック SIDE:B」と記者会見
河瀨 直美、映画監督
アブラハム・グエム選手 陸上 南スーダン代表
宮里 哲、沖縄県町村会会長 座間味村長 
6月21日 (火)
(ショートスピーチ、Q&A: 逐次通訳付き日本語)
*ご入館の際の検温とご連絡先のご記入にご協力ください。こちらの記者会見をオンライン視聴ご希望の方はライブ配信またはFCCJ YouTubeチャンネルをご覧ください。特別上映の時間は含まれません。
会場での取材、TV撮影をご希望のメディアはメールfront@fccj.or.jp にてご予約ください。撮影は記者会見のみになります。本イベントFCCJ会員の優先は報道をするジャーナリストでTV撮影は先着順となります。
Karen Severns, Film Committee (with PAC assistance)