August 2023 Exhibition:: 24 Heures du Mans: To the Limit – and Beyond (1967-1971)
Photos by Joe Honda
August 5- September 1, 2023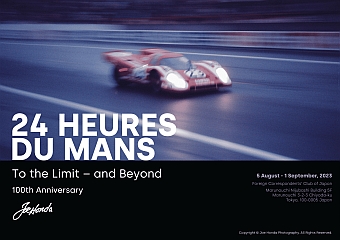 Copyright©Joe Honda Photography. All Rights Reserved.
Joe Honda brings to life the people, marques and memories that have shaped one of the most iconic endurance races in the world as it marks its centenary.
Established in 1923 as a "Grand Prix of Endurance and Efficiency," Le Mans allowed car manufacturers to prove the durability of their machines in competition. The endurance race – famous for its legacy of brutally testing drivers and their teams – has one condition for victory: the car that covers the greatest distance in 24 hours is the winner.
An exhibition of Joe Honda's photographs – supported by La Maison Franco-Japonaise, the French Embassy in Japan and Shashin Kosha – reflects back on the 'golden age' of Le Mans, marked by the final years of the dramatic Ford-Ferrari duel until the Porsche's new contender, the 917, arrived on the scene.
By transporting the viewer back to these years when Europe faced off against America, Honda's photography commemorates some of the people and technology that played a crucial role in shaping today's global automotive industry.
Joe Honda, born in 1939 in Tokyo, is known as Asia's father of motorsport photography. Joe studied photography at Nihon University's Department of Fine Art in Tokyo. Aged 26, he went to document Asia's first exhibition IndyCar race in 1966, where he had a chance encounter with Scottish driver Sir Jackie Stewart. It triggered his resolve to venture abroad to document the people, culture and technology at the heart of the global motorsports scene. So, in March 1967, with just $500, two cameras and only a few words of English, Joe embarked on a journey to Europe that would define the course of his life's work.
Joe's archive spans the grit and glamor of motor racing's golden years into a technological arms race funded by big business. But the cars were only ever one part of the human narrative he wanted to tell. Inspired by diverse art forms such as sculpture and paintings, his images — captured over close to five decades — immortalize the raw experiences, developments and memories of the international world of motorsport through one artist's perspective.
Bruce Osborn (Exhibition Chair)
Peter Lyon (Co-Chair)