December 2021 Exhibition: Women in Transition; 20 years ago in Afghanistan by Androniki Christodoulou
December 4 - January 7, 2022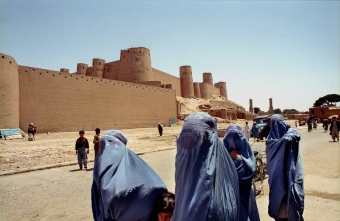 I visited Afghanistan approximately 20 years ago, during the "War on Terror" following the September 11th attack on the World Trade Center. Most of the news from there was about the war, however I was asked to photograph a school in Herat funded by Greek government.
My first impression upon arrival in Kabul felt like I had traveled 200 years back in time. The city was still functioning despite having bombed out buildings standing next to ones that were open for business and streets bustling with an array of horse drawn carts and cars. Despite the conflict in the country, the Afghani people were doing their best to carry on with their daily lives. It was such a visual place to photograph with stoic bearded men with ready smiles and women in blue burqas, several of whom I found out wore makeup and in colorful dresses underneath.
During my three week stay in Afghanistan, it was possible to find time to photograph other aspects of people's lives in addition to documenting the school. In particular, I was interested in the women who were beginning to create a new reality separate from the strict Islamic law of the Taliban. In Kabul, the more liberal were already covering their hair with scarves instead of wearing burqas. There were also busy hair salons and even a karate school for young girls. In Herat, women were still completely covered, but the new school I was photographing had classes for boys and girls students. Herat also didn't have visible signs of war and seemed more prosperous from trade with nearby Iran.
Most of the people I met in 2003 now live in other countries. The future of women's rights is uncertain and the international community is on alert with Taliban back in charge as the "keepers of peace".
Biography:
Androniki Christodoulou is from Thessaloniki, Greece. Following a successful career as a photo-journalist and photographer for 2004 Athens Olympics, Christodoulou relocated to Tokyo. She works freelance for a number of domestic and international publications including the Financial Times, The Telegraph and Der Spiegel, Reuters news agency and for commercial clients. Her focus is on the human condition and capturing various aspects of everyday life in European and Asian cities. The aftermath of the 2011 tsunami in Japan and the refugee crisis in Greece are some of the themes she has documented. She is also recognized for her portraits of Haruki Murakami, Takashi Murakami, and other celebrities. Christodoulou published the photographic books "UNDERWORLD"  a 'post-apocalyptic' cityscapes in Tohoku and "OTAKU SPACES".
For more info: http://www.androniki.com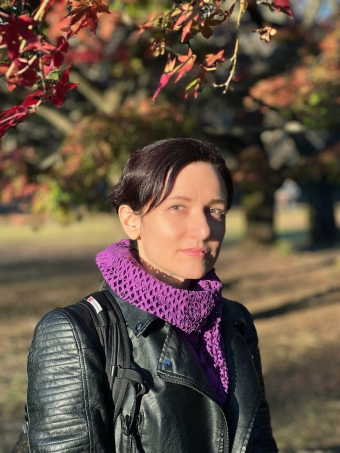 Bruce Osborn / FCCJ Exhibition Chair