February 2022 Exhibition: Painting by Hitoshi Motojuku
Organized by Art Producer Kumiko Matsuoka (LARIS)
Feb. 7 - March 4, 2022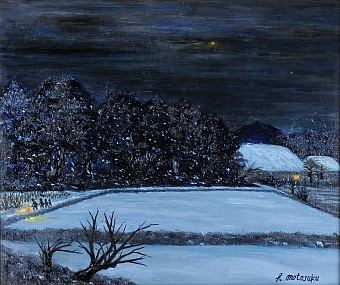 Hitoshi Motojuku is better known for his work as the Director-General of the Liberal Democratic Party Headquarters than his paintings, however art has always been an important part of his life. Mr. Motojuku's interests in painting started when his father first gave him set of playing cards featuring the beautiful landscapes of Gunma prefecture. Following the end of WWII, money was scarce, but the home was always filled with laughter and happy to help each other. Deep in his heart, those feeling are always there. Whenever Mr,Motojuku returns his home, he remembers those happy days and finds himself picking up a painting brush. For Mr. Motojuku, the hometown is always close to his heart and is he grateful for its mountains and rivers.
Bruce Osborn / FCCJ Exhibition Chair