July 2021 Exhibition: 1964 Tokyo Summer Olympics
July 3 - August 6, 2021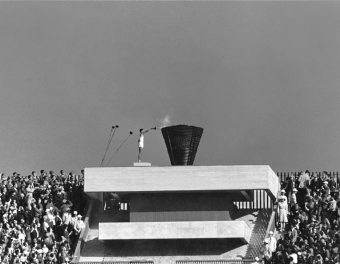 1964 SUMMER OLYMPICS (AP Photo)
The 1964 Summer Olympics, officially known as the XVIII Olympiad, were held in Tokyo from October 10 to 24. The games were a venue to show the world that Japan was no longer a wartime enemy, but a country of peace. To demonstrate their recovery from the war, many infrastructure projects were initiated including, Shinkansen train service between Osaka and Tokyo, modernization of Haneda Airport, and construction of numerous highways, expressways and subway lines. In an effort to beautify Tokyo, streets and rivers were cleaned up and there was an increase of greenery planted throughout the city. The Tokyo Olympics were the first to be held in Asia. It was the first time that computers were used to improve the accuracy in the timing and scoring and the first to be telecasted internationally.
A growing middle class in Japan rushed out to buy television sets to watch the games, as well as other household appliances, leading to the term "Olympic economy". There were 93 countries that competed in the Olympics. Japan won 16 gold medals, 5 silver and 8 bronze, coming in third behind the United States and the Soviet Union. The games memorable champions include Abebe Bikila of Ethiopia, the first athlete to win the marathon twice and Soviet gymnast Larysa Latynina, who brought her career medal total to 18.
Hosting the XXXII Olympiad next month, Tokyo will be the first city and country in Asia to hold the summer games twice. Hopefully, it will provide a moment of relief as the world tries to recover from COVID pandemic and help to bring people from different cultures closer together as we look to the future.
Bruce Osborn / FCCJ Exhibition Chair