September 2021 Exhibition: Tokyo 2020 Paralympics
September 4 - October 1, 2021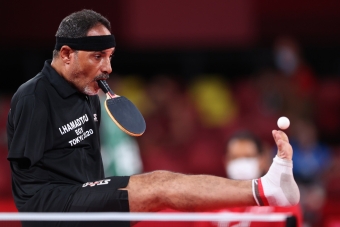 When the Games came to Tokyo in 1964, I was looking forward to seeing Abebe Bikila, the barefoot marathon champion. I was totally captivated when I saw a picture of him running barefoot at the Rome Olympics inside a photo magazine. Early in the morning on the day of the competition, I took a position at the corner by the entrance to the National Stadium. Abebe ran calmly like a great philosopher, and the Japanese marathon runner, Tsuburaya, ran behind him tilting his head. My eyes filled with tears as I pressed the shutter on my camera. That was my first Olympic experience.
There isn't a more interesting sporting events than the Olympic and Paralympics Games. Top athletes from more than 200 countries gather to compete for the title of being number one in the world. Another enjoyment is experiencing different cultures and ethnicities on the different national teams. Acquiring a press pass to shoot the games is not easy task and it wasn't until the 1984 Sarajevo Winter Olympics that I finally got to shoot them. My dream of shooting the Summer Games came true at the 1992 Barcelona Olympics and I have been shooting all Olympics and Paralympics games after that. For the 1998 Winter Olympics in Nagano, I created the Aflo Sport Photographer Team and we have been serving as the official photographers for the Japanese Olympic Committee (JOC) since then. Aflo Sport also provides images for the JOC official photo book which is released for each Olympic Games and I very much enjoy editing and producing this.
During the Olympics and Paralympics, I shoot from morning to night, forgetting about everything else. I get so immersed in taking the photos that I don't need to sleep until the games are over. The most important task for us is to photograph all of the Japanese athletes and to provide these images to media both in Japan and worldwide. However, I've always tried my best to also find the time to shoot for myself as well.
Biography:
Koji Aoki / Aflo Sport Chief Photographer was born in Japan and in his early 20s went to Switzerland to study philosophy and religion. While there, he obtained a ski instructor's license and for five years worked as a professional ski instructor, both in Switzerland and Japan. Aoki began working as a photographer in 1976 and with his linguistic ability, he frequently goes overseas. Aoki made use of his global experiences in seeking new imagery with an international perspective. He has a long track record in shooting both summer and winter Olympic Games, including the 1998 Nagano Winter Olympics in Japan, where he was leader of the official photo team. Aoki is president and chief photographer of the Aflo Sports-Stock and Production Companies.
Bruce Osborn / FCCJ Exhibition Chair