Image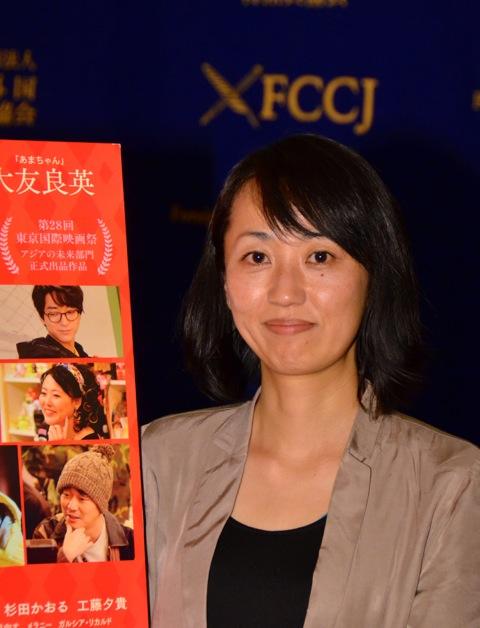 Satoko Yokohama's first indie feature, German + Rain, earned her an immediate following on the international film festival circuit in 2007. She solidified her reputation as one of Japan's most gifted young creators with her Bare Essence of Life (aka Ultra Miracle Love Story, 2008), which premiered at the Toronto Film Festival, traveled extensively overseas, and reaped multiple awards, including the Best Actor at the Mainichi Film Awards for its star, Kenichi Matsuyama.
And then, suddenly, 7 years went by without a new Yokohama feature, although she continued to be active as a director of short films, music and behind-the-scenes videos.  

Satoko Yokohama finally returns with a new film. She's been much missed.
News of her selection to represent Japan in the Winds of Asia Section at the 2015 Tokyo International Film Festival last October was met with great anticipation, and The Actor was an immediate favorite among festivalgoers upon its premiere.
Yokohama was on hand to discuss her new film with FCCJ's audience prior to its late-January theatrical opening, and immediately established herself as one of the shyest, most modest guests to have graced our dais. This is all fine and good, of course, but the exuberance of her first two films, demonstrating a mastery of the offbeat, a wild but gentle sense of humor, an eye for the existential and an affection for outsiders, would seem to have suggested a writer-director of great confidence, brashness and perhaps, vanity.

Ken Yasuda is unforgettable as the title character. At right, he convinces his director (Shota Sometani)
to use real booze when filming a bar scene, which leads to ever-deepening hilarity.
Instead, Yokohama resembles the diffident, everyman hero of The Actor, based on the Akutagawa Prize-nominated novel by Akito Inui. After focusing on larger-than-life protagonists in her earlier films, this one highlights the less-than-large life of a supporting actor, one Takuji Kameoka (played by busy TV thespian Ken Yasuda in an extraordinarily versatile performance). He's the guy whose face you recognize, but whose name you can never remember. Always working — although not in parts he'd choose if he had a choice — Kameoka can disappear into a role so completely that he's just perfect as the homeless man, the chimpira, the Edo-era thief (he's already played seven of them this year). Beloved by directors and respected by his peers, he is cast as much for his humility and lack of ego as he is for his skill and professionalism.
But Kameoka's heavy-lidded stare, sloped shoulders and smile-grimace say it all: he's charming but harmless, never upstaging his fellow actors, never playing a leading role even in his own life. As he approaches middle age, he's clearly given up on any dream of a big break. Then one fateful evening in Nagano, he falls in love with a winsome bartender Azumi (Kumiko Asou), who introduces him to the dubious joys of the local seaweed delicacy and encourages him to visit when he's lonely. Back in Tokyo, world-famous arthouse director Alain Spesso (Ricardo Garcia), one of Kameoka's favorites, invites him to audition for the leading role in his next film. The supporting actor is soon facing an existential midlife crisis.
The story may sound straightforward, but The Actor fairly crackles and pops, thanks to Yokohama's flare for surrealistic touches, unusual imagery and offbeat musical selections. These all became the subject of questions from FCCJ's audience, with the first, not surprisingly, concerning what changes she had made in adapting the original work to the screen. Focusing immediately on one of the most brilliant — and unexpected — scenes, in which Kameoka goes in to audition for Alain Spesso and is suddenly miming an astonishing performance, interacting with shadows that appear on the screen behind him, Yokohama admitted that, although the scene does appear in the novel, "I added quite a bit to it… it's one of the scenes in which I took liberties."

The director ponders a question.
She also mentioned the film's final scene, which is meant to take place in the Moroccan desert, but for financial reasons, was shot in Hamamatsu. "I didn't want to exclude it, so I was quite adamant about it," she said. She continued, "In the original novel, [Spesso] is a French director, but during the auditions, when we had a lot of different [nationalities] coming in, Ricardo Garcia came in and was very entertaining, in the respect that he was unpredictable. We didn't quite know what he was going to do. Since he's from Spain, we changed the storyline to make him Spanish."
[An ongoing discussion later ensued in the bar, where audience members from Colombia, Argentina and Spain debated Garcia's actual nationality, arguing that he had not been entirely convincing as a Spaniard.]
To a question about the film's depiction of alcoholism— Kameoka spends his nights getting quite blotto with a variety of fellow low- achievers, and on one set, even convinces the director to use real alcohol in a bar scene, with hilarious results — Yokohama explained, "When you're shooting a film in Japan, the set is usually very tense, very strained, and it's taxing not just on the filmmakers but the actors as well. Because Kameoka is always on set, he needs a place to release all of his tension."
She then addressed whether there was a veiled message here about Japan at large: "I think people taking to drink is a universal habit, not just in Japan but around the world. However, I would say that the Japanese probably drink more because we can't be frank with each other. In my case, too, I drink to lubricate communication."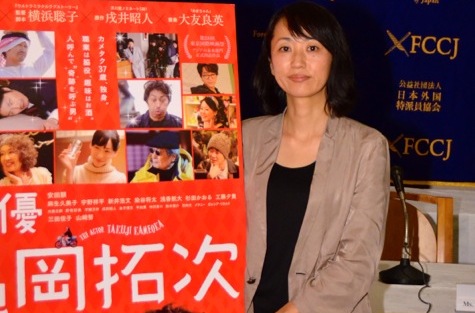 Yokohama lauded Ken Yasuda's depiction of Kameoka, saying she cast him for his "lack of an aura" and his "unassuming character." As for Kumiko Asou, whom the director also cast as the love interest in Bare Essence of Life, "Although she has a huge career, she's very easy to work with and is very professional… Also, not only is the character meant to be beautiful, but also fragile after just going through a divorce. I thought Asou-san could depict both traits."
Although she was prodded about the possibility of a deeper meaning for the film, based on its final scene in the desert of Hamamatsu, Yokohama demurred. "I think the final message is a universal message for all of us: You must live your life as you choose to, and carve your own path, rather than following a path chosen by someone else... The same can be said for filmmakers: You're not there to make a film the way it's written in the script exactly, since you don't know what's going to happen and you can't foresee how it's going to turn out. The key is to not be intimidated — just do your work, don't worry too much and don't be afraid."
We hope Yokohama takes this advice and continues to forge her own unique creative path.
— Photos by Koichi Mori and FCCJ.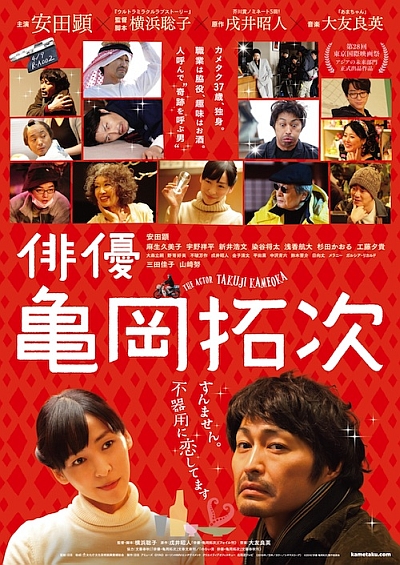 ©2016 "ACTOR" Production Committee
Posted by Karen Severns, Friday, January 15, 2016
Media Coverage
    
Read more
Published in: January
Tag: Satoko Yokohama, Akito Inui, Akutagawa Prize, awardwinning, Ken Yasuda, Kumiko Asou    
Comments