Image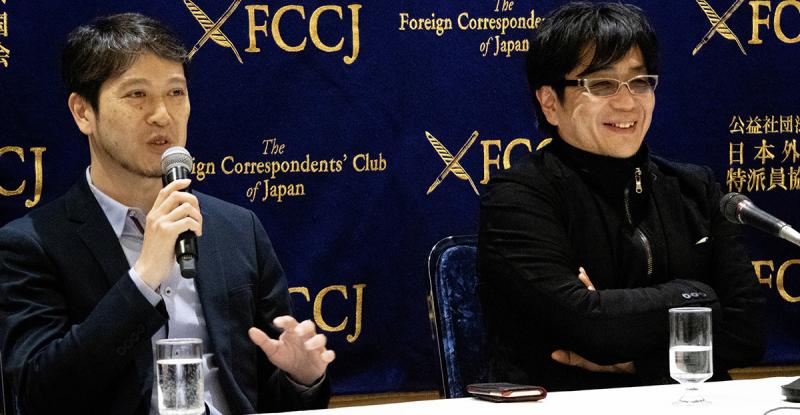 Most of us know Keishi Otomo as the director and cowriter of the blockbuster Rurouni Kenshin trilogy, arguably the most globally successful samurai-swashbuckler franchise of our time. The first-ever Japanese helmer to sign a multipicture deal with Warner Bros., Otomo produced slick, big-budget, live-action adaptations of the popular manga/anime series that were instant classics for their mix of spectacular swordfights, slapstick humor and romanticism.
What we didn't recognize from Rurouni Kenshin — or his other domestic box-office hits — is that underneath the polish of this world-class director, beats the heart of a poet.
But Otomo's new film demonstrates just that. With his first arthouse title after three decades in TV and film, he takes a surprising turn toward the contemplative, the elegiac, the ineffable with Beneath the Mask.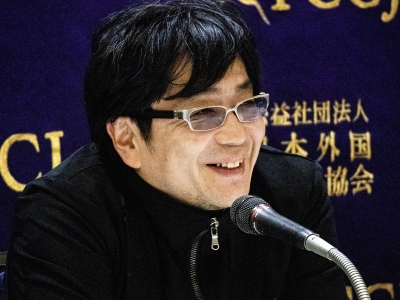 Otomo took time out from the final weeks of editing his summer Rurouni Kenshin releases.  ©Koichi Mori
Based on the 2017 Akutagawa Prizewinner "Eiri," it is set in the director's hometown of Morioka, Iwate Prefecture, both before and after the 3/11 tragedy. The sense of loss that infuses many of its scenes signals just how much personal resonance the story has for him.
Appearing after a sneak preview at FCCJ, Otomo immediately confirmed this. He recalled, "In 2011, I came to the decision, after working at NHK [since 1990], that I would leave the company to focus on making films without corporate backup. Just after I made that decision, 3/11 happened. The question that I've kept going back to is, Is there anything I could have done, or anything I can do [as a filmmaker] for my hometown of Morioka? I did receive project offers aimed at rejuvenating the area, and those planted a seed. But after I started my own company [Office Oplus], all the pieces finally fell into place.
"Also, since this is the year of the 2020 Tokyo Olympics and Paralympics, and all eyes will be on Tokyo, that made me somewhat apprehensive about how Tohoku would be viewed. I wanted to make this film for the people of Tohoku, to express their thoughts and feelings, to record them in an accurate way and share them with audiences. So many bereaved family members said 'Goodbye, see you later' to someone who never came back. What happened to their pain, their sadness? I wanted to give them a voice. It's that kind of sentiment that went into the making of this film."

Ryuhei Matsuda as Hiasa (left), in his new life as a traveling salesman. Go Ayano as Konno (right), who's just arrived in Morioka. ©2020 Beneath the Shadow Film Partners
The protagonist of Beneath the Shadow, Shuichi Konno (Go Ayano), first meets Norihiro Hiasa (Ryuhei Matsuda) when his pharmaceutical company transfers him to Morioka, where the latter already works. Both men are 30 years old and seemingly solitary, but they have little else in common. Konno is an introverted stickler for rules who spends his free time with books and a jasmine plant sent by his family; Hiasa is a smiling rebel, a rule shirker who loves to fish in the nearby rivers.
The two men begin to spend time together, and Konno develops his own fondness for angling as they fall into an uneasy comradery. Infected by Hiasa's enthusiasm and the beauty of Morioka's natural surroundings, Konno starts emerging from his shell, joining the company's sansa dance team and smiling more often.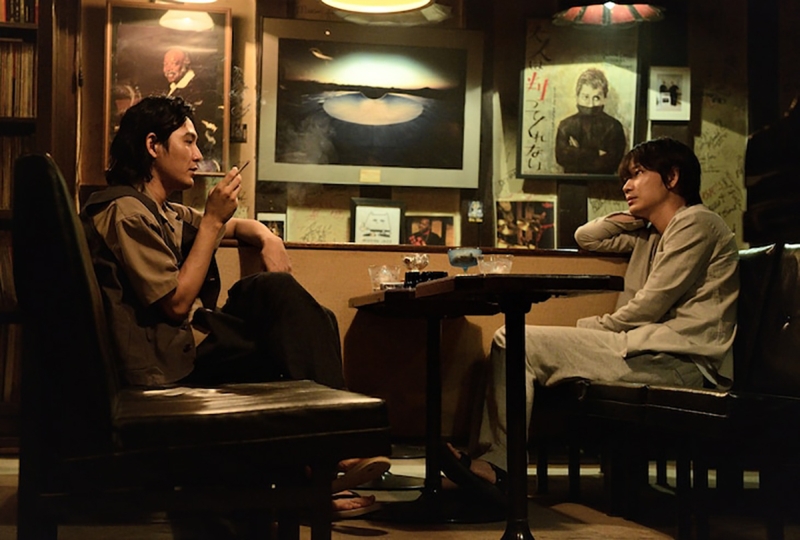 ©2020 Beneath the Shadow Film Partners
But one day, Hiasa abruptly quits and leaves town without a word. When he shows up again, half a year later, it's to beg his friend to buy a policy he's selling for a "mutual aid society," since he's "just one sale short of the quota." Their friendship and fishing trips gradually resume, but Konno remains unnerved. And then 3/11 hits, and Hiasa completely disappears. Like so many others, he is assumed to be dead.
Konno contacts Hiasa's father (Jun Kunimura) for news, and discovers that what little he knew about his friend had probably been a lie. He remembers what Hiasa said to him late one night: "You only see what the light hits for an instant. When you look at someone, you should look at the other side, the side where the shadow is deepest."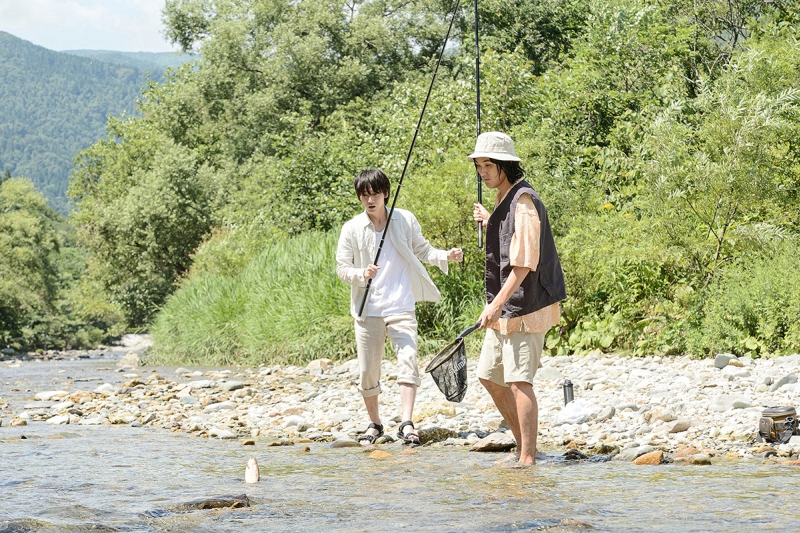 The friends fish local rivers for a variety of species.  ©2020 Beneath the Shadow Film Partners
Like its literary inspiration, the film's tale of fly fishing, drinking and male bonding skirts obvious interpretation, as straightforward as it seems. It begins with the suggestion of tragedy, is driven by mystery and ends even more enigmatically than it began. Laden with subtext, heavy with meaning and metaphor, it's that rare film where nearly every line, nearly every action, can be interpreted both literaly as well as symbolically.
Discussing the film's title and its implications about the hidden sides of all of us, Otomo told the FCCJ audience: "Konno has so much anger inside him, which he represses and manages to live quietly. But we can feel it roiling underneath the surface. Hiasa is also full of complexities and contradictions. We sense that he is of the moment but also eternal. He's an adult, but also childish; there's a double-sidedness to his character."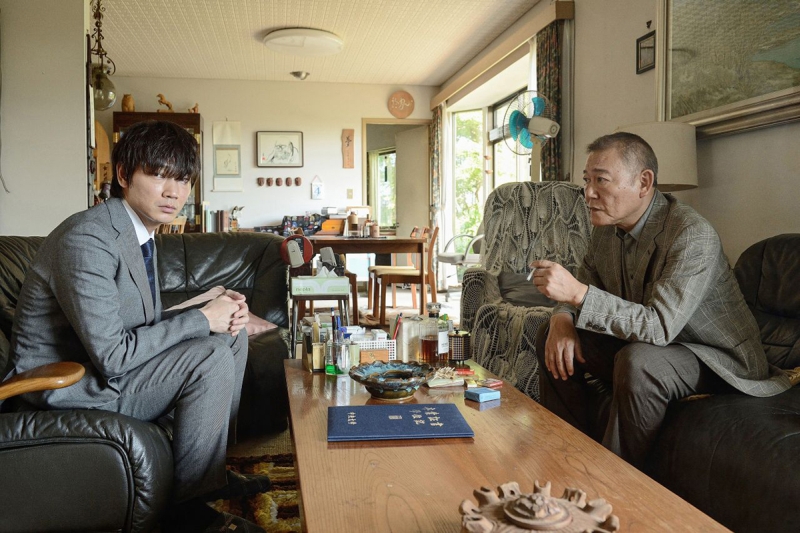 Konno reacts when he hears shocking news from Hiasa's father (Jun Kunimura).  ©2020 Beneath the Shadow Film Partners
Expanding on the character sketches, he explained: "Konno is an LGBTQ character, and as with such characters in many societies, not just Japan, he's gone through many hardships. These have led him to be very sensitive about how people react to him. Since he's come to Morioka as a newcomer, it's liberating because no one knows that he's gay. He's embarking on a new life, but he's lonely because he doesn't know anyone."
On the other hand, "Hiasa was born and brought up in Morioka. He's free-spirited and doesn't follow the rules. I think we can say he's a metaphor for uncontrollable nature, anthropomorphized. He's not ill-intentioned, he just doesn't want to adjust himself to society's norms."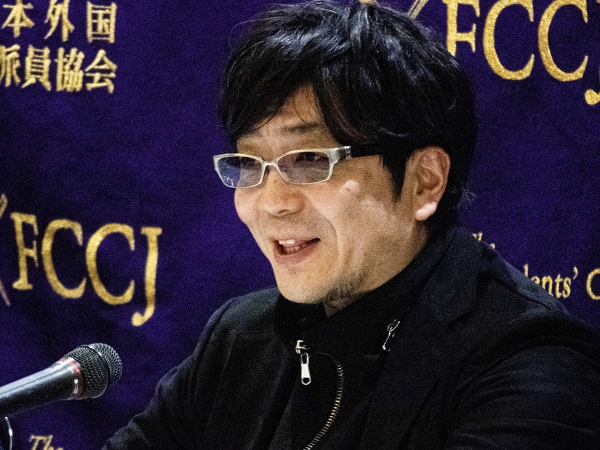 ©Koichi Mori
Asked about the casting of his two leads, both of whom Otomo had previously directed, he admitted, "I basically went with my intuition. From the moment I read the novel, through the process of working (with Kaori Sawai) on the script, I felt these were the only two actors for the roles. With Mr. Ayano, he has this very intellectual, cultured aspect to his presence, while Mr. Matsuda is somehow just so cinematic. He has a very poetic presence. I just couldn't wait to see them play the roles."
Otomo was praised for eliciting such nuanced performances, and asked about his approach to directing them. He concurred that they were "wonderful," and that Matsuda, in particular, "really grounded his role," despite its challenges. (Matsuda won the award for Best Actor at the Hainan Island International Film Festival in December, where Beneath the Shadow had its world premiere).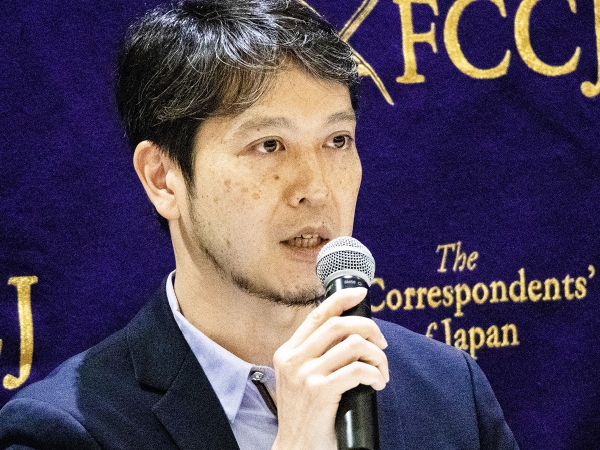 Igarashi produced Netflix's Hibana: Spark and Naoko Ogigami's Close-Knit, among other titles. ©Koichi Mori
"As with any good actor," he said, "Mr. Ayano and Mr. Matsuda can tell from the production design and costumes what kind of approach you imagine in a certain scene. I didn't have to explain a lot. And we didn't talk a lot about the characters on set. I didn't want to impose anything on their own interpretations. Sometimes it seemed like I was just shooting a documentary about the characters, except when they would occasionally veer too far from what I'd imagined. Then I would quietly pull them aside so we could discuss the scene. But mostly, I would work closely with my production designer to adjust the backdrops of the scenes to heighten the acting choices they had made."
Otomo's business partner and producer, Masashi Igarashi, was asked what it was like to work on the modestly budgeted project. "We've only been working together since founding the company 3 years ago," he responded, "but I was always a great admirer of Mr. Otomo's work. He may be best known for Rurouni Kenshin, but he's also done films like the two-part March Comes in Like a Lion, that are really rich, profound human dramas. Despite the fact that this film wasn't on as massive a scale as his other work, I'm happy that we could make such a rich, intense film together.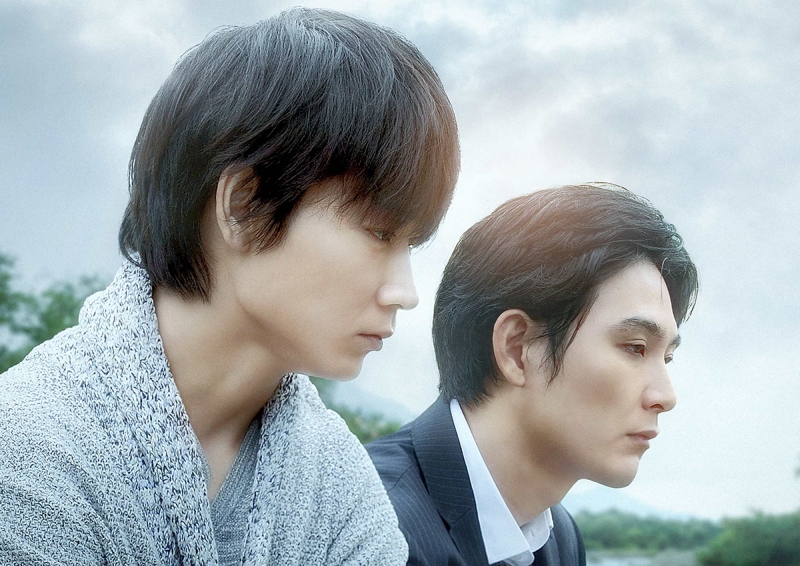 Ayano first worked with Otomo on Rurouni Kenshin, while Matsuda had a role in
the director's first film, Vulture (2009)  ©2020 Beneath the Shadow Film Partners
"It's very difficult to make films like these in the present environment in Japan," he lamented. "It's a lot easier to make films based on manga — which Mr. Otomo has done time and again — than it is to make a film based on an Akutagawa Prizewinning work [that requires audiences to read] between the lines. But it's still possible, and I hope audiences here and overseas will [appreciate] this."
Asked for his own thoughts on the film's international appeal, Otomo waxed nostalgic. "When I was growing up," he recalled, "I would go to a really tiny cinema in Morioka, and that was really my window on the world. I traveled the world and learned so much that way. I think film should be a submersive experience in a cinema, not viewed on a small screen.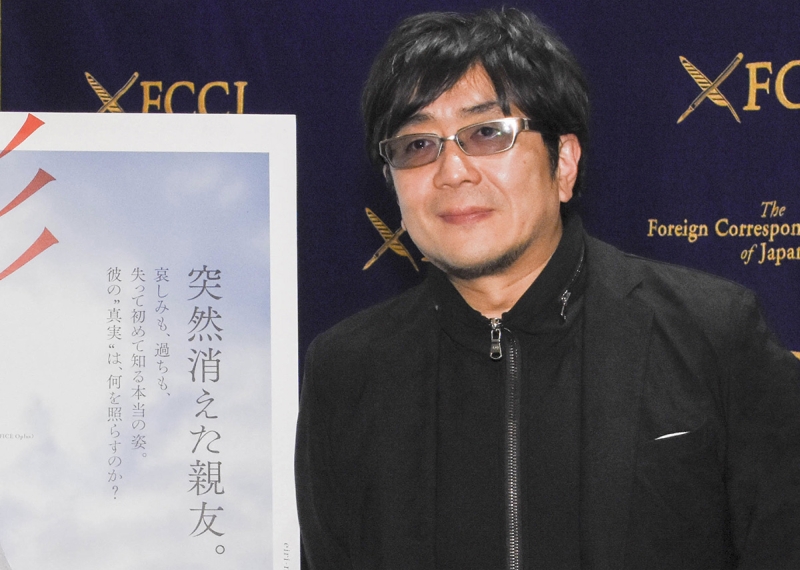 Otomo with the film's Japanese poster. ©︎FCCJ
"I always hope my films will become a tool of communication. It was such an enjoyable experience participating in the Hainan International Film Festival, seeing how the audience digested and interpreted my film. Film isn't only art, it's a way to communicate."
While it won't attract the frenzied fanship of his most famous series, Keishi Otomo's Beneath the Shadow is certain to travel widely, and to launch many a conversation — on love, loss, loneliness, trust and betrayal, not to mention hidden meanings in the water, the weather, the trees and even that pomegranate.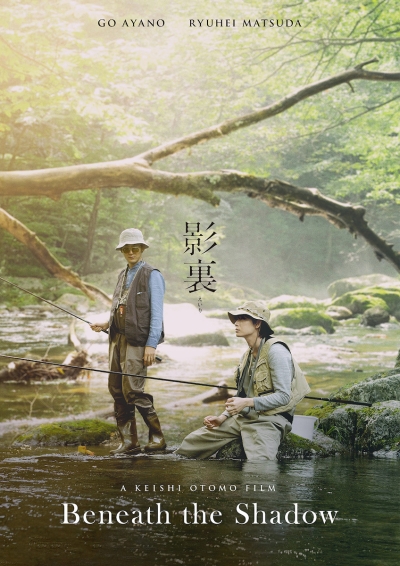 ©2020 Beneath the Shadow Film Partners
Posted by Karen Severns, Saturday, February 08, 2020
Selected Media Exposure
Read more
Published in: February
Tag: Keishi Otomo, Go Ayano, Ryuhei Matsuda, Masashi Igarashi, Akutagawa Prize, Tohoku, 3/11, awardwinning    
Comments