Image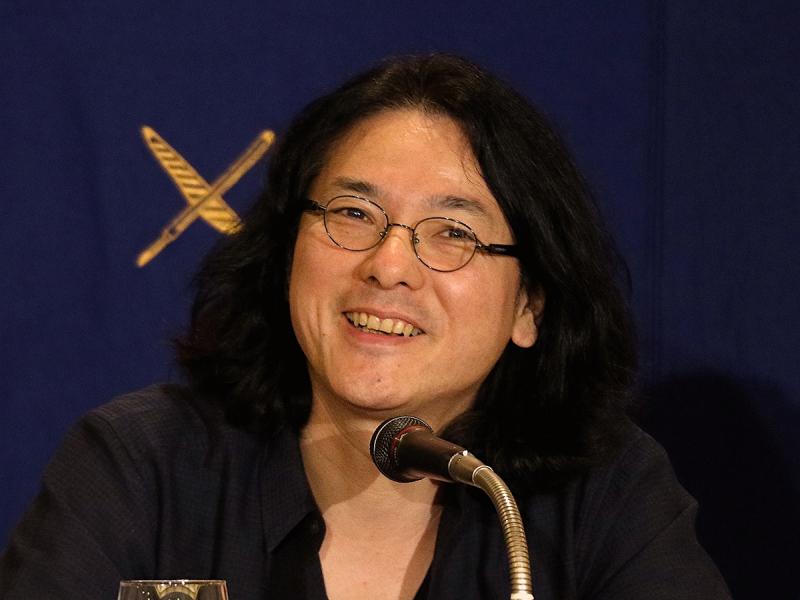 The Film Committee has been cohosting events with the Tokyo International Film Festival (TIFF) at FCCJ for nearly a decade, but the past two years have been especially exciting for us, thanks to TIFF's newfound focus on Japanese film. Anyone who has attended FCCJ's screenings over the past nine years knows that our emphasis is on introducing Japanese films and filmmakers to international audiences through the Tokyo-based journalists, critics, festival programmers and cinéphiles who join us for our events.
In 2015, TIFF established two new sections devoted to Japanese film, Japanese Classics and Japan Now, and included nearly 80 Japanese films across all the sections in its lineup. This year's 29th iteration of the festival will be equally Japan-centric, with two local titles in the main Competition selection and dozens more in the Special Screenings, Asian Future, Japanese Cinema Splash and other sections. Among the highlights will be the world premiere of the first TIFF-Japan Foundation international coproduction, Asian Three-Fold Mirror: Reflections, a special Kabukiza program with kabuki performance and film screenings accompanied by a benshi narrator, and personal appearances in The World of Mamoru Hosoda tribute.
Among this embarrassment of riches, our heart still belongs to the Japan Now section, presided over by Program Advisor Kohei Ando. A genius at selecting the most piquant, provocative, evocative films among those that hit Japanese theaters during the year, Ando has also made another brilliant choice for the section's Director in Focus: acclaimed creative force Shunji Iwai. Despite being one of Japan's most famous exports — especially in Asia, where new Iwai releases are trumpeted like the Second Coming — Iwai has not yet been the subject of a career retrospective in his own country.

Shiina marks his fourth year as TIFF leader with another round of welcome enhancements. ©Mance Thompson, Koichi Mori
Ando and TIFF are correcting that. Japan Now will be featuring five Iwai films, including the 1993 work that kicked off his career, Fireworks: Should We See It from the Side or the Bottom?, and his latest hit, the enchantingly enigmatic A Bride for Rip Van Winkle (2016) in the festival's mini-tribute, with Iwai on hand for Q&A sessions.
Iwai and Ando appeared at FCCJ to discuss details of the tribute, along with TIFF Director General Yasushi Shiina. The evening then continued with a special screening of A Bride for Rip Van Winkle and an hour-long Q&A session with Iwai.
Shiina is marking his fourth year at the helm, and continues to oversee enhancements and expansions to the only festival in Japan accredited by the International Federation of Film Producers Associations (FIAPF). In his opening remarks at FCCJ, he noted, "This year, TIFF will be showing the past, present and future of films. The Japan Now section features present Japan. In our new Youth section, we will focus on films that portray… the future. The Japanese Classics Section revisits the past history of Japanese cinema."
Shiina stressed that the Youth section, featuring films for children and teens, aims "to bring in younger audiences, as they will be the generation to carry on the future of cinema." Among other highlights, he mentioned that a a plethora of open-air screenings will be held this year, taking advantage of Tokyo's mild fall temperatures. (Knock wood.)
Shiina also expressed his delight with Kohei Ando's selection for Japan Now, which the filmmaker-academic has programmed since its inception in 2015. "He is selecting the films 3 to 4 months prior to the festival," said Shiina, "including films that haven't been released or been played up in the press. I think he has an exceptional eye, and I feel confident leaving it all in his hands."

Ando returns for his second year with another spot-on selection for Japan Now, including the year's two surprise blockbusters.   ©FCCJ, Koichi Mori
A showcase of outstanding Japanese titles from recent and coming months, the section highlights the diversity of the domestic film industry, as well as providing a multifaceted look at the country today. TIFF's English-subtitled screenings are also meant to help boost the films' recognition internationally. "There will also be special guest appearances," said Ando, "including Makoto Shinkai, director of [box office juggernaut] Your Name; Kiyoshi Kurosawa, director of Daguerrotype; Koji Fukada, director of [Cannes prize-winning] Harmonium, stars and surprise guests and many more."
A journalist in the FCCJ audience asked, "Do you decide your selection based on whether a film has international appeal? Is that your main criteria?" Responded Ando: "Great question. No, it's not about international appeal; it comes down to whether it's a good film or not, whether I would want to introduce it to international audience. What is a 'good' film is difficult to define, so my own personal taste also goes into the selection. But it is, first and foremost, about showing good films."
The Japan Now Director in Focus tribute allows Ando to help expand the overseas recognition of midcareer creators like Iwai, whose groundbreaking style and youth-focused vision have been internationally acclaimed in such masterworks as Love Letter (1995), Swallowtail Butterfly (1996), All About Lily Chou-Chou (2001) and Hana and Alice (2004). Iwai is the only Japanese director who has shot films in New York (for the 2008 omnibus New York, I Love You), Paris (as producer of the 2010 I Need to Buy New Shoes) and Vancouver (his 2011 English-language debut, Vampire). In a career of infinite variety, he has also written novels and made an animated feature (The Case of Hana and Alice, 2015), documentaries (The Kon Ichikawa Story in 2006; Friends After 3.11, about the long-lasting devastation in Fukushima), as well as dozens of much-imitated music videos.

Iwai has crafted singular films for over 20 years. ©Koichi Mori
Ando chose Iwai, he said, after first seeing his latest film, A Bride for Rip Van Winkle. "I immediately felt proud being Japanese," he told the FCCJ audience. "He has such a unique aesthetic, but he also has an allegorical way of storytelling, a way of bringing the sentiment of young Japanese to the screen. I think this time, he's really topped himself."
Asked how he had decided on the Iwai lineup, Ando said, "It was so hard to narrow it down to just a few films, because Mr. Iwai has made so many wonderful works." In the end, he decided to bookend the selection with Iwai's earliest and latest masterpieces, and to also include Love Letter, "an unbelievable feat for a first feature" and the underseen, English-language Vampire, which is "infused with his distinctive aesthetics."
He lamented that he couldn't show such hits as Hana and Alice and the groundbreaking All About Lily Chou-Chou, but stressed, "Of course Mr. Iwai is already hugely popular with the Asian audience, and has won awards in America as well" — including a Lifetime Achievement Award from the New York Asian Film Festival in July — "but he still doesn't have the reputation he deserves in countries like France. I hope Europeans will watch his films at TIFF, and help spread the word."
Asked to comment about his selection as Director in Focus, Iwai said, "I'm very pleased to be selected. It's a huge honor for me, and I'm glad that five films will be screened for TIFF audiences." Reminded that Love Letter had been the first Japanese film to screen in Korea during the country's long-running ban on Japanese works, and had been such a monster hit that it led to a gradual easing of quotas, Iwai mentioned that he had been on a promotional tour to Korea the week before. "I went for the release of A Bride for Rip Van Winkle," he said, "and I was invited to appear on a news program on one of the leading TV channels. They told me it was the first time a Japanese person had appeared on the program. It reminded me of the time when they couldn't even show the Love Letter trailer on TV, since the Japanese language was prohibited. In retrospect, I think I may have been destined to act as a bridge between cultures, and it dawns on me that it's a huge responsibility."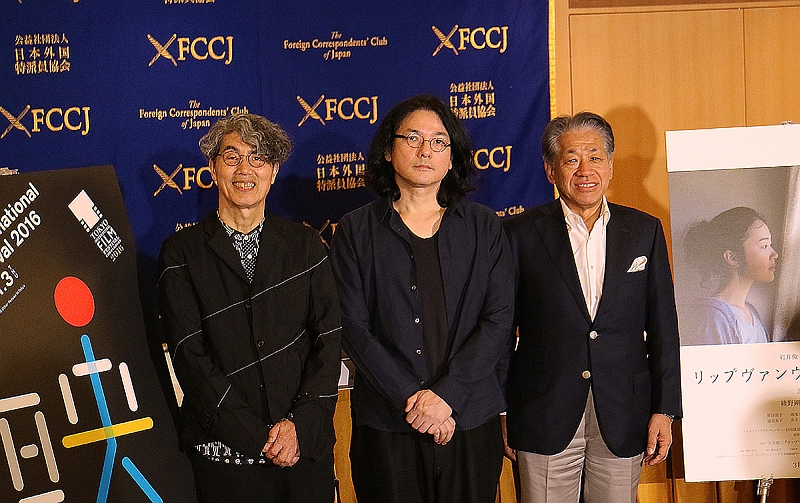 ©Koichi Mori
Iwai was asked whether he had any plans for a coproduction in China, since he's been spotted there recently. "I actually have produced a couple of films with China and am working on a few at this moment," he said. "It's a very good thing for directors like me, who have our own distinct style, when film markets open up and expand. Hopefully, there's a trickle-down effect, where the bigger the market becomes, there can be more room for art films [like mine] as well."
A Russian journalist then asked whether he might have plans venture into the Russia market. Iwai laughed. "I've had the pleasure of attending the Moscow Film Festival before, and to see many Russian films," he said. "I think Russian films are extravagant in the best way. They have this Dostoyevskian scale to them. I understand that Russian people like long stories, so if the opportunity falls on me, I would be more than happy to take on the challenge. Perhaps I could follow in the footsteps of Mr. Kurosawa, who did Dersu Uzala [in Russia]."
Asked whether he had plans to continue directing animated films, the director answered: "I take my own approach to creating animated work. I have a team with me, and we make music videos, as well. I also like to draw, so working on animation brings me that joy. Greedy as it may sound, I would like continue to create both live action and animated work."
He was then asked: "Do you think there's any significance to having your films shown at festivals, as opposed to having them released commercially?" Iwai's answer was surprising. "It's a good opportunity for me as a director to sit back, relax and enjoy my films together with the fans and critics," he said. "There's unbelievable pressure with commercial releases, so I can relax and enjoy festivals a lot more."
Iwai was clearly relaxed at FCCJ, too, and was extremely generous with his time during the Q&A session that followed A Bride for Rip Van Winkle. Returning to the dais once again to chat with the large audience (many of whom had been there for 4 hours) after the screening, he spoke in both Japanese and English on a range of subjects related to the film, from casting to inspirations to censorship to the film's apparent criticisms of societal issues.

©FCCJ, Mance Thompson
Adapted from Iwai's own novel of the same name, the film returns to the aching melancholy of several earlier romances, but introduces new notes of cynicism. Nanami (Silver Bear-winning actress Haru Kuroki) has been sleepwalking through life, her docility and submissiveness almost terrifying to behold. Like the legend of Rip Van Winkle, in which the protagonist awakens after 20 years to an unfamiliar world, she is about to be rudely shaken out of her slumber.
A lost soul whose loneliness makes her deeply gullible, she is only able to express herself by adopting another identity on the social network Planet. On the site, she meets a fellow teacher and they soon plan to wed, although we learn that she has divorced parents, no interaction with relatives, and no friends she can invite to the reception. Through Planet, she meets jack-of-all-trades Amuro (Go Ayano), who provides actors to play her family at the wedding. Her marriage thus begins with an innocent-seeming deception, and sure enough, it begins to unravel.
Nanami turns to Amuro again when she suspects her husband is cheating and he continues to appear whenever Nanami's in need, rescuing her for a hefty fee. Eventually, he finds her a job in an enormous mansion, which she shares with the outgoing Mashiro (Cocco). The two women bond tightly in this otherworldly setting, becoming the sisters and friends that neither has. But who is its owner and why have they really been brought there…?
© 2016 A Bride for Rip Van Winkle Film Partners
A female viewer asked the first question after the screening: "The marriage at the beginning of the film symbolizes a kind of imprisonment, but the second time around, it's a kind of liberation. Was that deliberate?"
"My point is not which is better," Iwai answered. "My point is that happiness is elusive. Yes, Nanami meets Mashiro and they're so happy. But my point is that even days that never happen can give us happiness. Sorry, it's hard to explain." A little later, he said, "It's really a harsh, cruel story that I'm telling. Nanami finds only a fleeting happiness, and it's based on a deception."
Another journalist queried, "In China, we talk about the character of Nanami as being weak and strong at the same time — so we feel she must be a metaphor for Japan itself. Is that your intention?" Sidestepping the question's political overtones, Iwai said, "She appears to be weak, but whether that's an inherently Japanese trait, I would say 'No.' The same goes for her naiveté and sensitivity. She's also resilient and a survivor, but whether this is Japanese or not depends on the individual."
Iwai admitted, however, that he was intentionally making points about Japanese society: "I did make an effort to depict how Japanese are unconditionally willing to use all the technology at our disposal without suspecting a thing. Nowadays, at the click of a button, you can summon a car, you can summon a person. I think we're all overly eager and too trusting of these services."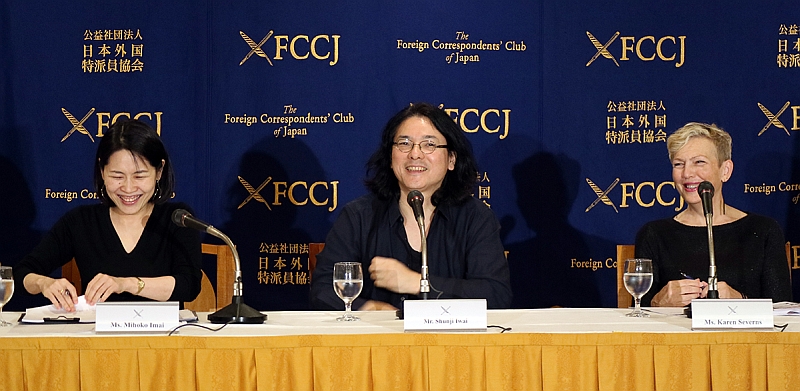 Interpreter Mihoko Imai and Iwai react as the emcee asks, "Where do you walk? Maybe I could accidentally run into you."   ©Koichi Mori
The conversation took a more personal turn with questions about Iwai's inspirations for the story and his approach to writing. "I wrote the script chronologically, and a lot of the scenes are based on things I've heard," he explained. "My friend met his girlfriend on Facebook, which is similar to how Nanami meets her husband. I met some people in an izakaya who told me they were acting as family members for weddings. I also have a friend from school who went into the AV industry, like the Mashiro character, and I met her mother, who was complaining about it. Doing research is important, but when you can hear about things from your friends, it has greater impact."  
As for writing, Iwai revealed, "The most helpful thing for me is walking. I love walking. I walk every day when I'm writing a story. There's a turning point where I go back to my house, and I found a clothes shop called Rip Van Winkle. I borrowed the name for the title and thought I would change it to something else, but I never did."
Only a creator of Iwai's stature could possibly devise such incredibly intricate plot machinations from the name on a store window, and assemble them so they unfold in such deliciously ambiguous — and unexpectedly moving — ways. But A Bride for Rip Van Winkle reminds us once again that he is one of cinema's most masterful storytellers.
In the final minutes of the Q&A session, Iwai said, "We can't always be the person we should be. Sometimes we're good, sometimes not. I wanted to focus on how even people like porn stars and conmen, or murderers, or people who love sucking blood [a nod to his Vampire] still breathe the same air we do. They see the same sky above their heads. I couldn't stop thinking about that, and it was my greatest motivation. People like that can make us notice another point of view and inspire us to create something."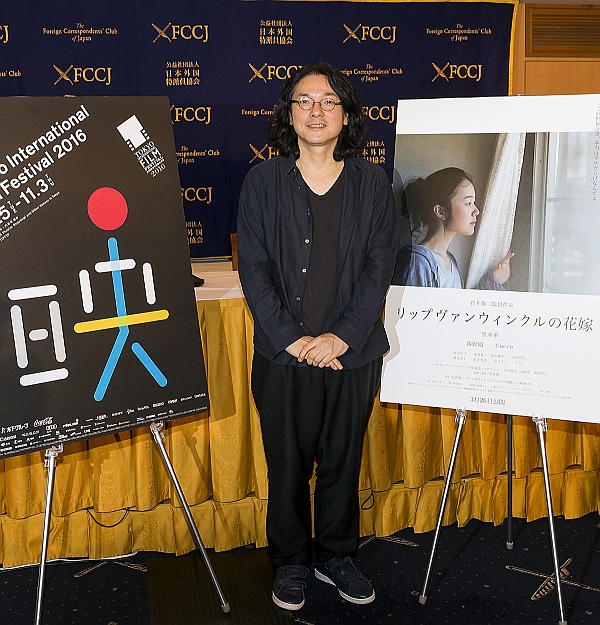 ©Mance Thompson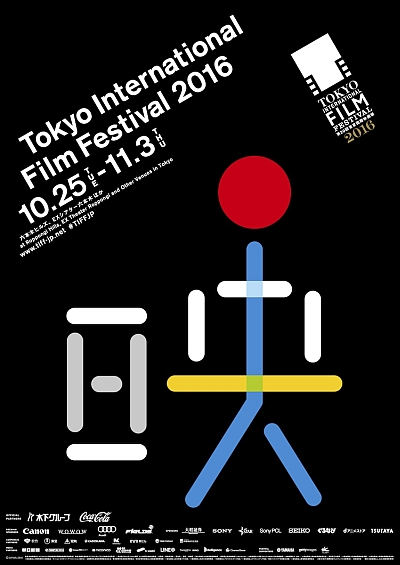 Posted by Karen Severns, Saturday, October 08, 2016
Media Coverage
Read more
Published in: October
Tag: Tokyo International Film Festival, Yasushi Shiina, Kohei Ando, Shunji Iwai, A Bride for Rip Van Winkle, awardwinning    
Comments