Image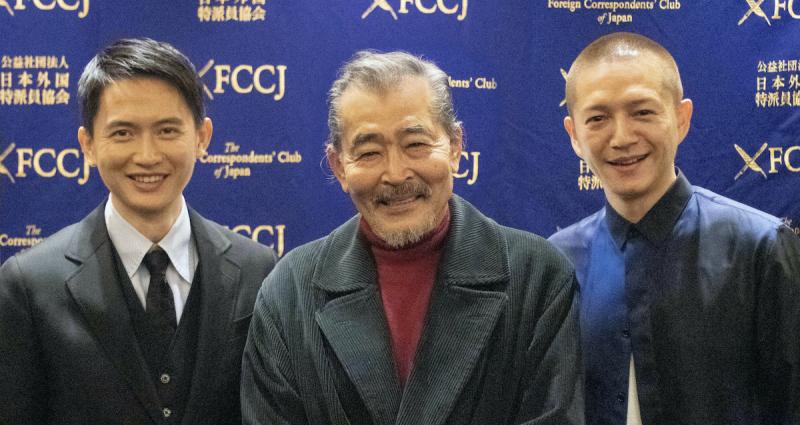 Nearly two years ago, writer-director-producer-editor Kei Chikaura took to the stage at the 2018 Toronto International Film Festival amid warm applause, following the world premiere of his feature debut, Complicity. In the ensuing months, the film would have its European premiere at the Berlin Film Festival, its Asian premiere at the Busan Film Festival, and its Japan premiere at Tokyo Filmex, where it won the all-important Audience Award.
All told, Complicity would screen at more than a dozen prestigious international film festivals. Normally, this would lead to an early Japanese release, to capitalize on the film's overseas success.
But these are not normal times. With relations remaining chilly between Japan and China, the Japan-China coproduction was delayed another year before finally making its domestic bow.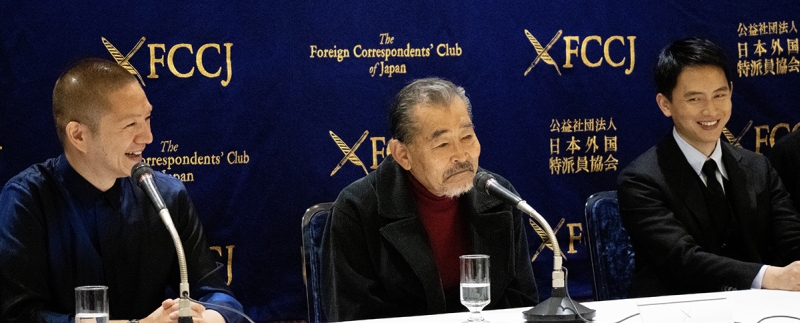 Chikaura and Lu react to one of Fuji's gentle wisecracks. ©Koichi Mori
Yet the timing couldn't be better: As Japan struggles to become more immigrant friendly, it's crucial that local audiences see more progressive, less superficial depictions of non-Japanese in the country's media and the arts. Complicity provides exactly that, treating its Chinese protagonist with empathy and authenticity, erasing cultural barriers as it touches on themes of trust, friendship, family and food as the catalysts for building bonds.
It doesn't hurt that Chikaura was able to cast the film with two certifiable stars, and that he had worked with both of them on short films prior to the feature: Tatsuya Fuji (In the Realm of the Senses, Ryuzo and the Seven Henchmen) on Empty House in 2013, and Yulai Lu (Soundless Wind Chime, Trap Street) on Signature in 2017.
Appearing at FCCJ after the sneak preview screening for a Q&A session that stretched to an hour, the three were affable and voluble, visibly united in their respect for one another, and delighted that Complicity would finally be available to Japanese audiences.

Fuji (left ©Koichi Mori), Lu, Chikaura (©FCCJ)
"It's really hard to secure cast and crew when there's no promise of theatrical distribution," explained Chikaura. "Fortunately, everyone believed me when I promised that it would be released in Japan, as well as internationally. I'm grateful that everyone had such faith in me, and that I was able to keep my promise."
Fuji recalled that he'd first read the script three years ago. "I like Mr. Chikaura as a person, but that didn't necessarily guarantee I would agree to appear in the film," he said. "However, I found the script to be very powerful, and I had faith that we would be able to get to where we are today."
Lu concurred. "Since I first met Mr. Chikaura, I've seen him develop so much. Complicity was especially hard because we also filmed in China. As a director myself, I know how difficult it is to realize a film. I admire Mr. Chikaura's confidence and hard work, and I really had a great time acting with Mr. Fuji." (The feeling was mutual: Behind the scenes, Fuji lauded Lu's acting skill, and his ability to communicate so much without dialogue.)
The scenes in China were coordinated by Chikaura's Chinese producing partner, Wei Fu. "Without his help, I don't think the film would have been possible," the director emphasized." He organized everything. We were shooting 1,000 km south of Beijing in Henan Province. We had to make the long journey by car three times before everything was ready. So it took a lot of preparation, but we were able to get the shoot permissions and wrap in 5 days."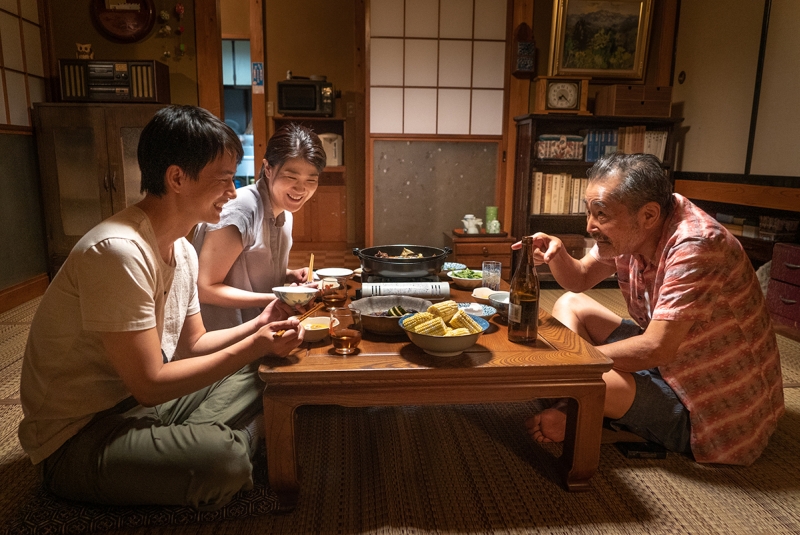 Hiroshi and Kaori treat Liang like a member of the family. ©2018 CREATPS / Mystigri Pictures
Shot with a startling sense of immediacy and realism, Complicity opens in Japan, with Liang Chen (Lu), paying dearly for a fake ID and a cellphone so he can work. He's immediately besieged with calls for Wei Liu, his assumed identity, and after finding language assistance, discovers that Liu has been offered a job as apprentice to a soba noodle master. It doesn't pay much, but it comes with room and board. Given his circumstances, Liang doesn't hesitate long. Soon he has moved into an attic room at his employer's soba restaurant in Yamagata, and is arising at the crack of dawn to prepare the buckwheat with him.
Hiroshi (Fuji) runs the restaurant with his daughter Kaori (Kio Matsumoto), and they are grateful to have this eager, hard-working young man helping out. Despite his limited Japanese — and total lack of experience in the kitchen — he proves a quick study. His dedication earns Hiroshi's admiration, and a touching father-son relationship quickly develops.
Delivering noodles one day, Liang meets and is smitten with Hazuki (Sayo Akasaka), an artist who is studying Mandarin in hopes of attending school in Beijing. But after she reports to the police that he's lost his wallet at a club, he stops taking her calls, fearful that his true identity might be exposed at any moment.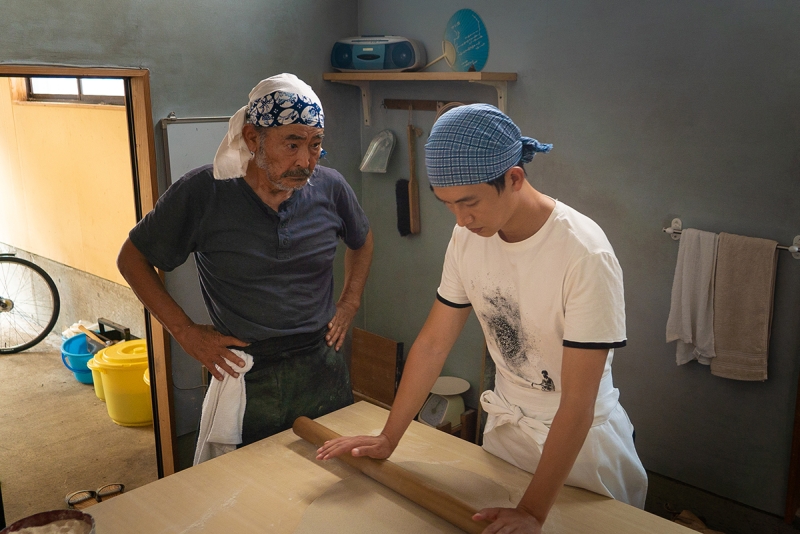 Liang attempts to master the way of the noodle. ©2018 CREATPS / Mystigri Pictures
And then there's his guilt: we learn through flashbacks that he has left his ailing mother and demanding grandmother in his native Henan, where family responsibilities had curtailed any dreams he might have had. He'd come to Japan in the hopes of working for 3 years, saving money and returning to start his own business. But an urgent phone call from home and the threat of exposure puts his new life, and his new family, in danger.
Chikaura was asked whether it was personal experience with the immigrant community in Japan that had enabled him to create such a sensitive depiction of Liang's plight. "I didn't know much about the issues before I embarked on the project," he admitted. "But back in 2014, I read an article about a Vietnamese man who was part of the government's technical trainee program, and it said that he'd slaughtered a goat and eaten it. That got me thinking about why he would have done that, so I began researching the immigrant experience. I spent about 18 months meeting and talking with immigrants here, which was crucial to bringing a sense of reality and conviction in the film. I felt a moral imperative to [do the research first]."
And how did he decide on soba as the film's culinary metaphor? "There are two reasons soba became the film's motif," Chikaura explained. "The first is that we'd decided on Oishida, Yamagata Prefecture for our shooting location, and it's famous for its soba culture. As you see in the film, the 'restaurant' is really a tatami room in someone's house. It was apparently a custom for wives in the town to make soba to entertain visitors, and if they were particularly good at it, they would start serving the noodles and earning a living from it. That's how the [home-restaurant] culture developed.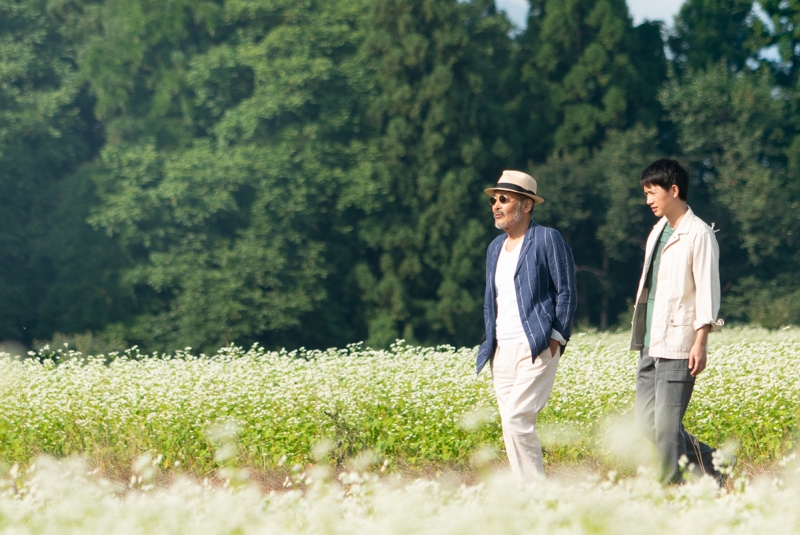 ©2018 CREATPS / Mystigri Pictures
"The second reason is because of soba's metaphorical qualities. It's something that's very simple, but it takes a lot of time and technique to master, which is exactly what I wanted to depict: something that's simple but goes very deep."
Fuji makes a thoroughly believable soba master, heaving huge bags of buckwheat, rolling and cutting with practiced finesse. Asked how he had achieved such realism, the star responded, "It's troublesome when you have to play a detective or a cop or a yakuza gangster because you really can't do research by becoming a yakuza. But when you're playing a craftsman, you can try to become that craftsman. I get immense pleasure out of delving into role models for such a role.
©Koichi Mori
"A month before principle photography, I went up to Oishida. I had two masters as coaches. Every day for about 20 days, I practiced all day, [eventually] processing about 100 kilos of buckwheat. Once you've embodied a craftsperson, you [can concentrate on other things]. I focused on embodying how grateful I was that this young Chinese immigrant had come all the way to this small town in Japan and was willing to help out with my work."
Chikaura recounted an anecdote illustrating Fuji's mastery of the craft. "The meijin soba masters agreed to teach us on one condition: that the soba making would not be a lie when depicted on screen. They said that even with months of training, it probably wouldn't be possible to show closeups of the actors making the noodles, since it would be instantly obvious that they weren't professionals. Mr. Fuji said, 'I understand. I'll do my best.'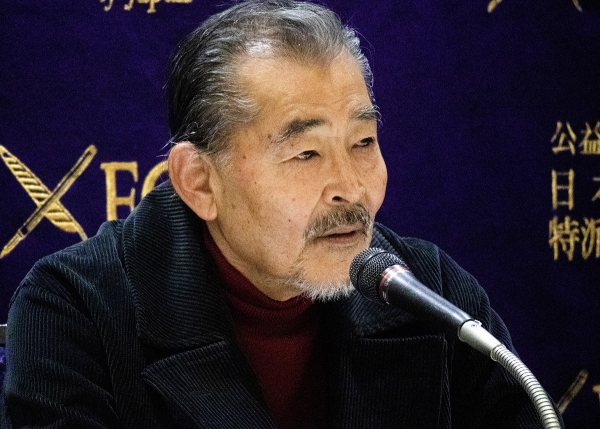 ©Koichi Mori
"Toward the end of his training, one of the masters came to me and said that he'd passed the room in which Mr. Fuji was cutting soba, and that he'd heard a professional inside. He could tell just by the sound of cutting that it was a professional, and he was convinced it was a pro. When he found out it was Mr. Fuji, [he was amazed]. So the closeups you see in the film are really Mr. Fuji."
Lu also trained to handle the noodles, and recalled, "Even when I read the script, I loved the parts with soba making. When I was making soba, I felt a natural connection to Mr. Fuji. I remember one scene in particular, when he was rolling out the dough and being very serious. It seemed like he was in his own world, and there was an aura around him that made me feel like he was really my father."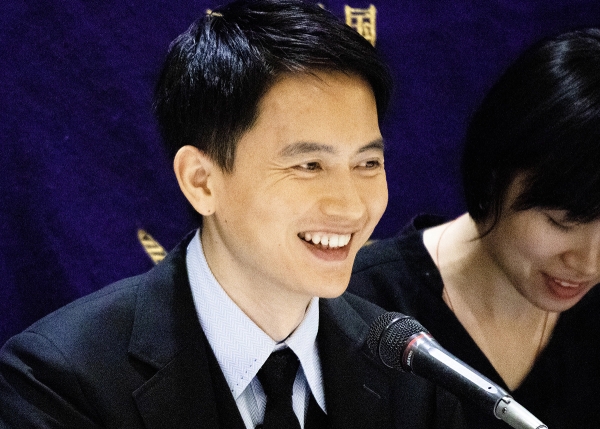 ©Koichi Mori
On the subject of family, the director was asked whether the sour relations between the Hiroshi character and his son were to be interpreted as a comment on Japanese families. "It wasn't my intention to make a social commentary on families or the problems we have with immigrants in Japanese society," answered Chikaura. "I just wanted to tell the story of a soba craftsman who welcomes a Chinese man into his house, and forms a pseudo-family with him. But it was also my hope that this story about a 'father' and a 'son' would symbolize amiable relations between Japan and China."
Asked how it felt to see the film opening at long last, Fuji joked, "Like a defendant about to be put on trial." As for Lu, "It was such a joy making this film. I feel like I had encounters similar to my character's, meeting strangers [who become friends]. You never know what kind of encounters you'll have, either in making a film or in life. I hope to work with Mr. Chikaura and Mr. Fuji again."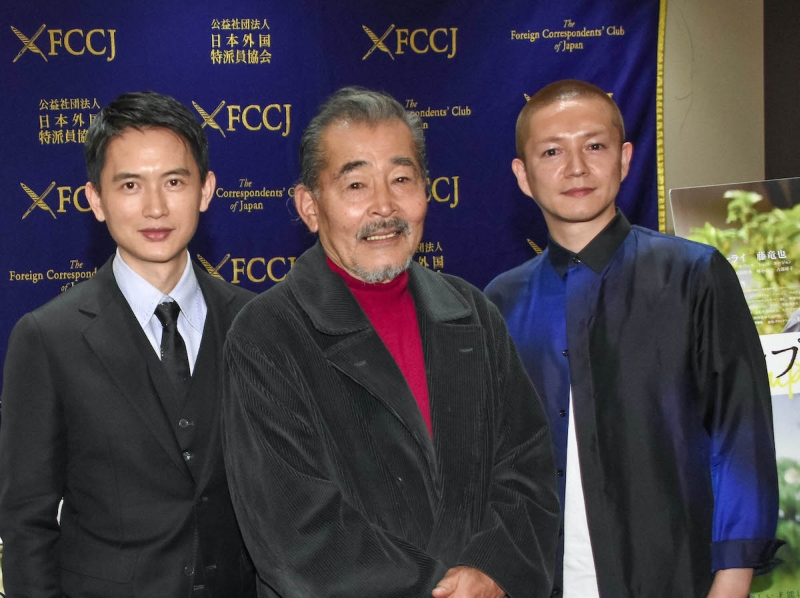 With the film's poster. ©︎FCCJ
While the image of an intercultural Japan, with people of diverse nationalities and ethnic backgrounds working together, may remain illusory, honest depictions of immigrants and their stories on screens large and small would help make that vision a reality. Kei Chikaura's compassionate portrayal of a young man doing his best to atone for a bad conscience and bad choices marks a positive — and poignant — step.
Complicity is already available on DVD with English subtitles via Amazon, and it is currently going through the process necessary to obtain China's "dragon seal," which will allow it to be shown in Chinese theaters.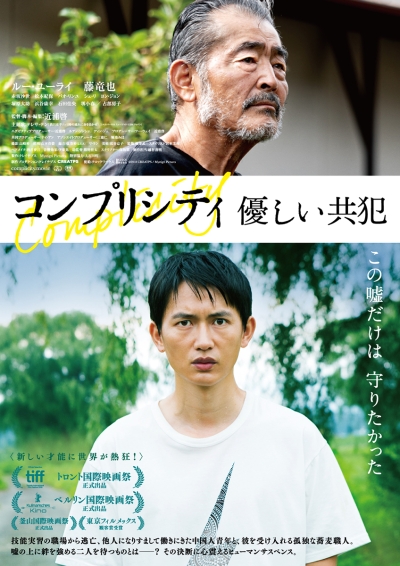 ©2018 CREATPS / Mystigri Pictures
Posted by Karen Severns, Sunday, January 19, 2020
Selected Media Exposure
 Read more
Published in: January
Tag: Kei Chikaura, Tatsuya Fuji, Yulai Lu, immigrants, soba, international coproduction, Berlin Film Festival, Cannes Film
Festival, Busan International Film Festival, Tokyo Filmex    
Comments