Image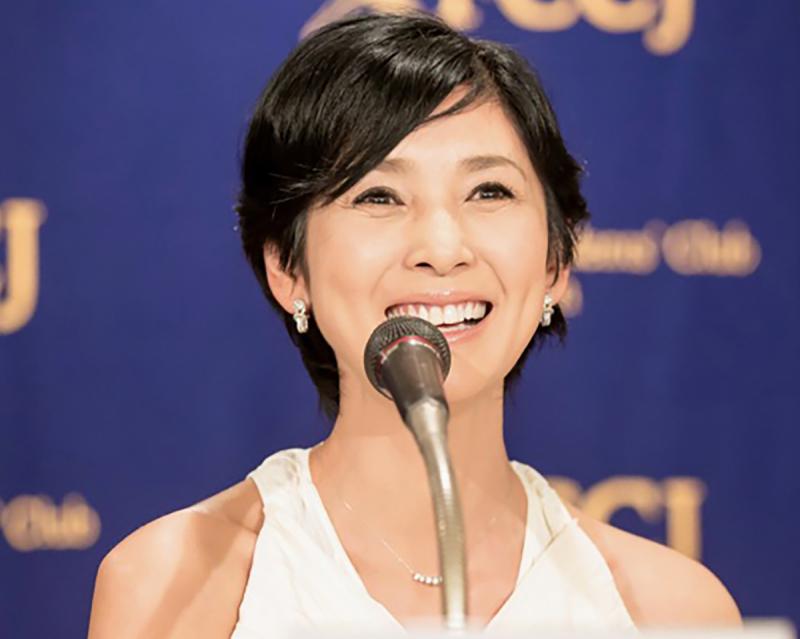 When a popular actress moves into the director's chair — as did Jodie Foster and Angelina Jolie — their efforts are sure to invite close scrutiny. If their films can also be labeled "female-centric," which is not the case with either Foster or Jolie, then that scrutiny is liable to be closer still.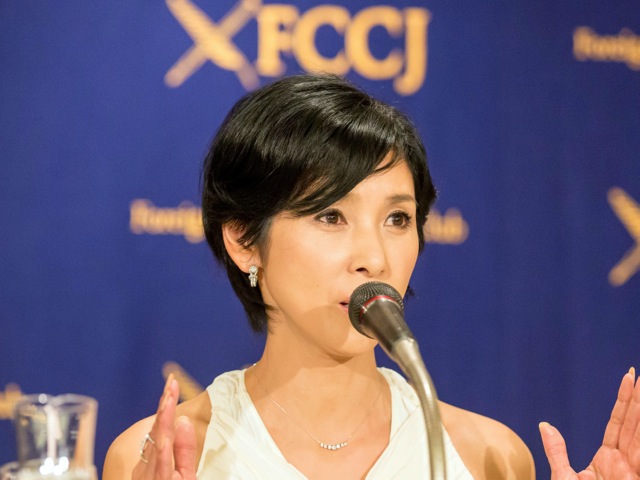 ©Mance Thompson
It's to be expected, then, that the critical gaze on Hitomi Kuroki, veteran star of stage, screen and television, could not be any more intense than it is for her directorial debut, Desperate Sunflowers. An adaptation of the best-selling novel Nasty Piece of Work, by Nozomi Katsura, the film tells the story of two cousins, polar opposites, who actively (and often humorously) maintain their distaste for each other into early middle age, clashing repeatedly before reaching a détente and finally, beginning to see eye to eye.
There are male supporting characters in the film, but the focus is firmly fixed on these two women — uptight lawyer Tetsuko (Yo Yoshida) and incorrigible con artist Natsuko (Yoshino Kimura) — and their overlapping lives. Yoshida and Kimura are perfectly matched in what is admittedly a clarion call to female comradeship and empowerment, a moving drama that is cleverly punctuated by unforgettably off-kilter comic moments and inspired staging.
©FCCJ
During the Q&A following the screening, Kuroki was poised and polished, but after the Japanese media glare that has dogged her since the project was first announced, she was clearly relieved to hear praise not only from the sizable Japanese press contingent lining the room, but also from several foreign viewers. One of them rhapsodized, "This movie was pitched as a film for women, but I just want to tell you, as one man, I really enjoyed it. It's about the most interesting and well-done Japanese film that I've been able to relate to."
(Later, in the bar, another male viewer said, "It's a good thing it was dark in there — I almost started crying!")

©Koichi Mori
The most obvious question came first: What had prompted Kuroki to make the move from in front of the camera to behind it? She explained that she first intended only to act in the film, but "in the process of working with the scriptwriter, I realized that I knew the world of the novel better than anyone else. That's when I started thinking that I should probably direct it myself." The process of adaptation was apparently a collaborative one. "In my discussions with [screenwriter Masafumi Nishida]," she continued, "I put a lot of myself into it. The novel makes you feel very positive, and it has numerous messages, such as the importance of life and the importance of ties with other human beings. I wanted to convey those in the film. I wanted audiences to feel the same way I did after reading the book."
To a follow-up question, she added, "I have no regrets about not appearing on screen in the film. I was excited to be able to embark on a new journey at this age." (Kuroki, like her two leads, is over 40; but all are blessed with enviable genes.)
She knew it would be a challenge to be driving the project, but "once you're on set, you're so into it, you're so absorbed in letting the actors know how to interpret the roles. You don't really have time to worry about how to do it — I was just there, actually doing it and trying to do my best."
Asked whether she now felt directing suited her better than acting, Kuroki responded, "That's a difficult question. If I said 'yes,' I would
be negating my 35-year career. But being behind the scenes and working on things one step at a time is a process that suits me well. It was a new discovery for me."

Kuroiki is now a double threat, as Hollywood is fond of saying. ©Mance Thompson
Pressed to elaborate, the director said: "The starkest difference [between acting and directing] is that, when you embark on a film as an actress, you become a certain character, you become that woman. As a director, you stay yourself." She gave all credit to her two leads, admitting that they must have found the shoot fairly exhausting. "Ms. Yoshida is a very versatile and receptive actress," said Kuroki. "The role of Tetsuko is a very straining one, and I had to be very tough on her on set, so I think that was trying for her. Yet she had the flexibility to overcome all the hurdles I put in her way. As for Ms. Kimura, she was really the mood-maker on the set. Of course, the role demanded that of her. But it was very impressive that, in playing this lively character, no matter how tired she was, she was able to slip right back into such a sunny state. I think she was wonderful."
Kuroki was drawn not only by the book's themes, but also its contrasting characters: Tetsuko is a shining law student, becomes a lawyer at a small firm, marries at 28 and has what seems the perfect life…yet underneath her always-professional demeanor, she feels empty and isolated. Natsuko, on the other hand, hasn't changed from that childhood morning when she ripped apart Tetsuko's matching sunflower dress with malicious glee. "I don't wanna be like anyone else!" she wails. "I'd rather die." In adulthood, Natsuko's still setting her own rules, now brasher, brassier and more abrasive than ever. Yet we gradually discover that she's been used and callously discarded, as so many women are. Eventually, the distance between the cousin's outlooks on life narrows significantly, and they band together to save one of their own.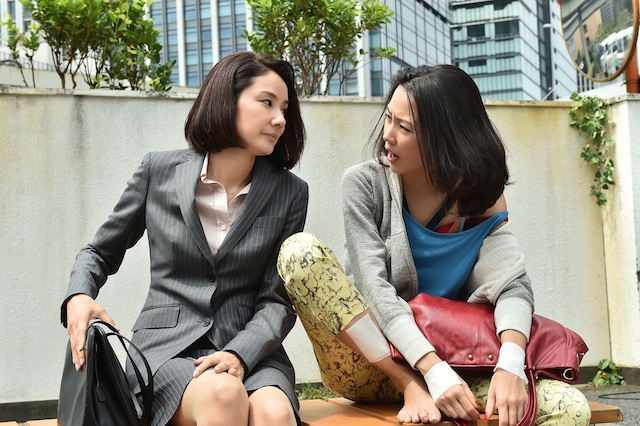 Tetuko (left) and Matsuko have trouble seeing eye to eye on just about everything.
©2016 "Desperate Sunflowers" Film Partners
Kuroki noted that she'd been especially "meticulous" in her direction of two pivotal scenes, one a raucous, rollicking cat fight between Tetsuko and Natsuko that marks a turning point in their relationship; the other a tender, introspective exchange between Tetsuko and her older-but-wiser colleague, Miyuki (a touching Eiko Nagashima).
Will she direct again? With a laugh, Kuroki mentioned that she'd had a bit of trouble readjusting to being an actress after taking 8 months off to shoot and complete Desperate Sunflowers. "When I came back on set, whenever someone called out 'director!' I would whip around to respond, without thinking."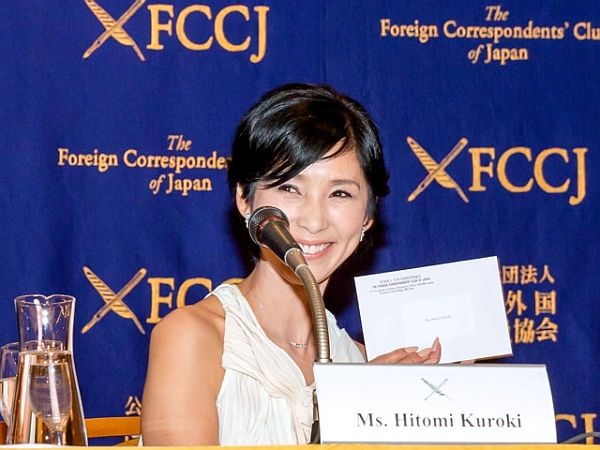 Kuroki brandishes her FCCJ honorary membership card. ©Mance Thompson
Kuroki is not ignorant of the fact that very few women sit in the director's chair — and even fewer do so in the midst of a successful acting career. This is not a Japanese phenomena; there is clear and consistent resistance worldwide to women of power on film sets. According to two recently reported surveys, only 21% of the directors in Europe are female, and they're given much smaller budgets than their male counterparts (84% of financing goes to films directed by men). In the US, the facts are even more dire: female filmmakers clock in at an abysmal 9% of the industry (although they account for 28% of indie film directors).
Desperate Sunflowers marks a bold and assured directorial debut. If there's any justice, Hitomi Kuroki will be able to make her own decision about which path she follows, or whether she wants to change it up and follow both paths.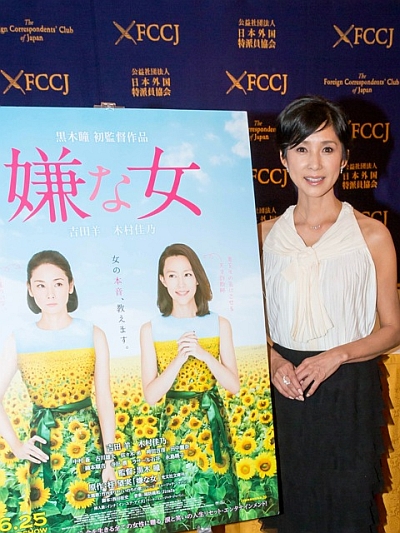 The newly minted director with the poster for her film.
©Mance Thompson
— Photos by FCCJ except where noted.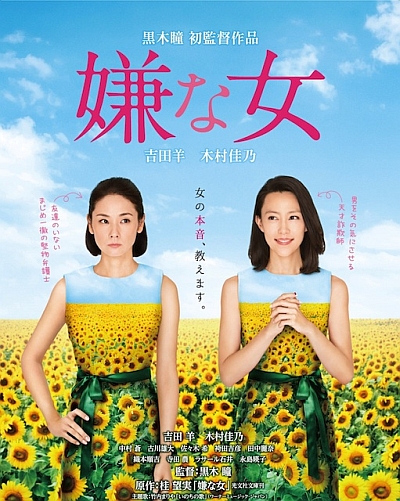 ©2016 "Desperate Sunflowers" Film Partners
Posted by Karen Severns, Tuesday, May 24, 2016
Media Coverage
TV Exposure
    MAiDiGi 黒木瞳、初監督の経緯明かす 「世界観をわかっているのは私」
    テレビ朝日[ワイド!スクランブル]「嫌な女」黒木瞳(55)が映画監督 初挑戦!
 
Read more
Published in: May
Tag: Hitomi Kuroki, Yo Yoshida, Yoshino Kimura, female director, female empowerment, age doesn't matter    
Comments