Image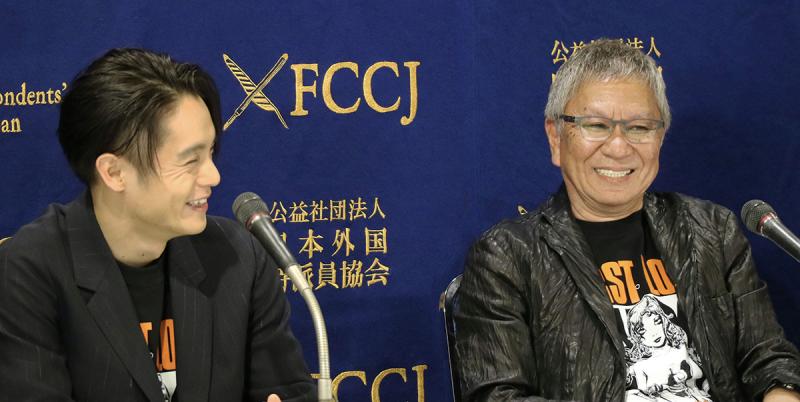 If the FCCJ audience expected Takashi Miike to be as outrageous, outlandish or outré as many of his films, they were sorely disappointed. Appearing at the Q&A session following a sneak peek of his new film, he was gracious, thoughtful and on occasion, droll — reminding us that the artist and the art are not always made of the same stuff.
But it should come as no surprise that even the Godfather of Asian Extreme plays by the rules of civil engagement at home in Japan. That partially explains how the compulsively prolific auteur has managed to direct over 100 features (in every possible genre, including several that he invented), since 1991. These have justly earned him global adulation and notoriety; yet he is also a critics' favorite, having won awards at every leading film festival from Berlin to Cannes to Venice to Toronto, and been more widely distributed overseas than any other Japanese filmmaker.
While he's provided plenty of instant ramen for fanboys over the years, Miike has also proven with numerous titles, from The Bird People in China to Hara-Kiri: Death of a Samurai, that he can produce restrained, humanistic works when the mood strikes. His latest, a violently pulpy action-comedy-thriller about a lonely boxer who finds a soulmate, gives us both sides of Miike: the sober, introspective romantic and the gleefully subversive bad boy.

©Koichi Mori
But First Love is no blushing romance. Told with hurtling kinetic oomph, it returns the director to noirish territory and features a familiar assortment of Miike lowlifes — drug smugglers and addicts, corrupt cops and cold-blooded killers, call girls and Chinese gangsters, sociopaths and screw-ups — all vying to survive anarchic gunfights, swordfights, exploding toys, flying cars and meth-induced delirium in Japan's rotten underbelly.
In the film, Leo Katsuragi (Masataka Kubota) is an "unknown boxer with promise" who fights well in the ring, but has nothing to live for outside it. An abandoned orphan with a menial day job at a Chinese restaurant, he learns that he has a brain tumor and little time left. His doctor advises that he dedicate himself to helping someone else, and presto, he meets Monica (Sakurako Konishi), a sweet young meth addict haunted by the ghost of her abusive father, whose debts she has been forced into prostitution to pay off.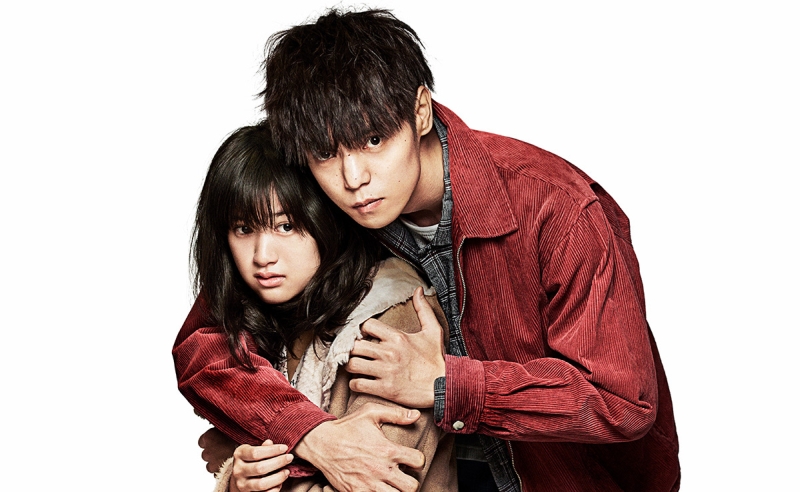 Leo saves Monica from the mob and the ghost who haunts her.  ©2019 FIRST LOVE Production Committee
The star-crossed pair are unwittingly enmeshed in a drug-smuggling double-cross hatched by minor hoodlum Kase (a hilarious Shota Sometani) and dirty-dealing cop Otomo (Nao Omori), and are pursued through a single chaotic night by an array of eccentric characters, including, mostly memorably, a rampaging gangster's girlfriend, Julie (a kickass Becky), who's out for brutal revenge after he's murdered; and a female assassin working for the Chinese Triads (Mami Fujioka), who laments that there's no honor or humanity among thieves anymore.
Kubota joined Miike for the FCCJ Q&A session. It had been 10 years since the two had worked together, on the heralded 13 Assassins. In the intervening decade, the director continued to work at a blistering pace, averaging two film releases each year, including two more with British super-producer Jeremy Thomas, Hara-Kiri: Death of a Samurai (2011) and Blade of the Immortal (2017).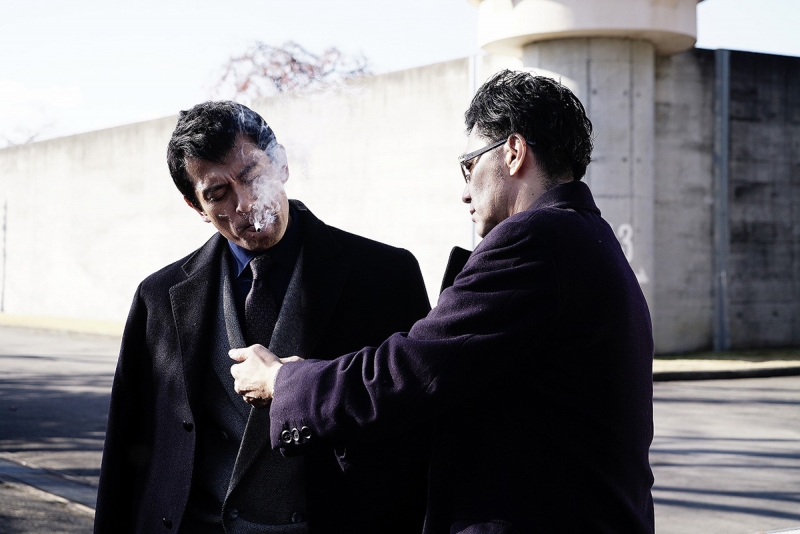 A pair of old-style yakuza share a smoke.  ©2019 FIRST LOVE Production Committee
Miike had played a part in establishing Kubota's career, having cast him as the lead in his 2008 TV series, Cellphone Investigator 7. After that, Kubota's rise was meteoric. Nearly as prolific as his director, he starred in dozens of TV series and films of every genre, including hit franchises like Rurouni Kenshin (2012, 2014, 2020), High & Low (2016, 2017) and Tokyo Ghoul (2017, 2019), as well as in Prophecy (2015), 64 (2016), Thicker than Water (2018), Gintama 2 (2018), Diner (2019) and Fancy (2020).
So how did it feel for them to reunite on the set of First Love? Said Miike, "I've spent the past 10 years working constantly, and it seems like it's been the blink of an eye. I don't feel the terrifying passage of time unless I look in the mirror. Meanwhile, Mr. Kubota now looms over me in the industry. God can be so cruel."

©FCCJ
Chuckling appreciatively, his star recalled, "I was 19 when I first worked with Mr. Miike, and I really didn't know left from right. Now that we're working together again after 10 years, I feel like he's softened somewhat. Even though he's still wearing those sunglasses, he was spicier back then. He's mellower now, and that's made him more accessible and easier to talk to."
Miike looked a little hangdog about this, but Kubota continued: "Once principle photography started, I realized what it is about a Miike set that makes all Japan's leading actors want to work with him. When you experience other sets, it's clear that Mr. Miike really is a grandmaster, and I realized how lucky I was to start my career on one of his sets."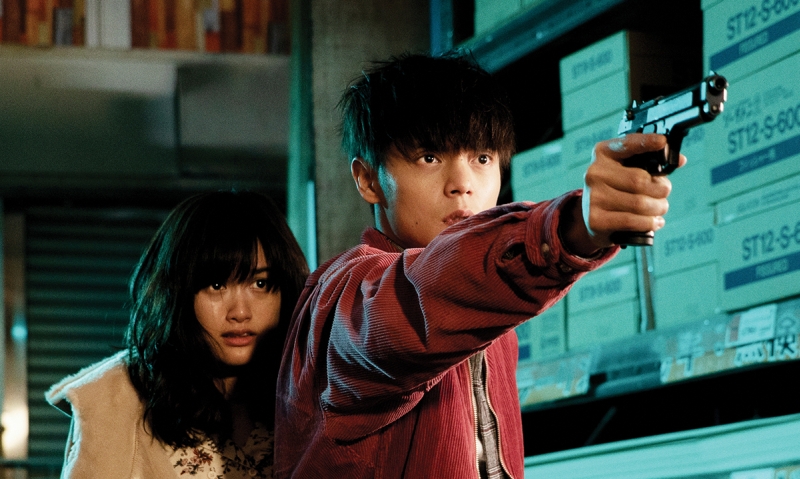 ©2019 FIRST LOVE Production Committee
The grandmaster was asked about Kubota's costar, debuting actress Sakurako Konishi. "We auditioned unknowns," he recalled, "and while acting technique and character motivation are important elements of standard auditions, for unknowns, it's really about the presence they exude the moment they step through the door. With Ms. Konishi, I instantly sensed 'That's our lead.' It's like she was born to play this role.
"The same thing happened [in 2008], when we were casting the lead for Cellphone Investigator 7. When Mr. Kubota stepped through the door, I knew right away that he was the one."
Kubota was also quick to praise the actress, telling the audience, "I still have a long way to go as an actor, but working with Ms. Konishi made me realize how much technique I'd accumulated through these years, the kind of technique that allows an actor to answer the question of what to do in a certain moment. Watching the way she approached the role, without a lot of technique, but with great agility, reminded me what it felt like 10 years ago. I just hope I can continue being a working actor 10 years from now, when Ms. Konishi is a big star."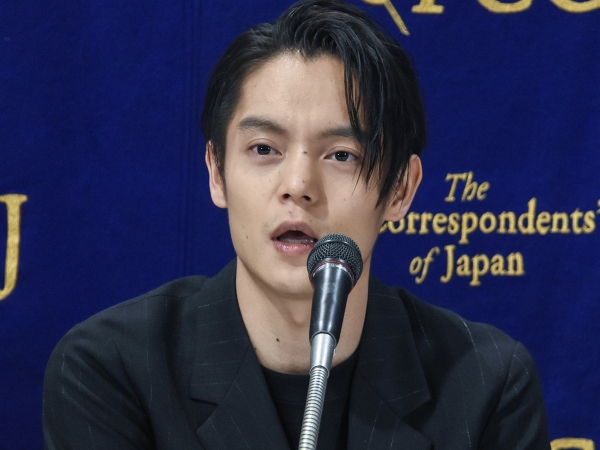 ©FCCJ
Kubota's character in First Love is limited to fighting only with his fists, which proved to be effective. But Kubota admitted, "I was very envious of my costars, because it makes things so much easier to have a sword or a gun in your hands — you have ultimate power, don't you? But in terms of physical preparation, I was the most prepared of all the cast. Since I play a boxer, I started training about a month before the shoot. I spent 2 hours a day in the gym every day, and I ate a lot of meat."
Asked for his standout memories of the filmmaking process, Kubota recounted the many night shoots and the "car action scenes, with six of us crammed into a minivan, including Mr. Miike, with the car-action coordinator pushing the gas pedal. I kept nearly whacking my head on the windshield, so it's something I'll never forget."
Miike was queried about working with Jeremy Thomas on his fourth project together. Said Miike, "He's one of those rare producers who really understands the Japanese way of doing things and the Japanese approach. He left us to our own devices. During the editing process, he provided feedback. But ultimately, he left the decision-making to us. He's a really rare producer in that respect, and I feel very lucky to work with him. I consider him a friend."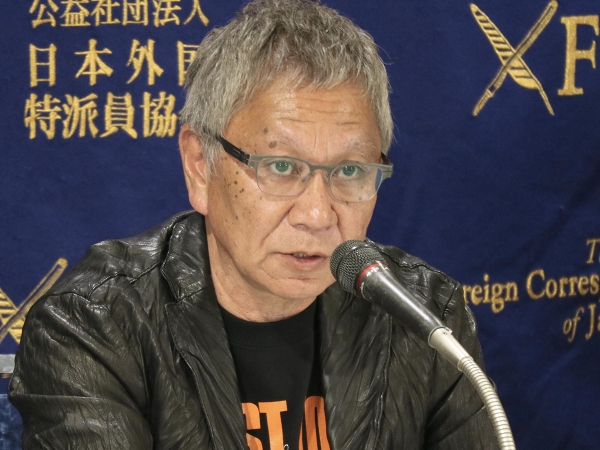 ©Koichi Mori
But he noted, "The international version is cut slightly differently than the Japanese version; there are many things you have to take into consideration in Japan."
There is a clever, colorful animated sequence in the film, and Miike was asked why it had been included. "Honestly speaking, there are a lot of restrictions on creative work in Japan," he explained. "Japanese film has become [more conservative]. Most films are now 'safe for viewing.' One of the starkest differences between Japanese and international films is the risk factor, especially when it comes to action scenes. It's not possible here anymore for young people to dream of being stunt performers, because the environment has changed. Most of the stunt people are veterans, over 60. So for a scene where you go over the edge like that, it does terrible things to your back and we couldn't do it. But I was adamant about not cutting that scene from the script, and we ultimately made the decision to turn it into an animated sequence."
Tom Mes, author of the two definitive books "Agitator: The Cinema of Takashi Miike" and "Re-Agitator: A Decade of Writing on Takashi Miike," was in the audience and mentioned that the auteur had spent the past several years directing an animated TV series directed squarely at the female tweener audience. "Do you see this film as a sort of male-focused rebound from that?" he asked. "Or is it a continuation?"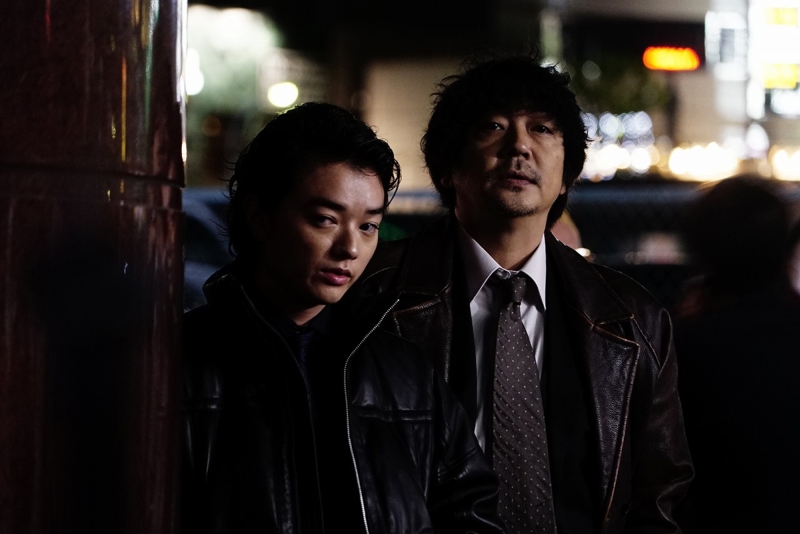 The double-crossing yakuza Kase and dirty cop Otomo. ©2019 FIRST LOVE Production Committee
Said the director, "One reason we came up with the title First Love and the tagline 'Farewell to violence,' is because we were hopeful that certain audience members would be misled into seeing the film." (Cue laughter.)
"As Tom said, I've been working on this TV series that airs weekly and is aimed at young female viewers. We're in our 4th season. It's about using the power of love, rather than violence, to [overcome obstacles in life], and that's a message I truly take to heart.
"For this film, though, I wanted to depict the lives of these outlaws who lead very foolish lives. My hope was to cast a glimmer of hope into them. Most directors stick to one genre and chew over the same themes in all their work. That's not the case with me. One thing leads to another, and I've been given the opportunity to make many films. For all the genre- crossing, I'm always trying to grab at the heart of the characters. Regardless of the size of the screen, all the characters are the same at their core. They're struggling through the same conflicts and trying to find the same kind of happiness. It doesn't make any difference what genre they're in."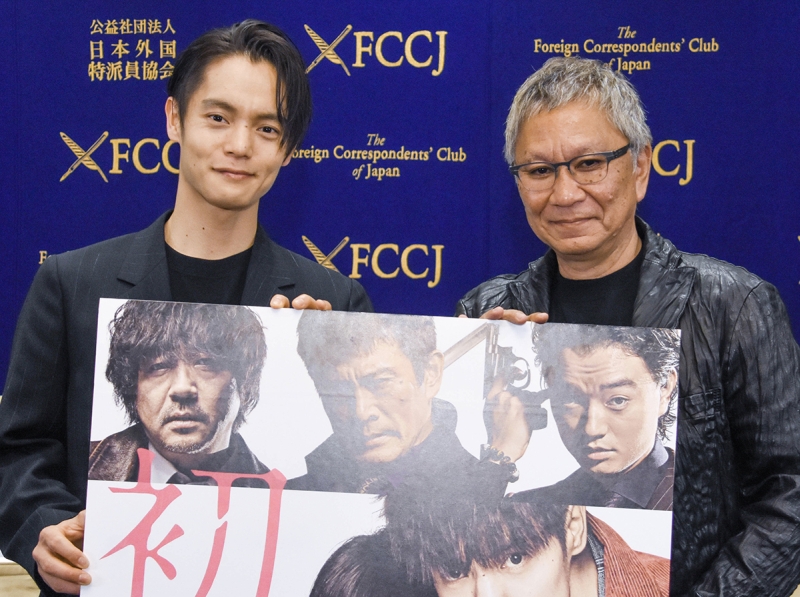 ©FCCJ
Film critic Mark Schilling, wearing a mask (as were many in the room), noted that COVID-19 had effectively shut down the film industry in China, with many distributors moving their releases online in order to continue providing content. "How do you feel about the future of theatrical releases vs. streaming?" he asked.
Miike grew somber. "With the coronavirus, we're in uncharted waters, and all of us are grappling with ways to cope with it. But I'm not opposed to bringing work to people in their own private spaces, so they can enjoy it without having physical interactions with other human beings. I admit I watch films online, and it's interesting that watching films in your own personal space allows you to view them in a different light.
"But in my own experience, I feel it's really important to spend time not only with a film's characters but with other audience members in a theater. When you share a space with other viewers, even when the theater isn't crowded, it makes for [a richer experience.] That's essential for me, personally. Formats will continue to change, but I hope theatrical releases will continue forever."
The Japan release of First Love is uncharacteristically late, coming after the film has screened at nearly 30 festivals overseas and opened in Europe, the US and elsewhere. Whether the delay was planned or imposed, it will be interesting to see whether Miike — and his "looming" star — can attract a larger female audience despite all the rambunctious, hyperviolent fun.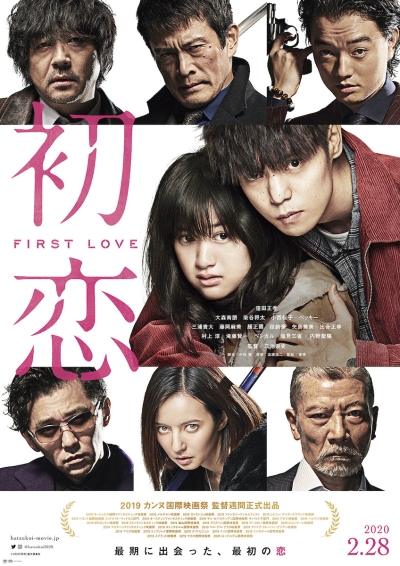 ©2019 FIRST LOVE Production Committee
Posted by Karen Severns, Thursday, February 27, 2020
Selected Media Exposure
Selected TV Exposure
    日本テレビ ZIP! SHOWBIZ 窪田正孝、再会した三池崇史監督は「鋭利なものが丸くなった」
    TBS はやドキ! 窪田正孝・三池崇史監督が出席。「オレは10年で歳をとった、窪田くんはずいぶん出世した」
    日本テレビ Oha!4 NEWS LIVE 窪田が10年ぶりのタッグについて「緊張が解けたのか喋りやすくなった」
    フジテレビ めざましテレビ 三池崇史監督は「窪田君は10年で出世した」と窪田正孝の活躍が嬉しい様子。
Read more
Published in: February
Tag: Takashi Miike, Masataka Kubota, Sakurako Konishi, Shota Sometani, yakuza, drugs, awardwinning, Cannes Film
Festival, Berlin Film Festival, Venice Film Festival