Image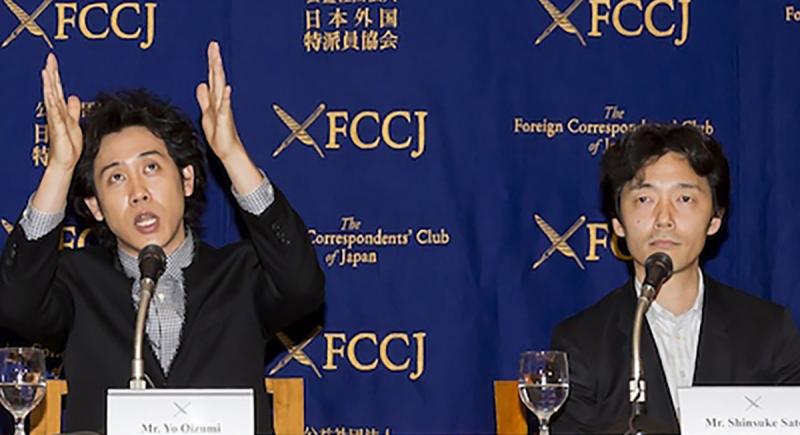 The Film Committee usually shies away from screening what are derisively termed "genre" films, since we worry that our audience would be put off by intense bouts of blood and gore.
But these films — running the gamut from horror, splatter and fantasy to monster, swordplay action and erotica — continue to be among Japan's greatest strengths at the global box office, both enduringly popular and profitable.
While most local films do not get distributed overseas, there are always audiences for genre films — especially when they're done as well as I Am a Hero, this country's first major zombie flick, based on a blockbuster manga series. (If you thought zombies were passé by now, think again: a recent article on the genre estimated that it is worth over $5 billion to the US economy alone.)
Even those with walking-dead fatigue will find much to admire in the latest film by hitmaker Shinsuke Sato, and the proof is in the pudding: I Am a Hero has already swept the awards at the three most important fantastic film festivals. On its world premiere at the 2015 Sitges (Spain) Film Festival, it won the Audience Award and Best Special Effects Award; at the FantaSporto Festival in Portugal, it took home the Orient Express Special Award and another Audience Award; and finally, the very day of the FCCJ sneak preview, it snagged the Golden Crow Award (aka Grand Prix) at the Brussels International Fantastic Film Festival.
Zombie fighter Yo Oizumi and his director Shinsuke Sato shared an easy rapport. ©Mance Thompson
Asked to comment about the accolades, Sato noted, "We'd already received several Audience Awards, which I was surprised about. In a way, I feel those are the best awards you can get for an entertainment film, and I was really happy about getting them. Then I received the news about the Grand Prix, and I think this is the greatest applause we can get. I'm really thankful."
In inimitable style, star Yo Oizumi insisted that he'd known the film could travel successfully overseas: "I expected it would win the awards in Spain, Portugal and Brussels," he half-joked, "But I heard the news at 4 am this morning, and even though I was confident we would win, I have to admit I was a bit nervous." He added, "As you all know, Brussels was the site of a recent tragedy, and I praise the festival's courage in going forward with it as planned. To win an award at such a special moment in time, at such a respected festival, is very gratifying for me."
Sato, who is known for his CG prowess and big budgets — he's the mastermind behind recent megahit series Gantz and Library Wars, and is helming the much-anticipated Death Note 2016 — admitted that his latest film was also costly. One reason, his star couldn't help suggesting, is that "[Sato] never compromises. He's a perfectionist, and we had to do so many takes that we often wound up working really late hours. We all wanted to quit, but he never let us quit. To make matters worse, he was working with his usual cinematographer, who also has ideas about what he wants, so after we finished with the director's shots, we had to do [the cinematographer's], and it was endless."

Sato transformed Oizumi into an unwilling but thoroughly convincing action hero. ©Mance Thompson
Perhaps the overtime was worth it. Based on the blockbuster manga series of the same name by Kengo Hanazawa, I Am a Hero is that rare big-budget commodity that manages to be gruesomely frightening, darkly funny and hair-raisingly realistic. And it's anchored by an astoundingly committed star turn from Oizumi. The everyman character he plays, Hideo Suzuki, is a lowly manga artist's assistant at the age of 35, but he tells everyone his name is spelled with the characters for "hero," and he nurses big dreams. Then one day, a mysterious virus, dubbed ZQN (pronounced "zokyun," perhaps playing off the onomatopoeic expression for "goosebumps;" or perhaps echoing the 2-Channel slang dokyun, or DQN, meaning dumbass ), makes men bite dogs and turns his girlfriend into a drooling, double-jointed freak. With doomsday scenarios playing out across Japan, Hideo escapes the general carnage in a runaway taxi with schoolgirl Hiromi (Kasumi Arimura) in tow, and they start climbing Mt. Fuji in hopes the virus can't survive that high. But it turns out Hiromi has been infected, too, yet she only partially turns. They seek refuge with other survivors on the roof of the Fuji Outlet Mall, and meet former nurse Tsugumi (Masami Nagasawa). Suzuki is soon bullied into giving up his shotgun — an amateur skeet shooter, his crack-shot skills will come in very handy later — while Hiromi's secret threatens to be spilled, and meanwhile, there's one zombie whose backflips are getting him dangerously close to the roof's safe zone.

Will there be a much-wanted sequel? Sato's keeping mum.   ©Mance Thompson (Sato)
Surprisingly, the film's pivotal outlet mall scenes proved impossible to shoot in Japan, and the production eventually wound up staging them at an abandoned mall in Korea. "We did things that we'd never done before," the director said. "We wanted to do things that we'd never done before. It was a challenge for me, my crew and the actors, but it was a very rewarding experience and we're all glad we could have it."
Both men were clearly impressed with their Korean counterparts. Sato lauded their resourcefulness and their frequent creative input: "They went out of their way to realize my vision… and the shoot in Korea was a wonderful experience for me." For Oizumi, "The difference between Japanese and Korean crews is that the Japanese will always wait to eat if the shoot runs long. Even if they get hungry, they'll keep on working without complaining. The Korean crew members get angry." A beat. "I'm with the Koreans."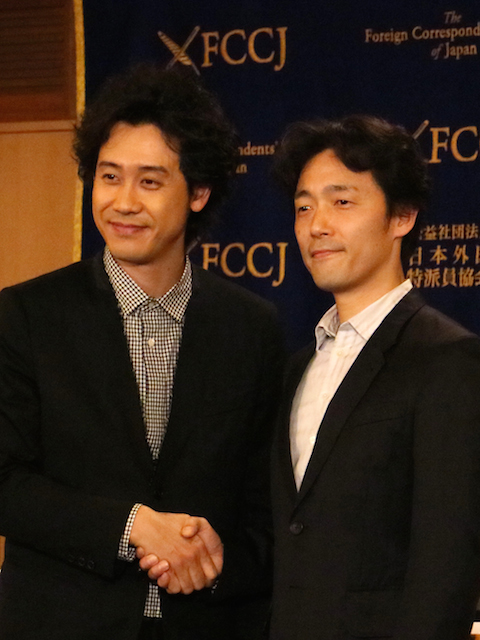 A partnership we hope to see continue.  ©Koichi Mori
But Oizumi also fondly recalled how relaxing it was to be in a place where he and his two famous female costars went unrecognized. "There was this convenience store across from our hotel, with tables and chairs in the front where you could sit. We used to go there after shooting and buy some drinks and food, and we'd just hang out with the crew, chatting and eating. That's unthinkable in Japan. It was a lot of fun."
The casting of Oizumi, a ubiquitous presence in Japan on stage, screen and TV who is especially known for comical roles, was an unusual choice. Sato had worked with him previously, and explained it this way: "You could say that Mr. Oizumi is just about the opposite of the character he plays. In my mind, he's so cool, he's like a real hero. And the role is a guy who doesn't seem heroic at all. But I knew he would bring all of his acting talent to the character. Also, I really felt like the combination of Mr. Oizumi and zombies would be the best match in Japan. No one else can make as many expressions as he can when he's surprised — it's a Guinness record-breaking number."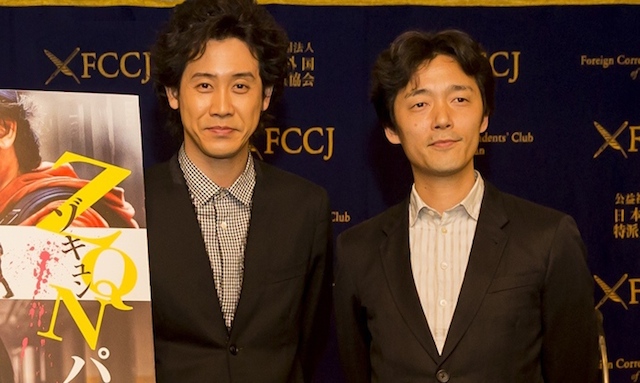 ©Mance Thompson
Oizumi was eager to join the project since he knew the studio, Toho, would put all their might behind it, and "I thought that if a really handsome actor took the role, people wouldn't like Hideo or be able to relate to him. So I figured my funny face would fit the part perfectly, and add reality to the character."
By the end of the evening, it was clear that FCCJ's audience was not as genre-averse as imagined. It remains to be seen whether the film does as well at home as it's doing abroad (foreign sales are coming as fast and furious as a zombie attack), but as one seasoned film critic put it during the Q&A session, "I've sat through a lot of big-budget Japanese movies, and been disappointed most of the time. I've been waiting for a film that would prove my expectations wrong. I'm very happy to say that this was that film."
— Photos by Mance Thompson, Koichi Mori and FCCJ.
Posted by Karen Severns, Tuesday, April 12, 2016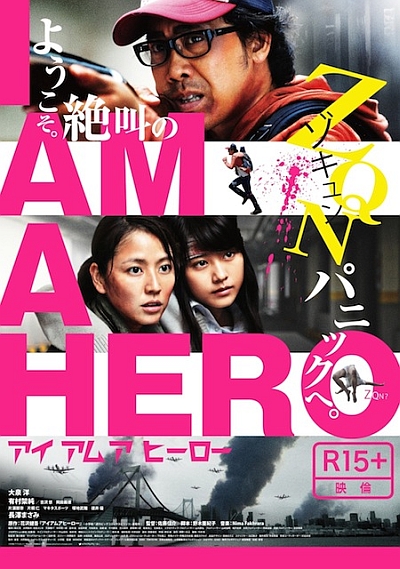 ©2015 "I AM A HERO" Production Committee
Posted by Karen Severns, Tuesday, April 12, 2016
Media Coverage
TV Exposure
    テレビ朝日 [芸能特報] 大泉洋、世界三大映画祭を制覇!顔が勝因?
    テレビ朝日[ワイドスクランブル] 大泉洋・世界三大ファンタスティック映画祭制覇!
    フジテレビ  [めざましテレビ] めざましSEVEN 大泉洋映画・海外でグランプリ
    フジテレビ[めざましテレビアクア] 大泉洋・3つの国際映画祭で栄冠
    日本テレビ[PON!] 大泉洋・主演映画・映画祭で快挙
    TBS [はやドキ! はやドキ! エンタメワイド] 外国人記者も爆笑
    TBS [はやドキ! はやドキ! スポーツ紙 まるごとチェック] ジョニー・デップを押しのけた
 
Read more
Published in: April
Tag: Shinsuke Sato, Yo Oizumi, awardwinning, zombies, ZQN, international coproduction    
Comments