Image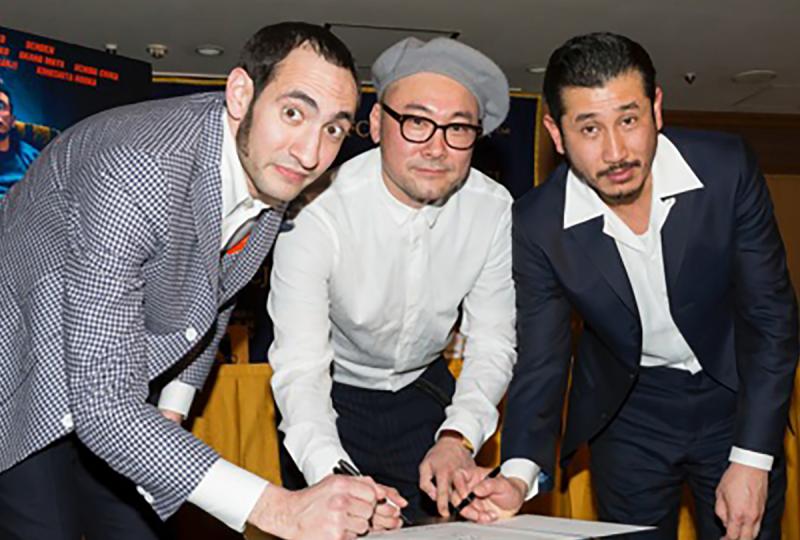 For over 1,000 years, the word "gesu" has represented those of the very lowest social rank in Japan, but in this single expression, the stench of scummy, slummy, vulgar, reprobate behavior is also emitted.
Like many other Japanese expressions — mono no aware, umami and omotenashi come to mind — gesu has a level of specificity that cannot easily be communicated in English. Recognizing that its English equivalent, lowlife, falls short, the filmmakers behind Lowlife Love publicly signed a submission to include the Japanese word in the venerable Oxford English Dictionary following their sneak preview event at FCCJ. A calculated publicity stunt? Sure. But why not? It's no worse than having Sadako throwing out the first ball.
The film's director, Eiji Uchida, British producer Adam Torel and star Kiyohiko Shibukawa tried to effect serious expressions as the press snapped their OED "signing ceremony," but they were clearly having too much fun. Their Q&A session had just proven that, despite the lowlifes populating their film, they themselves were class acts.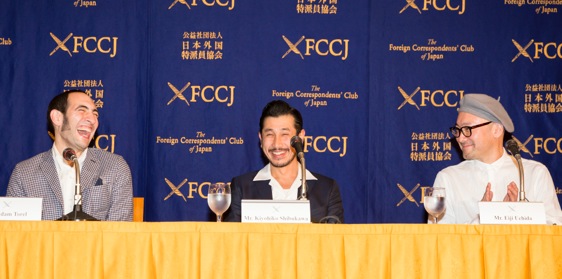 Torel, Shibukawa, Uchida  ©Mance Thompson
Uchida based his script on some of the more extreme incidents he had himself experienced and witnessed over a decade in the industry (he'd started his film career as an assistant director to Kitano "Beat" Takeshi). When he was approached by Torel, who had produced Sion Sono's Land of Hope and Yosuke Fujita's Fukuchan of Fukufuku Flats, Uchida suggested a blackly comic exposé of Japan's no-budget film industry, focused around the Shimokitazawa area of Tokyo, perhaps as an act of personal exorcism. The film was shot, as the producer admitted, "for a bit less than $50,000, which is why we shot in my apartment, [Uchida's] office, the place I always drink, and had a crew of about nine… and we didn't sleep. But we did pay everyone, so don't worry."
Lowlife Love, which drew SRO crowds at its international premiere at the Rotterdam Film Festival in January, and heads to festivals in Taiwan and Italy next month, focuses on Japan's lowest rung of filmmakers: those who work for nothing, pay nothing to their cast and crew, exploit every possible angle to get their films made (legal and otherwise), and always plead "artistic integrity" as their excuse for failure. Why do they do it? The film makes it clear that love of cinema is one driver; the other is burning ambition. When one considers that there were close to 600 Japanese films released in theaters in 2015, that ambition is perhaps not misplaced — although theatrical release does not equal sustainable incomes for the industry's bottom-feeders. They're forced to get other jobs or to churn out porn to survive between "real" gigs, helping sustain the shockingly misogynistic subculture that is the milieu plumbed in Lowlife Love.

Uchida is an ex-journalist and film industry veteran, unintentionally rocking an Osamu Tezuka look.   ©Mance Thompson
Asked during the Q&A whether he was skewering or exploiting that subculture, the writer-director answered: "The portrayal of women and the perception of misogyny was something that the producer pointed out to me during filming," said Uchida. "But the reality of the Japanese entertainment industry, and not just the film industry, is that the female talents are placed in a very weak position. The reality is much harsher than in the film." Added Torel: "It's a very gesu world in Japan, in the film industry and especially the independent film industry, maybe more than anywhere else. It's slightly exaggerated in the film, but compared to the West, it's still behind the times here."


Shibukawa is an indie favorite, long overdue for a big-budget, leading-man role.  ©Mance Thompson
In the film, struggling director Tetsuo (Shibukawa) still nurses dreams of success, although in the years since an early indie hit, he's succeeded only in making himself one of the most hated guys around. ("I'm not unemployed — I'm a film director!" he protests, when his mother complains about supporting him.) His past record still attracts ambitious youngsters to his "acting" courses, and one day, he meets two new students whose talents are ripe for exploitation: Minami, a naïve wannabe actress with serious chops, and Ken, a writer with a brilliant script. Tetsuo enlists the help of an unsavory producer (played with panache by Denden), but their efforts to get a film made are undercut by the desperate, unrelenting degeneracy of their world.
Is it a world that extends beyond the no-budget scene? In a recent Japan Times article about the entertainment industry travails of SMAP and Becky, Mark Schilling called Lowlife Love "required viewing" and wrote, "[it] confirms what I have known for years: Japanese show business can be brutal to the weak or clueless. They end up used and discarded, like so many human Kleenexes."

Torel's producing slate is all over the stylistic map, but he and Uchida are already in preproducion on Animal Trail. 
©Mance Thompson
During the Q&A, Uchida referenced the problems caused by Japan's all-powerful talent agencies, which control not only the careers but also the lives of their stars. He mentioned that just that morning, he'd been admonished by a talent manager for contacting an actor directly. "So often, projects are developed here without any regard whatsoever for what's needed," said the director. "I really hope a time will come when Japanese actors can make their own decisions about what projects they want to be involved in."
Indie stalwart Shibukawa, who won Best Actor awards last year for his role as an indie filmmaker in Obon Brothers (a director who is as sweet and selfless as his Lowlife character is slimy), admitted he'd been contacted directly by Uchida about the script. "He was so passionate about it," he said, "I decided right away that I wanted to be in the film, even before reading the script." A regular in roles for Takashi Miike, Gakuryu Ishii and Toshiaki Toyoda, Shibukawa has appeared in over 60 films, but remains woefully underrepresented in big-budget releases (he does have a brief but indelible role in Miike's upcoming Terra Formars).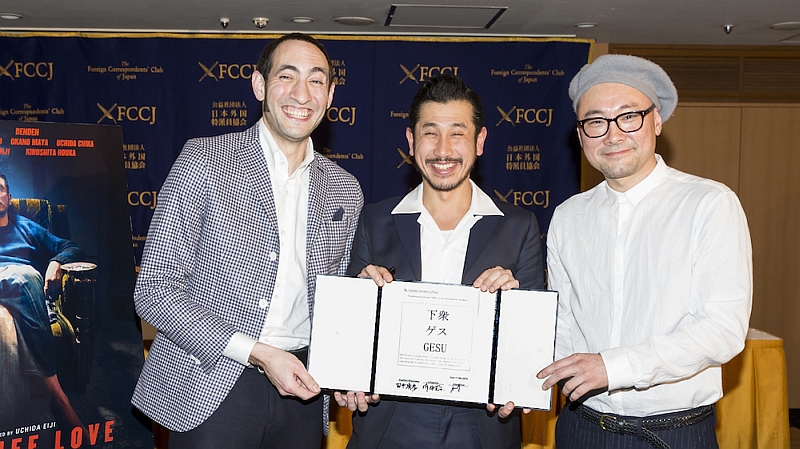 That OED submission for gesu. Stay tuned.   ©Mance Thompson
Naturally, the trio was queried about their own lowlife experiences in the industry, but their stories were disappointingly tame, compared to those in their film. Recalled Uchida: "This happened when I just started making films. We had a wrap party, and about 30 of us piled into a room. When it was over, the producer was nowhere to be found, and I got stuck with the bill. That's not an uncommon occurrence." Said Torel: "There's a producer I know, who shall remain nameless, who spends all his time looking for actresses on Facebook, and telling them that if they meet him for drinks, they have a good chance of being in a big director's film. And he takes them out every night, to very dodgy places. He's not a nice guy."
Shibukawa remembered, "There was an actor on a shoot who was way more powerful than the director. His character was supposed to be killed by me, very quickly. But he just wouldn't die. He kept insisting that he wouldn't die that easily." [Those who attended our January screening of The Actor will recognize this very scene from the film.]
— Photos by Mance Thompson and Koichi Mori.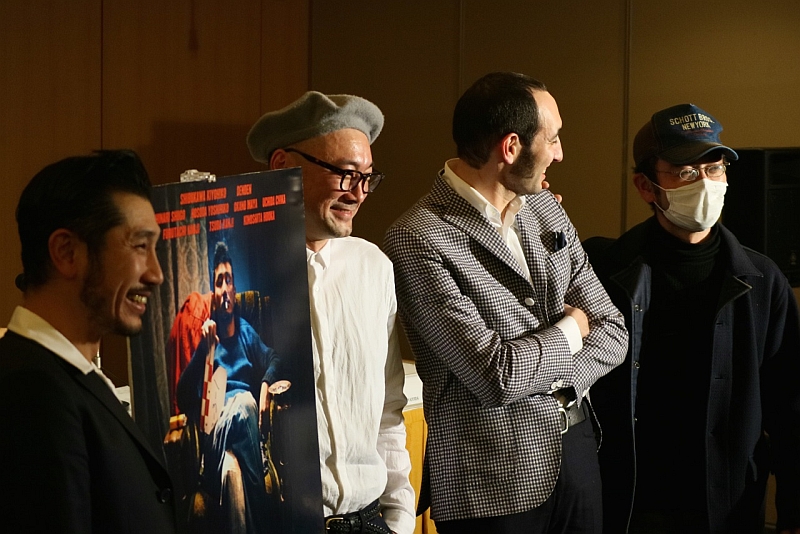 Kanji Furutachi (in mask) drops by to say howdy. He plays a far more successful director
than Shibukawa in the film, and the two have an epic fistfight.  ©Koichi Mori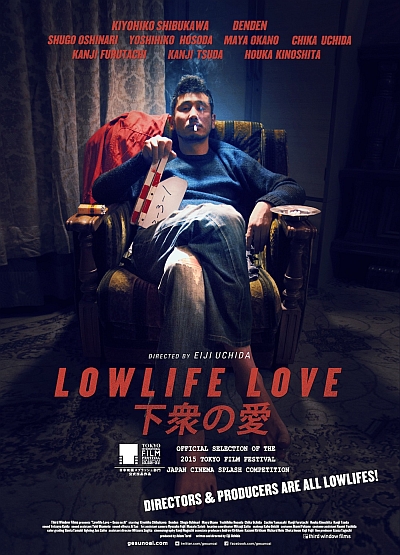 ©2016 Three Window Films
Posted by Karen Severns, Friday, March 18, 2016
Media Coverage
    
Read more
Published in: March
Tag: gesu, Eiji Uchida, Adam Torel, Kiyohiko Shibukawa, independent film, porn    
Comments