Image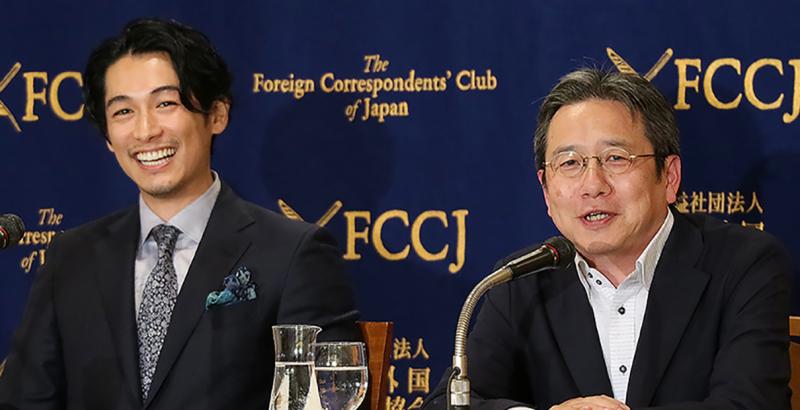 The flashbulb orgy was just a tad overwhelming as Dean Fujioka took his seat onstage following FCCJ's screening of his new film, Marriage.
"I'm going blind," he said in English, laughing happily. "You guys are amazing!"
The irony wasn't lost on the large crowd, which was clearly thrilled to experience the megawatt voltage of Fujioka's smile and his rockstar magnetism in person. Most of them were there because they'd already been mesmerized by the force of his NHK debut on the morning drama Here Comes Asa.
Playing the real-life father of Osaka commerce, Tomoatsu Godai, with an impossibly charming, breezy confidence, he had imbued the character with a buoyant optimism that seemed to dovetail perfectly with his own personality. Male viewers yearned for his let's-change- the-world fighting spirit; females yearned for a man who would cherish and cheer them on, as Godai had done for Asa, the title character.
Over the course of its six-month run, the series became a cultural juggernaut and the "Godai-sama boom" continued unabated. Soon, Fujioka's "reverse-import" status as Japan's first Asia-wide star was firmly cemented. His presence drove Here Comes Asa to record- setting viewership, and Fujioka, to a stratospheric level of popularity.

©FCCJ
The Fujioka supernova had first glowed in 2006 in Hong Kong and Taiwan, where he parlayed a successful (albeit unplanned) modeling career into a series of attention-grabbing roles in television and film. Impressively, he also added Cantonese and Mandarin to his fluent English, which he'd honed during college in Seattle.  
He signed on with Japan's Amuse talent management company in 2011, and for the next few years, split his time his time between TV projects in Japan, Taiwan and North America — where he appeared in eight episodes of the 2014-2015 detective series The Pinkertons — as well as Japanese indies.
But it wasn't until Here Comes Asa started in late 2015 that Fujioka became an overnight sensation in his homeland. The years at midlevel fame apparently helped him adapt to his newfound mega-celebrity with amiable equanimity.
Veteran NHK director Shinichi Nishitani was one of the helmers on Here Comes Asa, and during the Q&A session, he recalled being "blown away" by Fujioka's charisma on their first meeting, becoming an instant fan. After working with him, he found him to be "an actor who can really immerse himself in a role and become the character, whereas many actors stay themselves. With Dean, he plunges into it with full commitment. I find that astonishing."

Marriage marks the third collaboration for Fujioka and Nishitani.  ©Koichi Mori
While the asadora series was running, they made a TV movie together, Noisy Street, Silent Sea. With Fujioka's meteoric rise, they were also able to fast-track a feature project. The resulting film, Marriage, is the long-awaited adaptation of a bestselling novel by Areno Inoue, about a marriage scammer. Nishitani cleverly cast Fujioka as the conscience-free conman, earning instant audience sympathy for a character who wouldn't otherwise deserve it.
But both men deflected the suggestion that playing a scoundrel was meant to counteract the Godai-sama effect. Says Nishitani, "We wanted to widen the spectrum of his roles this time around. Of course he'd done I Am Ichihashi: Journal of a Murderer, which was quite a departure. But I wanted to show his utter charm, how he can sweep women off their feet and put a spell on the them."
Fujioka added, again in English, "I did everything I could to convince myself that I was the person he wanted me to portray. After we finished shooting, during the editing process, Mr. Nishitani took a different approach, and I was surprised. But I'm happy with the outcome."
In Marriage, Fujioka's lothario is not a hero, far from it: he separates his victims from their savings accounts and redefines their notions of romantic bliss. But he's also not quite a villain, not even in the women's eyes. There is apparently a dark secret in his past, and this is at the root of his fraudulent schemes.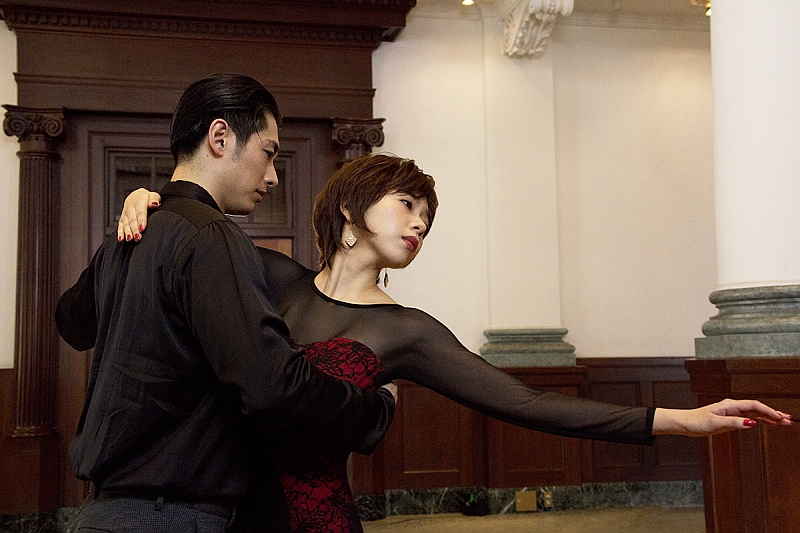 Kenji puts a spell on Ruriko, before she's wise to his ways. ©2017 "Marriage" Film Partners
Kenji Urumi (Fujioka) is perpetually polished and happily married to Hatsune (Shihori Kanjiya). He just happens to make his living from con games, slipping in and out of whatever skin suits his latest conquest, with marriage as the bait. For avid reader Asami (Eriko Nakamura), he is a popular web novelist with 500,000 followers; for classy magazine editor Mana (Wakana Matsumoto), he is a budding restaurateur who can also tickle the piano keys with just the right seductive pizzazz; for Hatoko (Tamae Ando), who despairs of the future as she stamps marriage license applications at a city office, he is a suave wine connoisseur.   
Then there's Ruriko (Shuko), Kenji's partner in crime, a former target who realizes she can keep him close only by sharing in the spoils of his misadventures. She provides him with a "never-ending supply" of lonely hearts in need of love. Until one day, he meets his match in Yasue (Hisako Manda), who digs into his past and reveals the ugly truth.
Although saying more would spoil the film, there is an unexpected outcome that differs substantially from the original novel. Discussing that during the Q&A session, Fujioka said, "I think it was really effective that Mr. Nishitani decided to bookend the film with the traditional lullaby Hamabe no uta. It evokes something that should be there, and is not — something that Kenji should have had, that would allow him to have [healthy] relationships with women, but that's been ruined."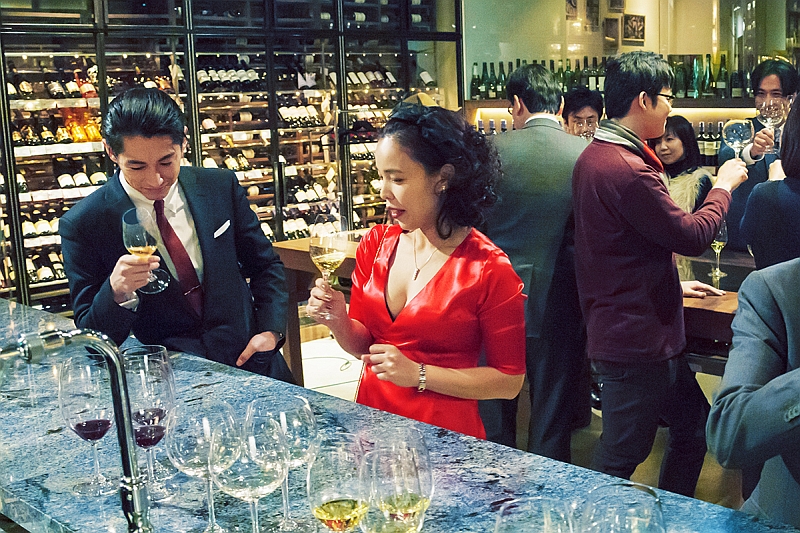 Hatoko meets and falls for Kenji at a wine tasting.  ©2017 "Marriage" Film Partners
Addressing the director, a foreign journalist commented, "The British psychoanalyst Christopher Bollas has said that we get married in order to escape growing up. Can you tell us your thoughts on how you tried to show the institution of marriage in this film?"
Nishitani initially answered, "I would say that we portrayed it as something that soothes you." But after further prompting by the emcee and Dean, he admitted, "I've arrived at this answer after experiencing multiple marriages."
"Pretty convincing, right?" laughed Fujioka. "Home is where the heart is!"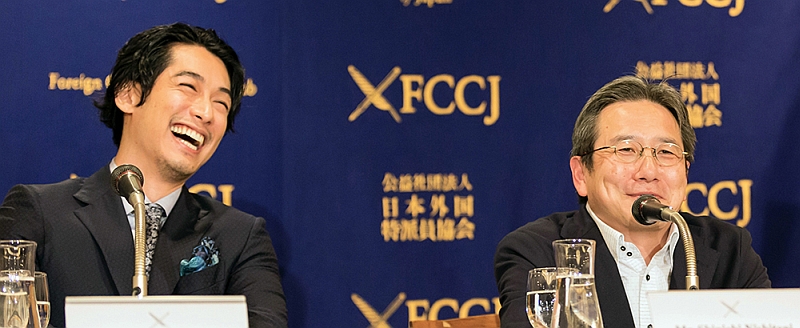 Fujioka reacts to Nishitani's description of marriage based on "multiple" experiences with it.   ©Mance Thompson
A female journalist asked Fujioka about the process of making his character empathetic. "Being an actor is a lot like being a conman," he said, responding in Japanese because the question was in Japanese. "You have to do what the character calls for or you can't be an actor. But the professions are polar opposites. For the conman, it's all about his own ego — he breaks the law and the consequences are quite tragic.
"But it's interesting," he continued, "because Kenji's ability to please women is what makes him such a good conman, and makes the film so compelling. To make a woman happy, [Kenji knows] you have to like her. You have to feel that you like her. It's about having curiosity. ' What is she thinking? What does she want to do? What does she really want?' And it's about making the other person comfortable, putting her at ease."
Another audience member asked the star about the scene in which he's playing the piano. Despite being an accomplished musician, he admitted, "It was technically challenging. It's the first time I'd played the piano while saying my lines and also reacting to the actress' lines. It was like we were doing a musical, and it took a lot of concentration."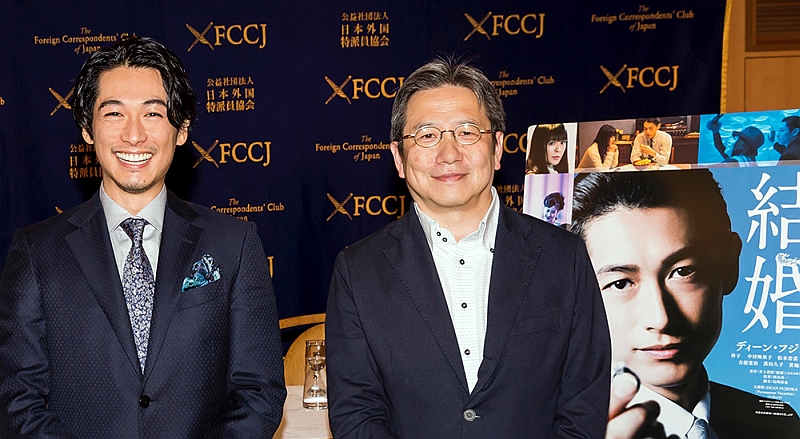 ©Mance Thompson
Returning later to the subject of music, Fujioka was queried about the film's theme song, Permanent Vacation, which he wrote and performed. "I knew right away that I wanted to start the song with the line asa ga kita, or here comes asa, since the director and I met on the NHK drama. So it begins, When morning comes, we still don't know where we're headed. I wanted to convey this sense of being lost, of not knowing where to go. I wrote the rest of the lyrics during the shoot, and didn't start writing the music until we'd finished shooting.
"The lyrics are a kind of soliloquy, a confession," he concluded, "because we only tell Kenji's story from the perspective of these women that he's swindled. So it's a glimpse into his heart and mind, and that's how we ended the film."
The actor doesn't need to worry that this rogue turn will diminish his female following. Coincidentally, he is currently starring in Amazon Prime's hit Happy Marriage!?, and fans can find comfort as his character continues to evolve from a "tyrannical-devoted-sadistic- charming" husband (as per Wikipedia) into someone more closely mirroring Dean Fujioka himself.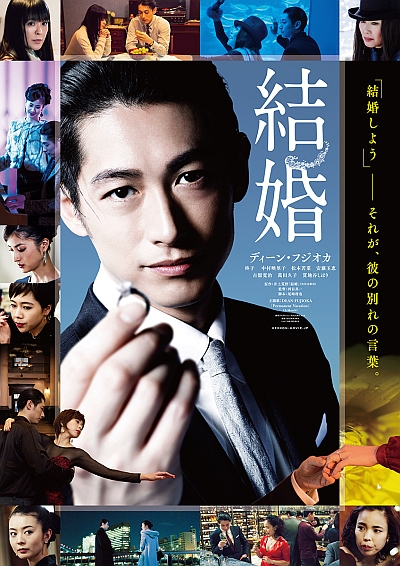 ©2017 "Marriage" Film Partners
Posted by Karen Severns, Friday, June 23, 2017
Press Coverage
TV Exposure
    フジテレビ みんなのニュース 映画「結婚」外国人特派員協会記者会見
    日本テレビ ZIP!SHOWBIZ 24 結婚 外国人特派員協会記者会見
    日本テレビ スッキリ!! スッタメ!! ディーン・フジオカ 主演最新作「結婚」
Read more
Published in: June
Tag: Dean Fujioka, Shinichi Nishitani, marriage scam    
Comments