Image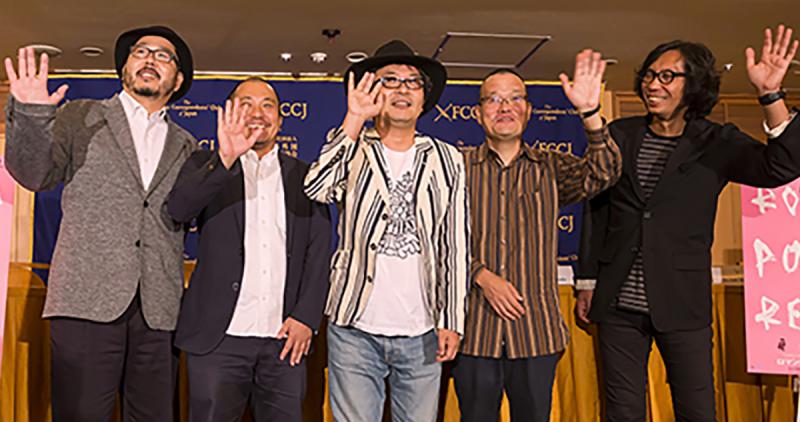 Perhaps we'll never know exactly how Nikkatsu arrived at its short list of candidates to revive the studio's acclaimed Roman Porno series for a new generation of fans, but they clearly didn't just flip coins. The five singular directors who eventually made the cut — Hideo Nakata, Akihiko Shiota, Kazuya Shiraishi, Sion Sono and Isao Yukisada (alphabetically) — couldn't be more different in style and substance, so perhaps Nikkatsu was simply trying to cover all the bases of audience appeal. While the five have each had commercial success and been hailed internationally, the similarities essentially end there.
Marking the 45th anniversary of the softcore porn that put Japanese cine-erotica on the world map, Nikkatsu chose the helmers, none of whom had previously made a Roman Porno (although several have made non-Nikkatsu softcore, or assisted porn maestros early in their careers), to create completely original 70- to 80-minute features for theatrical release and broadcast via SKY PerfecTV, as well as international festival play.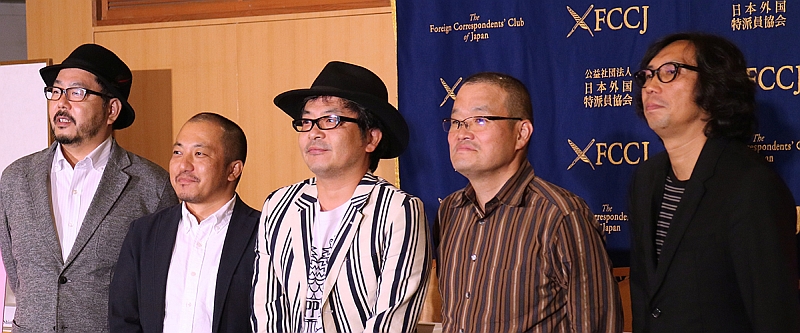 ©Koichi Mori
The five directors were given very limited budgets and required to shoot their films within one week, just as Roman Pornos had been made in their 1970s-80s heyday. Nikkatsu's unique concept then, as now, was to require only that there be a sex scene every 10 minutes or so, but otherwise to allow complete freedom in the choice of stories and styles.
The reboot, according to the studio, "revives [Nikkatsu's] function as a sandbox for playful experimentation with the aim of attaining new forms of cinematic expression."
The venerable Nikkatsu Studio was facing bankruptcy in 1971 when it decided to shift production from action and gangster films to mid- length "romantic pornography," or story-driven tales with copious sex. Tremendously popular with audiences and critics alike, the series stretched to nearly 1,100 titles before competition from straight-to-video adult films put an end to it in 1988. Acclaimed directors like Shinji Somai (Sailor Suit and Machine Gun), Kichitaro Negishi (Villon's Wife) and Shusuke Kaneko (Death Note) all worked for Nikkatsu at the start of their careers. Others, like Tatsumi Kumashiro, Noboru Tanaka and Masaru Konuma, became masters of the genre, admired overseas as well as at home.

Nikkatsu President Naoki Sato makes opening remarks.  ©Koichi Mori
At the landmark FCCJ event, which brought together the reboot directors for the first — and likely, last — time, Nikkatsu unveiled exclusive behind-the-scenes footage from the five new Roman Pornos, clips that underscored for the SRO audience just how different the five directors' approaches are, and thus how different their films are going to be. This is an important distinction, since Roman Porno was never a genre, but a brand. Within the brand, a wealth of genres were represented, from thrillers to period pictures to coming-of-age stories to mysteries.
In opening remarks from Nikkatsu President Naoki Sato, he explained that the brand had originally attracted an abundance of talented young creators because, "They were able to use Roman Porno as a springboard to convey their own message, whether it be about a social issue or about an idol… The films were made by a respected studio and they received a seal of approval from Eirin [the ratings agency akin to the MPAA]. So while they included sex scenes, they were all distributed to theaters for general audiences."
Nikkatsu President Naoki Sato ©FCCJ
Nikkatsu was inspired to start considering the reboot following the ecstatic reception, particularly by Millennials and females, of a Roman Porno Best Hits package that made the rounds internationally several years back. Said Sato, "As a business, we're happy that the Japanese film industry is robust, but in this day and age, it's questionable whether filmmakers really have creative freedom. So we thought it might be interesting to see if we could bring back the same freedom of expression to our reboot productions."
And so, businesslike, the studio selected directors who have built enviable fan bases alternating between studio and indie films. Hideo Nakata, of course, is considered the father of J-horror, having unleashed Ringu (1998) and Dark Water (2002) upon the world, following up with a fistful of chillers like his latest, Ghost Theater. Akihiko Shiota is known for his offbeat takes on the coming-of-age drama, as in his award-winning Harmful Insect (2002), but he's also made such domestic blockbusters as Yomigaeri (2003) and Dororo (2007). The youngest of the bunch, Kazuya Shiraishi, has brought an unsettling sensibility to his three dark, moody features, Lost Paradise in Tokyo (2010), Devil's Path (2013) and this year's delirious corrupt-cop thriller, Twisted Justice. Sion Sono has courted controversy even while sweeping up awards overseas for his prolific, often outrageous output, from Love Exposure (2009) and Cold Fish (2010) to Tokyo Tribe (2014), although his latest, Whispering Star, is placidity personified. Isao Yukisada, a stylish master of high-gloss commercial features concerned with memory and identity, had a megahit with Go (2001), broke all box office records with Crying Out Love in the Center of the World (2004), and just had another hit with this year's Pink and Gray.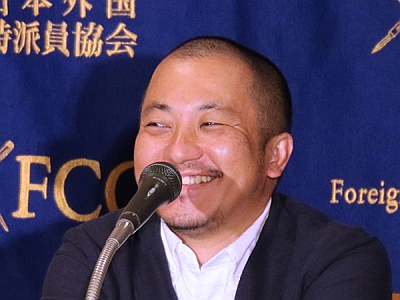 From top left, Nakata, Shiota, Shiraishi (©Koichi Mori), Sion Sono (©Mance Thompson), Isao Yukisada (©FCCJ)
The first batch of Roman Porno titles, being rolled out in Tokyo from mid-October through February 2017, is sure to represent a dazzling diversity of approaches; but none of them will be a woman-centric approach. Why is it, one must ask (especially when one is female), that Nikkatsu did not select a woman from among the star directors it has supported, including Naoko Ogigami, Mipo Oh, Yuki Tanada and Satoko Yokohama? Surely this was an unforgiveable oversight?*
During the Q&A session, the selected directors first responded to questions about their inspirations. Hideo Nakata is the only one of the five who actually worked on Roman Porno films before, serving in his youth as an assistant director for Masaru Konuma. (In 2000, he made the marvelously titled documentary about him, Sadistic and Masochistic, a reference to Konuma's S&M work). Nakata's own Roman Porno debut is called White Lily, and it highlights a lesbian relationship. Recalled the director: "When Nikkatsu approached me about the project, I thought about two films that Konuma-san made, Lesbian World and the sequel. In the sex scenes [of my film], I was inspired by what I learned from him."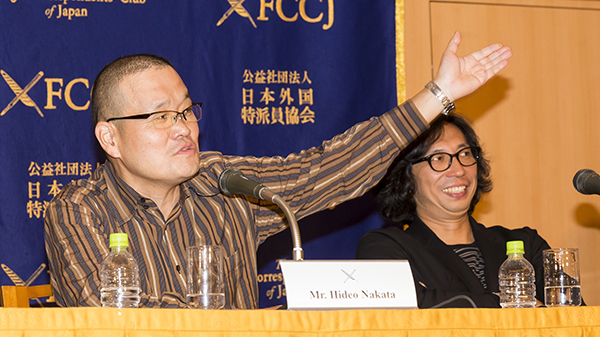 Nakata is the only director with a Roman Porno history.  ©Mance Thompson
Akihiko Shiota released a straight-to-video pink film at the start of his career, and studied screenwriting under Atsushi Yamatoya, who wrote many screenplays for Roman Porno films (as well as for Seijun Suzuki). Shiota's Roman Porno, Wet Woman in the Wind, pays homage to both Yamatoya and to Tatsumi Kumashiro's 1973 film, Lovers Are Wet. "These two filmmakers have been very important to me, " said Shiota. "I think they were both able to make amazing works of art from adult films, and I hope to follow in their footsteps."
Kazuya Shiraishi served as an assistant director on several of Koji Wakamatsu's pink films, including Asunaki Machikado (1997) and Perfect Education 6 (2004). But he's drawn most of his influence from Noboru Tanaka. While his Roman Porno film, Dawn of the Felines, was inspired, at least in the broad strokes of its storyline, by Tanaka's 1972 Night of the Felines, Shiraishi noted that his first film, Lost Paradise in Tokyo, was far more heavily indebted to him.
Sion Sono has repeatedly pushed the envelope of Eirin respectability in his films, but he has released just one porn film: Aru Hisokanaru Tsubotachi (2000). His Roman Porno is called Antiporno, but it is not, as per certain online descriptions, a satire of the porn industry. "In this day and age, I don't think there's any necessity to shoot porn films," said Sono of the work. "When Nikkatsu asked me about the project at first, I said 'No.'" But when they let me call it Antiporno, I said 'Yes.' I decided to consider what it means to consume female nudity today, as well as to consider women's rights and freedoms. You'll be seeing those themes in my film."
Isao Yukisada's Roman Porno film, Aroused by Gymnopédies, is also not inspired by any of the earlier Nikkatsu films or directors. But he was listening to Erik Satie's Gymnopédies piano pieces while writing the film, and decided that he should use it in the film, despite it being a little too well known. "I must say," he said, "I was delighted when Nikkatsu came to me, because I never thought I would have this opportunity. From an early age, I was always going to see Roman Porno films in the theaters, and I especially admired Tatsumi Kumashiro' s work. When I decided to become a director, I went to Nikkatsu in the hopes of becoming an assistant director on Roman Porno — but they weren't making them any longer! So I'm really glad to have been part of this."
Asked whether they had a particular audience in mind when making their films, the directors all turned immediately to the question of gender.

 ©Mance Thompson
Shiota, whose film had world premiered at the Locarno Film Festival and received an award, said that he'd been struck by how female audiences responded. "It received attention from women in their 20s and up to their 60s," he said, "and I discovered happily that women also want to see this kind of film."
Said Shiraishi, "I often went to Eurospace to watch Nikkatsu Roman Porno retrospectives, and I realized that female audiences were increasing over time. I think it's very freeing for a director to make a film left to his own devices, as long as he has a sex scene every 10 minutes, and I hope that my film is one that females can also empathize with."
Nakata recalled that his Sadistic and Masochistic played at theaters running Roman Porno events particularly aimed at female audiences, and they would be packed. "In this day and age," he said, "I'm not sure what the situation is. But we had two female producers working with us… and I did have the younger female audience in mind."
Yukisada said he wound up having to write two scripts for the project, since Nikkatsu wasn't happy with the first one, which "was about my own sexual awakening as a boy, and there was a bit of scatology in there. I thought it was beautiful, but no one else did." For the second script, he hired a female scriptwriter (perhaps the first in Roman Porno history), and "it really caters to the female audience."
Admitted Sono, "In recent years, I've been harboring this anger toward the nation and other issues. I think my film is really about anger, especially aggravation and anger toward myself. You really don't have to come see my film. I didn't have any particular audience in mind."
Each of the directors also responded to a question about creative freedom in the industry as a whole, transforming the Q&A into a mini- Master Class in filmmaking.
Said Shiota: "I think all directors know that it's a given that there really isn't any freedom in the film industry. A film never goes the way you envision it — you may not always get the casting right and the script may change. You won't have a choice about where and when to shoot it… and we also had restrictions imposed on us by the Roman Porno quota of sex scenes. But these restrictions provide a springboard for filmmakers' creativity… That's the history of B pictures, working with low budgets and other restrictions. I think what Nikkatsu is doing right now is giving directors the opportunity to create their own projects, as long as they abide by the restrictions. It's a wonderful opportunity and that's why I think the project is so great."
Shiraishi lamented, "Right now in the Japanese film industry, it's all about commercial success. Commercial success is all about whether the original novel or original manga has sold tens of thousands of copies, and about who's in the cast. I don't think that's all that films are about. It's important to bring originality to film projects."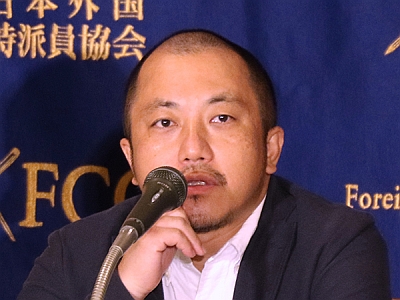 From top left: Nakata (@Koichi Mori), Shiota (©Mance Thompson), Shiraishi, Sion Sono (©Koichi Mori), Isao Yukisada (©FCCJ)
Sono, partially reversing his earlier statement questioning the need for porn, noted, "This was really a meaningful experience for me. I was able to do it my way, and for that, I'm really grateful to Nikkatsu."
But Nakata sounded a note of caution: "I must say, if you were able to have anything you desired, life would be boring. The same is true of filmmaking. If you have no time restrictions, no financial restrictions, no schedule restrictions, it would be quite boring. Within certain parameters, comes creativity. Speaking about the current Japanese film industry, the bigger the studio is, the more difficult it is for executives to say 'yes' to a film. Of course a film has to make money, that's what Hollywood says: if the film won't make money, don't make it. In that sense, Japan is becoming a mini-Hollywood. But there are also a lot of people making films very freely in America, and I really envy that."
Reminding the audience that Nikkatsu had turned down his first script, Yukisada said, "I think there's a bit of studio distrust of filmmakers. And maybe that's because the studios think we're trying to arm-wrestle them, to trick them into making films our way. Whenever I make a commercial film, I feel this watchful eye, and I get paranoid. It's senseless. I wish we could understand each other better. But on the other hand, when a studio says you can do whatever you want, that's a lot of pressure, too. This experience with Nikkatsu, with restrictions, was an extraordinary experience, actually. My regular crew worked with me and we were surprised at how speedily and efficiently it all went."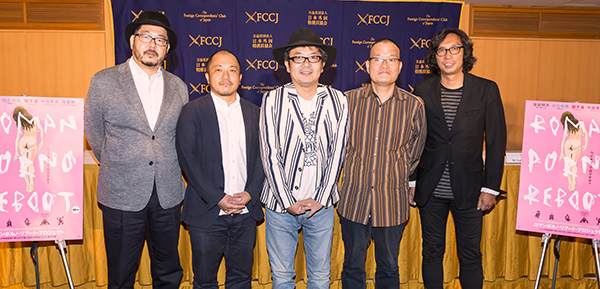 Nikkatsu's inaugural Roman Porno reboot directors obviously enjoyed the experience. Will audiences respond? 
©Mance Thompson
Following the Q&A, a good portion of the audience stayed on for the special screening of The World of Geisha (Yojohan fusuma no urabari), a 1973 masterwork from Tatsumi Kumashiro that was adapted from the erotic novel by Kafu Nagai, and features big names like Junko Miyashita, Hideaki Esumi, Moeko Ezawa and Naomi Oka. The most highly acclaimed director of the early Roman Porno era, Kumashiro made films that were box-office successes and regularly appeared on the yearly Best Ten lists. Nevertheless, according to film scholar Kyoko Hirano, "Kumashiro's Roman Porno films were revolutionary in terms of his unique narrative style, usage of songs, disjunctive editing of auditory and visual images, and subversive ideological stance."
Set in 1918 against the backdrop of the rice riots rocking Japan — with abrupt inserts reminding us also of the Korean uprisings and Russia's October Revolution — The World of Geisha is unabashedly political, as well as sumptuously beautiful, emotionally engrossing, sexy and often downright hilarious. Kafu Nagai's original lines are sprinkled throughout, providing helpful context for the milieu, such as: "A quick snack outside the home now and then spices up the menu. Wives should understand and not get jealous." The film's opening love-making session lasts for over a third of the total running time, interspersed with subplots involving other geisha and their clients, and the film often features Kumashiro's trademark "indictment of the hypocrisy of censorship" — black placards blocking certain naughty bits, and clever use of "xxx" in the Japanese titles appearing onscreen.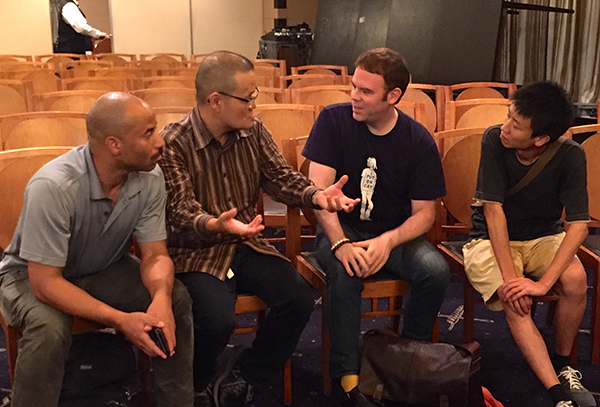 Nakata, a true cinephile, stayed afterward to chat with foreign viewers
about the Roger Corman-like impressario of Roman Porno. ©Koichi Mori
Those of you reading from overseas, take note: Shiota's Wet Woman in the Wind will next be seen at Paris' L'Etrange Film Festival in September, along with Sono's Antiporno, which will also be showing at Spain's Sitges Fantastic Film Festival in October. Korea's Busan Film Festival has announced the inclusion of three of the films: Nakata's White Lily, Shiota's Wet Woman in the Wind and Yukisada's Aroused by Gymnopédies.
*There was no chance to ask this during the Q&A, but off stage, I spoke with producer Saori Nishio, one of two female producers on the reboot project. The explanation turned out to be both simple and stunning: timing. They had planned to include a female director, said Nishio, but each of their candidates had either just gotten pregnant, just given birth or was pregnant when the project was beginning. One hopes a hormone hurricane won't interrupt attempts to include a female director in the next batch of films.
©2016 Nikkatsu
Posted by Karen Severns, Friday, August 26, 2016
Media Coverage
Read more
Published in: August
Tag: Nikkatsu, Roman Porno, pink film, Hideo Nakata, Akihiko Shiota, Kazuya Shiraishi, Isao Yukisada    
Comments