Image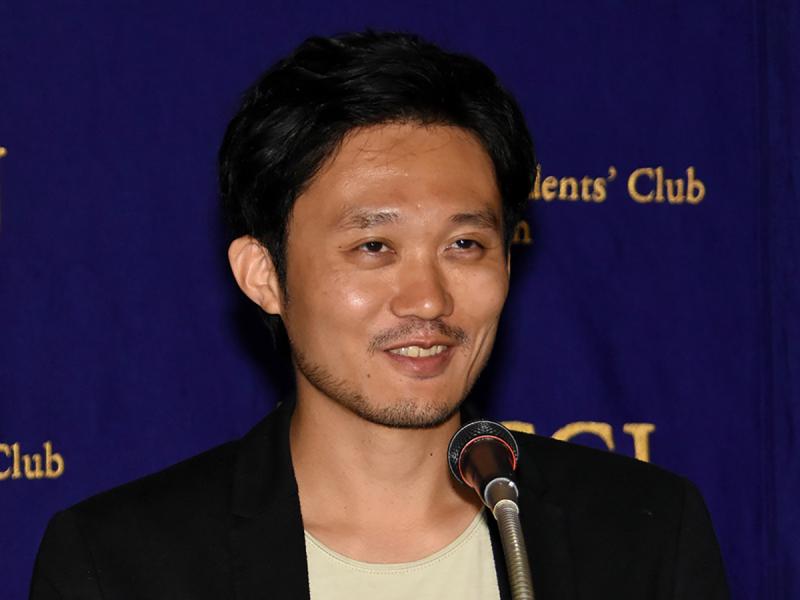 It is rare for Japanese feature-film directors to have international aspirations, and rarer still for them to seek opportunities directing overseas. The Film Committee is proud that several of our frequent guests do, in fact, fall into the latter category. With our screening of the beautiful, soulful film Out of My Hand, we have just welcomed another member of this tiny group of international adventurers: Takeshi Fukunaga. Not only is the Hokkaido native based in New York City, but his award-winning first feature was shot partially in Liberia.
The West African country is not on too many Japanese filmmakers' radars, but Fukunaga found his subject while working on a documentary. Speaking in English during the Q&A following the screening, he explained, "The documentary was about the lives of rubber plantation workers. I was really struck, first, at seeing the severe living and working conditions behind this daily product that we use, rubber; and also at seeing the strength and dignity of these workers, despite their severe situation.
"That really stuck with me for quite some time. Then when I was trying to come up with an idea for my first feature, I knew I always wanted to tell an immigrant's story — being an immigrant myself in New York for the past 12 years. I thought by connecting those two worlds [Liberia and New York] into one film, I could make something meaningful."
Asked how much of the film was drawn from his own, or others', real-life experiences, Fukunaga replied, "I did a lot of library and online research about Liberian life in the U.S. I also did a lot of interviews with Liberians in New York, and the story definitely has parts that were inspired by real events or stories. But the connecting dots are fictional."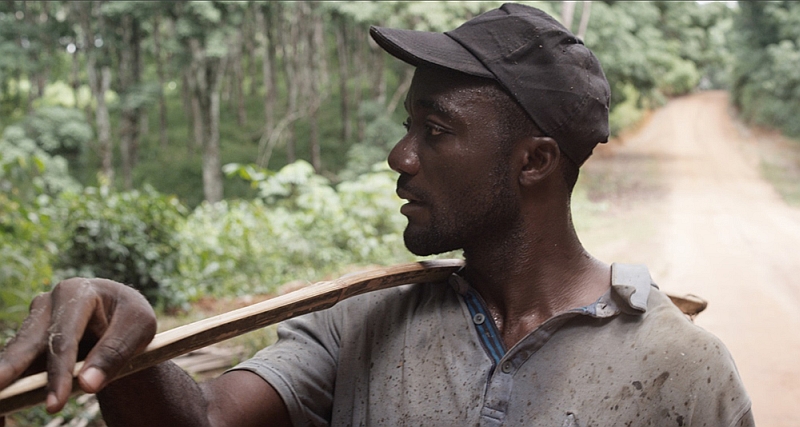 Bishop Blay as Cisco, in an astonishing film debut.  ©2017 nikonikofilm
After he'd spent about a year writing the script with American writer Donari Braxton, he returned to Africa in 2012 and worked with local writers on the nuances of dialogue, "to make it closer to reality." Fukunaga and his brother-in-law, Ryo Murakami, a cinematographer, also worked with a local shoot coordinator and the government-supported Liberia Movie Union, to create just the second narrative feature ever shot in the country by a foreign crew.
Out of My Hand is directed by Fukunaga with remarkable restraint — and an admirable absence of melodrama or predictability. There is poetry in the film's evocation of the daily life of the downtrodden, as well as in its luminous images, particularly in the documentary-style Liberian scenes shot by Murakami, who tragically died from malaria shortly after returning to New York.
The film begins in the predawn African darkness, with a light bobbing through the distant trees. Gradually, we make out the figure of Cisco (Bishop Blay, in a raw, commanding film debut), a rubber plantation worker who is tapping trees and then carrying the gooey stuff in buckets to the central depot. The labor is arduous, but Cisco has a loving wife, two small children and a group of friends who stick up for each other. Still, the work barely pays the bills. When his union calls a strike that soon proves disastrous, Cisco refuses to follow others back to the plantation. "What should we do?" he erupts in righteous anger. "Beg them to break our backs?" Beg them to treat us like dogs?"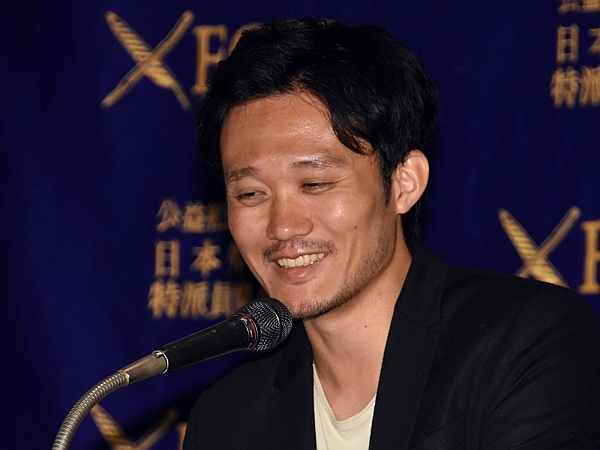 At church one Sunday, the preacher exhorts his flock to "wake up and go!" Cisco heeds the call to leave, knowing it's probably his last chance to escape the vicious cycle and provide a better life for his family. Following his cousin Marvin (Rodney Rogers-Beckley) to New York City, he eventually finds a job as a taxi driver, a close-knit community of fellow Liberians, and a life that's not so different from back home.
But then a ghost from the past rises up to haunt him: Jacob (David Roberts), a wheeler-dealer with a burning rage. Suddenly, everything we thought we knew about Cisco is called into question. Although details are slender, the two were fellow soldiers during the Second Liberian civil war (1999-2003), during which as many as 300,000 died, and both bear deep scars of atrocities committed. When Jacob sets Cisco up to take a fall, he may be the one person in New York who can unleash Cisco's own demons.
Upon its completion in 2015, Out of My Hand was immediately heralded for its powerful and timely narrative. The film premiered at the Berlin International Film Festival, won the Best U.S. Fiction Award at the LA Film Festival and was nominated for the prestigious John Cassavetes Independent Spirit Award. It was also picked up for worldwide release by Ava DuVernay's distribution company (she's the director of Oscar-nominated films Selma and 13th, and she's committed to finding wider audiences for minority-driven stories).
And yet, it would be two more years before Fukunaga was able to release the film in Japan. This is unusual, considering that he is Japanese and the film has a stellar, award-winning reputation. But while the cross-border flow of people around the world has been an increasing focus of global politics, it remains of marginal interest here. (Japan is notoriously backward-looking when it comes to the subject of immigration, with the government insisting that its 1 million-plus unskilled foreign laborers are "guest workers," not immigrants, and keeping their doors to permanent residency closed. It also admits only a handful of refugees into the country each year.)
©2017 nikonikofilm
Also seemingly of little interest to many Japanese is the American Dream, or the fact that over the past 6 months, America's reputation as the land of milk and honey has been profoundly shaken. Nevertheless, Fukunaga hopes that Out of My Hand "is a way for people to relate to immigrants and to know more about these particular stories."
He reminded the audience, "Distribution of any arthouse film is difficult, and if it's about minorities and has no-name actors, it's even more difficult. So I'm very grateful to Mr. Tsuda and Nikoniko Film for picking up the movie. If I thought only of the box office, then I wouldn't have made a film about Liberian rubber plantation workers."
An audience member asked why more Japanese directors aren't making films about the immigrant experience. "There are many Japanese immigrants to the US, Central America and South America," he said, "but I've never seen films about them. Why doesn't it attract the interest of Japanese film companies or individuals? There's many success stories and failure stories. I think they would be very interesting and educational."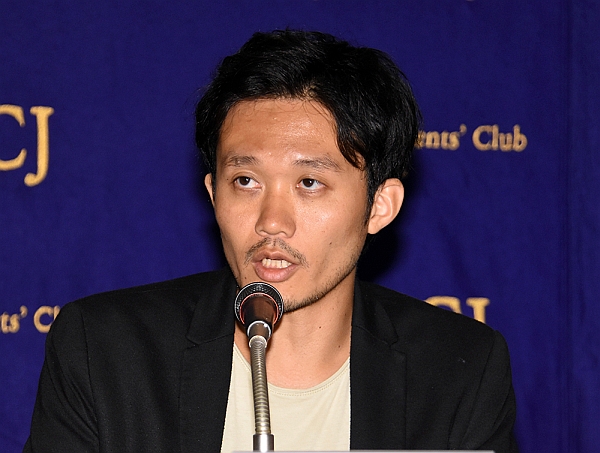 After saying that he knew of several such films, including Vancouver Asahi, which we screened at FCCJ in 2014, Fukunaga replied, "I'm not sure, but if I had to guess, I would say that Japanese can be narrow[-minded]. If it's a story about a Japanese person, they're always living in Japan. People's interests are not quite there; it doesn't connect to the box office."
Not surprisingly, Fukunaga's Out of My Hand cast came in for high praise from the audience. David Roberts, who plays Jacob with a convincing Liberian lilt (his mother is from Sierra Leone), is a familiar face to fans of Orange Is the New Black. But Bishop Blay was a complete unknown. "All the actors in the Liberian section are nonprofessionals," the director explained. "We did an open call for people with some acting experience or no acting experience. We saw hundreds of people and we found these amazing talents — as I believe you can recognize. Some of them were playing people like themselves, such as the pastor in the church scene. All his lines were his own words."
Fukunaga did not mention that the real-life pastor is former warlord Joshua Milton Blahyi, better known by his nom de guerre, General Butt Naked. Infamous for his barbarity and ruthlessness — and for wearing nothing into battle but his shoes and guns during the First Liberian Civil War in the early 1990s — he is now a Christian minister preaching redemption and forgiveness.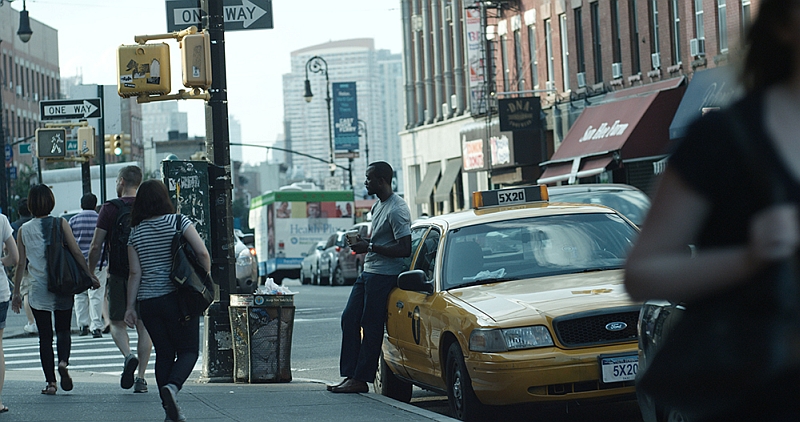 Cisco waits for a fare in New York City.  ©2017 nikonikofilm
Another audience member wanted to know whether Jacob's death in what seems to be a hit-and-run accident was meant as punishment for his past sins. Responded Fukunaga, "That was a creative decision that came after a long discussion with my cowriter. I didn't mean it as a punishment for something he'd done in the past, but rather, I hinted that it might have been done on purpose. Or it could have been an unfortunate accident. But we wanted to push Cisco into a very difficult decision, so he would make some moral decisions."
What those decisions are remain open to interpretation. "It might be ambiguous," admitted Fukunaga, "but I tried to express the strength and dignity of this character, and that, at the end of the day, he has to do labor to move forward. I started the film that way, and the film ends that way."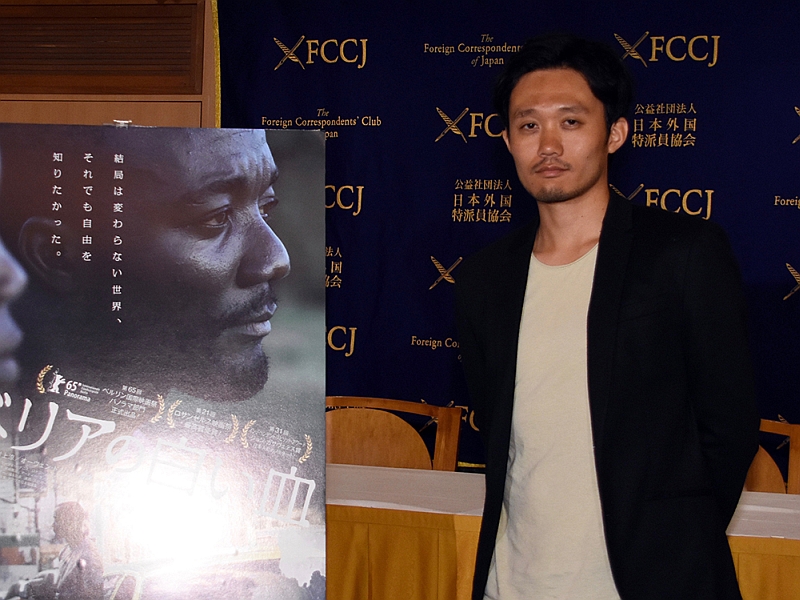 Fukunaga recently spent nearly 5 months in Paris as part of the Cannes Film Festival Cinéfondation residency, where he worked on developing his second feature film, a present-day story of Japan's indigenous Ainu people called Iomante. It's set to go into production next summer in Hokkaido. An audience member wanted to know if he thought the Japanese would be interested, given their past record. "I 'm making this because I think it's important," responded Fukunaga. "I think I can put all I have into making it happen. I just have to find the right partners and get into a film festival [to make the film more marketable]."
If the FCCJ audience is any indication, Iomante is already hotly anticipated.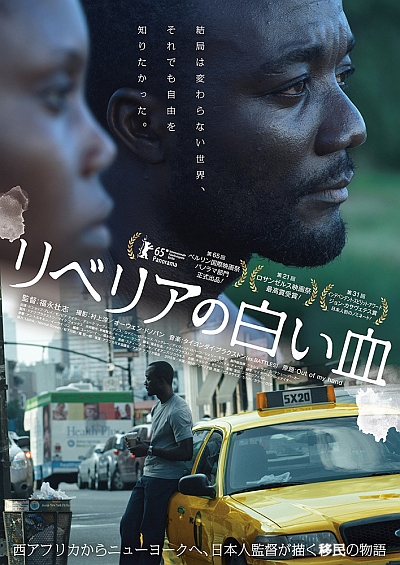 ©2017 nikonikofilm
Photos: ©FCCJ unless indicated.
Posted by Karen Severns, Friday, July 28, 2017
Selected Press Coverage
Read more
Published in: July
Tag: Takeshi Fukunaga, Liberia, immigration    
Comments