Image
At least four ambassadors were in attendance for FCCJ's packed sneak preview screening of Persona Non Grata, the first-ever biopic of the "Japanese Schindler," Chiune Sugihara. A diplomat who defied orders and thus saved some 6,000 Jewish lives in the early years of World War II, Sugihara's name was submitted by Japan this past September as a candidate for UNESCO's Memory of the World Register.
But the film proves to be timely for other reasons as well, evoking echoes of the current Syrian refugee crisis and the disheartening UNHCR report that found 1 in every 122 humans is now either a refugee, internally displaced or seeking asylum.
As one FCCJ audience member pointed out, "I think there are many Sugiharas in Europe at the moment, since there are 12 million refugees in the Middle East."
Gluck admitted that the film's release had been timed to coincide with the 70th anniversary of the end of WWII this year, not with "the unfortunate incidents that are taking place in Europe. [That's] really synchronicity. But because of what's going on, I would hope that it would cause people to think about it — 'we've made this mistake before, let's not do it again'— and to think about how they might make a difference."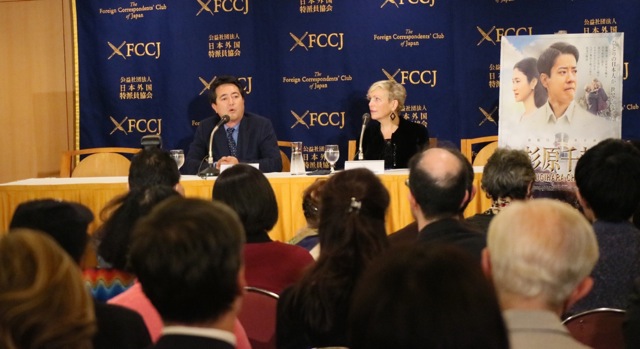 The film attracted a huge turnout, and heavy praise for Gluck during the Q&A.
Another audience member noted that, although Japan had retroactively honored Sugihara in 2000, it had continued to deny nearly all applications for political refugee status. "Japan has a bad record for accepting refugees," she said. "Do you think this film might inspire Japan to take a more respectable, honorable role in terms of refugees?"
"I'm not in any position to lecture the Japanese government," answered Gluck. "But it's not only the government. The Japanese take to change slowly, and in a big, homogenous nation, it's almost understandable. I think the Japanese are willing to take in outsiders — most of us here are outsiders, but we've been welcomed. If this film will inspire people to accept the opportunities [to embrace diversity], then I've accomplished what I would like to accomplish."
Gluck shot Persona Non Grata with a mostly Polish crew, almost entirely in Poland — which stands in beautifully and convincingly for at least 8 other world locations — with Japanese stars and well-known Polish and international actors (Borys Szyc, Agnieszka Grochowska, Michał Żurawski, Cezary Łukaszewicz) thanks to the great Andrzej Wajda's casting director, achieving an authenticity that a Japanese production crew could never have recreated. The director gave ample credit to Nippon Television, the film's producer, and talked at length about the team's attempts to "balance the history lesson with the drama… and to treat our characterization of Sugihara with respect for a gentleman who didn't beat his chest [for attention] and try to show him as a human being, not a superhero."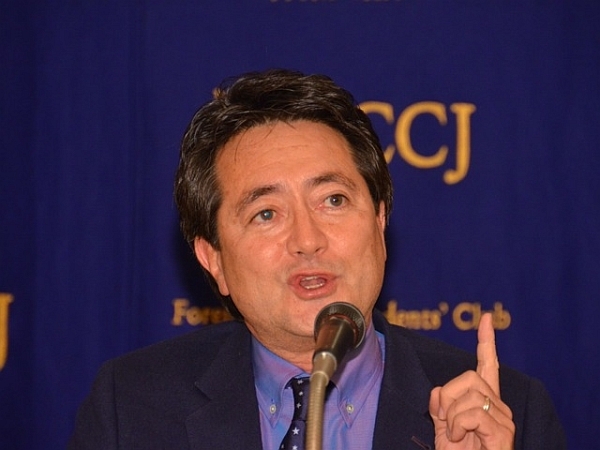 Making one of many notable points.
Much of the world now knows Chiune Sugihara as the "Japanese Schindler," after Oskar Schindler, the German industrialist who saved close to 1,200 Jews during the Holocaust by hiring them to work at his factories. But very few know Sugihara's backstory, and it is impressively limned in the film. Skilfully avoiding the detail-overkill of many biopics, Persona Non Grata introduces us to the young diplomat before his fateful posting as Japanese consul in Kaunas, Lithuania just as war was breaking out in Europe.
After studying in Harbin and developing fluency in several languages, Sugihara had built a vast espionage network in Manchuria and provided critical intelligence to his superiors in the Foreign Ministry. But in 1937, he was declared "persona non grata" by Russia and forbidden entry to the country, as punishment for his negotiations in Japan's acquisition of a highly strategic branch of the North Manchurian Railroad (which was later used to solidify the puppet state of Manchukuo).
Barred from Soviet territories, Sugihara (Toshiaki Karasawa) thus arrives in Kaunas in August 1939, just days before the German Army advances into Poland, inciting World War II. The diplomat hires Polish spy Pesch (Szyc) as his driver, and the two men gather intelligence on the actions of Russia and the Nazis, the latter of whom Japan had allied itself with. By July 1940, as the Nazis approach Lithuania's border, hordes of Jewish refugees have begun camping out in front of the Japanese Consulate, desperately hoping for visas to safety. But transit visas can only be issued to those with legitimate visas onward from Japan, and the means to provide for themselves throughout the journey.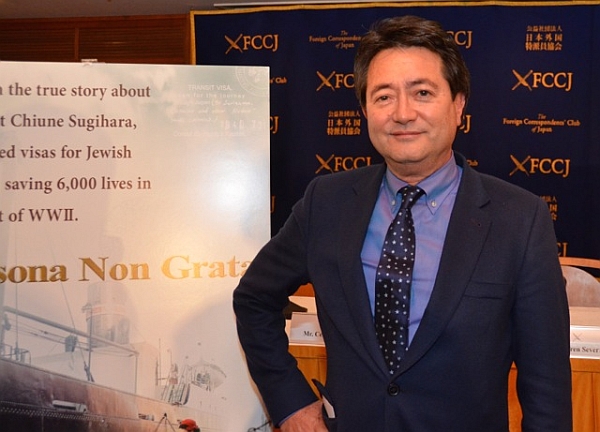 Gluck poses with the poster for the international market.
After receiving a firm "No" to his cable to Tokyo, Sugihara decides he must take matters into his own hands. Abetted by Pesch and several other brave men of conscience, including acting Dutch Consul Jan Zwartendijk (Wenanty Nosul), Sughiara begins writing out visas via Japan to the Dutch Caribbean island of Curaçao. Between July 18 and August 28, he issues over 2,000 of them and saves the lives of at least triple that many Jews.
In a 1983 memoir, Sugihara wrote, "I could have refused to issue [the visas], but would that, in the end, have truly been in Japan's national interest? I came to the conclusion, after racking my brain, that the spirit of humane and charitable action takes precedence above all else."
The Japanese government didn't really come around to his way of thinking until well after Sugihara's death in 1986. Is there a place for the brave individual in Japan, committing a selfless act against injustice and intolerance in the face of certain dismissal or worse? That question is at the heart of Persona Non Grata, a must-see film for all those who ever wondered what gave Chiune Sugihara the courage to defy orders, or who need reminding that we all, each of us, can do the right thing.
— Photos by Koichi Mori and FCCJ.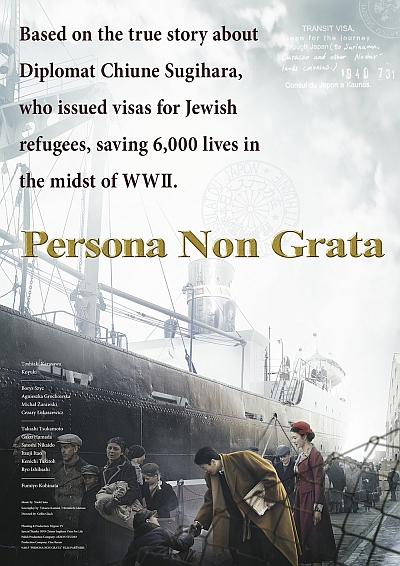 ©2015 "PERSONA NON GRATA" FILM PARTNERS
Posted by Karen Severns, Sunday, December 06, 2015
Read more
Published in: December
Tag: Persona Non Grata, Cellin Gluck, WWII, biopic, refugees, UNESCO    
1 comment