Image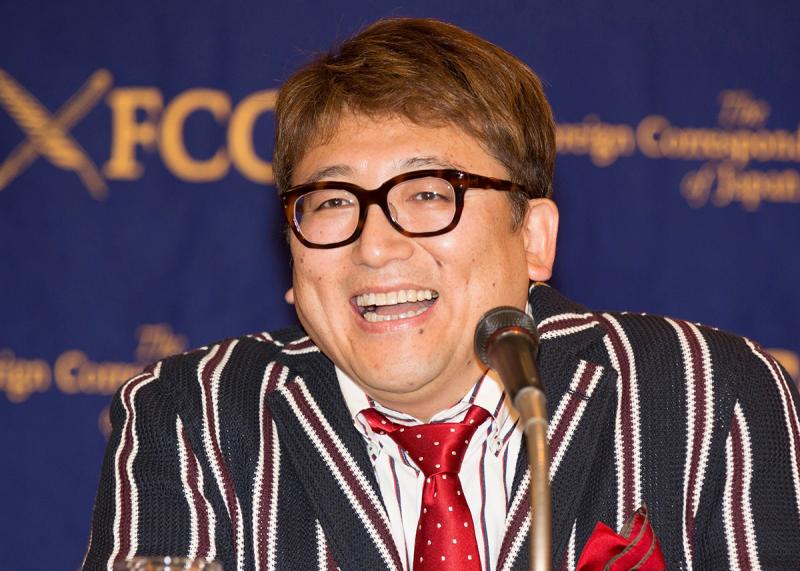 Screening just its second-ever comedy in the past decade, the Film Committee welcomed ebullient director Yuichi Fukuda to a Q&A session that we imagined would focus on his astounding success in Japan and recently, in China — only to discover that he would rather talk about his love of 1970s American sketch comedy and his dream to work on the late-night TV show Saturday Night Live.
"I've liked slapstick and gags ever since I was a kid," he told the FCCJ audience, "since my parents were huge comedy fans and instilled that in me. They would recommend that I watch shows like The Drifters and Oretachi Hyokin Zoku [with Beat Takeshi and Sanma Akashiya] and Owarai Star Tanjo, which my dad used to tell me to cut school early to come home and watch.
"When I was in grade school, I really loved the Zucker Brothers' Airplane! and the Naked Gun series. They did this 6-episode TV series called Police Squad! that was the basis for Naked Gun, also starring Leslie Nielsen. It was very tongue-in-cheek, and I loved the gags. You would see Nielsen driving in his cop car and they would randomly superimpose these visuals on the rear window, like the Roman Coliseum, or there would a monkey sitting next to him. That kind of throwaway gag isn't the sort of thing that was often seen in Japan. I wanted to bring an American sensibility to comedy."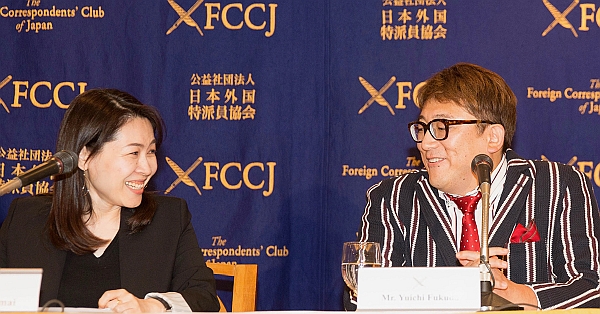 Interpreter Mihoko Imai had difficulty keeping a straight face.   ©Mance Thompson
And that he did, although few realized it until Fukuda appeared at FCCJ. As recently as 2014, one could have imagined that Japan's beloved gag- comedy king was stuck in a (comfortable) rut, having achieved unprecedented domestic success for his peculiar brand of retro humor. If he did not exactly invent the genre, Fukuda had nurtured it to a fine sheen of ridiculousness. His obsession with the sight gag, the inside joke, the exaggerated double-take, the off-kilter line reading, the non-sequitur and the 4th-wall-breaking meta-commentary has subtly shifted the tenor of the entire comedy industry.
In just over a decade, Fukuda has built an empire of amusement through his stage plays (including adaptations of Broadway hits like Spamalot), his TV series (like 33-Minute Detective and Kid's Police), and his film adaptations of best-selling Japanese manga (like the HK: Forbidden Super Hero series, in which a high school boy dons women's panties to gain superpowers).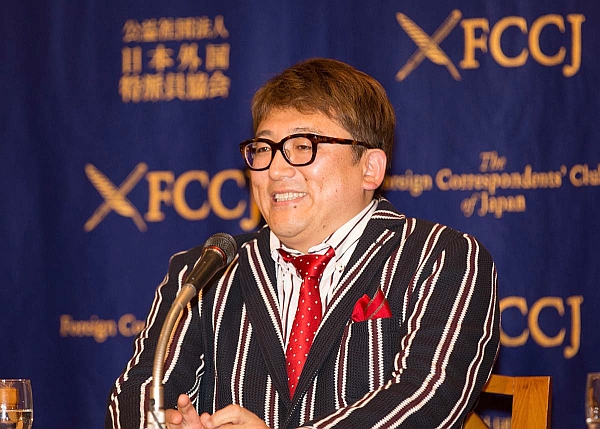 ©Mance Thompson
And then the director's Midas Touch led him to Gintama, the gag-manga property from Shueisha (51 million copies sold globally). Creating the first live-action version with his friend (and sometime co-writer) Shun Oguri as the silver-maned, nose-picking samurai hero Gintoki, Fukuda had a certified summer smash.
Gintama is currently 2017's No. 1 live-action domestic film at the Japanese box office, at $40 million and counting.
Perhaps more significantly, the film got the largest-ever China opening for any Japanese film in history, when it opened on a record 12,000 screens in early September, handily dispatching the former title-holder, Makoto Shinkai's global juggernaut, Your Name.
But it's unlikely his newfound box-office clout will change Fukuda's approach to supremely silly storytelling, both visual and verbal. If his latest film, Psychic Kusuo, is any guide, he continues to be devoted to lean budgets, retro special effects and casts filled with faces familiar from his other work.
Asked about the film's enormous success and whether he hoped to repeat it with Psychic Kusuo, Fukuda said, "I'm honestly not that interested in box-office results, so I'm not sure how massive a hit Gintama was in China, although I do know it was successful in Japan. I would be happier if it were a hit in the US, honestly speaking, because I want to work there."
He hastened to add, "I hope my work is universal, and I hope it caters to every nationality. But I'm always saying, 'Can't we please bring this to America?' I believe all my work has been inspired by Western influences, like the Zucker Brothers and Monty Python, and pieces of them have been the basis of my Japanese comedies. I love Saturday Night Live, and it's been my dream for a long time to live in New York and work as an SNL writer."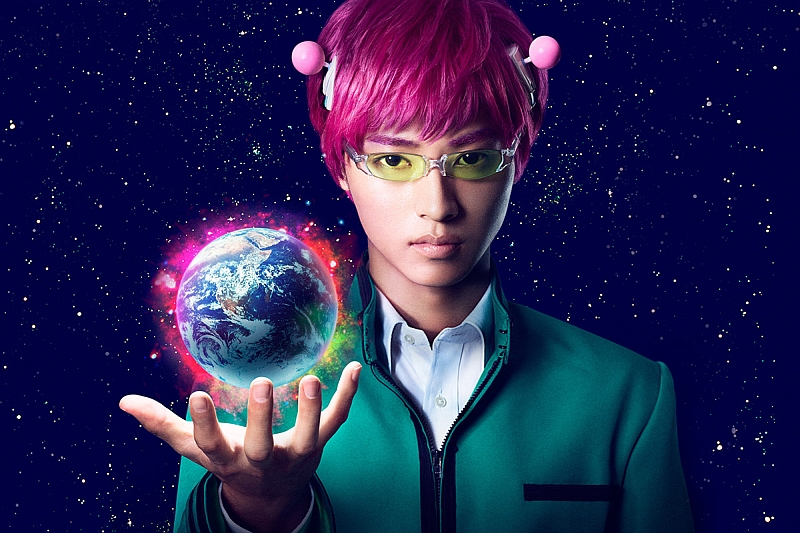 Teen heartthrob Kento Yamazaki.  ©SHUICHI ASO / SHUEISHA 2017 "Psychic Kusuo" FILM PARTNERS
But first, the prolific multi-hyphenate has new product to pitch, and that would be Psychic Kusuo. An adaptation of the popular gag manga series in Weekly Shonen Jump (5 million copies sold), it concerns a pink-haired teen with unimaginable psychic powers: telepathy, psychokinesis, X-ray vision, teleportation, clairvoyance, walking on air — you name it. Yet Saiki Kusuo (Kento Yamazaki) calls himself "the unluckiest guy in the world," and longs to lead a normal life.
Saiki's classmates at the PK Academy are all troublemakers, and he is forever having to secretly use his powers to sidestep all the trouble they cause. It's the start of the annual school festival, and Saiki's homeroom teacher warns that one more dangerous incident like last year, and the event will be canceled forever. The excitable red-haired Hairo (Hideyuki Kasahara) decides the class project will be an Exhibition of Interesting Rock Formations on Campus, just to be safe (although one class has cross-dressing waitresses, while another lets kids machine-gun their tentacled teacher, in a nod to Assassination Classroom).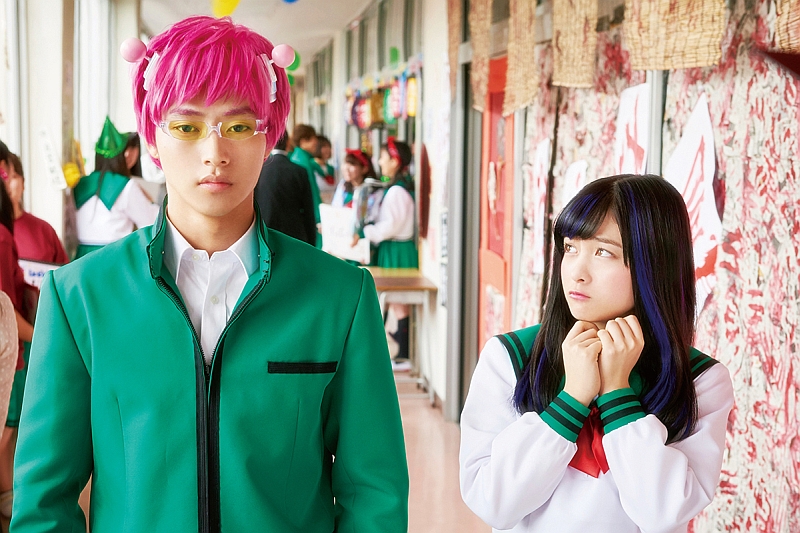 Yamazaki and Hashimoto.  ©SHUICHI ASO / SHUEISHA 2017 "Psychic Kusuo" FILM PARTNERS
But the black-caped Dark Reunion choose the festival to reappear and issue a dragon-ball challenge to Shun (Ryo Yoshizawa), who's suffering from chuunibyou syndrome (in his case, he's a wannabe manga hero). Even worse, the most popular girl in school, Kokomi (Kanna Hashimoto), starts stalking Saiki and very nearly reveals his superpowers. Bombarded with such potentially disastrous situations, it's no wonder that the young lad starts to panic a little — even if his expression never changes and his hands never, ever come out of his pockets.
Asked whether Saiki's desire to be normal represented typical Japanese youth, the director responded with a laugh, "Usually, if you have superpowers, you would want to use them or weaponize them. But this particular character is the exact reverse. That's why I found it so interesting — he's like the antithesis of the superhero — and that's why I wanted to make it into a film."
The casting, as with all Fukuda's films, is sure to draw in a huge youth crowd. How does he manage to get all the hottest stars? "The casting, I'll be frank about this, is all done by my wife," Fukuda said. "She constantly tells me who I should get for all the roles, and I tell the producers, who are very nice, and always cast as my wife wishes. So I do what my wife says, because otherwise, I'll ultimately regret it. When I'm shooting and I haven' t listened to her advice, I always discover that the actor's not right for the part. So I'll tell her and she'll say, 'See what happens when you don't listen to me?' I've found that it's better to listen.
"For Gintama, 80 percent of the casting was done by my wife. She's the one who told me to cast Kento Yamazaki for Psychic Kusuo. She noticed him long before he became so popular in shojo (female) manga adaptations. I didn't know who he was, but I followed her advice."

©Mance Thompson
On a roll, relishing the truth, he confessed, "I would go so far as to say that a lot of my work is led by my wife. She often advises me on which projects to do or not to do, like a manager. But she's never been part of the industry, she's just a regular homemaker."
A beat.
"I say 'homemaker' but she doesn't clean, cook or do the laundry," he laughed. "But she's a genius wife and I'm like her marionette. I just listen to what she says."
His wife isn't the only helping hand in the family. Explained Fukuda, "I went into my eldest son's room looking for something, and found 5 volumes of the Disastrous Life of Saiki Kusuo manga. My son only ever read One Piece, but there were these 5 volumes. I started reading and found it to be really funny and compelling. And I could tell from the visuals that Kento Yamazaki would be perfect for the part."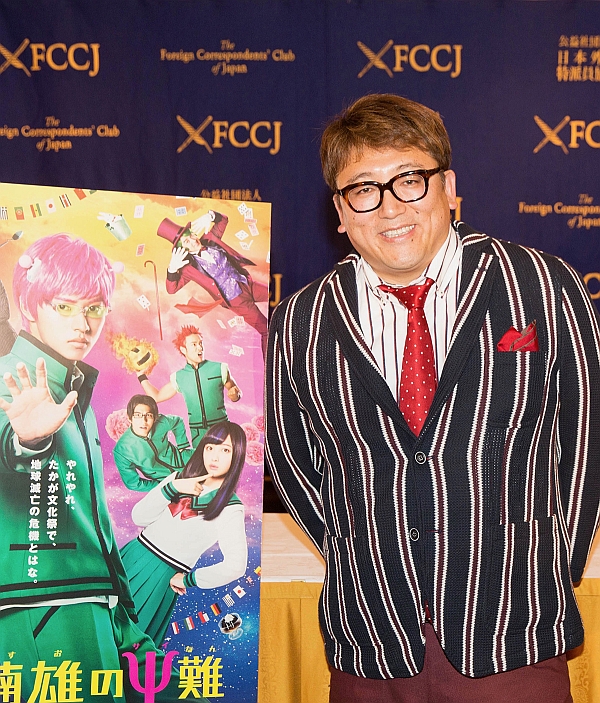 ©Mance Thompson
As knowledgeable as he is about American TV, Fukuda did not grow up in the US, and when a prominent entertainment journalist drew clever connections between scenes in the film and the actions of Wile E. Coyote and Road Runner, and between a character played by the great comic actor Murotsuyoshi and Gene Wilder, circa Charlie and the Chocolate Factory, the director said he was pleased, but did not have such homages in mind.
After being told by one attendee that Psychic Kusuo might be considered a bit over the top in the West, Fukuda said, "I think there are two types of comedy, the first being a straightforward 'well-made' comedy and the other being slapstick. Billy Wilder's films were 'well-made' comedies, and certain prestigious directors have followed in his footsteps in Japan, such as Koki Mitani. I'm on the other end of the spectrum, and there aren't many who do gag comedy in Japan. Since I was heavily influenced by American comedies, my films have a strong parody aspect. For some reason, we don't we do much parody in Japan, either."
But he also insisted that the Japanese audience is "literate" in both types of comedy, and that he doesn't "look down on or over-explain or dumb down my comedy for the audience. I trust them to get it."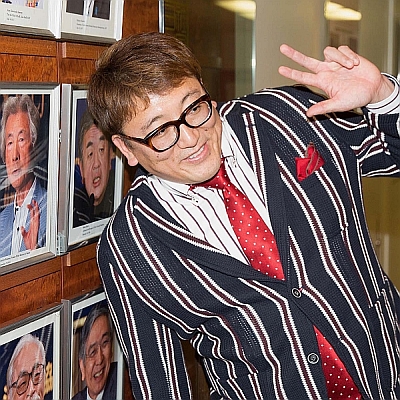 Fukuda has fun in the FCCJ photo gallery. ©Mance Thompson
For the past decade or so, every project Fukuda has touched has turned to gold. Big studios line up to work with him, while eminent actors gamely deliver his brilliantly inane dialog and tackle his inspired physical gags. And his legion of followers? They're the all-important youth demographic (and the millions who never quite grew up). They clearly can't get enough of him.
In short, no one has his finger on the Cool Japan comedy zeitgeist quite like Fukuda. It seems impossible that he won't get a shot at US glory. But in the meantime, he is remaking a US romantic comedy hit and will soon begin adapting the popular "Saint Young Men" manga.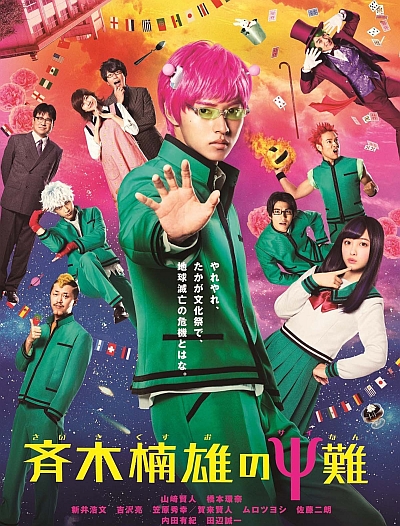 SHUICHI ASO SHUEISHA 2017 Psychic Kusuo FILM PARTNERS
©SHUICHI ASO / SHUEISHA 2017 "Psychic Kusuo" FILM PARTNERS
Posted by Karen Severns, Friday, October 20, 2017
Selected Press Coverage
Read more
Published in: October
Tag: Yuichi Fukuda, manga adaptation, gag comedy, Kento Yamazaki, Kanna Hashimoto, Gintama    
Comments