Image
Making her first appearance at FCCJ in 10 years (but not for our lack of trying), Cannes Film Festival favorite Naomi Kawase laughed with delight when a journalist asked her, "What's your impression of the last 29 installments of the Tokyo International Film Festival? And please, do be frank."
Kawase was at FCCJ to talk about her participation in this year's festival, where she will deliver a Master Class and field questions following a screening of her Palm d'Or nominee, Radiance. Everyone knew TIFF wasn't her usual stomping grounds. After the laughter died down, the room held its breath.
"Something unattainable," she began, then paused. "Since I was born and raised in Nara, I always had the impression that Tokyo was so filled with bright lights and so unattainable to me. It seemed so distant and so inaccessible. TIFF is one of the major international film festivals, and it seemed out of reach. But being able to participate in Japan Now this year, and hearing about all the other films that are being shown, I'm starting to feel it's more accessible."

Kawase is the only Japanese filmmaker selected for Cannes seven times. This will be her first film in TIFF.  ©FCCJ
TIFF's Japan Now Programming Advisor Kohei Ando was sitting next to Kawase, and hastened to follow up. "TIFF has always tried to include the brilliant films of master directors like Hirokazu Kore-eda and Ms. Kawase in the past," he explained, "but because of the timing of the festival, late in the year, they always appeared at Cannes and other earlier festivals. This is why we created Japan Now: to showcase their work each year, without [worrying about] a world premiere."
Ando and Kawase were joined on the dais by TIFF Festival Director Takeo Hisamatsu, taking over the reigns of the venerable festival from Yasushi Shiina for TIFF's 30th anniversary edition. The Film Committee has been cohosting events with TIFF for nearly a decade, and this year's panel began with Hisamatsu, who provided an overview of festival highlights. Hisamatsu is a veteran of four decades in the industry, a producer of many award-winning titles, and a former top executive at Shochiku and Warner Bros. Pictures Japan. He has been busy expanding the diversity of programming, as well as lining up some tasty treats to celebrate the past, present and future of TIFF. He quickly mentioned several: the Midnight Film Festival (10 filmmakers addressing 6 different themes on 6 screens, running all night), Cinema Arena 30 (outdoor screenings of 28 vintage films, with bountiful food carts and blankets), the Godzilla Cinema Concerts (the original 1954 film accompanied by live orchestra), and the annual Special Night Event at Kabukiza (Ebizo Ichikawa preforming live plus the digitally remastered classic, The Gate of Hell).
Hisamatsu then elaborated, "Especially worth noting is the Japan Now section, which we consider to be especially important because it introduces the world to contemporary Japanese cinema. This is the third edition of the section, and all the films in the lineup, including Ms. Kawase's Radiance, are sure to be entering the [year-end] awards race. In the past two years, Japan Now has featured a special Director in Focus. This year, we are instead highlighting four actresses, the Muses of Japanese Cinema, chosen because they have so inspired directors: Sakura Ando, Yu Aoi, Hikari Mitsushima and Aoi Miyazaki. I hope you will enjoy the outstanding films at the 30th TIFF."

Hisamatsu is helming his first TIFF (©FCCJ).  Ando returns for his third outstanding Japan Now program.  ©Mance Thompson
Japan Now's Kohei Ando followed up with a description of the section's bountiful offerings, ranging from Hirokazu Kore-eda's acclaimed The Third Murder to a new masterwork from veteran arthouse maestro Nobuhiko Obayashi, Hanagatami. The section will showcase not only films starring the four muses, but also by four female directors. He enthused, "We will be showing two films for each of the four actresses, all of which have marked important turning points in their careers, and we'll be holding special talk events with the actresses and directors after the screenings."

©Mance Thompson (left), ©Koichi Mori (right)
Ando proceeded to unveil an impressive roster of further guests: Along with Kawase, Kore-eda and Obayashi, directors Shunji Iwai (Hana and Alice), Momoko Ando (0.5mm), Lee Sang-il (Rage), Yang Yonghi (Our Homeland), Kei Ishikawa (Traces of Sin), Shinji Aoyama (Eureka), Masaaki Yuasa (The Night Is Short, Walk on Girl), Daihachi Yoshida (A Beautiful Star) and Michio Koshikawa (Life and Death on the Shore) will appear, as will Hanagatami star Takako Tokiwa.
Asked to divulge details about her Master Class, Kawase said, "First of all, I would like to congratulate [TIFF] on its 30th anniversary, because that's a major accomplishment. I'm organizing the Nara International Film Festival in my hometown, which will turn five next year. So I really recognize what an immense feat it is to keep a film festival running. I think it's a lot like life and like filmmaking in many respects, because we have to overcome so many hurdles to survive. Festivals are such hard work, so once again, congratulations to TIFF.
"I do not separate my life from my filmmaking," she continued. "Filmmaking is my life. So in my TIFF Master Class, I would like to touch on a few examples of what emerging filmmakers might do to fuse their lives with their filmmaking. That will probably be my theme."
The panelists share another moment of mirth.  ©Mance Thompson
Kawase fondly recalled her earliest festival experiences and concluded, "Festivals are wonderful, because they are platforms for people from many nationalities who bring their films, come together, communicate, and take that back to their homelands. Then they come together again at a different festival. They help us overcome cultural differences and they motivate me as a filmmaker."
The evening continued with a special screening of Kawase's Radiance, her fifth film in the Cannes official competition and winner of the Ecumenical Jury Prize, before the writer-director returned for a vastly satisfying Q&A session — with the types of questions one might expect from a European arthouse audience. (Bravo, FCCJ Film Night regulars!)
Radiance is a luminous meditation on loss and salvation, and on the power of art to transform our lives. "Nothing is more beautiful than what disappears before our eyes," says one of Kawase's characters, and the line serves both as a metaphor for the film's story and for cinema itself.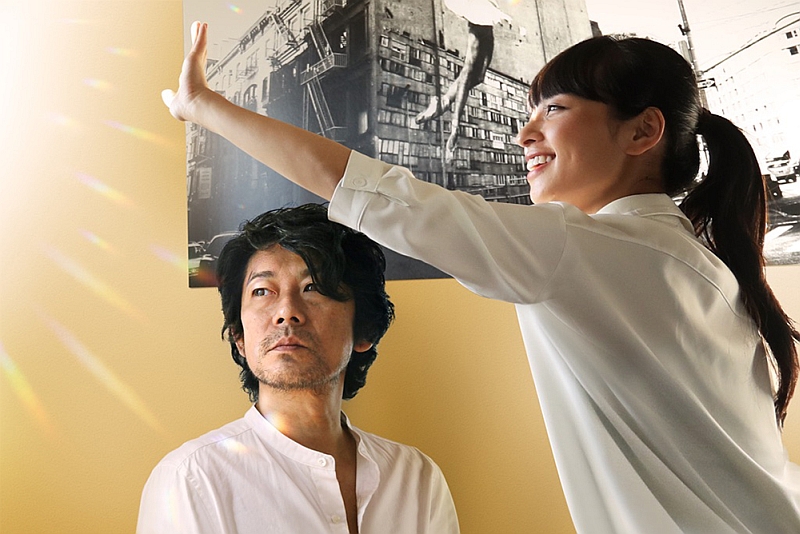 ©2017 "RADIANCE" FILM PARTNERS/KINOSHITA、COMME DES CINEMAS、KUMIE
Misako Ozaki (Ayame Misaki) writes audio commentary for visually impaired filmgoers, and as Radiance opens, her words are the subject of scrutiny from a focus group following a test screening session. The participants offer specific suggestions for improving her script, which is too wordy by far. Only one of them is downright rude about it. "It's intrusive," he barks, suggesting she's robbing them of their own imaginations, and questions her competence. He is Masaya Nakamori (Masatoshi Nagase) a famed photographer who has slowly been losing his sight. Fate will continue to bring the two together, and despite his abrasiveness, Misako will soon find that Nakamori is a kindred spirit.
Both are lost souls — she, since the disappearance of her father and the progression of her mother's dementia; he, as he loses his calling and his ex-wife prepares to remarry. Nakamori's photographs, taken on an ancient Rolleiflex, entrance Misako, particularly one of the sun setting behind the mountains. It will eventually solve a mystery from her past. As both emerge, tentatively, from the limbos in which they've been living, they learn to see the world through each other's eyes. In Kawase's images, it is radiant.
Kawase was asked first how she came up with such an unusual setting for her film. "We had to make an audio guide for An/Sweet Bean, my last film," she responded, and that's how I first discovered it. When they showed me the dialog list for the guide, I was very moved by the words. Cinema is essentially visual, but for someone who is visually impaired, words are needed. The way they used the words, the way they described the scenes, were so beautiful. I had the idea that, if I had a protagonist who was doing this kind of work, I could express my love for cinema."


Kawase returned to field questions after the screening of her latest Cannes Palm d'Or nominee. ©Koichi Mori (left), ©Mance Thompson (right)
Pointing out that Misako asks a film director in Radiance whether one of his characters is simply a projection of himself, one audience member asked, "Is this film itself a projection of yourself?" Answered Kawase, "After An/Sweet Bean was a commercial success, I was having a hard time figuring out what I really wanted to depict in my next film. I finally felt that I wanted to depict film itself as the core theme, because filmmaking is so intertwined with the way I live. In depicting my love for cinema, I've been able to project myself into the film."
Asked about the "themes of disability and decrepitude" in her last two films, and how she sees the relation of art to physical breakdown, Kawase said, "I think creators, including filmmakers, are always looking for what's missing within ourselves. By doing this, we come to realizations that help us grow. For me, being able to make films has enriched my life immensely. Films generally tend to shine a light on things that are to be celebrated or glorified, but I want to shine a light on people who aren't usually depicted, and on that which is still in the dark or unknowable."

Ando, Kawase and Hisamatsu with the TIFF poster, featuring images shot by Mika Ninagawa.  ©Mance Thompson
Another audience member asked about the recurring image of a woman lost in the forest in several of her films, including Radiance, and the role of nature. "I think of nature and the natural landscape as a protagonist in my films. I believe there is nature, and within it, there is mankind. That's how I see the world, and that's the approach I take to my filmmaking. I think the natural landscape is sometimes more eloquent than words."
Discussing her two leads, Kawase said, "I'd worked with Mr. Nagase on An/Sweet Bean, and when we took the film to Cannes, we talked about doing another film together. He's a photographer in his own right, and I knew he could bring a realism to the role of a photographer losing his sight. I had him live in the apartment in Nara for a while before we shot there, and he wore goggles that impaired his sight. As for Ms. Misaki, I found her to be a very strong-willed, determined woman, especially on hearing about her suffering related to the [1995 Kobe] Earthquake."
But after an audience member commented that she'd found Misaki to be "perhaps too young to portray the emotional depth" required of the character, Kawase admitted that had been her intention in casting her. "I felt she needed a little more depth, she wasn't quite there yet," said the director. "What you're seeing in the scene with the audio guide [focus group] is based on a guide script that I had Ms. Misaki actually write herself, and her tears are real tears. I wanted to depict a girl who has a limited perspective and is thinking only about herself at first."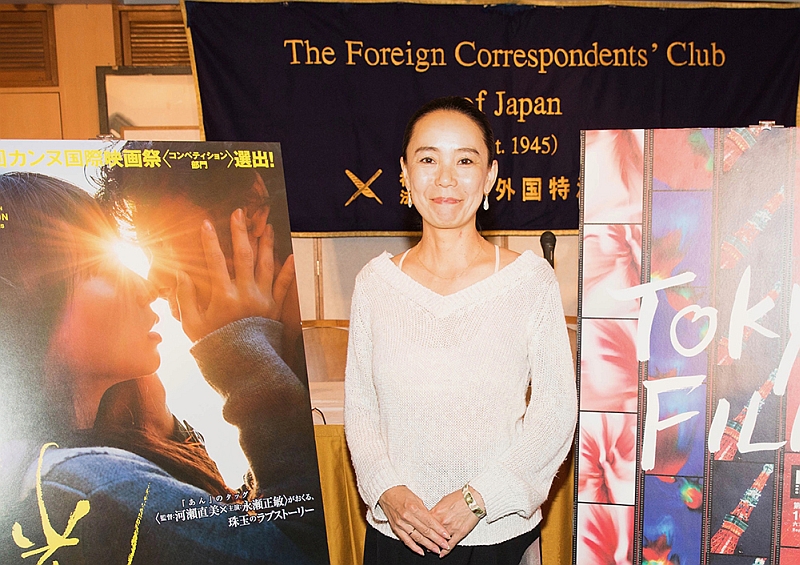 ©Mance Thompson
A professional photographer wondered how Nagase's character could have let go of his Leica camera in one pivotal scene, since they're so expensive, and it's clear that the character cannot possibly live without it. "The idea behind that," explained Kawase, "is that if you rid yourself of that which is most valuable to you, you make room for something even more valuable to come in."
Finally, she was asked about her new film, currently in production in Nara and tentatively titled Vision. It stars Nagase again, as well as the celebrated French actress Juliette Binoche, making her first film in Japan. "It's so exciting," said Kawase, in English. "Working with Juliette is wonderful. She's an amazing actress and has exceeded my expectations. One of the most wonderful things about her is her ability to improvise. She gives so much more than the script provides. She spends days and days trying to inhabit the character. She's playing a woman named Jean, and she [created a backstory] about what her parents were like, where she studied, why she came to Japan. I always ask my actors to inhabit the location where their character lives prior to shooting, but I didn't have to ask Juliette. She'd already done her homework. I felt like, finally I've met a [complete] actress."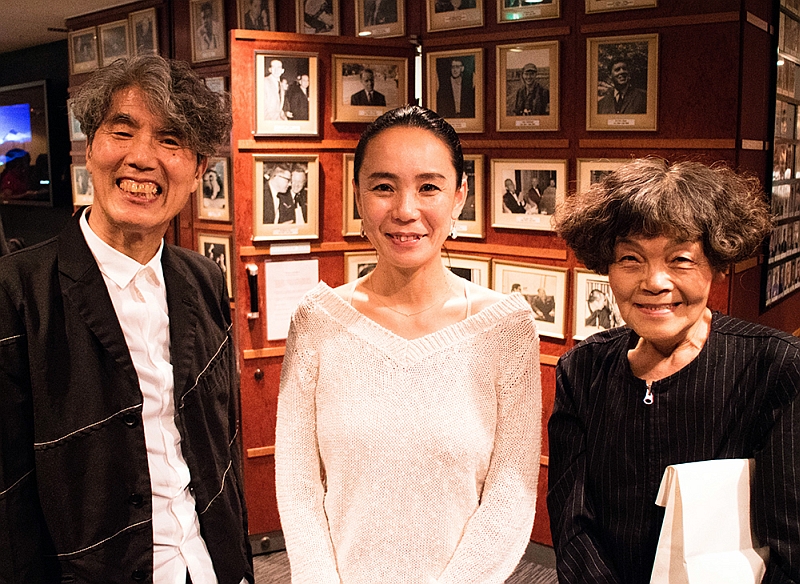 Kawase with Ando and renowned film critic Reiko Kitagawa.  ©Koichi Mori
And then she raised goosebumps around the room, sharing a bittersweet memory from this year's Cannes: "At the closing ceremony, Juliette was the presenter of the Palm d'Or. As Mr. [Pedro] Almodovar [who was head of the jury] was about to speak, she stopped him and said, 'Cinema is light.' She said 'light' in every language that she knew, including 'lumiere,' so I erroneously thought, 'Maybe I'm going to win the Palm for my film!' To be able to talk with her in Nara, just three months later, about how cinema is light and love, is quite miraculous to me."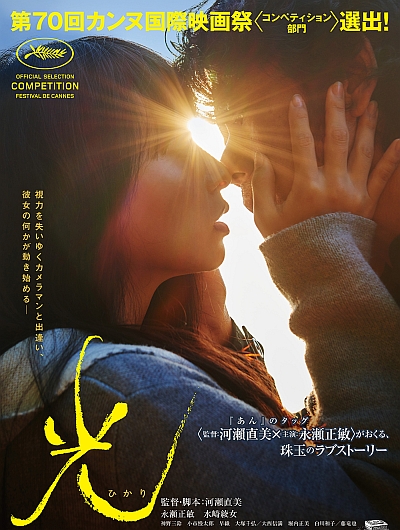 ©2017 "RADIANCE" FILM PARTNERS/KINOSHITA、COMME DES CINEMAS、KUMIE
Posted by Karen Severns, Thursday, October 05, 2017
Selected Press Coverage
Selected TV Exposure
    AFP BB News 河瀬直美監督、東京国際映画祭は「手の届かない存在」都内会見
 
Read more
Published in: October
Tag: Naomi Kawase, Kohei Ando, Takeo Hisamatsu, Cannes Film Festival, Tokyo International Film Festival, Japan Now    
Comments