Image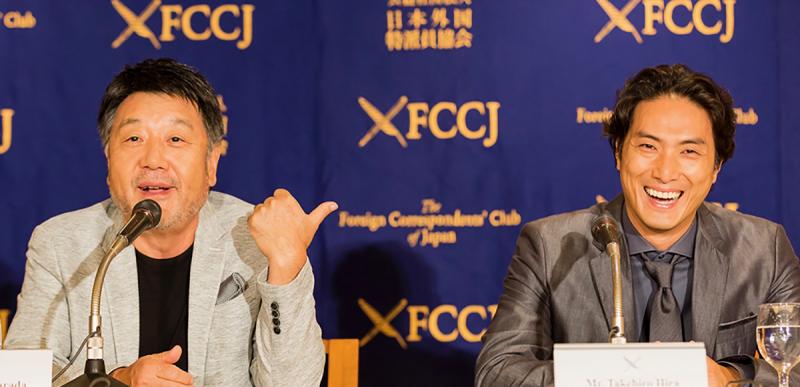 Mitsunari Ishida as a humane, love-struck champion of truth? Ieyasu Tokugawa as a bloated, nail-biting, self-serving opportunist? Leave it to master storyteller Masato Harada — returning to FCCJ for a record-breaking fifth time in 10 years — to delve into one of Japanese history's watershed episodes, and to emerge with a powerful reinterpretation that completely overturns our conventional understanding of its key players, transforming their fateful conflict into a war between justice for the greater good and absolute power for the chosen few.
The battle of Sekigahara, fought on a single day in 1600, is considered a defining moment in Japan's future. Lasting just six hours, with forces estimated to number over 150,000 (30,000 of whom would not survive) its outcome brought to an end the centuries-long Warring States period. By 1603, the victor was named shogun and ushered in the peace, stability and growth that would last throughout the 260 years of the Edo period.
For such a historically decisive battle, it's surprising that Sekigahara has never been mounted on screen before. This may be partially due to budgeting and logistics constraints. In the past, Akira Kurosawa was able to rally 1,000 extras and 200 horses for his Palm d'Or-winning Kagemusha, with its climactic Battle of Nagashino. But he was infamous for cost overruns, and his later Ran, shot on a similar scale, was the most expensive film in Japanese history at the time. Amply aided by today's CG wizardry, but on a far smaller budget than either Kurosawa or Hollywood would require, Masato Harada has managed to create battle scenes in Sekighara that deploy 500 extras and just 30 horses to convincingly epic-scale effect.


©Mance Thompson
The writer-director had been interested in adapting Ryotaro Shiba's 3-volume, 1,500-page novel of the same name for 25 years, but recognized that he would have to become more experienced at directing action first. As his filmography grew, his approach to the Sekigahara story also evolved. Although he'd initially imagined different characters as the protagonists of the sprawling narrative, he eventually decided to put Mitsunari Ishida at the center of his film.
During the Q&A session after FCCJ's screening, Harada admitted that he had shared the commonly held view of Mitsunari, a "[historically sidelined] character" who is considered too much of a bureaucrat, and too inflexible in his pursuit of "justice."  "Many people hated him, including me, until I turned 60," he said. "But he created his motto One for all, all for one and his thinking process is really contemporary and up to date. We have much in common with him today."
(It should be noted that One for all, all for one is the motto traditionally associated with the swashbuckling Three Musketeers, but Alexandre Dumas père's novel was not published until 1844.)
Directing just his second jidaigeki period drama (after 2015's Kakekomi), Harada populates Sekigahara with a teeming assortment of historic characters and enough political intrigue, Machiavellian maneuvering and exciting ninja action for an entire miniseries. But his focus is resolutely on the motives and strategies of the two men whose forces would meet for the final showdown in a foggy Gifu valley: Mitsunari and Ieyasu.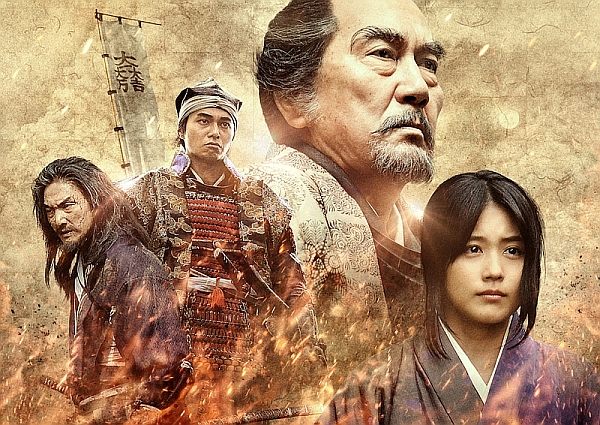 ©2017 "Sekigahara" Film Partners All Rights Reserved
Shortly after the film opens, Hideyoshi Toyotomi (Kenichi Takito), the samurai who had completed the unification process begun by Nobunaga Oda, is on his deathbed. His devoted acolyte, Mitsunari (Junichi Okada), vows to protect Hideyoshi's 5-year-old heir until he is old enough to rule, but the cunning, power-hungry Ieyasu (Koji Yakusho, never better) has other ideas. Hideyoshi's hold on western Japan has been weakened by a series of costly invasions of Korea, while Ieyasu has become the largest landowner in eastern Japan. With Hideyoshi gone, he begins consolidating his expanded power base, forging alliances with notable daimyo families and hatching plots with his servant-conspiracy partner to undermine Toyotomi clan rule.
Mitsunari cannot compete with Ieyasu's record as a military general, but he won't stand by as the older man gains dangerous ground. Stolid but determined to persist in his belief that justice alone can create a world without chaos, he enlists the help of Sakon Shima (Takehiro Hira, in a star-making performance), the "most honorable samurai in the land," and the two set about rallying support. He also begins to rely on intelligence reports from the comely ninja Hatsume (Arimura), whom he had saved from death and soon falls in love with. But she goes on an errand for him just as Ieyasu is gathering his troops. Mitsunari's Western Army outnumbers his rival's Eastern Army and victory should be assured. But fate intervenes in unforeseen ways.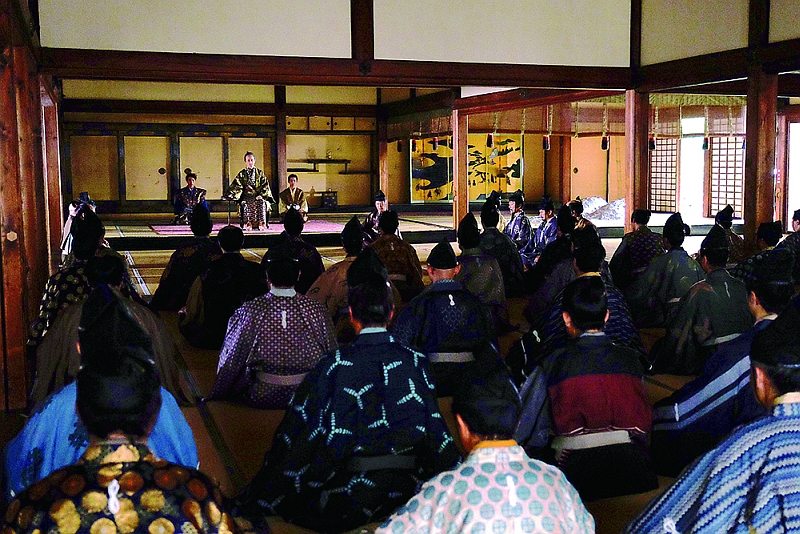 Hideyoshi holds a meeting of daimyos.  ©2017 "Sekigahara" Film Partners All Rights Reserved
Harada was asked about his increased focus on stories featuring "casts of thousands," and he recalled, "The first time I dealt with many actors and characters was Jubaku: Spellbound in 1999. At that time, I thought I was able to handle them all just like Mr. Kurosawa did. I always wanted to make a film like Seven Samurai; I was really impressed by that kind of scale — 100 speaking roles and everybody feels real. [But it wasn't until I'd made] Kakekomi and also The Emperor in August — a war film with 150 speaking parts — that Shochiku and Toho producers said 'It's about time for you to make Sekigahara.'
"I'd been training for that for the past 10 years. So the only problem I had was how to minimize the number of characters in Mr. Shiba's book, because there are probably 500 speaking parts. Toho wanted me to do it in one piece, no longer than 2 hours 30 minutes. So I decided to concentrate on Mitsunari and his family drama."
To the delight of viewers, much screen time is also devoted to the exceptionally valiant exploits of Mitsunari's righthand warrior, Sakon Shima, played by Takehiro Hira. Harada had seen Hira on the 2016 NHK Taiga drama Sanada Maru, and been impressed with his "classiness." He noted, "The casting of Sakon Shima was really difficult, because he's such a well-known character, and everybody's favorite. I totally didn't understand Mitsunari's notion of why he left the battle and didn't stay to die there. That's something against the samurai code. But Shima died beautifully, and he fought with his family. His wife participated in Sekigahara, too."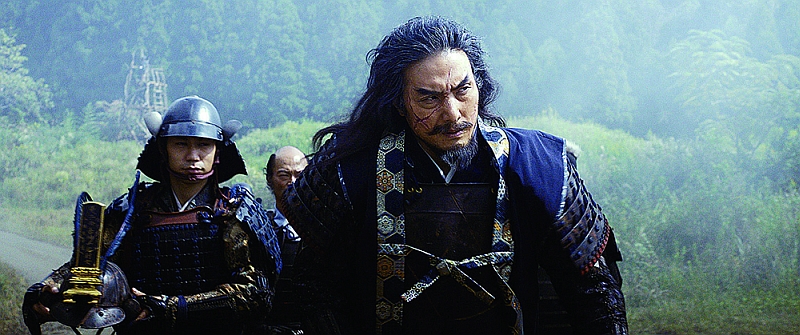 Hira as Sakon Shima.  ©2017 "Sekigahara" Film Partners All Rights Reserved
How did Hira transform himself into the far-older Shima, with his jagged facial scars, wild brows and heavy limp, but also with such gravitas and charisma? "Special effects," he joked. "In comparison to [Harada's] 25 years of preparation, I only had a few months to prepare for the role. But the director gave me a lot of hints as to how to approach the role, not so much from the text itself, but the external appearance. He gave me Shima's characteristics early in the rehearsal period. It was my first time to play an older person, so it was a trial- and-error process at first. But somehow, it felt natural as the shoot continued."
"When I started casting," recalled Harada, "everybody suggested typecasting ideas for Shima: Koji Yakusho, Ken Watanabe, all the bsuperstars. But I had Junichi Okada, who's perfect for Mitsunari in terms of his size, his athleticism. So I needed challenging casting for Shima, a new star in the making for Japanese audiences to discover. Nobody believed that 41-year-old Takehiro Hira could play [60-year- old] Shima. That's one of the reasons I cast him. I remembered that Tatsuya Nakadai played the ronin in Harakiri when he was 28, and his character was in his 50s. I thought, if Nakadai could do that, why couldn't Takehiro? I met him, I liked him, and since he was educated [in the US], we had a lot in common."

Making his first appearance at FCCJ, Hira looked at the famous blue banner and said, "I see this place all the time on TV.
I never thought I would be here. I'm really honored."   ©Koichi Mori
A journalist asked about Harada's female characters, who had impressed him with their strength. "Not just one or two of them, but all of them," he said. "In comparison to some of the men, they seemed more active in a variety of ways, whether as fighters or advisers. Did that come from Shiba's book?"
"In Shiba's book, there are hints," answered Harada. "Hanano [Shima's wife] is mentioned, but I wanted to develop her character. I wanted to develop the female characters, along with Mitsunari's and Kobayakawa's. Filmmakers have forgotten how important females were in the 16th and 17th centuries. They were strong, and they've been neglected characters. As I researched, I discovered that Ieyasu actually used one of his concubines as an adviser, and Mitsunari had female warriors. So I wanted to depict those new facts."
And then the kicker: "And always, my wife is stronger than me."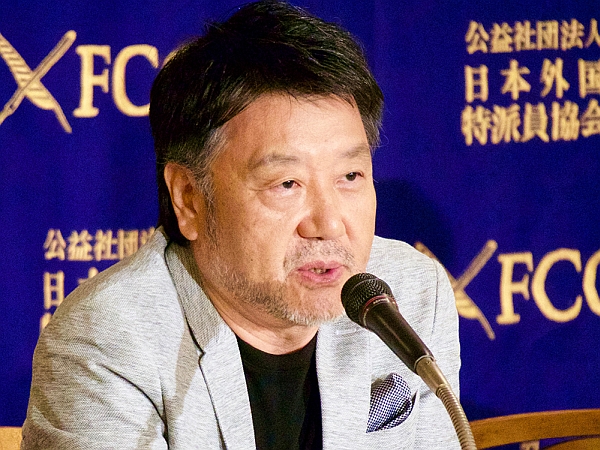 Harada was appearing for the 5th time at FCCJ. ©Koichi Mori
In response to a question about his editing, with cutting that feels "breathless" in the film, Harada explained that he places prime importance on pacing in his films. "The Emperor in August was about 1,600 cuts, and my earlier Rowing Through, based on David Halberstam's book [about American rowers preparing for the 1984 Olympics] was about 1,800. Sekigahara has 2,615 shots. About 1,000 shots use CG, including creating the big belly for Ieyasu. Today's technology made it possible for me to make this film."
One of the biggest challenges for foreign audiences in particular, with so many characters and such rapid-fire editing, is that they must also grapple with subtitles and unfamiliar names. Said Harada, "I was a bit worried about the subtitles. The visuals are so fast, it might be difficult to read the dialog. I worked with James Yaegashi [his longtime subtitle collaborator] to shorten them as much as possible. This is the first time we had so much back and forth, probably 3 or 4 different drafts. I made them shorter, but they're still long. It's the minimum information needed."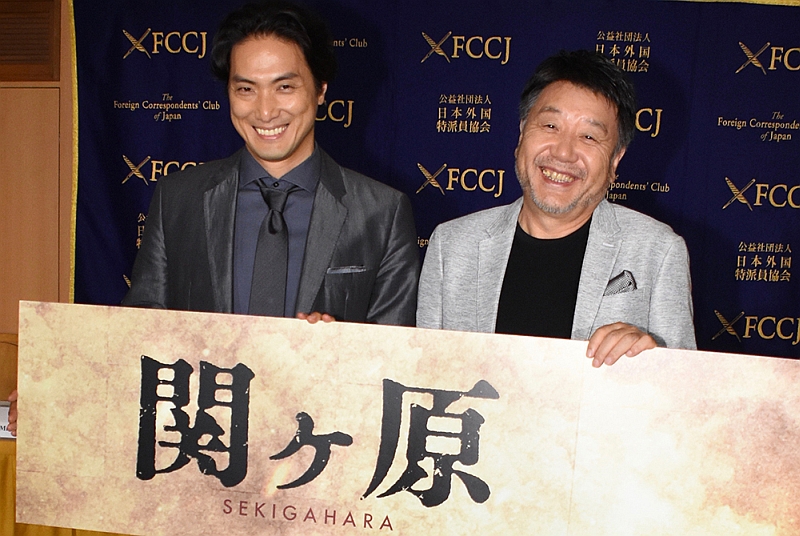 ©FCCJ
One audience member asked the question on many of our minds: what contemporary resonance did Harada find in the tale? He is known for his rare ability to fuse social criticism with world-class entertainment, in acclaimed films from Kamikaze Taxi to Bounce Ko Gals, Climber's High and even Chronicle of My Mother. Sekigahara is no exception. He responded: "Mitsunari's final line is 'Where is justice today?' If you see the political situation and how Japan is moving, in every which way, justice is lost. [Despite leaving the battle,] Mitsunari had principles that never wavered. In today's Japan, we could use 10,000 Mitsunaris."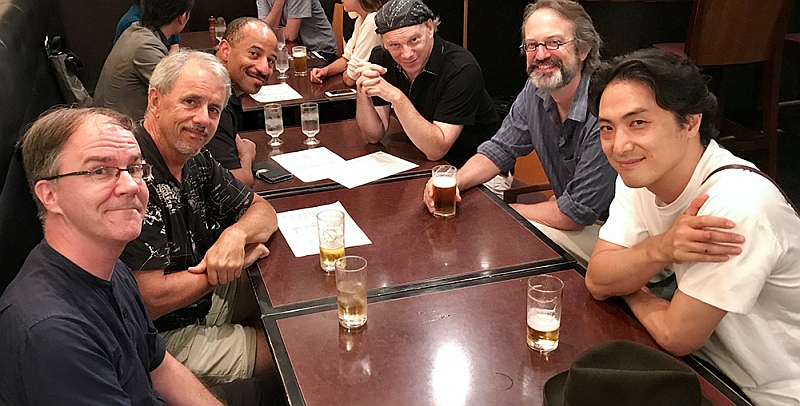 Hira joins journalists and film aficionados in the bar after the event, clockwise from left, Aaron Gerow, Mark Schilling,
Mance Thompson, Rob Schwartz and Markus Nornes. ©Koichi Mori
Posted by Karen Severns, Wednesday, August 09, 2017
Selected Press Coverage
Read more
Published in: August
Tag: Masato Harada, Takehiro Hira, jidaigeki, samurai, Mitsunari Ishida, Ieyasu Tokugawa    
Comments