Image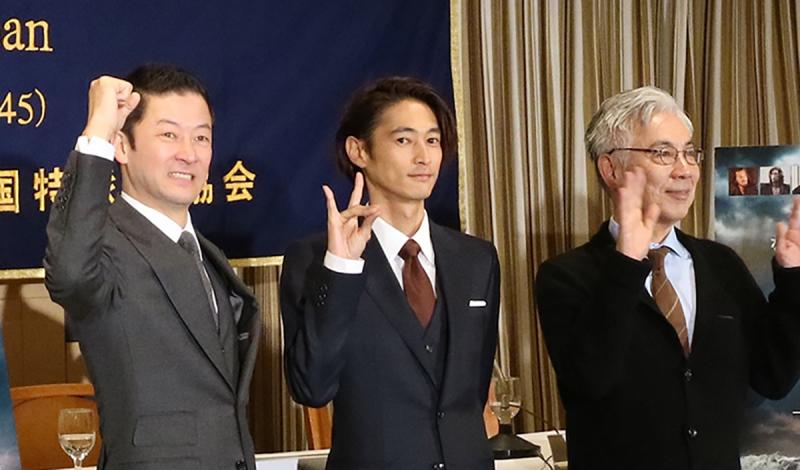 As Silence begins to roll out across America and the clock ticks down to the Oscar nominations, there is much hand-wringing in Los Angeles, where it seems the buzz for Martin Scorsese's long-awaited passion project is closer to a chilly hush.
But that is surely not the reception to expect in Japan — where the film is set, where the story transpires, where the novel upon which it is based, Shusaku Endo's Tanizaki Prize-winning 1966 Chinmoku, continues to find new generations of readers.
A late 2016 visit by the film's legendary director and prerelease publicity have already created intense anticipation here, especially concerning the many Japanese actors featured in the work. If FCCJ's event is any indication of how Silence will be received, then it will earn a following in Japan that honors its many extraordinary achievements, echoing the US critics who have placed it on their 10 Best lists.
A slow-burn masterwork, Silence is set in the 1640s, but its message continues to reverberate across the centuries, lending it contemporary resonance — and urgency. As Scorsese reminds us, "The conflicts that occur — the persecution of religious minorities, the testing of faith — are timeless." A clarion call for tolerance, acceptance and inclusion, the timing of its release, amidst the convulsions of a new world order, couldn't be better.


Kadokawa Cinema Yurakucho, site of the preview screening. ©Kochi Mori
Marking a most memorable launch to our 2017 Film Committee screening series — and only the second time in our history that we've had the privilege of screening a work off site — the film's distributor, Kadokawa, generously previewed the film for our 200-strong audience at itsbeautiful Kadokawa Cinema Yurakucho, just steps away from FCCJ. A very crowded Q&A then followed back at FCCJ, lasting over an hour, as journalists from many nations gathered to hear from the three Japanese stars who have been singled out for praise by US critics.
Although only Tadanobu Asano has already had a substantial overseas career, Silence is set to change that for Yosuke Kubozuka and Issey Ogata. Asano (Thor, Mongol) has just finished shooting Martin Zandvliet's The Outsider, costarring with Jared Leto; Kubozuka is costarring with Elizabeth Banks in the war drama Rita Hayworth With a Hand Grenade; and Ogata (Yiyi: A One and a Two, The Sun) stars with Momoi Kaori (Memoirs of a Geisha) in Latvian director Maris Martinsons' upcoming Magic Kimono.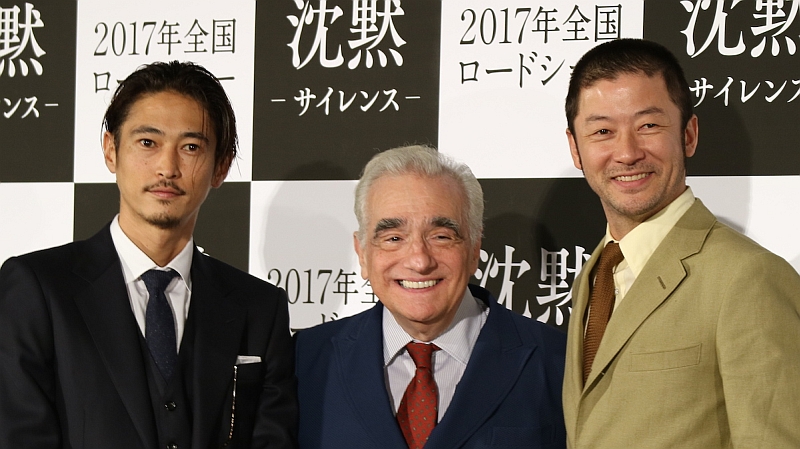 Kubozuka and Asano flank Martin Scorsese at a fall 2016 event in Tokyo.  ©Koichi Mori
Each of the three had nothing but praise for their director, as well as their costars. It didn't hurt that they also introduced themselves with a measure of levity at the Q&A session. "I play an interpreter in the film," said Asano, "but my English isn't very good. So please let me speak through this interpreter." Calling himself a "fumie master," Kubozuka went on to say, "Thanks to this film, I'm able to dream again, [as innocently] as if I were a child." And Ogata, whose turn in the film earned him runnerup honors from the LA Film Critics for Best Supporting Actor, mentioned, "I've given a few interviews in the US, and looking back at them, some of my statements have changed. So whatever questions you have, and whatever answers I give, please note that this is what I said as of January 12."
Before sharing the actors' behind-the-scenes stories, however, a word about the film and their roles in it is in order.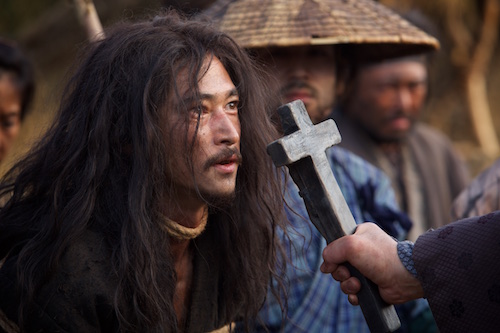 Kubozuka as Kichijiro   ©2016 FM Films, LLC. All Rights Reverved.
As most readers know, it took the Oscar-winning director nearly 30 years to bring Endo's novel about the persecution of "hidden Christians" (kakure kirishitan) in 17th-century Japan to the screen. It is the final in Scorsese's trilogy of faith-based films, after The Last Temptation of Christ (1988) and Kundun (1997), and it is by far his most deeply felt and yes, most challenging, to date. It is also dazzlingly shot (on celluloid), beautifully scripted and thankfully, gets its Japanese setting and action just right.
Silence tells the story of two Portuguese "padres," Sebastian Rodrigues (Andrew Garfield) and Francisco Garupe (Adam Driver), who journey from Macao to Japan in the early 1640s to search for their missing mentor, Christavao Ferreira (Liam Neeson), after receiving the startling news that he has gone native. The priests find a Japanese wretch, a lapsed Christian named Kichijiro (Kubozuka), to help make the dangerous crossing to the southwestern coast. The Tokugawa shogunate's sakoku policy has closed the country to outsiders, creating an increasingly hostile environment for anyone brave enough to enter. Worse, the government has encouraged the violent persecution of the devout, forcing some 300,000 believers underground.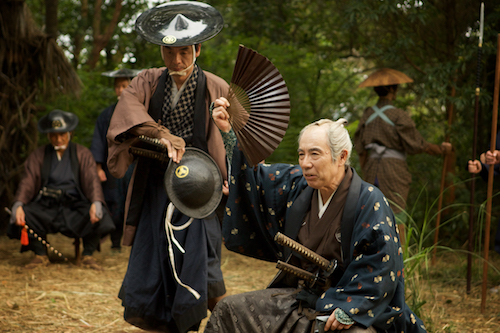 Ogata as Inquistor Inoue  ©2016 FM Films, LLC. All Rights Reverved.
Rodrigues and Garupe find safety of sorts with a group of clandestine worshippers in the tiny village of Tomogi, and begin ministering to them, conducting baptisms, hearing confession, reciting the Latin mass. But soon enough, the area's ruthless government "Inquisitor" Inoue (Ogata) has Rodrigues and his new followers behind bars, and sets about putting their faith to the ultimate test. Abetting him is the "Interpreter" (Asano), who scoffs, "We have our own religion, Padre; a pity you did not notice it." Gloats Inoue to Rodrigues, "The price for your glory is their suffering." Forced to witness the gruesome tortures that befall those who refuse to renounce their faith, some prisoners make the ultimate sacrifice of apostasy, stepping upon fumie (icons of Christ), and abandoning hope of reaching paradise. Throughout his many trials, Rodrigues continues to beseech God for guidance, but He is silent, even as his believers are met with intolerable fates.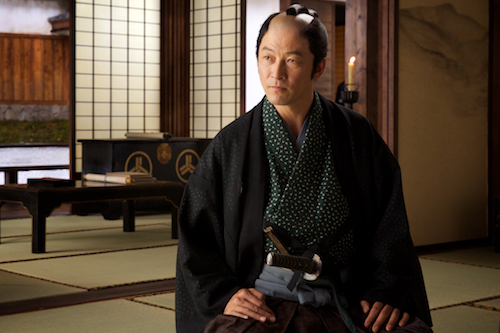 Asano as the Interpreter  ©2016 FM Films, LLC. All Rights Reverved.
Highlights of the Q&A:
Question: Despite publicity to the contrary, I didn't think the Inquisitor or the Interpreter were nefarious characters. As you were playing your characters, what was your perspective on the roles?
Asano: "I really empathized with the character of the Interpreter, and didn't see him as nefarious. The backstory I read into him was that he was probably Christian, but was no longer able to carry on his faith. So that's what led him to his line of work. Having been Christian gave him special insight into the Christians and their belief. He's not a simple villain; because of his position, he has to work between Inoue and Rodrigues."
Ogata: "In approaching Inoue, I must say that everything was in the script. During my audition, I did the scene where he's trying to get Rodrigues to apostatize, and he tells him the story about the four concubines. What I brought to this scene was, we were talking [metaphorically] about Christianity and faith in God, and those were the heavenly aspects of the film; [but] Inoue was a more grounded, earthy character. And that's where this voice [he does Inoue's croaky whine] comes from."
Kubozuka: "In the original work, my character, Kichijiro, is depicted as a weakling, someone who's ugly, cunning, dirty and weak. He steps on the fumie again and again, which makes me wonder whether he's really weak. He seems to be quite determined. Of course he steps on the fumie, but as the Interpreter says, he korobu (tramples), which is not the same as kikiyo (apostatizing). He goes back and forth. Mr. [Shusaku] Endo says that the character is very much about himself. I was in the US earlier this month, and there were many questions about the fumie, and whether Americans would step on it in this day and age. A lot of people said, 'Probably!' So I think the character of Kichijiro is very human, and relevant to the modern age."


Said Variety about Kubozuka's Kichijiro, "[His] sneaky, social-outcast behavior suggests the way
Toshiro Mifune might play the role of Gollum."    ©FCCJ (except bottom right: ©Mance Thompson)
Question: Is Kichijiro really a Christian, or just the type of Japanese person who believes in his sempai, Rodrigues?
Kubozuka: I think he has a sense of innocence. Mr. Scorsese never gave me specific directions, explaining what the character was about or what kind of person he was supposed to be. He really left a lot of it up to me. I saw the film for the first time, without subtitles, at the LA premiere on January 5th, and I was surprised that he'd edited out the takes in which I was more emotional, more pure. What you see is the more flippant, light, stupid — for lack of a better word — side of Kichijiro. He really is a pitiful character. I suppose Mr. Scorsese's answer to your question can be found there. The way I see the character is, I think Kichijiro doesn't truly understand Christianity, but he is adamant about his belief."
Question: Inoue is such a fascinating character. How did you prepare for it, Mr. Ogata? Did you have any role model?
Ogata: "It's all in the script. It's said that the character might have [also] been Christian in the past, and this is evident the very first time he meets Rodrigues. He tells him, 'If you are a true Christian, a true priest, then you would come to the decision to apostatize to save all these Japanese Christians who are suffering for you.' I don't think he would've said this line unless he had the experience of being Christian himself. He also knows that it's a powerful logic, because he's [used the line before], with Father Ferreira."


When Asano auditioned for the film, Scorsese was thrilled, since he admired him in such films
as Mongol, Bright Future and Ichi the Killer.  ©Mance Thompson (except top right: ©FCCJ)
Question: What did you see as any differences between the book and the film?
Ogata: "I tried reading Endo's novel when I was young, and only got halfway through. [After reading it all the way through], the character I was most drawn to is Kichijiro. He's the closest to who I am. As for the character of Inoue in the film, there is a lot that isn't in the original work, and that's thanks to Mr. Scorsese's imagination. He inflated the role for me, and left me a lot of room to act it my way."
Kubozuka: — SPOILER ALERT! — "The place where I saw the starkest difference between the novel and the film is in the final scene, where Rodrigues bears the cross that Mokichi had given him, in his tomb. I think this scene came about because of Mr. Scorsese's [own belief]; that he felt it was key to him bringing this story to the world. I understand this was shown at the Vatican, and got a wonderful reception. I think he probably felt this was necessary to bring the strength and the power of the original novel to the world. Mr. Ogata and I were discussing this earlier tonight, and he mentioned that Shusaku Endo had a protégé named Mr. Kato, who applauded when he saw this scene. He really liked it.
Asano: "The way I approached the film was that it was all about the script. I read it again and again, concocting a backstory for my character. Whenever I would get lost, I would go back to the novel. But I soon discovered that the backstory I imagined was very different from the one in the novel, so I decided not to rely on it much.


Variety had this to say about Ogata, a renowned comedian: "An unnerving inquisitor named Inoue has a wheedling voice and faux-gracious manner that suggests the Japanese equivalent of Christoph Waltz's Nazi colonel in Inglourious Basterds."
©Mance Thompson (except bottom right: ©FCCJ)
Question: For those who haven't read the original novel, what do you think the highlights of the film are?
Kubozuka: "I would say that the ultimate message of the film is that God is silent. If you're to find an answer, it's all about introspection. You have to go inside yourself for answers."
Ogata: "Has God ever spoken, really? As a non-Christian, I don't know the answer. The film is less like real life than a picture scroll, in which characters are going through unbearable suffering. But strangely, no matter how painful it all is, after watching it, I feel this notion of purity that resonates. It's a film that has that kind of sustenance."
Question: If you had been in the position, historically, to stem the spread of Christianity, would you have done the same thing as your characters?
Ogata: "If I'd been born in the Edo period, I think I would still have become an actor. And I would probably have played a character like Inoue, and demanded that the Christians trample on the fumie. But only if Mr. Scorsese could have directed me."
 
Kubozuka: "It's a difficult question. It depends on whether your parents were Christian, or whether you were born with the choice of which religion to follow, or whether you were a Buddhist, like many Japanese. If I'd been born back then, I think I would've still been a fumie master like Kichijiro."
Asano: "If I'd been born in the Edo period, I would have done my best to stay away from that kind of situation."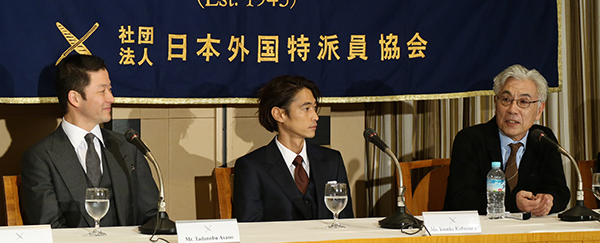 ©Koichi Mori
Question: You can't tell it from watching the film, but it was actually shot in Taiwan. How did you feel about that?
Asano: "I wish we could have shot in Japan, but Taiwan is a wonderful country, with such great food and a great crew, and it was very easy to shoot. Since it takes place in such a long-ago Japan, we had an otherworldly feeling on set. I don't know if it would have been different if we shot in Japan."
Kubozuka: "Whenever I think of the shoot, I think of xiao long bao (soup dumplings) — they were wonderful. On set, we had a lot of crew from Kyoto who are specialists in jidaigeki period films, and they only had one complaint: We built this little village up in the mountains, and the doors to the hut opened like Western doors, rather than being sliding doors. But they were able to change them before shooting. Mr. Scorsese had the utmost respect for Mr. Endo, and for us, and for Japanese culture. When he found anything wrong or off, he would immediately fix it, since he wanted to stay true to Japan. A lot of historical and cultural research went into the making of the film, and that's why it passes as Japan."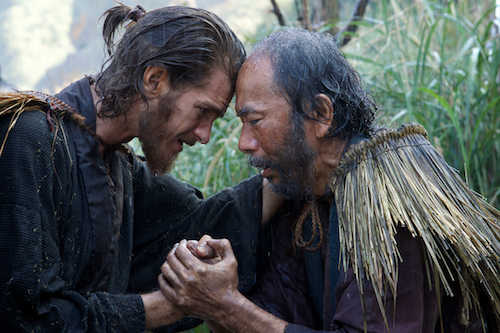 Cult director Shinya Tsukamoto also shines in the film, here with Andrew Garfield.   ©Kerry Brown
Question: How is it working with Mr. Scorsese, compared to other filmmakers?
Ogata: "It was very inspiring being able to work with Mr. Scorsese, as well as my fellow cast and crewmates. I felt like I was the luckiest actor alive, to have experienced this. The way he approaches directing his actors is, he never really instructs you how to act, he lets you bring what you have to the part. He never, ever says anything negative about what you provide. It's really inspiring, and it leads to many other ideas. He leaves room for things to happen.
Asano: "Even in the audition process, he really enjoys what you have to bring, and he really, really watches you. He sees you. But he never tries to stop you or put pressure on you. For an actor, it's a really enjoyable process. You also feel that responsibility, that you really have to bring something to the part. I haven't seen this in a lot of directors. Some directors will treat only certain actors in this way, but Mr. Scorsese treats every actor like that."
Kubozuka: "I agree. On set, Mr. Scorsese is like a king, but [he makes it] so easy when you're on set. He holds a mirror up to you and helps boost your acting, and you're able to trick yourself into thinking that you're a superb actor. There's immense power and strength in this film, and I hope — I believe — it will help serve a better tomorrow. I'm so grateful and honored to have been able to participate.
Question: There's been a lot of talk about the Oscars. What do you think about the film's chances?
Ogata: "Let's let Mr. Asano answer that one."
Asano: "I think the film will be nominated. If it isn't, maybe God said something He shouldn't have."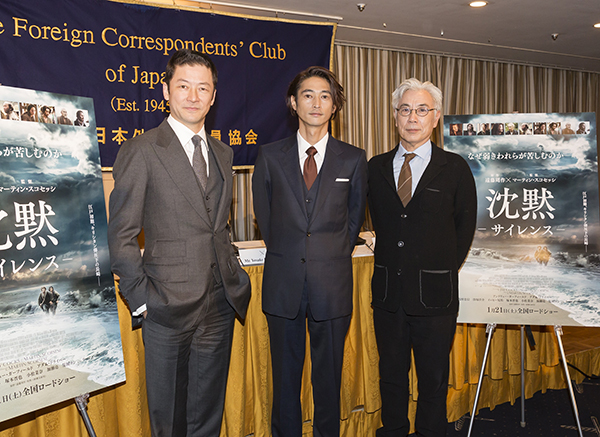 ©Mance Thompson
Note to fans of Japanese film: Although Asano, Kubozuka and Ogata have the largest roles, there are many other Japanese actors acquitting themselves admirably in the film. Look for brilliant Paris-based actor Yoshi Oida and beloved actor/cult director Shinya Tsukamoto in important roles, as well as appearances by Shun Sugata, Nana Komatsu, Ryo Kase and even actor/director Sabu (who was in Taiwan to film his upcoming Mr. Long, which world premieres next month at the Berlin Film Festival).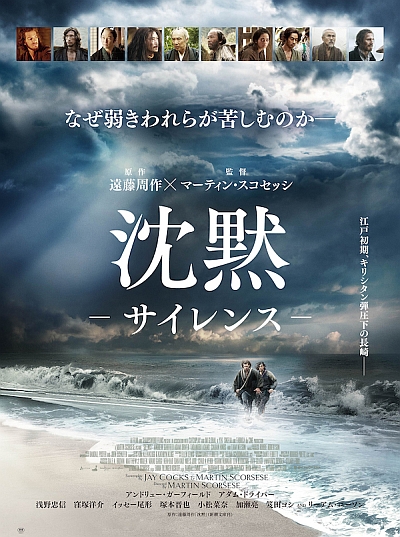 ©2016 FM Films, LLC. All Rights Reverved.
Posted by Karen Severns, Friday, January 13, 2017
Media Coverage
TV Exposure
    テレビ朝日   グッド!モーニング エンタメまとめ   浅野忠信 アカデミー賞に自信 「選ばれると思っている」
    テレビ朝日 グッド!モーニング 見逃せない!ストライクニュース まとめ
        アカデミー賞ノミネートに期待 映画「沈黙」日本人俳優が熱演
        イッセー尾形の熱演にオスカー期待の声
    フジテレビ   めざましテレビ アクア エンタメアクア500   「沈黙-サイレンス-」会見 窪塚洋介 ジョーク連発
    フジテレビ   めざましテレビ OH!めざめエンタNOW 巨匠スコセッシ作品出演 浅野忠信 アカデミー賞に自信?
    フジテレビ めざましテレビ OH!めざめ エンタ RANKiNG 窪塚洋介 スコセッシ監督にスルー!?
    日本テレビ ZIP! SHOWBIZ TODAY 窪塚洋介 外国人記者前に会見
    日本テレビ スッキリ!! 日本外国特派員協会記者会見/窪塚洋介、浅野忠信、イッセー尾形
Read more
Published in: January
Tag: Martin Scorsese, Tadanobu Asano, Yosuke Kubozuka, Issey Ogata, awardwinning, Shusaku Endo, Christianity    
Comments