Image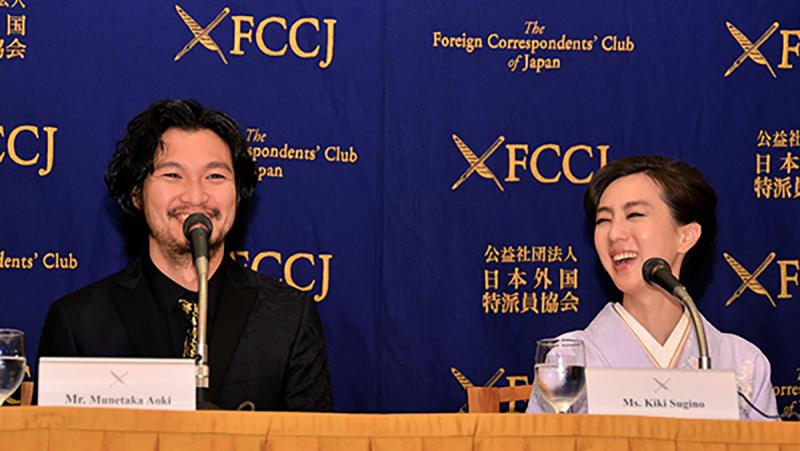 The chilly relationship they depict onscreen is clearly all an act; indie film queen Kiki Sugino and her costar Munetaka Aoki seemed like the oldest of friends during the Q&A session following FCCJ's sneak preview of their film Snow Woman. Trading compliments, laughing frequently, they were relaxed and loquacious, the polar opposites of the characters they play.
After the first three questions had gone to the director, Aoki even felt comfortable enough to break in and say, "I want to answer a question now." Asked about his (fairly erotic) love scene with Sugino, and his experiences working with a female helmer, the popular actor (Rurouni Kenshin, A Woman Wavering in the Rain, NHK's Chikaemon) answered by first demonstrating his impressive English skills: "When I got this offer, I was really excited," he said, "because [Sugino] is really talented as an actress and a producer, and I really wanted to work with her." Switching into Japanese, he continued, "As an actor, you always want to be inspired by your director, and that goes for male directors and directors who are younger than you. I was able to throw myself into the world of Snow Woman, but I don't think it was because Ms. Sugino is female. I enjoyed it immensely. As for the love scene, yes, it was the first time I had a love scene with my director, and it was very interesting."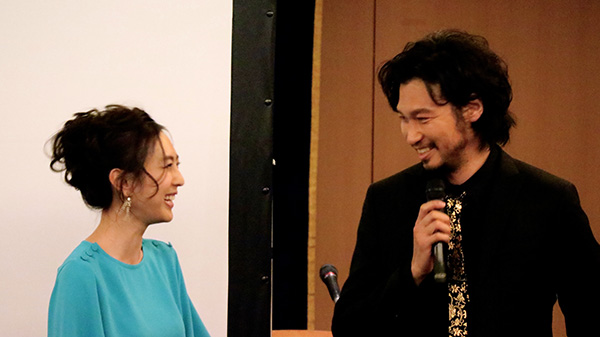 The costars introduced the film before the screening.   ©Koichi Mori
Sugino was marking her third visit to FCCJ, but her first as a director — she had joined us as producer-star of Koji Fukada's Au revoir l'éte in 2014, and as producer-star of Takuya Misawa's Chigasaki Story in 2015. A veteran of just 10 years in the film industry, she has been active on both sides of the camera — and internationally — since producing the award-winning Hospitalité, also from Fukada, in 2009. She made her own directorial debut with a pair of disparate features in 2014, one an adaptation of a popular manga (Kyoto Elegy); the other based on an original story about a Japanese couple visiting Indonesia (Taksu). It won her the Rising Director Award at the Busan Film Festival.
Snow Woman, which Sugino also co-wrote and shot in her home prefecture of Hiroshima, earned a Competition berth at the 2016 Tokyo International Film Festival, and accolades like this from Variety: "[I]n her most accomplished film yet, Sugino finds the icy heart of an ancient, oft-repeated story, and makes it her enigmatic own."

Sugino directed, cowrote and starred in her third feature, her first period piece. ©FCCJ
That story is the ghostly "Woman of the Snow," from Lafcadio Hearn's 1904 anthology "Kwaidan: Stories and Studies of Strange Things; " and although it may seem overly familiar to the Japanese (and fans of Masaki Kobayashi's 1965 Kwaidan), Sugino's gorgeously lensed reinterpretation offers a suitably modern approach. Make that modernist. It is set in a timeless era when mountaineers sleep in huts under straw mats while factory workers engage in the production of electrical goods; when girls sing in haunting unison as they carry bowls of plums on their heads, where news seems to travel only by grapevine, not by internet.
"It takes place in the present," explained Sugino, "but in a parallel present. You see influences from the Taisho and early Showa eras in the set design and the costumes. When you go back to the original story, you don't know if it takes place 1,000 years ago, 100 years ago or now. The essence of the story transcends time. The snow woman as a being really is science fiction, so she can't be constrained to any period." She mentioned that the plum-carrying girls are actually engaging in a traditional coming-of-age ritual, but that the song was specially written for the film. "It's a symbolic moment in the film. The girls [are crossing a river], which is a symbol of the in-between from childhood to adulthood, just as the boat is symbolic of being in between two worlds [the netherworld and the real world]."

Aoki had a superlative 2016, and heads to a 3-month run on the stage in 2017.  ©Kochi Mori
The stylized, elliptical Snow Woman is daringly short on dialog and long on such metaphors. The average multiplex-goer may be disappointed with its lack of transparency, but there are scenes of such trancelike beauty and mesmerizing mystery, the arthouse viewer will look past the film's many riddles, and succumb to its stately pace and poetic power.
One snowy night deep in the mountains, a young hunter named Minokichi (Aoki) awakens to see a beautiful yuki onna hovering over his mentor, Mosaku (Shiro Sano), literally stealing his breath away. "Should you tell anyone," she warns the hunter, "I will take your life." Minokichi's encounter is so surreal, he does not dare to believe it occurred. A year later, he meets and marries a beautiful lass from another village, an outsider named Yuki (Sugino). She bears him a daughter, Ume, and they live a happy, if frugal, existence. But as the years pass, there are several more mysterious deaths, and the villagers begin pointing fingers in Yuki's direction. Minokichi remains mum, yet his doubts begin to grow. It isn't until Ume blossoms into a radiant young lady (emerging star Mayu Yamaguchi) and befriends the village leader's son that his troubles really begin.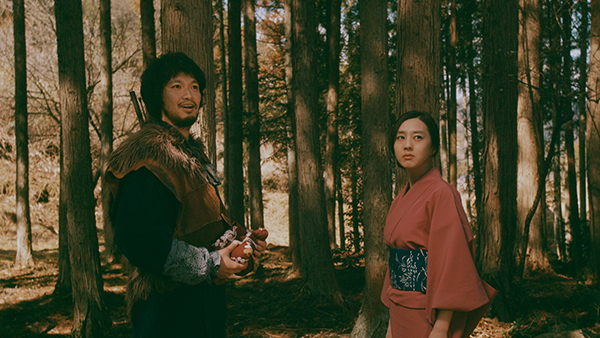 Minokichi and Yuki in the woods.  ©Snow Woman Film Partners
Lauding the director's aesthetic mastery of the medium, one journalist asked Sugino about her inspirations. "I've really been inspired by Daiei movies, which I love, especially the work of Kenji Mizoguchi and Yasuzo Masumura," she enthused. "For this film, I drew a lot of inspiration from Kozaburo Yoshimura and Yasujiro Ozu, especially Ozu's use of color in Floating Clouds. They inspired me to become a filmmaker, and I think you can feel their spirit in this film, in its depiction of the traversing between the netherworld and the [real world]. I suppose some people were hoping for more of a contemporary take on this folklore story, but I think it blends aspects of classic and contemporary cinema."

Left: ©Kochi Mori, Right: ©FCCJ
Discussing the impetus for her adaptation, Sugino explained: "I read [Hearn's] book about 4 years ago. He was born in Greece, then lived in Ireland and the US, working as a journalist, and ultimately, came to Japan and naturalized as a Japanese. Through his work, he wanted to convey the spirit and virtues of Japan to both the Japanese and non-Japanese. I think he also wanted to convey the spirit of coexistence [even] with something you can't quite grasp or someone that is different from you. Considering the intolerance toward immigrants in Europe and the radical philosophies developing in the US, I think it is so important to keep in mind that coexistence is one of the cornerstones for building the future. I think [Hearn's] story reflects this ideal, and that's why I felt there was a lot of meaning in making it into a film in this day and age."
Asked about the earlier adaptation by Masaki Kobayashi, Sugino said, "I love Kobayashi's Snow Woman, which is faithful to the short story. "But I wanted to take a different approach. I didn't want to copy his work, and we had budget limitations [that Kobayashi didn't have]. So the question was, what type of point of view do I imbue the film with, how do I bring a new twist to it? That's where the daughter comes in, the daughter of Yuki and Minokichi, a half-breed between a human and non-human. I think [her existence] also makes it relevant to this day and age."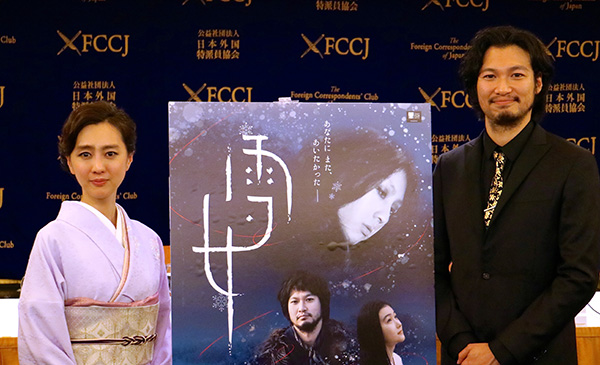 Emerging star Mayu Yamaguchi plays the "halfbreed" daughter of Sugino and Aoki.  ©Kochi Mori
Commenting on assembling her cast and crew, Sugino said, "I was able to assemble my favorite actors and actresses for this film. I had Mr. Aoki in mind from the very beginning. I hadn't even completed the script when I went to him with the story, and it was like a dream, being able to work with him. I don't think I'm someone with special leadership skills, but I feel strongly that I have more passion than other people. When I want to do something, I find a way to do it, I find a way to tell people that I want to involve them in my project. I think maybe I'm more persistent than others. I don't know if I have the technique to convey what I want, but I have passion and I put it in a straightforward way, albeit clumsily at times."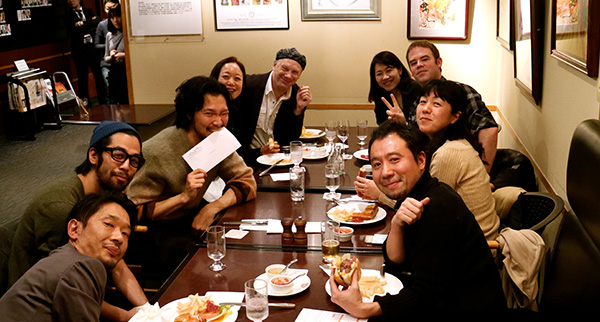 Aoki brandishes his new Honorary FCCJ Membership card after the event.  ©Kochi Mori
She concluded, "I really enjoyed the process of making this film, because all the actors, not only Mr. Aoki, were so committed to it, and we were able to collaborate a great deal."
"What choice do you have," laughed Aoki, "when the Snow Woman looks into your eyes and warns you that she'll kill you? You just have to put everything you've got into the film."
On a more serious note, he added, "Ms. Sugino's personality attracts a lot of people. She has this power."
Countered Sugino, "Mr. Aoki is only saying such kind words because we're in front of the press."
But Aoki got in the last word: "She really is the Snow Woman. We shot this film last year and it was a very warm winter, but whenever she came on set, it would snow. The cast and crew started wondering about her. But it made us all believe that it was going to be a wonderful creation and a wonderful film."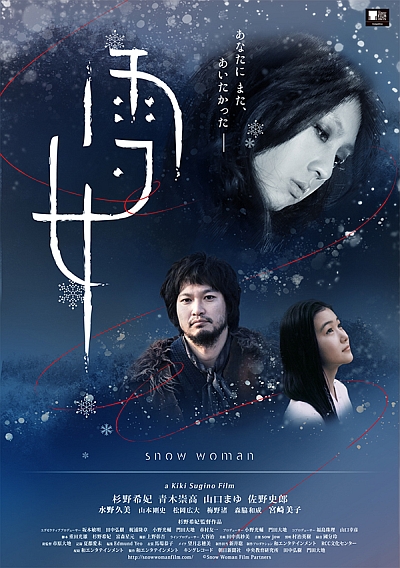 ©Snow Woman Film Partners
Posted by Karen Severns, Sunday, February 26, 2017
Coverage
Read more
Published in: February
Tag: Kiki Sugino, Munetaka Aoki, Lafcadio Hearn, Masaki Kobayashi, Kwaidan    
Comments