Image
In a prolific career that has taken him from the US to Russia to Poland to Japan and beyond, American-bred Australian Roger Pulvers has been known primarily as an award-winning author, translator, journalist, playwright, theater director and educator. Despite having famously served as Nagisa Oshima's assistant on Merry Christmas, Mr. Lawrence (1983), and as co-writer of Takashi Koizumi's Best Wishes for Tomorrow (2008), he has notched most of his achievements in realms other than film.
But he has just added another feather to his cap: film director.
A familiar figure at FCCJ, Pulvers sneak-previewed his directorial debut, Star Sand, ahead of the world premiere on April 22 at the Okinawa International Movie Festival. When he was asked what took him so long to helm his own production, Pulvers laughed, "I would have liked to make a movie a long time ago. I had a plan in 1990, but the asset bubble burst and I couldn't."


Oda and Mitsushima both lauded Pulvers' directorial skills.    Above: ©FCCJ  Below: ©Koichi Mori
He recalled how he'd visited Hatomajima in 1977, first encountering the sparkly star sands (tiny, star-shaped marine protozoa), and hearing that the island had escaped the ravages of war. Some years later, he began thinking about "making a movie about a deserter, making a hero out of a deserter. I think that in times of intense warfare, it is heroic not to fight." With the 2003 invasion of Iraq, "I remembered Vietnam, and I was very angry. So I wrote 'Star Sand.'"
The film is based on that story (later a novel in both English and Japanese), an Okinawa-set mystery tale with a powerful message about compassion and quiet acts of heroism during wartime. Calling in favors from his nearly five decades in Japan, Pulvers was able to cast A- list actors like Shinobu Terajima, Renji Ishibashi and Mako Midori, and to shoot on location in Iejima with veteran cinematographer Shinji Ogawa and art director Koichi Kanekatsu (it was the first production ever permitted on the island, which had been destroyed by bombing in 1945). The film's haunting theme song was written by Oscar-winner Ryuichi Sakamoto, an old friend from Merry Christmas days (which also deals with a friendship between soldiers from opposing sides).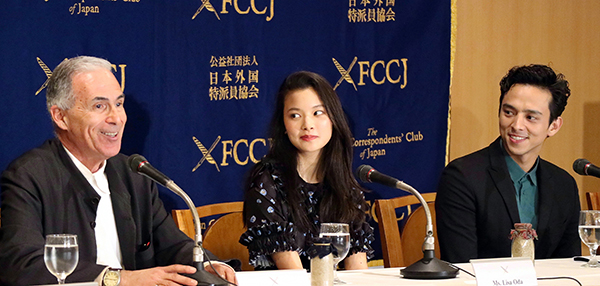 ©Koichi Mori
Star Sand jumps nimbly between three distinctly different eras — April 1945, 1958 and 2016 — although its primary action takes place during the horrific Battle of Okinawa on a tiny speck of land remote from the main theater of action. Nevertheless, its inhabitants have all been touched, some in more disastrous ways than others, by the Pacific War. Sixteen-year-old Hiromi (Oda) has recently arrived on the island, while her father goes to work in a Nagasaki factory and her Japanese-American mother stays in Los Angeles. Out hunting for star sand one day, she comes upon two men in a cave. One is Takayasu, a Japanese deserter (Mitsushima); the other is an ailing American deserter named Bob (Brandon McClelland). Hiromi helps nurse Bob back to health, and brings food to the two men, who pledge never to commit an act of violence again. All is well until Takayasu's brother, a fanatical soldier (Takahiro Miura), discovers the trio and vows to kill them all. Eventually, three of the four people in the cave will perish; we do not learn their identities until a modern-day university student in Tokyo reads a diary discovered in the cave in 1958, and goes on a quest to uncover the startling secret.
Pulvers brought along his two young stars, Lisa Oda and Shinnosuke Mitsushima, both of whom are on the cusp of major career recognition, to the FCCJ event.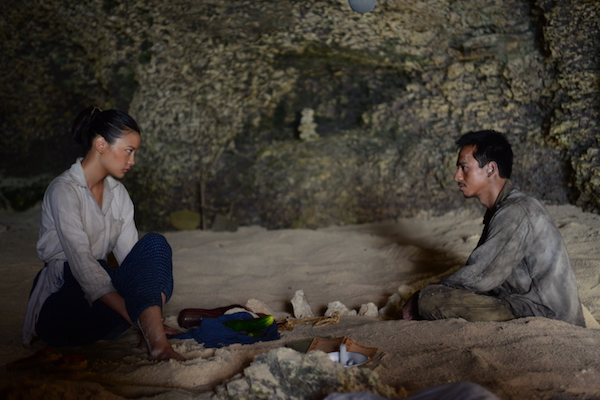 © 2017 The STAR SAND Team
A popular model since 2012, Oda made her memorable film debut just a year ago, playing a young woman who holds the key to a grisly crime in Keishi Ohtomo's The Top Secret: Murder in Mind. Although she has also been appearing for the past two seasons as Sena, the pirate girl, in NHK's television drama Moribito: Guardian of the Spirit, Oda's acting resume is extremely slender for one so poised. She is not only the protagonist of Star Sand and its emotional center; she also delivers nearly half her lines in English.
Greeting the audience in English prior to the Q&A session, Oda was clearly nervous in front of her first crowd of international critics. "I was delighted to be offered the part of Hiromi, and couldn't believe my good luck," she told the audience. "Actually, I was so nervous because I have not had much acting experience. Also, I really didn't know about the wartime history of Japan. The biggest problem was how to be Hiromi with the right emotional responses. It wasn't easy, but thanks to guidance from everybody, I was able to [play the role]. I'm grateful for the chance to be part of Star Sand."
Mitsushima proved to be as loquacious in person as his Star Sand character is reticent. "Good evening, everyone," he introduced himself, also in English. "I'm from Okinawa, and I'm very honored to join this film and to be here tonight." Switching to Japanese, he continued, " When I met Roger, he showed me a photo of an island, and I knew right away that it was Iejima, where I spent a lot of time [visiting] in my childhood. Being from Okinawa, you hear a lot more war stories and wartime experiences, and we see people who still have bullets in their bodies and older people who have lost limbs. The war is part of our being. So I worried about taking the role, since it would mean that I would have to face my identity as an Okinawan and shoulder the sentiments of my ancestors. Also, my grandfather is an American, so I would not have been born if it weren't for World War II. But I was taken with Roger's passion. Without him, it wouldn't have been possible."

Both ©FCCJ
Pulvers returned his stars' compliments: "I knew from the very beginning that if I didn't get Lisa to play Hiromi, no one else could," he said. "I think there are many among you tonight who will agree that she's quite miraculous. As for that guy over there [indicating Mitsushima], that Okinawan-American, I thought there wouldn't be a chance to get him in my movie. But when he saw that photo of Iejima and recognized it immediately, I put my dibs on him. It's probably the first time a director's gotten an actor just by showing one photograph."
Asked how they prepared for their roles, Oda said, "I wouldn't be so pompous as to call my preparation for this role an 'approach,' but I will say that the first thing I did was to work with the director on improving my English pronunciation."
Mitsushima, who's been acting on stage and screen since 2010, and will appear in five other high-profile films this year (including titles by Takashi Miike, Yoshihiro Nakamura and Hirokazu Kore-eda), mentioned that the rehearsal period had been very helpful. "The character I play doesn't have a lot of lines, and he's the symbol of how Roger sees the Japanese — the conflicts, the strengths, the love for their families. I could prepare for that on my own physically, but I wouldn't have been able to capture the essence of the character without having many, many discussions with the director. He knows twice as much as [the younger actors] do about Japan and Japanese history."

An Okinawa representative invites Pulvers to return soon and make a sequel. ©Koichi Mori
He continued, "I decided to not take too cerebral an approach, but just to feel it emotionally, to bring back my childhood memories of spending time in caves. As [the character] says, 'The world may be at war, but you're able to breathe when you're in this cave.' We actually shot in one of the caves where people hid during the war, and you could feel this intangible power. I would get goosebumps every time we went in. Brandon and Miura-san and I would offer incense and prayers to the deceased each time, to help us connect with that generation."
Pulvers was asked why he cast himself — in a very small role in the film's closing minutes — in his own film. "I didn't want to!" he lamented. "I've known [actress] Mako Midori forever; we're the same age, and I had to play her son! But my producers put pressure on me, probably because they didn't have money to audition someone else. So the biggest ham actor comes out at the very end."
Star Sand will be opening in Okinawa before its Tokyo run begins in August, during the annual period of war remembrance, and Pulvers is sure to feature even more prominently in media analyses about the escalation of tensions in Asia. By bravely recasting war's so-called cowards as the real heroes — the "true messengers of peace," as he puts it, Pulvers' first film is a poignant reminder that, even in periods of hatred and brutality, there is also the chance for hope.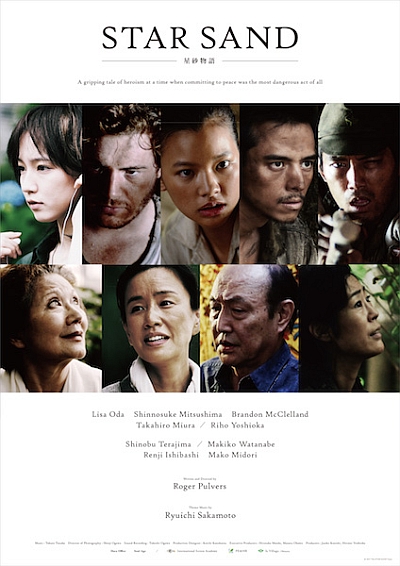 © 2017 The STAR SAND Team
Posted by Karen Severns, Friday, April 14, 2017
Press Coverage
Read more
Published in: April
Tag: Roger Pulvers, Lisa Oda, Shinnosuke Mitsushima, WWII, Okinawa    
Comments