Image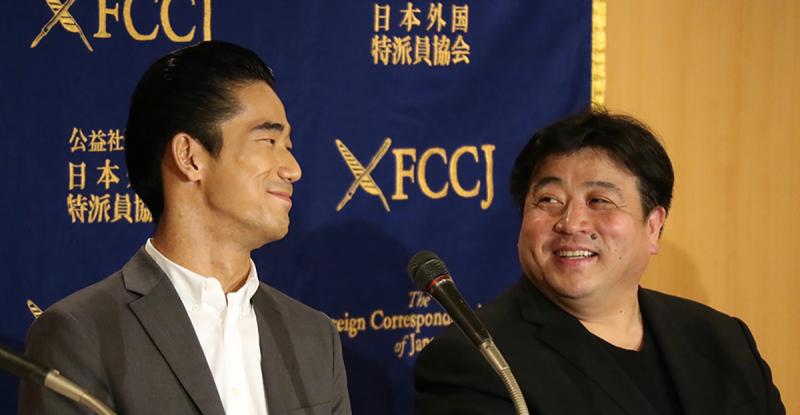 Writer-director Yoshinari Nishikori is a history buff. Nothing excites him like discovering little-known or forgotten facts about bygone Japan — especially those that relate to Shimane, his home prefecture — and bringing his discoveries to the big screen. Four of his films have been shot in Shimane, and his latest, the gorgeously cinematic parable Tatara Samurai, is no exception.
The director's first jidaigeki period piece, it is set in a small village in ancient Izumo that is renowned for its steelmaking prowess. Using a secret method to forge the purest steel known to man, the blacksmiths of Tatara have become legendary. Their fame attracts warriors from across the land during the 16th-century Warring States period, lured by the promise of indomitable katana swords. But it also attracts the unwanted attentions of rival clans, and of merchants bent on procuring steel for the latest weaponry: firearms.
Gosuke (Sho Aoyagi) has been groomed from youth to become the next Murage (master blacksmith) after his father and grandfather. But he dreams of leaving home to become a samurai under Oda Nobunaga, and one day, he siezes his opportunity. On the road, he meets the merchant Yohei (Takashi Sasano), who helps him join Oda's army. But Gosuke proves to be no soldier, and returns home resigned to his fate. When Yohei later arrives to ply guns over blades, there is little resistance from the villagers, except for Gosuke's childhood friend Shimpei (Naoki Kobayashi), who senses the merchant's true motives but is branded a traitor and banished. It isn't until the Izumo lord, Shinnosuke (Akira), falls victim to the senseless violence that accompanied the armaments, that Gosuke begins to understand the true essence of the Bushido spirit.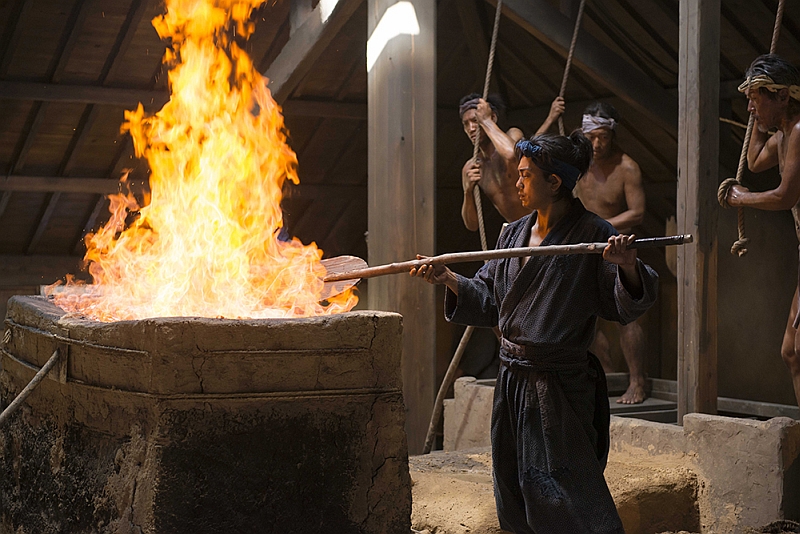 Aoyagi at the tatara oven. ©2017 Tatara Samurai Production Partnership
Appearing for the second time at FCCJ after his 2013 Konshin (also set in Shimane and also starring Aoyagi), the irrepressible Nishikori discussed the impetus for the film: "Japanese people think they know their history, but I discovered they didn't know the story of tatara-buki and the swords that were made in Shimane," he said. "The tatara [smelting] technique is better at producing steel for swords than today's state-of-the-art machines."
The 1,300-year tradition of passing down tatara-buki through the generations had been halted after World War II, the director explained, before being resumed under the auspices of the government. In 1977, the Agency for Cultural Affairs and the Japanese Society for the Preservation of Japanese Art Swords (Nittoho), built the Nittoho Tatara foundry in Shimane with Hitachi Works to provide the steel necessary for the continued production of Japanese swords. It operates only between late January and early February, but creates the purest, most refined form of steel available anywhere — attracting customers from around the world, including Stephen Spielberg, for its sought-after blades.
"Hitachi's employees carry on this legacy," said Nishikori, "and [tatara-buki] is still a secret technique."

Nishikiori explains the finer points of steelmaking. ©Mance Thompson, Koichi Mori
But Nishikori wasn't inspired to make Tatara Samurai just because he was intrigued with the ancient craft. In the production notes, he had called Tatara village "a microcosm of the unresolved problems and suffering that exists across the contemporary world today. The secretive craftsmanship of the tatara-buki and the power-wielding ability of the swords it creates is [similar to] the issues behind global oil demand today. In the film, the village is determined to use arms in order to fend off an impending attack – leading to a critical situation."
The film's allegorical wrapping is difficult to miss, but viewers will find themselves, first and foremost, immersed in its historical accuracies. Among its many impressive features is a fully operational Sengoku-era tatara, and there are dazzling scenes of steelmaking that feel imbued with documentary-level exactitude. Because it is crafted with such loving attention to detailed authenticity, one audience member admitted being confused about whether Tatara Samurai was or was not based on true events.
"There are almost no historical records from the Sengoku period," explained Nishikori. "What we see of this period in films and read in novels is basically fiction. So we based the film on the supposition that this type of thing probably happened, that the people in power were trying to get their hands on the tamahagane steel [used to forge the samurai blades].

Kobayashi answered in English, and then translated himself.  ©FCCJ, Mance Thompson
He continued, "The people who made this steel were very, very rich and there was a lot of abundance in the region. Through the research we did for the film, we discovered that there was a lot of international trade going on, and there were a lot of foreigners visiting this area. So that's how we constructed the story. Because it was such a rich region and there was a lot of money, Izumo had ties to the people in power, and was under the warlords' protection."
Nishikori was asked about Tatara village itself, and explained that "The village is not real, [but a set]. It was all built for the film, except for the shrine, which is about 1,500 years old. We had a lot of help from the local carpenters in Izumo, the miyadaiku craftsmen who do a lot of restoration work on the Izumo Shrine [Japan's oldest]. They have a specialized technique that allows them to build without using any nails."
Nishikori was accompanied by one of the film's stars, Naoki Kobayashi, a member of the Exile theatrical troupe and leader of the J-pop supergroup Sandaime J Soul Brothers. Although he's been dancing and acting for a decade, Tatara Samurai marks Kobayashi's film debut.
naoki rain
Kobayashi demonstrates his fighting skills in the penultimate batte.  ©2017 Tatara Samurai Production Partnership
During the Q&A session, he immediately charmed the audience with his English skills (apparently perfected over just a single year of study) and his relaxed manner — a far cry from his stoic character in the film. Asked whether he got to use one of the state-of-the-art katana, he said, "I wanted to use a real sword, but this is a movie, right? Of course it was an imitation. But I trained with a real sword to get the sense of being a samurai." (He then plunged amiably into the Japanese version of his response, prompting a spate of Japanese-press headlines about his "self-translation" capabilities.)
Kobayashi was asked whether his dancing had helped him prepare for his demanding role as Shimpei, the devoted friend and sparring partner of Gosuke who is banished from the village when he dares to challenge the gun merchants' motives. "Since I'm a dancer, that experience was the best way [for me] to understand the lives of the characters," he responded. "I like expressing myself through dancing, without any words. Acting uses words, so it's difficult for me. But using my body is close to acting. My character's main scenes are fighting scenes, so expressing myself using my body was easy."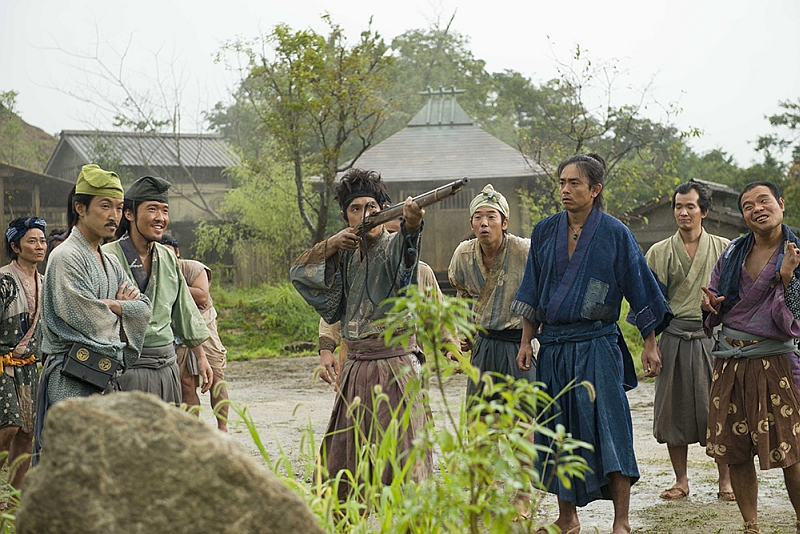 The villagers opt for modern armaments, bringing about a crisis.  ©2017 Tatara Samurai Production Partnership
Another FCCJ viewer asked about the beautiful dance performed by a miko shrine maiden in the film, wondering if it had been influenced in any way by Exile style. Nishikori verified that it is one of many miko-mai that are still performed at shrines throughout Japan. This one was inspired, he said, by "Izumo no Okuni, the woman who started the kabuki tradition. She was said to have been raised in an iron-making house in Shimane and gone to Kyoto, where the tradition took root."
While lauding the film's authenticity, one audience member said he couldn't help noticing an absence of blood. "It's grounded in reality," said Nishikori. "It was intentional to show as little blood as possible. We're used to seeing blood spurting out as samurai are cut or split open. But in reality, that isn't real. The blade is so sharp that the blood doesn't spurt out [like that]. Before Kurosawa started showing blood spurting, Japanese jidaigeki weren't like that."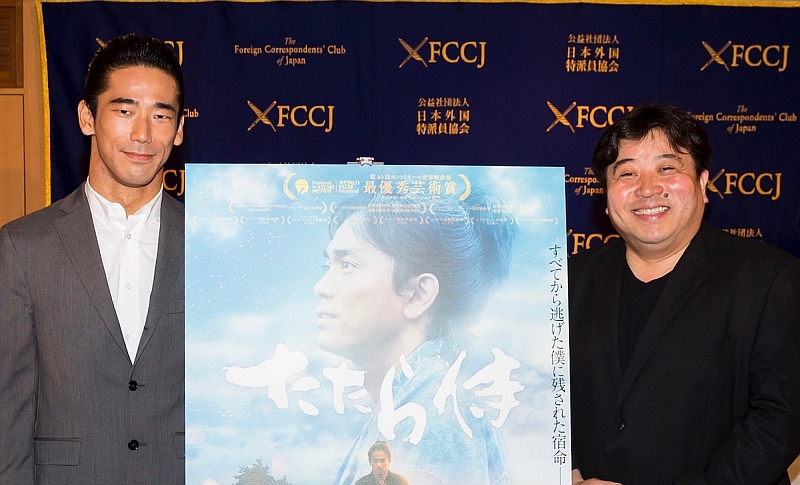 ©Mance Thompson
"Also," he added, "we wanted to make a film that's accessible to children, so the whole family could go and see it."
 
Tatara Samurai was shot on 35 mm film, not on the currently preferred digital format, to better capture Shimane's magnificent scenery and the excitement of swordfights choreographed by famed stuntman Yoshio Iizuka. While limited theaters across Japan will project it in digital 4K resolution, even in its 2K condensed form, the film has the look and epic sweep of the sumptuous cinematic feasts once served up by the major studios. That this independent production achieves such a level of artistry has already earned it international awards, including one for Best Artistic Contribution at the 2016 Montreal World Film Festival.
Izumo is the birthplace of many vaunted Japanese traditions, including kabuki, sumo (which Nishikori celebrated in his earlier film, Konshin) and even sake. Tatara Samurai has not been made to promote the prefecture, but audiences may find it impossible to resist booking a Shimane visit as soon as they've seen the film's stunning visuals.
after bunch KM         
Nishikori and Kobayashi joined attendees in the bar after the screening event.  ©Koichi Mori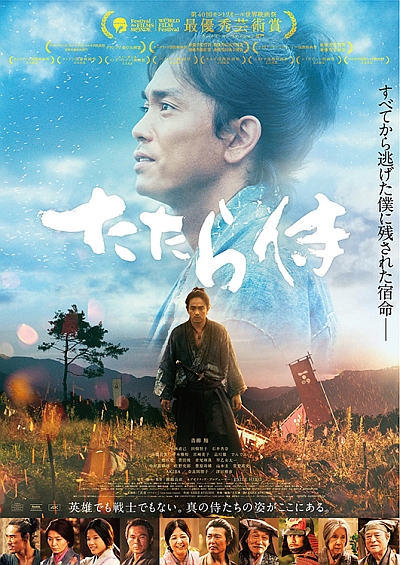 ©2017 Tatara Samurai Production Partnership
Posted by Karen Severns, Tuesday, May 16, 2017
Press Coverage
Read more
Published in: May
Tag: Yoshinari Nishikori, Naoki Kobayashi, Sho Aoyagi, Exile, jidaigeki, samurai, Shimane    
Comments