Image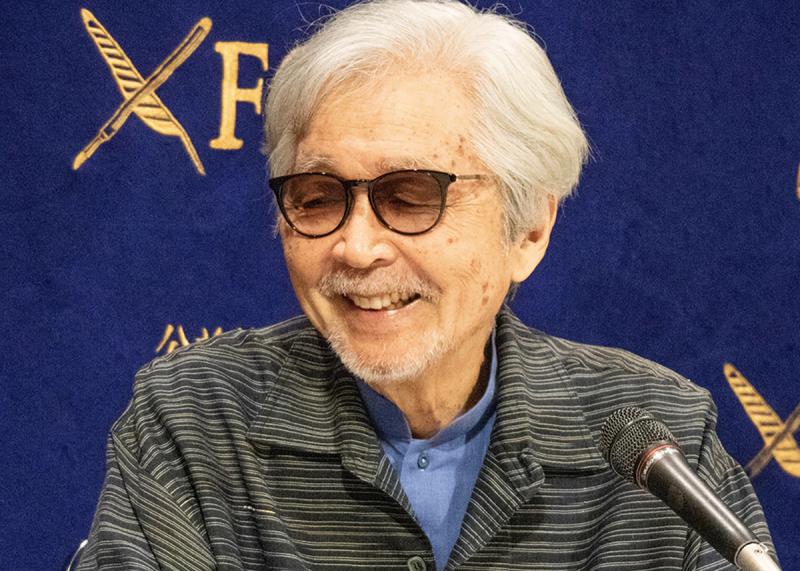 The hottest cinema ticket in Japan this year is sure to be for the 32nd Tokyo International Film Festival Opening Film. Eschewing its long-held tradition of selecting foreign titles for the honor, TIFF has hewed closer to home, where audiences across the country have been eagerly awaiting the release of the 50th title in the legendary Otoko wa Tsurai yo (It's Tough Being a Man) series.
That title — Tora-san, Wish You Were Here, from veteran helmer Yoji Yamada — will open TIFF 32 on October
28, and although the film's beloved star will not be there (he died in 1996), legions of multi-generational fans will.
The Oscar-nominated director (for The Twilight Samurai in 2002) launched the series with Tora-san, Our Lovable Tramp in 1969, when Japan was experiencing dizzying growth and audiences were nostalgic for simpler times. It proved so popular that Shochiku went on to release two Tora-san films each year until 1989, one in summer and one for the New Year's holiday season. Eventually, 49 films hit theaters over a 28-year period, setting a world record. All but two of them were directed by Yamada and all starred Kiyoshi Atsumi as "Tora, the free-spirited fool," a boisterous, penniless salesman who travels through a rapidly-modernizing Japan, falling in unrequited love and dispensing unwanted advice. The last entry was 22 years ago, shortly after Atsumi's untimely death.
The 50th title has been completed in time to celebrate the 50th anniversary of this remarkable achievement. But this isn't simply a commercial ploy for closure. With Tora-san, Wish You Were Here, Yamada has done something truly groundbreaking: the film recaptures the spirit of the "lovable vagabond" through innovative technology that seamlessly interweaves new footage with 4K digitally restored footage featuring its late star. Rather than feeling like he's been digitally inserted into scenes, Tora-san comes vibrantly, startlingly alive, and reminds us all how much he's been missed. (For those who haven't followed the series, it also serves as a fitting introduction, with actors literally aging 50 years on screen.)

Yamada shares a laugh with his old friends Ando, left, and Hisamatsu.  ©Koichi Mori
Following a very special sneak preview of Tora-san, Wish You Were Here with English subtitles at Shochiku, Yamada joined TIFF Festival Director Takeo Hisamatsu and Japan Now Programming Advisor Kohei Ando at FCCJ for a brief rundown of this year's festival, and a rewarding Q&A session focused on his new landmark film.
At the packed session, which included many foreign fans — one of whom had flown in for two days from France just to cover the event — Yamada was asked about the biggest challenge of sustaining a series for 50 years. He responded, "Audiences always come to see a new Tora-san film because they want to see him again and spend time with him, so you can't betray their expectations, and that's [not easy]."
And then, sounding like another famous Shochiku director (Yasujiro Ozu, who likened himself to being a tofu maker), he sketched a metaphor: "I think my job as a director, especially with this series, is a lot like being a restaurant cook, trying to anticipate what the customers want to eat. You want them to say, 'Oh, this is exactly what I felt like eating.' You don't want them to leave disappointed, the same way you don't want the audience to leave disappointed. You want them to say, 'This is exactly the kind of film I was hoping for!'"
The master chef also spoke, with several emotional pauses, about his star: "The most difficult film to make was the 48th film. By that time, Atsumi-san had become quite sick. We knew that he might have only two or three years left. So we were in a quandary about whether we should continue to shoot. We had to keep his physical condition in mind while writing the script." (At Atsumi's wake, Yamada would apologize for pushing his star so relentlessly; but one imagines Tora-san was a sustaining force for the actor.)
On a brighter note, he said, "It's been 20 years since Atsumi-san died, but if he were still here and saw the film, I think he would be surprised. I have the same sense of surprise myself. In the very first Tora-san film, there's a scene where Tora's little sister Sakura, played by Chieko Baisho, is being proposed to by the man she later marries. Baisho-san was 25 years old at the time, and she's 75 now. [In the new film] the other cast members have also aged, but Tora-san has stayed the same. In a sense, he's like Chaplin's Little Tramp or Marilyn Monroe."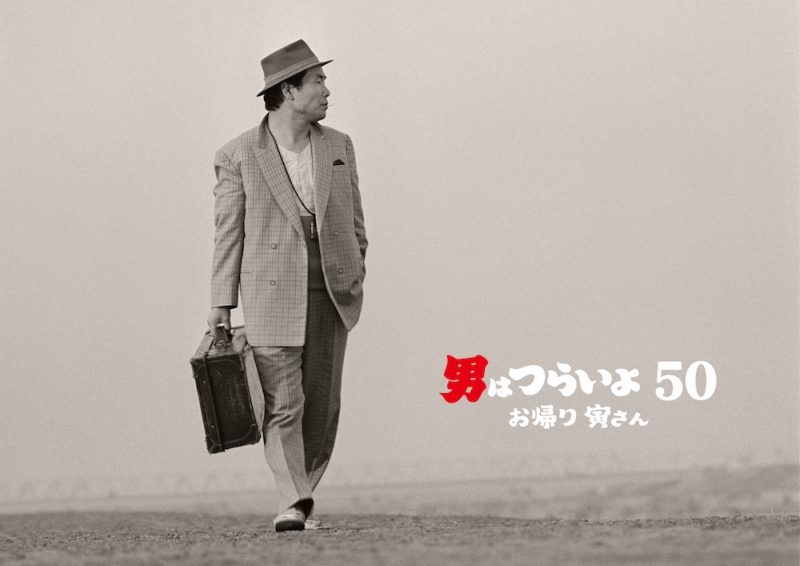 The iconic traveling salesman returns.  ©2019 Shochiku., Ltd.  ©2019 TIFF
Asked how it felt to be selected for the TIFF opening slot, Yamada chose his words carefully. "There are numerous film festivals around the world, and needless to say, TIFF is the one that represents Japan. I think it's very important for TIFF to have a certain character, a theme that differentiates it, something that people can't find in any other festival. I hope that TIFF continues to work towards that goal so that it becomes a truly unique festival in the world."
In fact, TIFF is differentiating itself this year by further intensifying its focus on Japanese offerings. Takeo Hisamatsu, in his third year as festival director, told the FCCJ audience, "As you know, the 32nd TIFF is being held in the first year of Japan's new Reiwa Era. Next month, many guests will be coming from around the world for the ascension of the new emperor. We're in the midst of the Rugby World Cup right now, and next year, we 'll host the Tokyo Olympics and Paralympics Games. So Japan is in the global spotlight, and there's no better time than the present to showcase wonderful films from Japan in this year's TIFF.
"I feel almost a sense of fate that we're able to present Yoji Yamada's Tora-san, Wish You Were Here as the TIFF Opening Film, since I've been watching all the Tora-san films as they were released and I have a warm spot in my heart for the series. Also, being a former Shochiku employee myself, I've had the great pleasure of working with Yamada-san and the opportunity of visiting the set as they were shooting the films."
Kohei Ando, TIFF's Japan Now programmer since the section was created six years ago, was also excited about Yamada's inclusion. "The Japan Now section's mission is to showcase recent Japanese films that reflect the present state of this country, its aesthetics, its culture and philosophy," he explained. "In that sense, showcasing a film like Tora-san, Wish You Were Here as the Opening Film of the festival is very much in line with this purpose, as it's one of the most prominent and noteworthy titles to open this year. I have a twinge of regret about not being able to show this wonderful film in the Japan Now section, but it gives me great satisfaction that we're able to present it as the Opening Film."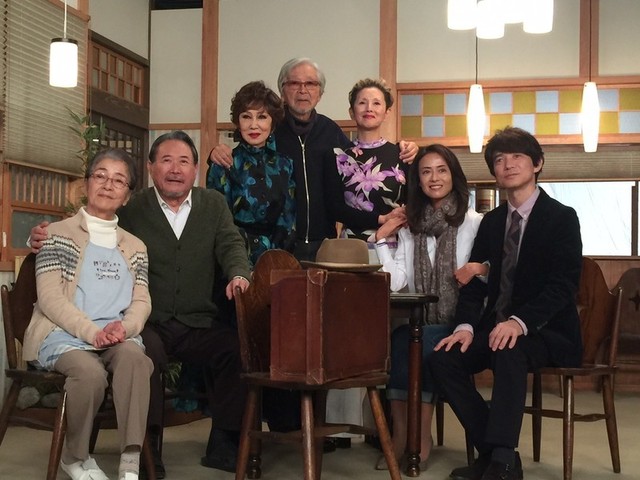 Yamada and his Tora-san family.
©2019 Shochiku., Ltd.
Among the 14 films in the Japan Now section will be a selection of works by another legendary filmmaker, Nobuhiko Obayashi, of House fame. "As many of you probably know," said Ando, "Mr. Obayashi was diagnosed with cancer three years ago. Nevertheless, two years ago he shot a wonderful film called Hanagatami. And despite his ongoing battle with the disease, he has now shot yet another, Labyrinth of Cinema, and it's another marvelous piece of work."
Aging, disease, death: the Q&A session couldn't avoid these topics. But the multigenerational audience didn't seem to mind. After all, these are essential components of Tora-san, Wish You Were Here.
The series resumes on the sixth anniversary of the death of Mitsuo Suwa's wife, and the family has gathered at a memorial service behind Kurumaya, the traditional confectionery store on the approach to Taishakuten Temple in Shibamata, which has now been reborn as a modern café. Tora's sister Sakura and her husband Hiroshi still live in the quarters at the back, which have remain unchanged.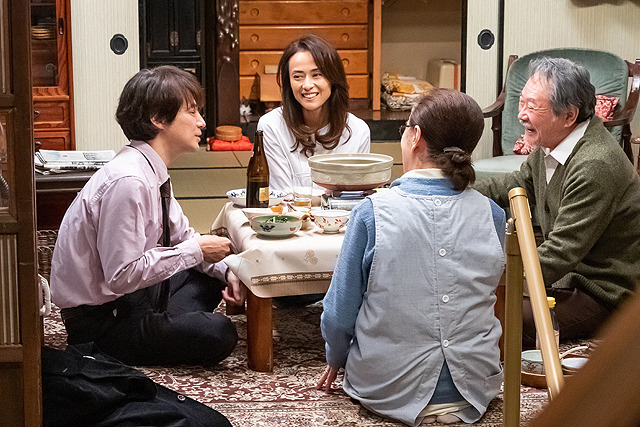 Mitsuo, Izumi, Sakura and Hiroshi recall the old days.
©2019 Shochiku., Ltd.
After the service, conversation inevitably turns to lively reminiscences of the past (beautifully illustrated with "flashbacks" from earlier films in the series), especially the many times that Torajiro, the black sheep of the Kuruma family, brought his latest unrequited love interest back with him, sending the house into an uproar.
Tora's now-40ish nephew, Mitsuo (Hidetaka Yoshioka), has recently left his office job to become a novelist. At a book signing, he runs into his first love, Izumi (Kumiko Goto), who moved away to Europe as a teen and now works there as a UNHCR diplomat. Both have since married and had children, but as they talk, the years begin to melt away. Mitsuo takes Izumi to a small jazz bar, owned by the still-gorgeous Lily (Ruriko Asaoka), Tora's greatest love.
The two women last saw each other over 20 years ago on Amami Oshima, and Lily finally reveals why she and Tora never married. Later, they go to visit Sakura and Hiroshi, and it gets late, so Izumi sleeps on the second floor, with plans for Mitsuo to drive her to a reunion with her father the next day. And so a new chapter begins
…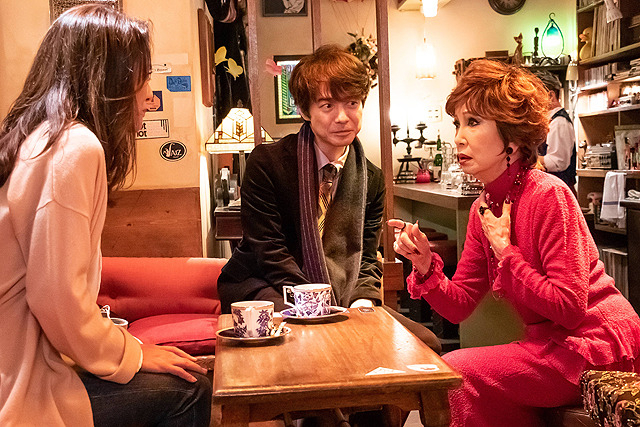 Lily tells Izumi what happened.
©2019 Shochiku., Ltd.
"I have made dozens and dozens of films over the course of more than half a century," Yamada told the audience. "But making this newest film in the Tora-san series, I wasn't sure just what I was embarking on. Throughout production, I was a bit anxious about it, but I was [looking forward to seeing] what it would ultimately become. When I viewed the completed film, I realized that it really took 50 years to make. Without my longevity, I wouldn't have been able to make it."
A young foreign journalist praised the film and queried, "I think it's quite a feat to direct a film this good at the age of 88. If you were to direct another, what would you want it to be?"
"When I think about my age, it fills me with anxiety," the director admitted. "I sometimes feel I shouldn't have this luxury of making films. But Clint Eastwood is still making films (at 89), so I suppose I should follow suit. Portuguese director Manoel de Oliveira and Japanese director Kaneto Shindo both shot films until the age of 100, so I think there's still hope for me."
Interjected Ando, to audience delight, "Yamada-san is just like Tora-san: he simply doesn't age."

Yamada charmed the audience with his candor and enviable energy.  ©Koichi Mori
Another foreign journalist, professing herself a fan of the series, asked what criteria Yamada had used to select the actresses who played Tora-san's love interests, the so-called "Madonnas," and why he hadn't selected Momoe Yamaguchi, one of her favorite actresses.
Yamada responded, "First, I thought about what kind of actress he would fall in love with. Tora-san could really fall in love with just about any type of woman. Selecting the Madonnas for each film was an enjoyable process. Of course I also considered approaching Ms. Yamaguchi, but she'd already retired from acting, so that unfortunately couldn't happen."
In one of the film's many touching flashbacks, a teenaged Mitsuo asks his uncle what life is for, and Tora answers, "There are times in life when a man is glad to be alive. That's what we live for." When an audience member asked Yamada whether he'd had times like that, the director grew serious. "To be honest, we live in a world where not everything is happy. There are situations both at home and abroad that we cannot be happy about. I hope there comes a time when I'm thankful to have lived this long so I could see it."
The French journalist who had specially flown in for the event asked the director why trains and train stations played such an important role in all the Tora-san films, and why, in this one, a pivotal scene is set in an airport instead. Said Yamada, "Tora-san is a traveling salesman, always on the move. He can't drive, so he has to take the train. But he doesn't take the shinkansen, it's too fast for him. He enjoys going from town to town on these slower trains. He enjoys drinking his sake and making friends on these train rides. And he's never disappointed that he doesn't arrive earlier. The way he's sees it is, 'Why would I pay extra to arrive at my next destination any earlier?' His sense of time is different from Mitsuo and Izumi's, and that's why you see them at the airport.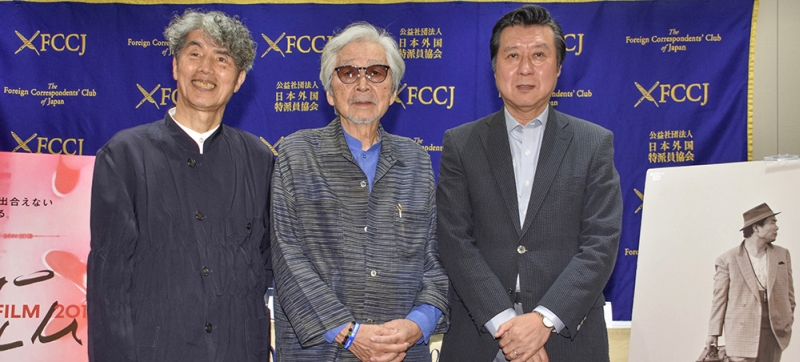 ©︎FCCJ
"But there is one other time in the series where you do see an airport: that's when Tora-san is going to Okinawa. He's afraid of flying, so his family members have a hard time convincing him to get on the plane. Ultimately, he boards the plane only because an attractive flight attendant comes along and tells him it's safe."
For those longing to revisit these and other earlier episodes, Shochiku is releasing 4K digital restorations of all 49 previous films on Blu-ray, culminating in the nationwide release of Tora-san, Wish You Were Here on December 27.
If you're lucky, you'll catch the film earlier at TIFF, which will be screening 170 films from past and present, and holding a variety of related events, from October 28 – November 5 in Roppongi, Hibiya and elsewhere in Tokyo.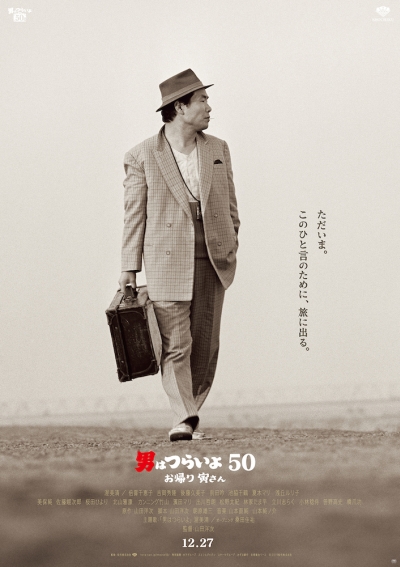 ©2019 Shochiku., Ltd.
Posted by Karen Severns, Saturday, October 05, 2019
Selected Media Exposure
Selected TV Exposure
・ めざましテレビ 2019年10月4日(金)05:25~08:00 フジテレビ
Selected Printed Media Exposure
・Nikkan Sports
・Sports Hochi
・Daily Sports
・Chunichi Sports
Read more
Published in: October
Tag: Yoji Yamada, Torasan series, Tokyo International Film Festival, Takeo Hisamatsu, Kohei Ando, Oscar    
Comments