Tuesday, June 20, 2017, 07:30 - 08:45
Dr. Yukio Yanagisawa
Principal of Kaisei Academy
(Kaisei Junior & Senior High School)
Title: Characteristics of Secondary Education in Japan and the US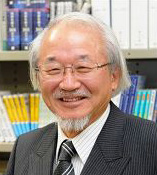 ​​​​​​​
Speaker's profile:
Dr. Yukio Yanagisawa was born in 1947. He graduated from Kaisei High School in 1967 and the University of Tokyo, Department of Chemical Engineering in 1971, after which he worked as a system engineer at a computer company for three years. Following this, he returned to the University of Tokyo to study air pollution and gained his doctorate in engineering.
In 1984, he joined the Dept. of Environmental Health at Harvard School of Public Health, and taught in various capacities until 2002. In parallel, from 1993-1997, he served as chief researcher at the Research Institute of Innovative Technology on Earth (RITE). In 1999, he was appointed Professor of Environmental Process Engineering at the Graduate School of Frontier Sciences, University of Tokyo.
Since 2011, he has held positions as vice chairman of the Atmospheric Environment Association; chairman of the Institute for Environmental Studies; executive director of the Clinical Environmental Association; and vice chairman of the NPO Environment Network Bunkyo, REC (Central and Eastern Europe Regional Environment Center, Hungary).
He joined Kaisei Academy as principal in 2011, and in 2012 received the title of Professor Emeritus at the University of Tokyo.
Fee:
1,500 yen (including continental breakfast) for FCCJ members
2,000 yen (including continental breakfast & club entrance fee) for non-FCCJ members
Reservations recommended: Please call FCCJ at 03-3211-3161
Address: FCCJ, Yurakucho Denki Bldg. North Tower 20F, 1-7-1, Yurakucho, Chiyoda-ku, Tokyo
Note: The Yurakucho Denki Bldg. will open from 7:15am at the North Entrance next to Lawson
Membership Marketing Committee
早起きの人に朗報!FCCJ「朝会」
柳沢 幸雄
開成中学校・高等学校校長
2017年6月20日(火)時間: 7:30〜8:45
タイトル: 日米の中等教育の特徴
<プロフィール>
1947年生まれ。1967年開成高校卒業、1971年東大工学部化学工学科を卒業。コンピュータ会社のシステムエンジニアとして3年間従事した後、東大大学院で大気汚染を研究し、工学博士号取得。東大助手を経て、1984年よりハーバード大学公衆衛生大学院に移り、研究員、助教授、准教授、併任教授として教育と研究に従事。
1993年より財団法人地球環境産業技術研究機構の主席研究員を併任。1999年東京大学大学院・新領域創成科学研究科・環境システム学専攻・教授に就任。2012年より東京大学名誉教授、空気汚染と健康の関係を実証的に明らかにすることが主要な研究テーマ。
2011年より現職。
大気環境学会副会長、室内環境学会会長、臨床環境学会理事、NPO法人環境ネットワーク文京副理事長、REC(中・東欧地域環境センター、在ハンガリー)理事などを歴任。
<詳細>
費用: FCCJ会員 1,500円(コンチネンタル朝食付き)
非会員 2,000円(朝食及び施設利用料)
予約: FCCJ(03-3211-3161)まで電話にてご予約下さい。
※非会員の方は、必ず前日までにご予約下さい。
会場: FCCJ 東京都千代田区有楽町1-7-1 有楽町電気ビル 北館20階
※当日は、午前7時15分より1階北側入口(ローソンの隣)から入場できます。
メンバーシップマーケティング委員会