Live Comedy ! on Saturday Night
18:30 - 21:00, Saturday, June 17, 2023
(Main Bar regular service ends at 17:00) With Special Guest Jake Adelstein.
Tokyo Comedy Bar and the FCCJ are joining forces to bring laughter into your lives, introducing some of Tokyo's top comedians to the Club for the first time ever! Tokyo Comedy Bar celebrates its first-year anniversary at the FCCJ with an unforgettable show in two hilarious parts:
Doors open: 17:30
Light meals and snacks will be served until 18:30 and dinner is served during the break (19:15 - 20:00);
drinks served 17:30 - 20:45.
Part One: 18:30 - 19:15
Have I Got Nyuusu For You!: Topical Comedy Panel Show
Top comedians in two teams perform a faux game show quiz relating to major and regional news items from the week before and focused on satirical, topical discussions, stand-up routines, and improvised comedy (may also feature FCCJ members; volunteers are welcome to apply!)
Break: 19:15 - 20:00 - dinner served for 45 minutes (orders taken from 17:30).
    
Part Two: 20:00 - 20:45
Stand-Up Show
Tokyo's top comedians will bring you their best jokes, relating to the funny side of their lives in Japan! This will be in English, but should be highly enjoyable and relatable to all.
Closed: 21:00
RESERVATIONS HIGHLY RECOMMENDED!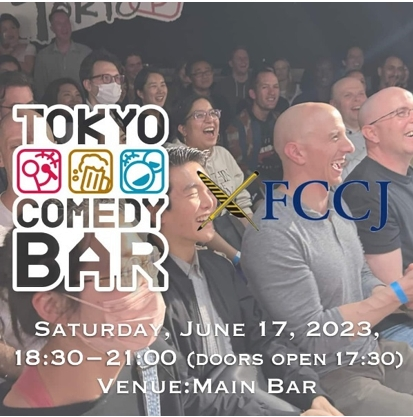 Please reserve at the front desk or
Tel: 03-3211-3161
Email: front@fccj.or.jp
Event Info
Date & Time:
Saturday, June 17, 2023, 18:30 - 21:00 (doors open 17:30)
Venue:
Main Bar
Price (including tax and one drink)
1,650 yen (FCCJ member)
1,980 yen (Non-member)
Brought to you by:
The Associate Members' Liaison Committee (AMLC)