Musical "Cesare II Creator of Destruction"
12:00 Saturday, January 14, 2023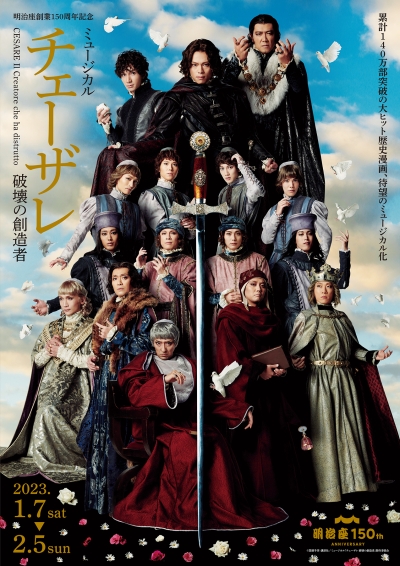 Meijiza: 2-31-1 Hamacho Nihonbashi, Chuo-ku, Tokyo
https://www.meijiza.co.jp/english/
Subway stations: Hamacho Station, Ningyocho Station, Suitengu Station
In 15th century Italy, Cesare II fights fearlessly against Giulianto della Rovere =-who represents the great family of Rome = in order to let his father Rodrigo Borgia seize the position of the Pope, the highest power of the peninsula in cooperation of Lorenzo de Medici (Takuya Kon) of Firenze.
Young and veteran performers take parts in this huge historical musical, to be presented as the 150th Anniversary Performance of the Meijiza Theater.
S tickets usually cost 13,000 yen per person.  For FCCJ members and their guests tickets cost 15,300 yen including lunch with drinks (sake, beer, soft drinks).
Only 20 seats are reserved.
Please call the front desk soonest: 03-3211-3161. No cancellations accepted.
Special Projects Committee
----------------------------------------------------------------
ミュージカル 「チェーザレ 破壊の創造者」
2023年1月14日 (土) 12:00 明治座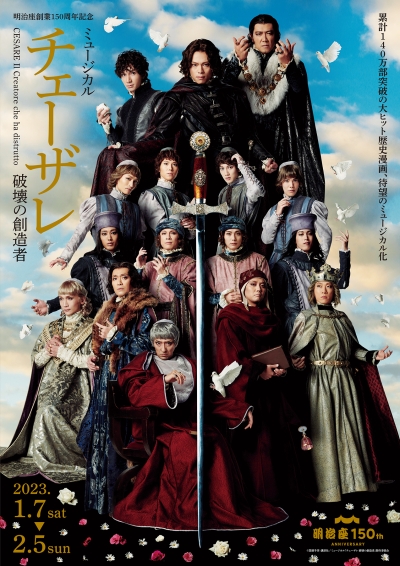 明治座: 〒103-0007 東京都 中央区 日本橋 浜町2丁目31番1号
https://www.meijiza.co.jp/access/
レオナルド・ダ・ヴィンチが惹かれ、マキャヴェリが理想とした15世紀イタリアの伝説の英雄チェーザレ・ボルジアのミュージカル化がついに明治座150年記念公演として実現。
1491年権力の頂点である次期教王の座にボルジア家当主、父ロドリーゴ(別所哲也)を就かせ更にその先自分の理想をイタリア半島で実現するためチェーザレ・ボルジア(中川晃教)はロレンツォ・デ・メディチ(今拓哉)、ジュリアーノ・デッラ・ローヴェレ(岡幸二郎)等と組んで大闘争を仕掛ける。信頼できるのは部下のミゲル(橘ケンチ)のみ。
惣領冬美の大ヒット漫画を原作に萩田浩一(脚本)、小山ゆうな(演出)、島健(音楽)が今現在トップの若手、中堅のミュージカル陣を得て最高の大絵巻を繰り広げます。
会費通常S席13,000 円のところFCCJ会員とゲストは午餐(ビール、日本酒、ウーロン茶各1杯付)で15,300 円となりました。
お申し込みはフロント・デスク 電話 03-3211-3161 先着順20席までお願いいたします。尚、キャンセルは出来ませんので御注意を御願いいたします。
特別企画委員会