It's Saturday Nite Live! (NO RESERVATION REQUIRED)
Roger Sherrin & The Boso Boys
Roger Sherrin & the good ole Boso Boys from Chiba return to the FCCJ to celebrate their first Live performance since 2020! + the revival of Saturday Night Live! + over 10 years of performing at the FCCJ!  This will be a special show featuring their most popular songs!  With three lead vocalists and stunning guitar and keyboard performances you will experience every variety of Americana music styles traveling along Route 66 from Sun Studio's Roots-Rock, to the Blues, to Country, with good Rockin' & heart touching romantic numbers along the way.  Who knows, maybe some special guests might drop in?
Roger Sherrin on vocals & guitar; 'Blues-Master' Shinjiro Mori guitar/vocals; and 'Mojo' Martin Matsumoto guitar/vocals; along with Keyboardist & Tokyo Fireman Issei Hiratta; Hiroshi Yasuda on bass; and Eisuke Irino on drums.
And remember, it's free. No cover charge. No music charge. You just can't beat SNL for an exciting, entertaining night out in Tokyo.
NO RESERVATION REQUIRED
The Entertainment Committee
Coming Up!                 
April 17      Eiko Solaris
April 24      Felix Sonnyboy & Mikie O'Shea
May 1        NO SNL
May 8        NO SNL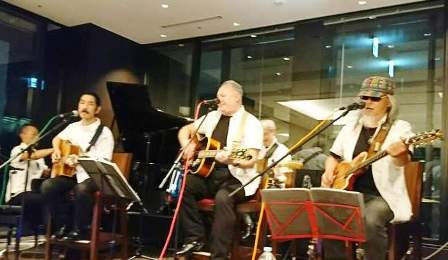 NO RESERVATION REQUIRED