What if Japan had been the perpetrator, and not the victim, of the atomic bomb?
Sneak Preview Screening: "The Gift of Fire (Taiyo no Ko)" followed by a Q&A
with director Hiroshi Kurosaki, producers Ko Mori and Katsuhiro Tsuchiya
Monday, July 5 at 5:00 pm*
*Please note early start time
In Japanese/English with English/Japanese subtitles Japan, 2021 111 minutes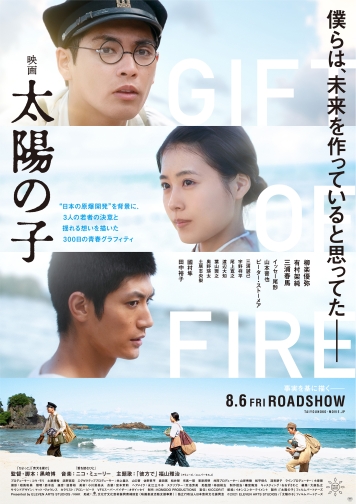 Written and directed by: Hiroshi Kurosaki
Produced by: Ko Mori, Katsuhiro Tsuchiya, Takahiro Hamano
Starring: Yuya Yagira, Kasumi Arimura, Haruma Miura, Yuko Tanaka,
Jun Kunimura, Issey Ogata, Shinya Yamamoto, Peter Stormare (voice)
Film courtesy of Eleven Arts Studios and NHK
In September 1944, a team of budding scientists at Kyoto Imperial University signs up for the biggest challenge of their young lives: at the behest of the Japanese Navy, they are to develop "a new type of bomb that will turn the tide of war" - that is, the world's first nuclear bomb. Under the guidance of Professor Arakatsu (Kunimura), who assures them that their work will determine the fate of the war as well as the world, the young men conduct one attempt after another to split the atom, in an increasingly desperate rush against time.
Shu Ishimura (Yagira) is particularly obsessed with the experiments, struggling to honor his obligations to science and country, as well as to his family. His younger brother, Hiroyuki (Miura, in his final role), is heading to the front lines and his childhood sweetheart Setsu (Arimura) is now living with the Ishimura family. She exhorts the brothers to look toward the postwar future, but the daily news reports are less than encouraging, underscoring the import of Shu's work.
Amid one of the scientists' frequent evacuations to bomb shelters, talk turns to the bomb's destructive power and the heavy responsibility they would assume for unleashing it. "If we don't [build] it, the Americans will, or the Soviets," says one. Arakatsu reminds them that Japan started the war over energy: "Nuclear fission means mankind's energy problems are solved forever. There will be no further wars." Seventy-five years (and many wars) later, "The Gift of Fire" tackles the sticky moral issues arising from mankind's pursuit of scientific advancement, and underscores their emotional costs.
The secret history of Japan's own efforts to build an atomic bomb began to emerge about a decade ago, when director Hiroshi Kurosaki discovered a fragment of a young scientist's diary in a Hiroshima library, and began researching its revelations. His resulting script was recognized with a Special Mention at the Sundance Institute/NHK Awards, and one of the judges, NHK producer Katsuhiro Tsuchiya, vowed to help Kurosaki get the film made. The men were determined to create a world-class work, and with LA-based producer Ko Mori, brought together an international team of creative collaborators.
 
Please join us for this sneak preview of "The Gift of Fire" before the film's release in Japan on August 6.
For more (in Japanese): https://taiyounoko-movie.jp
Director HIROSHI KUROSAKI began his career with NHK Japan in 1992, and has helmed many series, including the award-winning mini-drama "Goldfish" (2009), "Chase: National Tax Inspector" (2010), "Made in Japan" (2013), the popular morning show "Hiyokko" (2017), "Unsolved Cases: Devil's Bargain" (2018), and the currently popular "Reach Beyond the Blue Sky" (2021). His theatrical feature debut, "Second Virginity," was released in 2011 to national acclaim. His script for "Gift of Fire" received the Special Mention Award at the Sundance Institute/NHK Award 2015, and a TV version of the film was broadcast on NHK in 2020.
Producer KO MORI is CEO of LA-based Eleven Arts Studios, which produces feature films and TV shows, as well as distributing Japanese anime in North America. He produced several films we've shown at FCCJ, including Aaron Woolfolk's "The Harimaya Bridge" (2009), Ken Ochiai's "Uzumasa Limelight" (2014), which won the Best Film Award and Best Actor Award at the Fantasia International Film Festival in Canada, and Dave Boyle's "Man from Reno" (2014), which was nominated for an Independent Spirit Award. Mori also produced Jonas Åkerlund's "Lords of Chaos" (2018), which played at the Sundance Film Festival, Ryuhei Kitamura's "Downrange," and the hotly anticipated "Prisoners of Ghostland," directed by Sion Sono and starring Nicolas Cage, which premiered at the 2021 Sundance Film Festival.
Producer KATSUHIRO TSUCHIYA started his career with NHK in 1994, made his directorial debut with the morning drama series "Himawari," and went on to helm the historical drama "Toshiie to Matsu" (2002), the morning drama series "Tenka" (2004) and the Saturday drama "Ice Wall" (2006), among others, as well as to produce the hit "Ryomaden" (2010). He has served as executive producer on "Hana Moyu" (2015), "Ashi Girl" (2017), "Oh Lucy!" (2017), "Fake News" (2018) and "37 Seconds" (2019), among others. He won the Bunkacho Art Festival Excellence Award for "How to Make Paradise" (2013), and the 45th Elan d'or Producer Award for "Yell" (2020).
Please make your reservations at the FCCJ Reception Desk 03 3211-3161 or from http://www.fccj.or.jp. All film screenings are private, noncommercial events primarily for FCCJ members and their guests.
We kindly ask for your cooperation with Covid-19 prevention measures at the reception and that you wear a mask on the premises.             
- Karen Severns, Film Committee