An accident blurs the line between grief and guilt
Sneak Preview Screening: "Somebody's Flowers (Dareka no Hana)"
followed by a Q&A with director Yusuke Okuda and
stars Shinsuke Kato and Kazuko Yoshiyuki
Tuesday, December 14 at 5:30 pm*
*Please note early start time.
In Japanese with English subtitles
Japan, 2021 115 minutes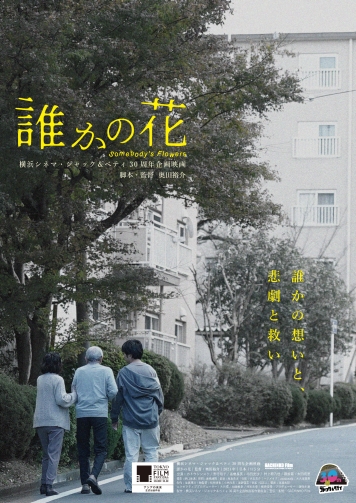 Writer-director: Yusuke Okuda
Producer: Toshu Iizuka
Starring: Shinsuke Kato, Kazuko Yoshiyuki, Choei Takahashi,
Misa Wada, Honoka Murakami, Atsushi Shinohara, Ruse Ota
Film courtesy of Gachinko Films
In Yusuke Okuda's beautifully restrained, carefully crafted "Somebody's Flowers," the camera often hovers far above the heads of characters, reminding us not only of the balcony where the film's central accident occurs - or was it a crime? - but of just how small and helpless we can feel in the face of life's unexpected tragedies.
Takaaki (Kato) is a lonely iron shop welder who doesn't say much and doesn't visit his aging parents as regularly as he might, although his mother Machi (Yoshiyuki) prods him to do so. His father Tadayoshi's (Takahashi) dementia has been worsening, and he is forever wandering off, as well as mistaking Takaaki for his older brother, who died some years ago in a traffic accident. Machi finally resorts to hiring a sunny young helper (Murakami) to provide much-needed assistance.
The one day, a man is struck by a flowerpot that has dropped from a neighboring balcony in gale-force winds. The man later dies, and his wife and young son join the grief-counseling group that Takaaki is also a member of. The group is focused on supporting those who have lost loved ones to traffic "murders," but the message is the same for the wife and son: rather than just accepting his apology, they should go to court and make sure the flowerpot murderer is put behind bars.
But when his parents' young helper starts making insinuations about the accident/crime, and Takaaki forces himself to look at hard facts, the accepted truth begins to unravel.
Please join us for this sneak preview of "Somebody's Flowers" before its pre-release at Yokohama Cinema Jack & Betty from December 18 - 24 (the film was planned and produced for the 30th anniversary of the theater), followed by the Japan-wide release on January 29, 2022.
For more (in Japanese): http://g-film.net/somebody/
YUSUKE OKUDA studied filmmaking at the Japan Institute of the Moving Image and has had a busy career in the production departments of many films and TV dramas. He has also worked on documentaries and music videos, and has been active as a writer and director for the stage. This is his second theatrical release, following "The Uncertain Sin of Not Changing the World" (2017). "Somebody's Flowers" had its world premiere at the Tokyo International Film Festival in November.
SHINSUKE KATO received the Emerging Actor Award at the 2016 Takasaki Film Festival for his debut, festival hit "Ken and Kazu," and has had notable roles in "Samurai Marathon" (2019), "The First Supper" (2019), "Voice in the Wind" (2019), "Onoda" (2021) and "We Couldn't Become Adults" (2021).
Multiple award-winning actress KAZUKO YOSHIYUKI began her career on stage and screen in the 1950s and earned international notice, as well as her first Japan Academy Award, in 1978 with her role in "Empire of Passion," directed by Nagisa Oshima. A mainstay on TV, she has also appeared in over 60 films, including her recent roles in Yoji Yamada's "Tokyo Family" and the "What a Wonderful Family!" franchise.
Please make your reservations at the FCCJ Reception Desk (3211-3161) or register below.
All film screenings are private, noncommercial events primarily for FCCJ members and their guests. We kindly ask for your cooperation with Covid-19 prevention measures at the reception desk and that you wear a mask on the premises.
- Karen Severns, Film Committee